It's easy to forget there are so many things kids need to learn. So what better way to teach them than through games they will actually enjoy?
Teaching children is hard. I know this not because I've done it, but because I used to be a child and I hated learning. Well, no. I take that back. I liked learning, but I hated being taught. So, it's to that end that today we are going to review a handful of board games that will teach kids fundamental gaming concepts and maybe a few other key life lessons along the way. The next time someone breaks out Candy Land and tries to claim it's educational, you slap that garbage out of their hands and show them one of these instead.
For the record, I'm talking about children ages 3 and under, roughly.
What do Games Teach?
Before we get into the games themselves, let's go over why games are important for kids. Because every game teaches three main core concepts that a child's blank slate of a brain has to learn.
Rules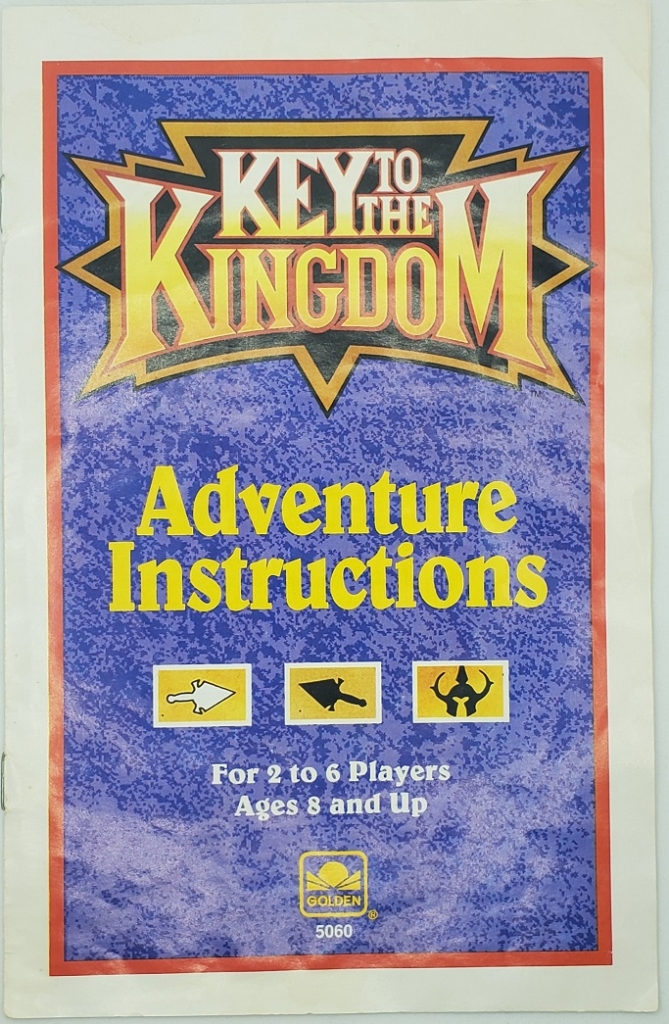 Games have rules. Life has rules. Rules are things you have to do and dictate some things you're not allowed to do. They guide your actions for as long as you play the game. This is such a simple idea, but it's not something a baby is going to know without being taught it. Being able to follow rules is important for any game and (ideally) for any person as well.
Taking Turns
Admittedly, not every game has players taking turns, but many of them do. This is an important concept for patience and for understanding waiting for your turn. I think we've all met someone who still hasn't quite nailed this idea down.
Winning and (more importantly) Losing
Most games have winners and losers. It's a core concept of what it means to be a game. Obviously, there are plenty of real-world parallels to be learned by understanding what it means to win and to lose. But it's important to teach kids that losing is going to happen sometimes and teach early that losing isn't a big deal. Nobody likes a sore loser.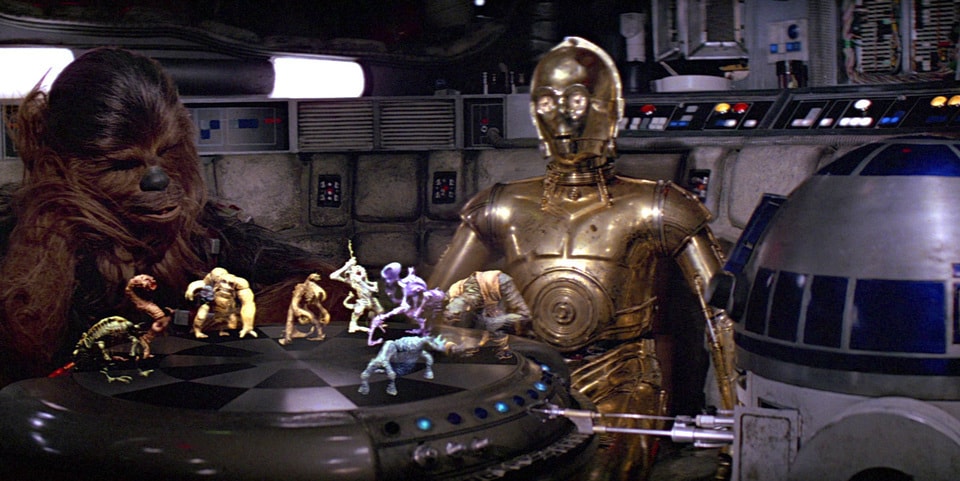 With that out of the way, we can move onto some more specific games which will be able to teach less abstract things.
UNO Junior
I'm assuming I don't have to explain UNO Junior, which saves time.
Suitable for ages 3 years and up.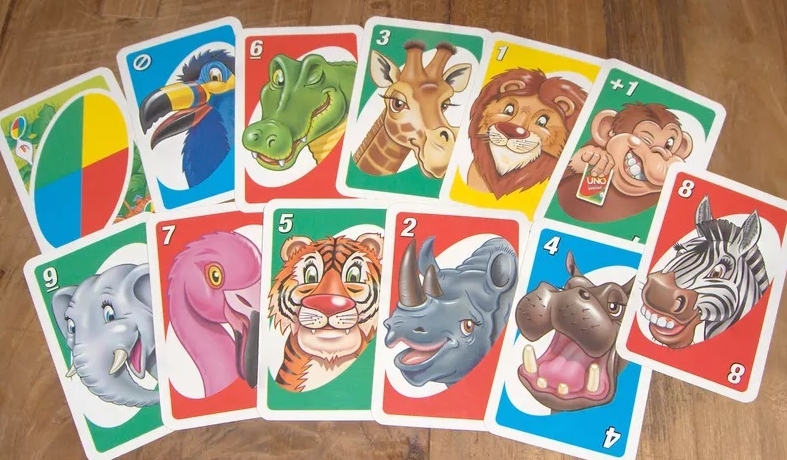 What Does it Teach?
Matching colors
Matching numbers (or animals)
Holding cards
Secret information
Gameplay conditions
How UNO Junior teaches matching colors and numbers is obvious. However, the Junior version also features cartoon animals on the cards in addition to the numbers. Each 5 card also has a tiger, for example. But UNO Junior teaches other less obvious things. Dexterity is hard for kids. If you've ever made the horrible mistake of letting a child drink from their own cup, you've experienced this. Showing a child how to hold a fan of cards is a great way to teach minute dexterity.
UNO Junior also teaches the idea of secret information. You don't want to tell the other players what cards you have. Meaning you can't just say it out loud, but also, you can't show them your cards. This concept helps kids maintain some backburner brainpower of making sure their cards don't get accidentally revealed while distracted by something else.
Finally, the main idea of UNO Junior is announcing "UNO!" when you have 1 card remaining. This is up to the child to remember to do so they have to learn to pay attention to their hand and remember the triggering condition of when to say it.
Overall, UNO Junior teaches a lot of really great brain-building ideas for such a simple game.
First Orchard
This cooperative game has players rolling the die and placing whichever fruit color is rolled into a basket. If the raven is rolled, the raven moves along a path. If the raven reaches the end of the path before all the fruit is collected, the raven eats all the fruit and all the players lose.
Suitable for ages 18 months and up.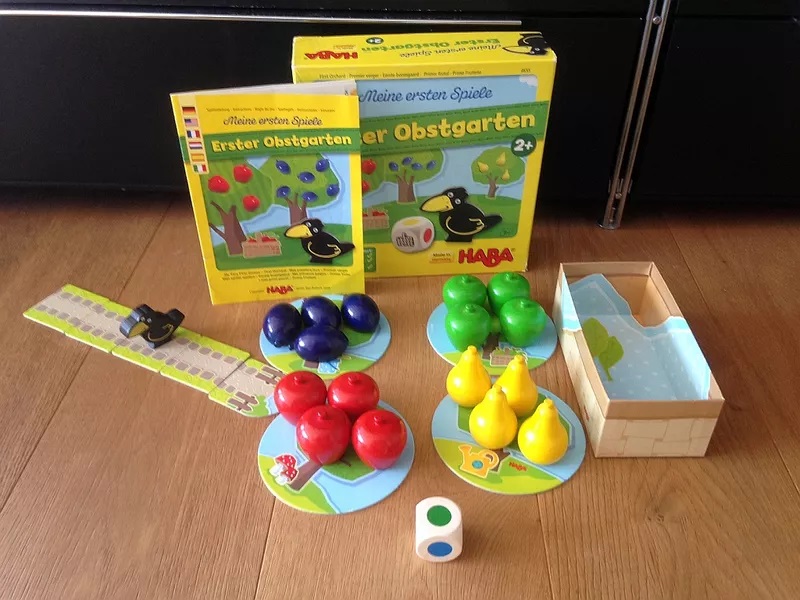 What Does it Teach?
Color recognition
Organizing
Dice
Hand-eye Coordination
Moving along a path
The setup for this game is just about as important as the game itself. To set up, each of the 4 types of fruit must be organized into groups. Letting the kids do this helps with hand-eye coordination, color matching, and helps teach the idea of putting things in the right place. Plus, having to drop the fruit into the basket obviously teaches most hand-eye coordination, but also the broad concept of putting things away.
Rolling the die has obvious means of teaching more dexterity, but also it teaches the idea of how a die works. You have to roll it then read whichever symbol is on the top. This also teaches the idea that the player has to follow the whims of the die. You don't get to pick whichever fruit you want, even if you want to.
The raven token teaches the idea of moving a piece along a path, and it also teaches the idea of impending doom, not to be overly dramatic. Being able to recognize when the raven is getting close to the end of the path and realizing what that means is pretty high-level stuff for a youngin'.
Mini Kubb
This is a weirder one. This game has players tossing blocks to try to knock them over by throwing sticks but has to avoid knocking over the King pin until all the others are knocked down. Like bowling + 8 Ball.
Suitable for ages 3 years and up.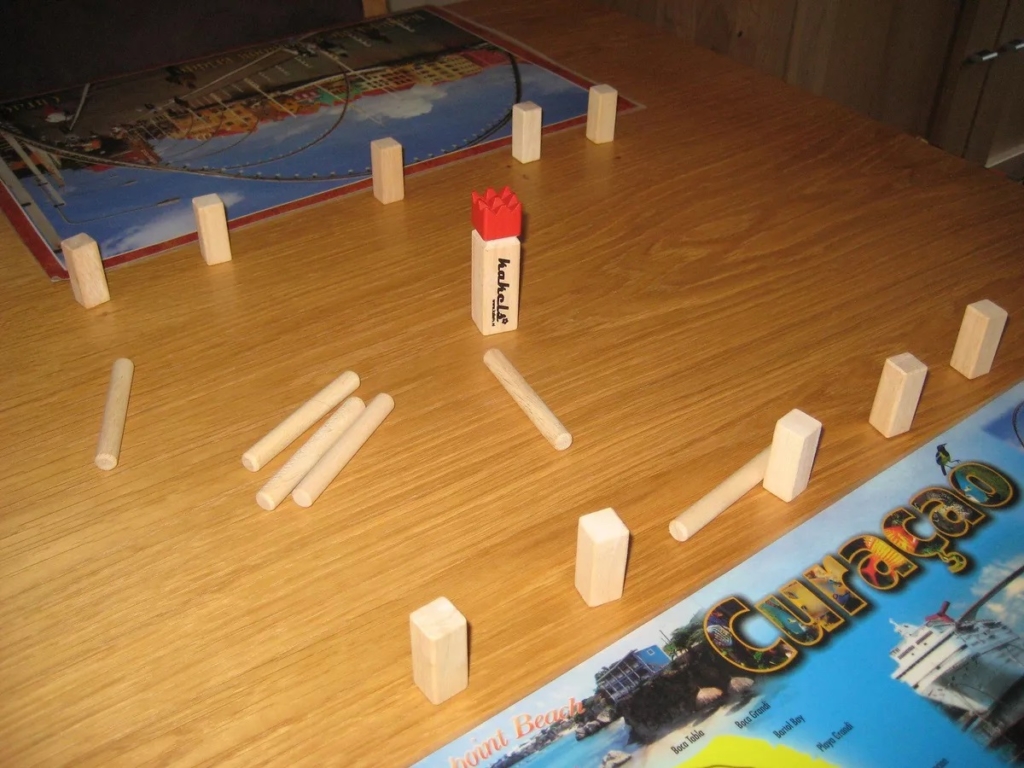 What Does it Teach?
Restraint
Working for reward
Gameplay Conditions
Hand-Eye Coordination
The goal of this game is to be the first to knock the King pin in the center down. But if you do that before knocking down all the other player's pieces, you lose. So this teaches restraint in a couple of ways. First, it teaches to suppress the urge to just chuck the throwing stick as hard as you can. This is a game about careful tossing, not power throwing. This can be an important lesson for a lot of kids. But it also teaches the idea of conditional restraint. You want to knock the King down, but can't until something happens. That something is having knocked down all the other pins first. This broadly teaches the idea of having to work for the reward you want.
Final Thoughts
For whatever reason, I have a real fascination with children's games. I think it's so interesting looking into the concepts they teach and how each game implements those lessons in different ways.
I could have sworn I did an article like this before, but I checked my archives and couldn't find it. So if I did this already, forgive me! But if there is interest, I have plenty of others I had to cut from this list since I went into a little more detail into each of these than I rightfully should have.
Maybe I also need to learn some restraint.
Do you remember your favorite semi-educational game as a child?
I played a lot of Don't Break The Ice.