Storm or Sea, which is your cup of tea? When it comes to the Idoneth Deepkin's new Eidolons, what will you pick?
Alongside the War Turtle (the monster, not the Pokemon) the Idoneth Deepkin have another pair of big guys in the form of the Eidolons of Mathlann. Taking the form of two aspects, the warrior Storm and the arcane Sea, the Eidolon was another model that got a big update in the Morathi supplement. But the question remains: which one should you bring to crush the enemies of your underwater domain? Well, I can't answer THAT question for you, but I can give you a quick review of them to make your decision a little easier. So here's my thoughts on the updated Eidolons from Broken Realms, and how I think they'll fare on the battlefield.
Aspect of the Storm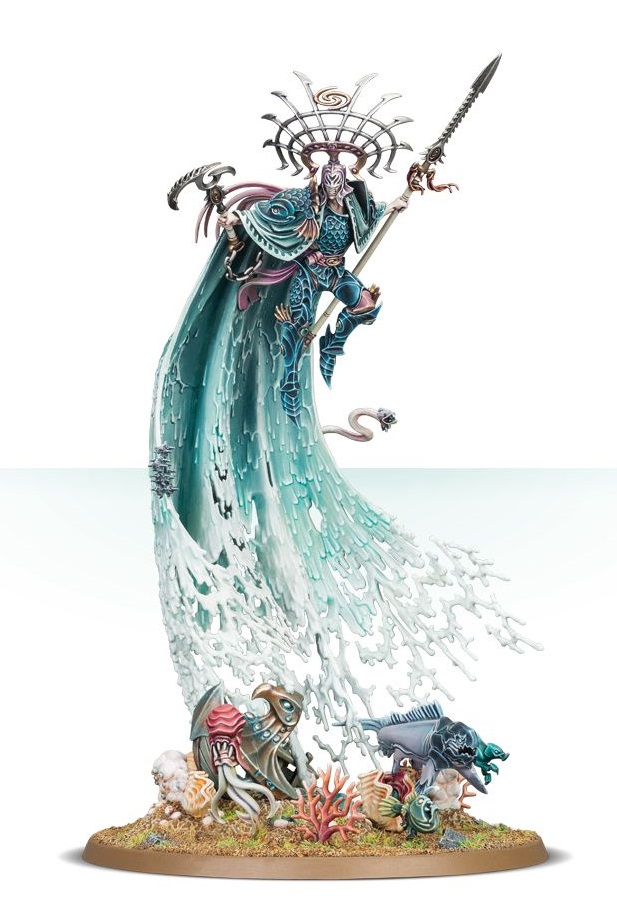 The Aspect of the Storm was always a combat monster, and the new updates have just amped it up to 11. Its Spear of Repressed Fury is unchanged, with 4 2+/2+ -2 Rend attacks that deal 2 damage, but the Crulhook switched its hit and wound rolls, meaning it now hits on a 3+ and wounds on a 2+ (it still has 4 attacks, -1 Rend, and 1 damage). The Stormshoal is unchanged combat wise, with 2d6 4+/4+ attacks, but it also now gives the Eidolon a 5+ save after save, which combined with his 3+ armor is going to make him a hard oyster to crack.
In addition, his Crashing Upon the Foe ability now adds an additional attack to his Spear when he charges instead of giving it plus one to hit, in addition to increasing the damage, healing him D3 wounds, and allowing him to charge even after he retreats to make sure he gets all these benefits every turn, even if he's tied up by a horde. Of course he'll almost always get the charge he wants, considering his 12" movement and ability to Fly.
The Drench with Hate ability now adds 1 to wound rolls for Idoneth units wholly within 18" rather than just within 9", and Pulled into the Depths now adds 1 to hit rolls the Eidolon makes against a chosen Hero rather than weakening that hero's attacks. This guy is an absolute unit, and if you really want to make some enemies, make your Idoneth hail from Aqshy and give him the Incandescent Rageblade to multiply his attacks even more.
Aspect of the Sea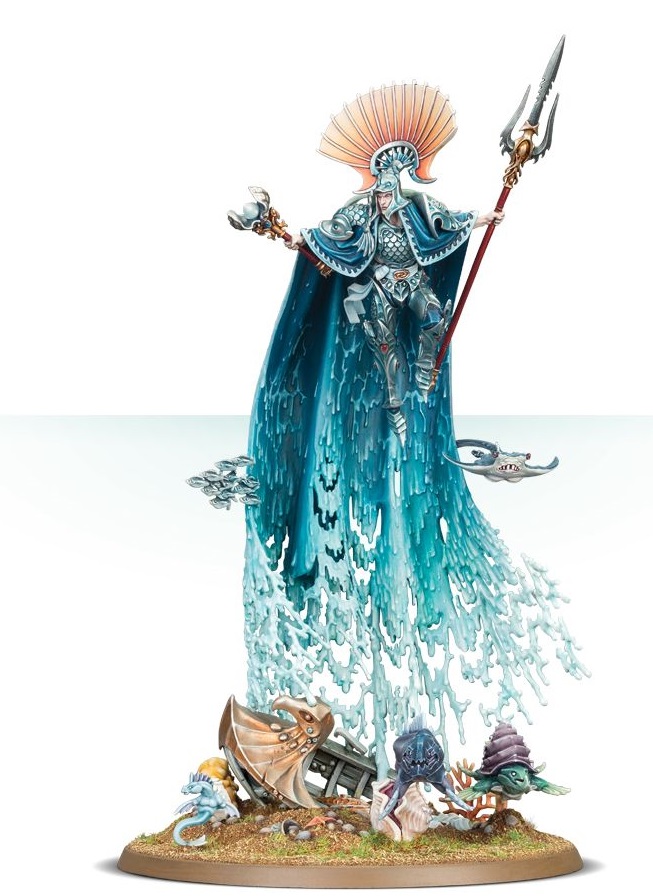 On the other side of the Eidolon coin is the magic focused Aspect of the Sea, which doesn't hit as hard as the warrior side but brings a wide range of toys to make up for it. It's a little slower with only 10" of movement, but it won't need to move as much anyway since it's a mage AND has a shooting attack.
All the attacks on its profile are unchanged from it's original incarnation, but it gets the same save after save from the Stormshoal as the Storm Aspect to keep it alive. It can reroll all of its casting, dispelling, or unbinding rolls if it wishes, but if it doesn't in your hero phase you can heal D3 wounds that have been allocated to it. In addition, it has had its Tranquility of the Abyss range increased in the same was as the Eidolons aura, making it an extra 3 Bravery to all Idoneth wholly within 18" rather than just within 9" as it used to be.
This is huge, especially if you are playing a mostly Akhelian army as you can prevent your expensive eels from running from combat. It also packs two awesome signature spells, Cloying Sea Mists which can either heal your allies or damage your enemies, and Tsunami of Terror, which subtracts 1 from hit rolls and Bravery of up to D6 enemy units with 12". If you need a little extra support for your army of murderfish then this is the Aspect for you.
Which Eidolon is your favorite?