D&D: Curl Up With A Holiday Special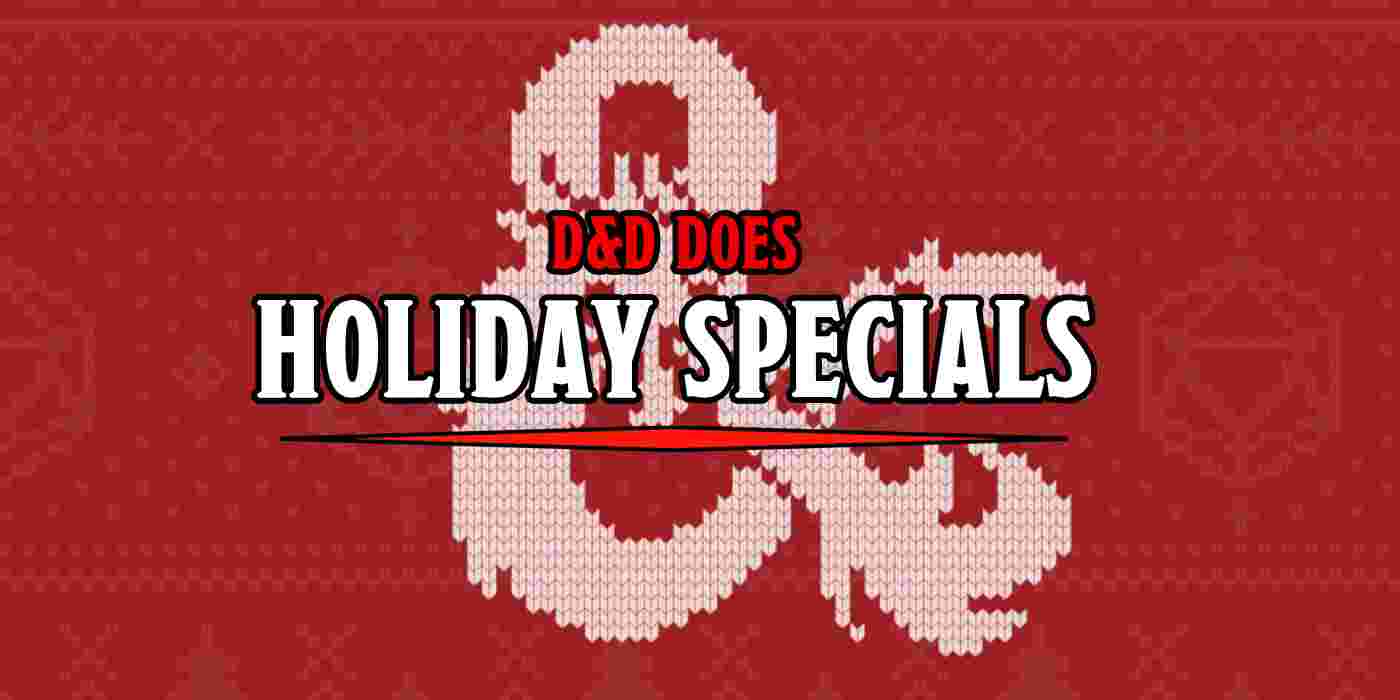 'Tis the season for holiday specials, and this year even livestreams have gotten in on the act. Check out the holiday specials full of D&Dtide cheer.
Tired of the same old holiday specials? Elves wanting to be dentists. Christmas princes and time traveling knights who bring an old fashioned charm to big city life? Old hat. Heartwarming tales of misers becoming merrymakers? Bah, humbug!
This year, why not turn to something new? Start a tradition for once instead of blindly following what everyone's always done for years. The irony here kids that we're about to suggest watching D&D, the most commercially successful and oldest rpg– which is as traditional as it gets.

But like tastefully gaudy sweaters–he kind you say you wear "ironically" but really it's completely unironic, but there's just enough of a layer of doubt to deflect the fact that you actually really do love Christmas, D&D is there no matter thr genre. After all, if you can have high school comedy D&D, pirate D&D, noir D&D and beyond, surely you can have Christmas D&D, which is exactly what Wizards of the Coast has launched, with four different D&D holiday specials. The last is happening later today and thr others are gathered in full, right here.
via Wizards of the Coast
Kicking off our season of Holiday Specials is the first of two pre-recorded games from the UK. Can this group of petty bandits earn membership into a thieves' guild by stealing a house on the outskirts of Easthaven? Go easy on the potions!
Please Note: This game was recorded in person (before the current UK lockdown), following strict COVID-19 social distancing precautions.
Comic Relief Plays D&D Episode 2
After our first stream with Comic Relief earlier this year raised an amazing £25,000 for COVID-19 support, we're delighted to be working with them once more to bring you an all-new group of British comedians playing D&D for charity.
Subscribe to our newsletter!
Get Tabletop, RPG & Pop Culture news delivered directly to your inbox.
Expect hilarious, unscripted chaos, and maybe even a special guest phone call or two!
40 Stories of Adventure
Can this band of heroes successfully deliver more drinks to a Wintershield celebration in a Wizard's tower? Welcome to the party, pals!
Please Note: This game was recorded in person (before the current UK lockdown), following strict COVID-19 social distancing precautions.

12 December: Acquisitions Incorporated
Dragons, Dungeons & other sources of mayhem await the trusty adventurers of Acquisitions Incorporated. Battles, betrayals, and over-ambitious KPIs await seasoned (and lightly marinated) heroes, led by the merciful and not at all terrifying Jeremy Crawford as the Dungeon Master.
How to Watch
Watch on the Penny Arcade YouTube channel from 3pm PT (11pm GMT/10am AEDT) on Saturday, December 12.
May feature adult language
Happy Adventuring!