Kobold Press' new Kickstarter wants to take you to an all-new campaign setting. Come check out the Southlands, a new book for 5th Edition.
Kobold press has launched a new Kickstarter full of magic, power, and all new secrets to unearth. The Southlands is a collection of a new worldbook and adventures, which you will see below. Check them out today!
The Southlands feature high adventure in a self-contained and standalone campaign setting, with all the tools at your fingertips for a dozen adventures and even full campaigns! This updated 5E version includes new player options, an updated Worldbook with all-new chapters, and a fantastical city book to launch a memorable campaign—and a caravan's weight in short- and medium-length adventures. The Southlands setting is fully compatible with the 5th Edition of the world's first RPG.
Welcome friend! Come and adventure with us here.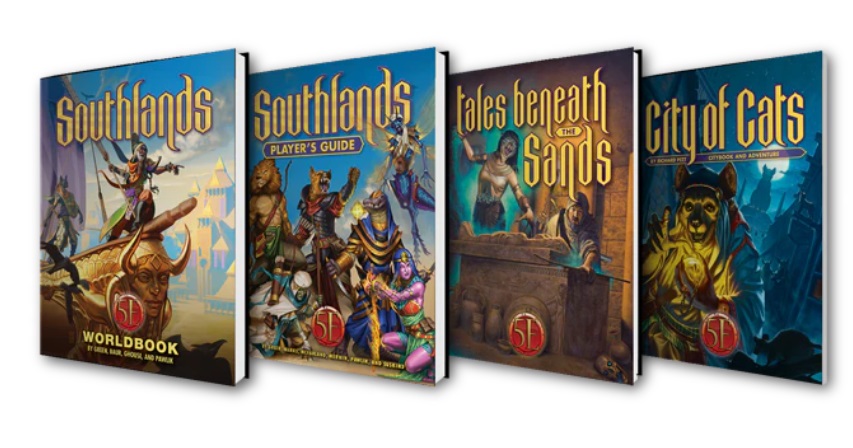 The project will create more than a dozen main rewards covering 4 major formats with two partner companies:
A hardcover

Southlands Worldbook

in both

regular and limited editions

, described in this Table of Contents preview
A hand-tooled, rich

leather edition of the Worldbook,

A hardcover

City of Cats

, a home base containing many adventures,
A softcover

Southlands Player's Guide

of heroic options, subclasses, and races, described in this preview
The fully-optimized

PDFs

for all of the above,
 

Digital Roll20

editions of the

Southlands Worldbook, City of Cats,

and

Player's Guide

for that virtual tabletop (VTT), published by our partners at Roll20, and
The

Fantasy Grounds

editions of the

Southlands Worldbook,

City of Cats,

and the

Player's Guide

for that VTT platform, published by our partners at Smiteworks.
If we reach the $100,000 stretch goal, Kobold Press will also produce the Kickstarter-exclusive hardcover edition of

Tales Beneath the Sands

, a collection of adventures by Jerry LeNeave.
Special Editions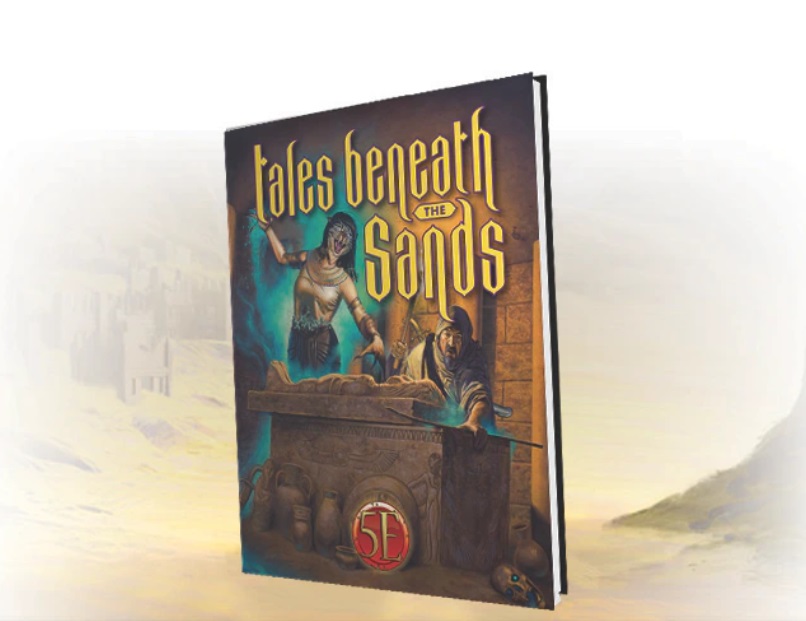 The limited edition will be printed once with a leatherette, foil-stamped cover, ribbon bookmark, special endpapers, and similar touches. The content is identical to the regular edition, but this deluxe, limited edition often becomes extremely sought after.
This project does also offer a handbound leather edition for collectors and bibliophiles. This is done entirely in the traditional style of bookbinding, with excellent leather (possibly deep green or sky blue) stamped with gold foil and embellished with corded spine, ribbon bookmarks, and other flourishes. This is limited to roughly a dozen copies and is not available after the Kickstarter. Because of the extra time needed to create it, this reward ships about a month after the other reward packages do.