There is a new law of the Land in Rokugan. Check out the changes and see what the new Banned and Restricted list looks like!
The Imperial Law in Rokugan is a living document. When new decrees go out, things change. In this case those things might be your L5R decks! Fantasy Flight Games has some new updates for the rules for L5R as well as an updated Banned and Restricted card list. Let's dive in!
"In turbulent times, any chance to seize control of fate is tempting. And as the Temptations cycle unfolds for Legend of the Five Rings: The Card Game, it brings the new tools that can provide that great power… at a high price. But fresh off the unfolding conflicts of the Dominion cycle, some of Rokugan's Great Clans have proven a disproportional ability to control the pace of a game, and thus the Imperial Families have come together to issue a new Imperial Law  and Rules Reference to level the playing field."
First off, let's check out the new Banned and Restricted list: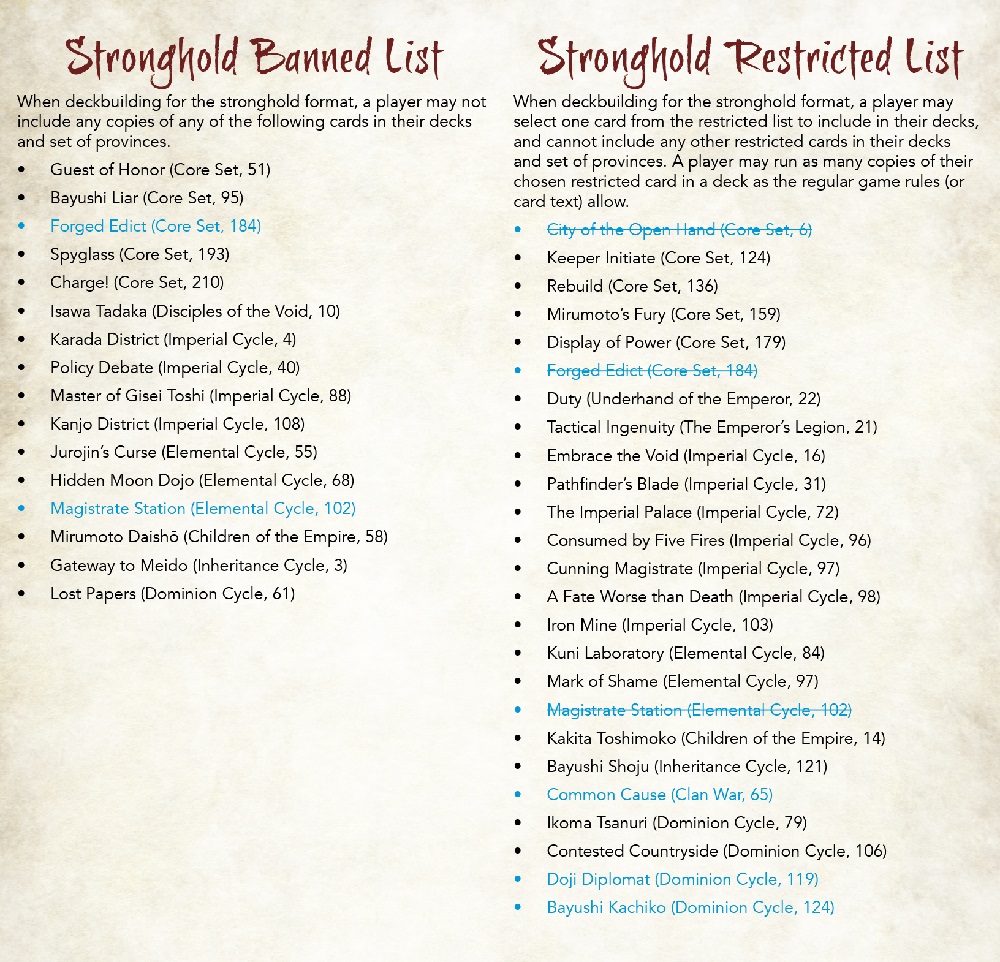 The new ones are listed in blue. If you're curious about why these cards in particular were chosen, I'd highly recommend reading FFG's article here. They do an excellent job explaining their rebalancing changes in much greater detail. For the most part, it really boils down to "these cards proved to be too strong/caused additional problems/created an unfun experience" – so yeah, action needed to be taken.
You'll also notice that there are indeed to lists – Banned and Restricted. Banned is pretty self explanatory: If you're playing in the Stronghold format, these cards can't be included in your deck.
Restricted gets a little more wiggle room. Basically, you can only include one of the cards on the restricted list in your deck. Which means if you want to run Doji Diplomat, you can't run anything else on this list. You can still run the maximum number allowed for each card however. In most cases this means you can included 3 copies of the card in your respective deck.
Online Imperial Law (FAQ/Errata) Reference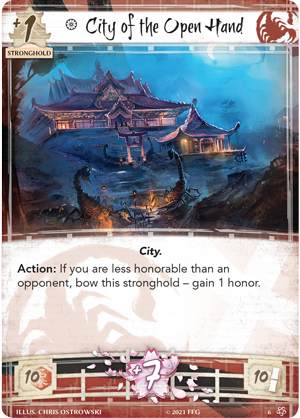 This is essentially the winter update for L5R and you can expect a new one in the spring. The current cycle (the Temptations Cycle) is in full effect and there are still TONS of cards to build your decks from. So get out there and obey the Imperial Decree – you'd hate to get on the Emperor's bad side, wouldn't you…
In Rokugan, the word of the Emperor is law!