It's the holiday season; take a break from your usual tabletop campaign with a hot drink and one of these frozen wintertime one-shot adventures.
One of my favorite ways to unwind around the holidays with my gaming groups is to play a completely random seasonably appropriate one shot. It saves the game master from needing to prepare a full session during a season that can be a little rushed and stressful. And sometimes you can even find the perfect module for the occasion already available. If your group is looking for a way to unwind, these are my favorite and most promising looking winter time module adventures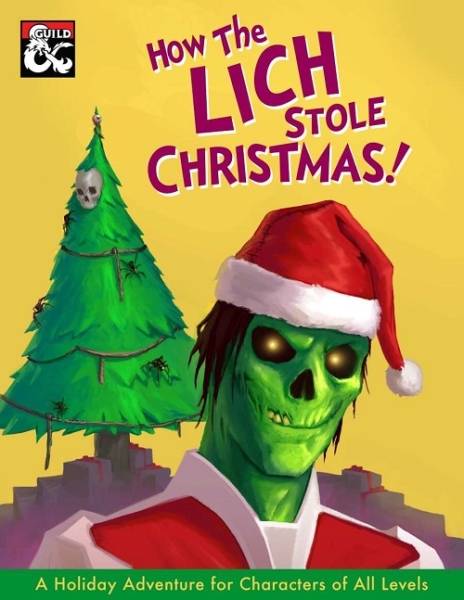 "You're a foul one, Mr. Lich
Your flesh smells like decay
For the crimes you have committed
There will be hell to pay
When the heroes come to save Christmas Day

How The Lich Stole Christmas is a short 3-4 hour one shot holiday adventure for characters of all levels. The encounters include variations for adventuring parties of each tier of play. The story unfolds through melodic rhymes that are certain to get the players into the spirit of the adventure."
There are a ton of Christmas themed stories that are perfect for D&D adventure inspiration and I have definitely picked out a few starting on this lichy take on the Grinch. The story is told through rhyme for that Sues feel, but with a special undead quality's hilarious. And at 3ish hours, it's the perfect length for one eggnog fueled one shot.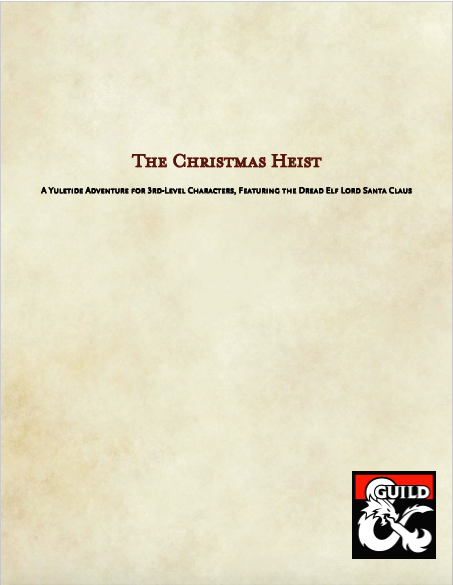 "Inside the demiplane of winter, the Dread Elf Lord Santa Claus sits in his icy fortress. It is said he possesses a magic scroll that reveals the good and evil deeds of all creatures. But who is he to lord such knowledge over the rest of us? The potential of such an item in the right hands would be limitless. The corrupt could be brought to justice, the guilty exposed, and the wrongfully accused redeemed. Not to mention some other very profitable uses."
Santa's list shows all of the good boys and girls (and adults, presumably), but why should he be the only one to wield that power? Assemble your team, break into his frozen demiplane fortress, and steal the list without getting caught for fun and profit. Why not bring a little more Oceans Eleven to your holiday?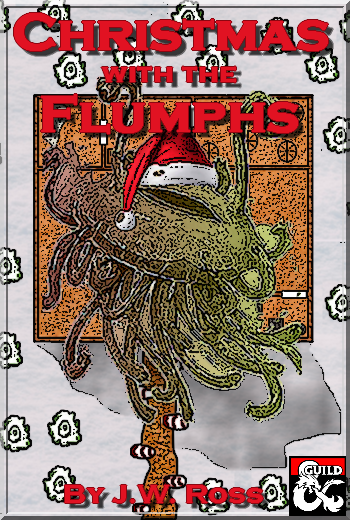 "Christmas with the Flumphs takes place in the world of the Forgotten Realms setting in 1489 DR. Walton Fizzleblimp, an extremely rich goblin, and candy-maker extraordinaire from Waterdeep has sent one of his delivery teams to the frozen reaches of Icewind Dale to deliver as many presents & candy as they can to the residents of Ten-Towns from their sleigh, pulled by flumphs!

Unfortunately, a deadly blizzard catches the team off guard and they crash into the wilderness of Icewind Dale and find themselves seeking shelter in a strange home made up of candy and gingerbread known as Granny's Stead.

Unknown to them, some strangeness lingers inside."
This is one of those adventures that reminds us not to take D&D too seriously. Sleighs are pulled by flumphs (perhaps the greatest D&D creature ever created), life sized gingerbread houses, and a magical candy can that conjures edible snow golems. This adventure has it all.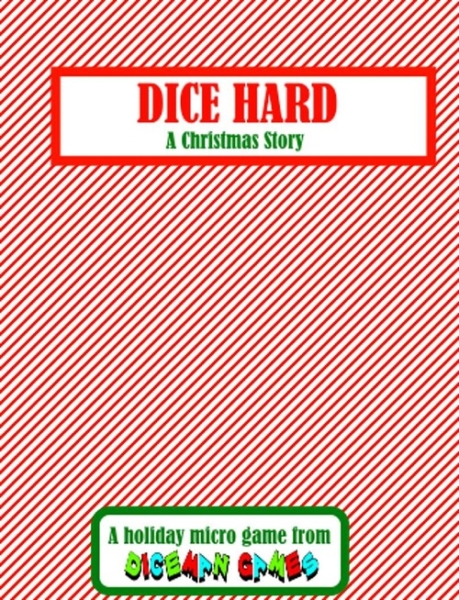 "They said "Come to the north pole, we'll get together, have a few laughs, it'll be fun." But then comes a band of thieving Gremlins to take control over the factory and are empty out the toy vault!

You are Leland McClare, a red and green beret who has escaped the initial invasion. Outnumbered 40 to 1 it's up to you to whiddle down the invading army and regain control over the toy factory."
It's Die Hard. But fantasy Die Hard. And if that's not the only sell you need I'm not sure this adventure was going to be for you at all. This game doesn't use D&D rules, instead needing just five d6 and a bunch of paperclips Dice Hard is a game where player tactics and creativity determine your success. If you're looking for a break from your usual game and your usual system, micro games with super simple rues like this are perfect for jumping in for the night and back to your regularly scheduled adventures next week. Yippee Ki Yay.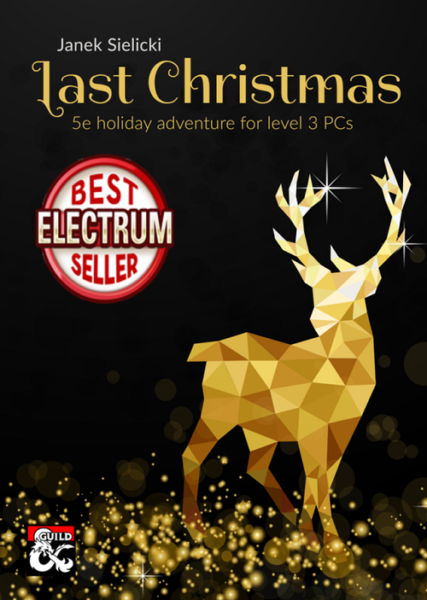 "This Christmas, Santa Claus must die! Adopt the role of one of the characters based on iconic Christmas villains and raid Santa's North Pole base in order to destroy Santa's corrupted form.

Due to Grunch's machinations, Santa's jovial form has been corrupted and he's called off his annual gift-giving journey. Now, the Spirit of Christmas gives Grunch an ultimatum: he must assemble a team of other famous villains, infiltrate the North Pole base and destroy the corrupted Santa Claus so he can be reborn and deliver presents. The team will have to navigate environmental hazards, deal with four factions of Santa's elves and finally battle the Man in Red himself."
Don't let the cute and pretty cover fool you, this game is an over the top adventure of killing Santa. Play as legally district but familiar feeling Christmas villains to complete your personal, secret objective, and maybe off old Saint Nick while you're at it.
Will you be playing a holiday adventure this Christmas? Do any of my top picks pique your interest or is there another that I didn't mention? There were at least five others that were on my short list, so there's no shortage of incredible and hilarious looking Christmas adventures out there. Let us know your favorite one in the comments!
Happy Adventuring!