Games Workshop asked for Feedback for their Army List Builder and folks delivered. Now they have started to tackle that feedback head on with a huge update!
Last week, the Warhammer 40k App finally got the main thing folks wanted: An Army List Builder. However, it was still in it's Beta form. The good news is that everyone has access to a free month to play around with it. The bad news is that there may be some hiccups. But that's why they created a feedback form you can use to help them squash those bugs and send them your feedback.
And for all the naysayers who thought this feedback was just going into someone's spam filter or other internet void, well, guess again. Games Workshop has already used that feedback to make some big improvements.
"As part of the beta process, we asked for your feedback. Not only did you deliver, but our app team has already prepared an update that introduces new features and addresses a number of your most common comments. Let's take a look at what they've been working on… "
Short Form Datasheets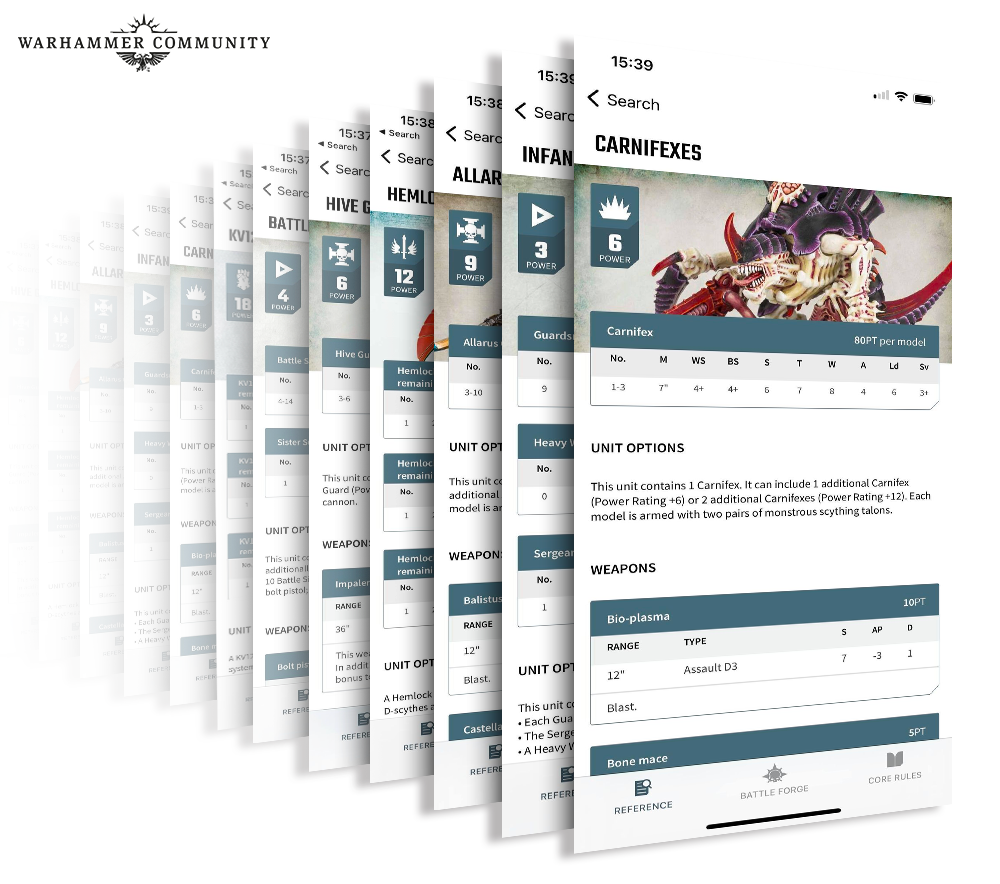 "Each datasheet shows you the unit's characteristics and weapons, which makes them a great way of getting a feel for how the unit performs – perfect if you're thinking of including them in your army or simply wondering how best to obliterate them in your next game.
These short-form datasheets don't include unit abilities – for those and other army-wide rules, Warlord Traits, Relics, psychic powers, and all the other good stuff from codexes, you'll want to redeem the codes from your books on My Warhammer. But until then, the app has everything you need to jump into some open play games to test out different units and weapon options to see what works for you."
Having short form datasheets in the app is great. Now you can check other armies units out in the middle of a game so you can plan your attack accordingly. While these might not be the full rules (ie, all the Warlord Traits and other extras) you'll at least be able to check the stats and make sure that those things really do have 4 attacks base.
Other Updates & Bug Fixes
iOS:
Miscellaneous bug fixes and performance improvements
Validation for Dedicated Transports added
An issue preventing certain units from being added to a Detachment for Astra Militarum, Death Guard, Thousand Sons, and Adepta Sororitas sub-factions now fixed
Android:
An issue causing the app to crash when changing wargear now fixed
Improved support for reassigning Relics
Loadout crashes now fixed
Miscellaneous bug fixes and performance improvements
Android and iOS:
Short-form datasheets for all armies now available
An issue preventing some users from accessing Blood Angels content now fixed
Aside from all the bug squashing going on, GW has also been able to update various issues from dozens of units. For the full list, check out the article – it's at the bottom.
A lot of the feedback was also around how to use and get around the App. Well, GW heard you loud and clear. So they put together a helpful video guide:
One other note, because this is still in Beta, your army lists may get deleted as they updates roll out. So export and save them if you really want to keep them. Once the devs are happy with the App and passes the beta stage, you'll be able to keep your army lists when new update roll out.
I'm impressed that GW has already taken in and implemented user feedback this quickly. Especially with everything going on right now. I really wasn't expecting anything major until January at the earliest. But they are burning the midnight oil on this one to get the features you want and squash those bugs. That's kinda what a public beta test is for. You can still get a free month and send them feedback so why not help make the App the best it can be? More eyes on the App helps them find more issues and makes it better for all the users.
Have you tried the Battle Forge Army List Builder? What do you think so far?