It's HERE! The 40k App now has an Army List Builder. Time to test this bad boy out and build ALL the lists – FOR FREE!
The Warhammer 40,000 App has been out for a few months. It had a rocky launch. There was some initial confusion about what was in the app and what wasn't which probably led to some of the lower review scores. The ONE thing that fans have been waiting for in the App since the launch was the Official GW Army List Builder. Well, we've got some good news – it's now included with the App!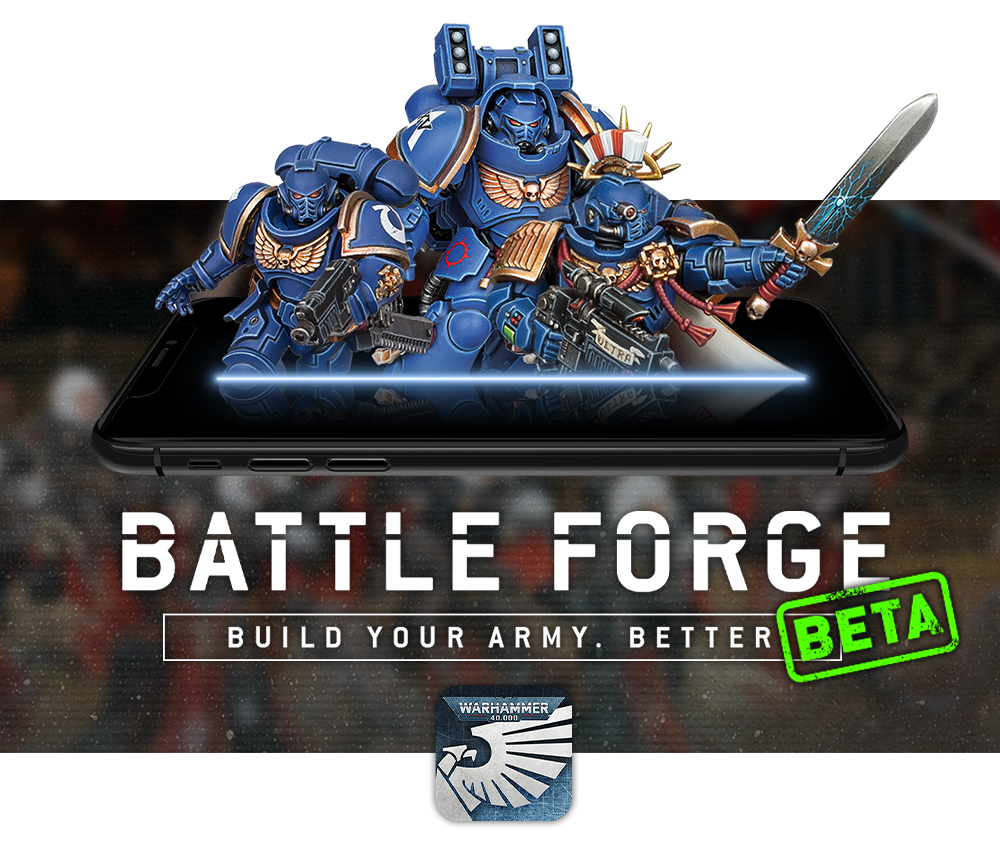 "Say goodbye to pencils and paper – the way you make your Warhammer 40,000 army lists is getting a huge upgrade! Battle Forge has been unleashed in Warhammer 40,000: The App, and you can try it right now for free. And if you're already subscribed, you're going to get a free month as well. "
Alright – there's a LOT to break down here. First up, this is the new Army List building tool you'll find within the app. If you've got the App already, update it and you should be ready to go. Second, this has that big, green BETA tag on it. What does that mean? It's not done yet – there's still some bug fixes that probably need to happen. But that's okay because GW has created a form to fill out so that you can share your feedback and any bugs you might find:
They need your help to find any and all the issues to make the App even better. There are about a BAJILLION units in 40k with a whole slew of numbers and stats behind them. Not to mention all the options within those units. If you find a problem with a particular unit or option click that link above and let GW know about it. The developers are actively working on it.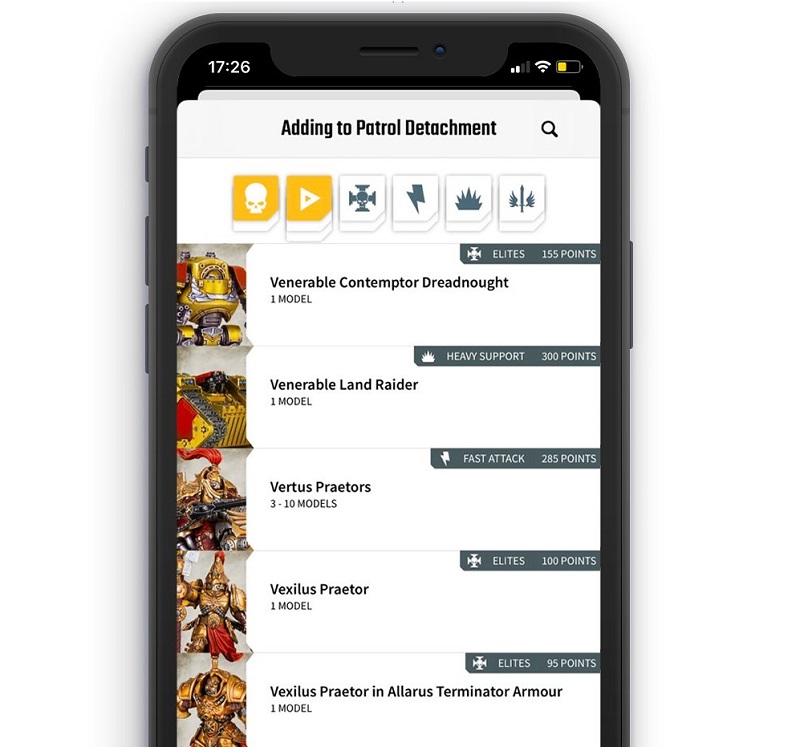 And lastly, you can TRY IT FOR FREE! Yep. You read that correctly. GW is giving away a free month to the users as they iron out the kinks in the Army Builder.
 "Oh, and it's absolutely FREE for a month.
We're hoping as many of you as possible make use of Battle Forge because your feedback will shape the future of its development. Right now, Battle Forge is in its beta version. With over one million pieces of data going into building your army lists and interacting in all sorts of ways, there are bound to be a few wrinkles to iron out. Our crack team of Tech Adepts will be hunting any issues down and getting them fixed – and with your help, we'll get that done even quicker."
So how does this all work? It's pretty straightforward. GW made a handy graphic so you can follow these 4 steps: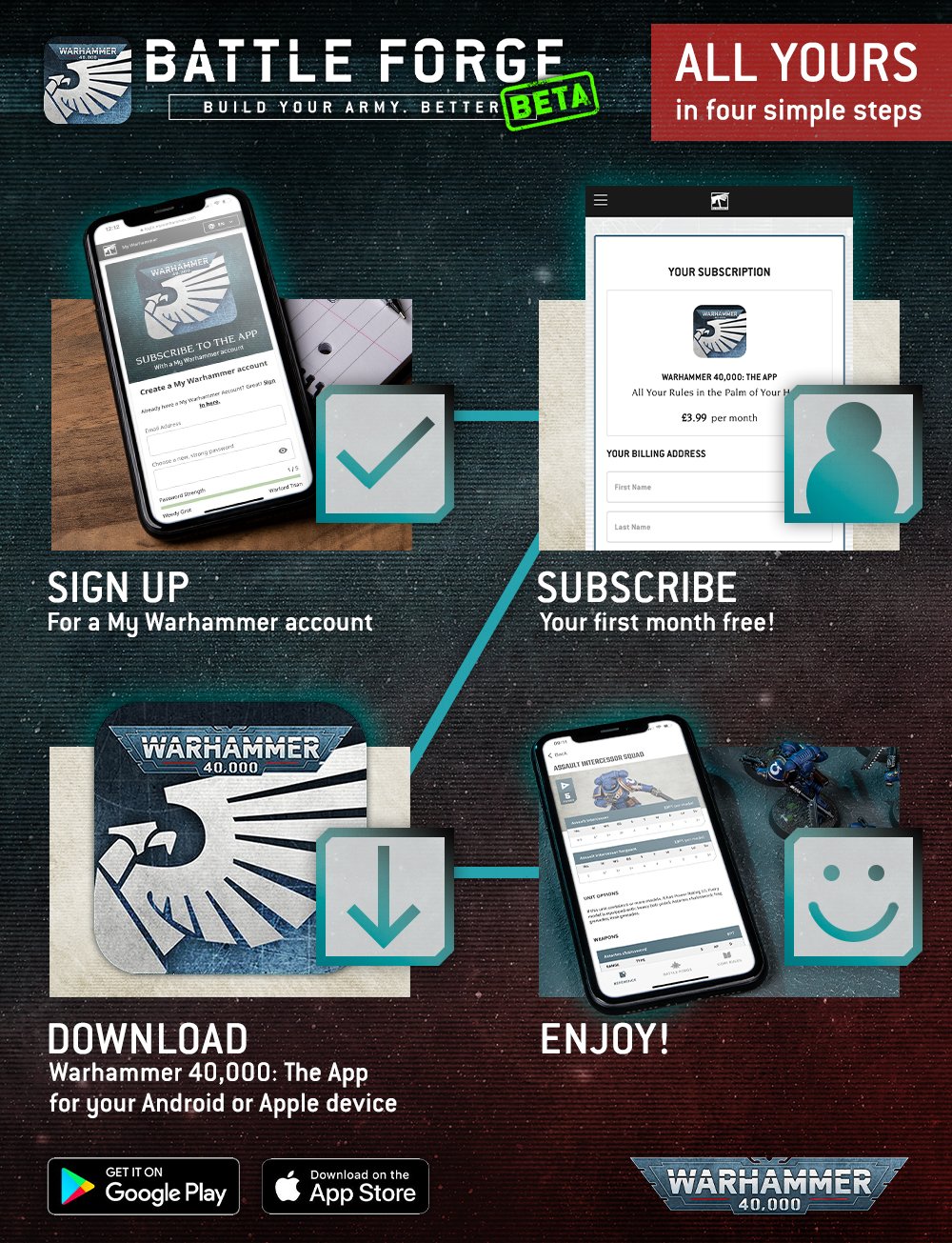 This is the part of the App everyone has been waiting for. If you've already downloaded it and given it a whirl just for the rules and access to your codexes then you've seen it in action. Now with the Army List Builder you've got the the full power of this app working for you. If you passed on the App because you were waiting on the Army List Builder, well, it's here now – so download it, register your account, and get to army list building!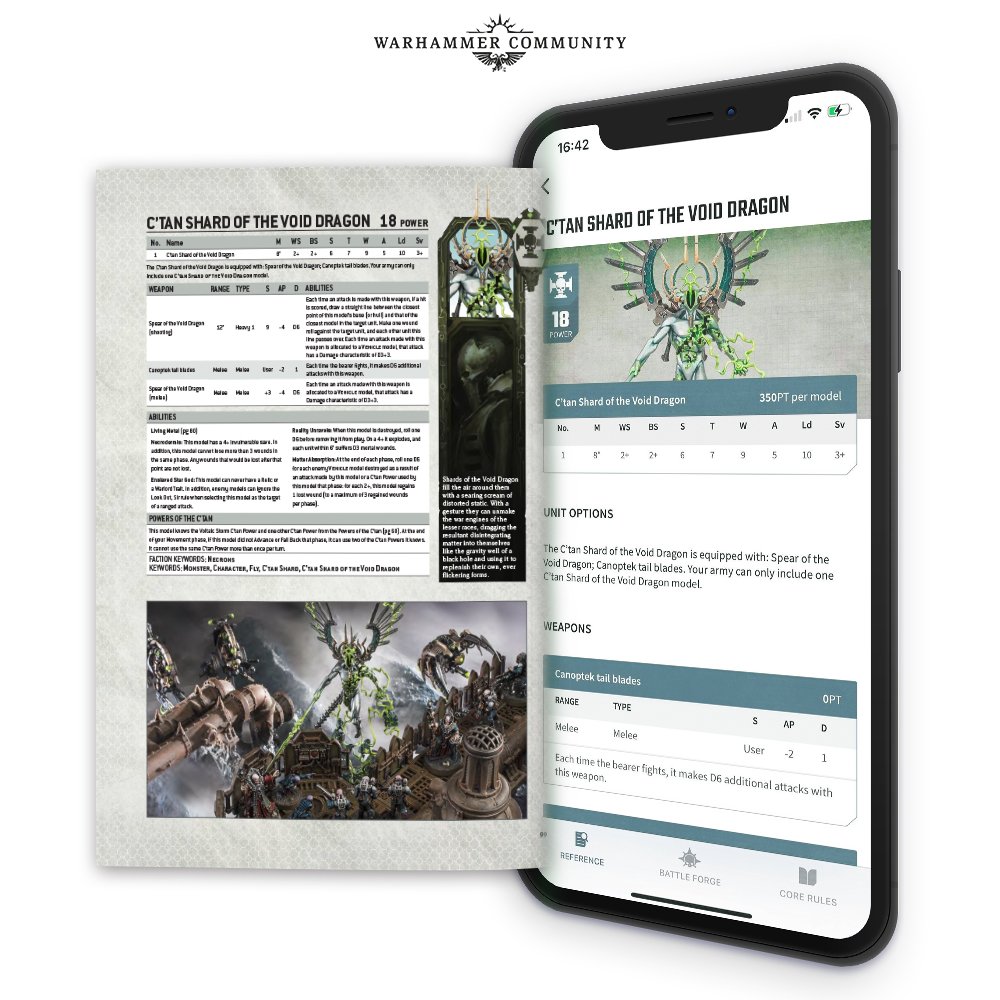 Here at BoLS we've been using the App to register our codexes. This has been a handy feature so far and we're looking forward to now being able to build army lists through the App as well. It was already convenient to have all of the rules on our phones/tablets. But now it's going to be even easier to build army lists within the same App – so what's not to like? And hey, new users or veteran subscribers – you're all getting a month to try it out FOR FREE. You've got nothing to lose here and you can directly help make the App better by reporting bugs and dropping in that valuable feedback.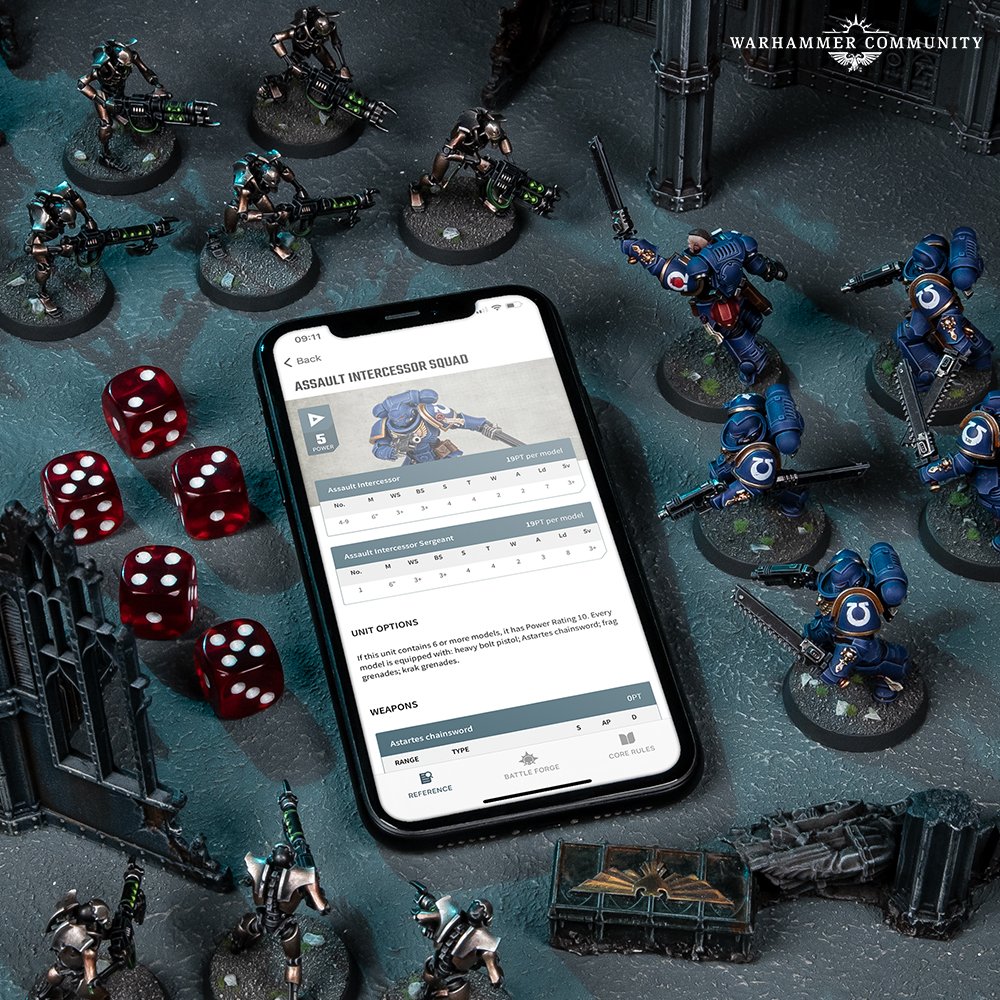 Future Plans
This is not the last stop for the App either:
"First on the list is implementing custom sub-factions using the rules from codexes. This will let you design your own Space Marine Chapters, Necron dynasties, and Aeldari craftworlds, and give you even more scope for crafting your perfect army. A number of Stratagem-based abilities such as Ork Kustom Jobs and Craftworlds Exarch abilities are also on the way, so watch out for those."
Again, they are actively still developing the App. Now is the perfect time to give it a test drive and help shape the future of the Warhammer 40k: App in the process!
The "thing" we've all been waiting for is here and in Beta. Download it, test it out, and let them know what you think!