Warhammer: Underworlds – Inside Direchasm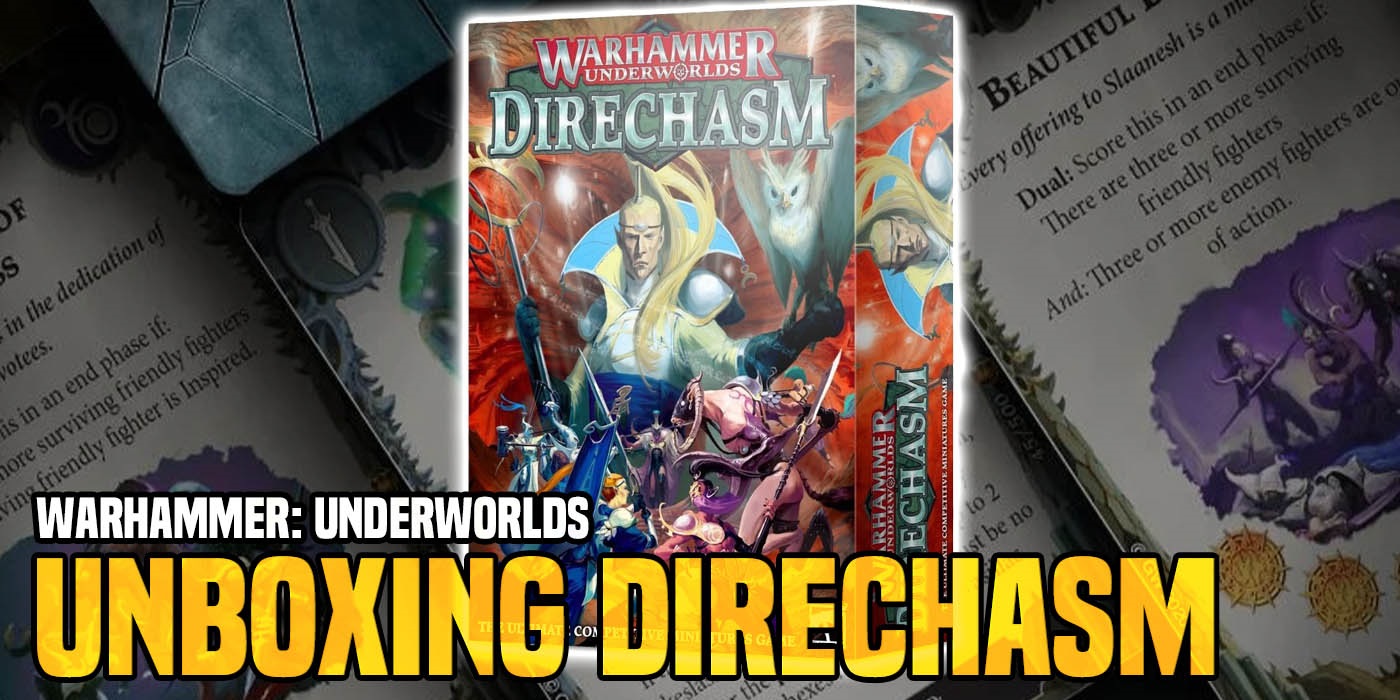 We've got the new boxed set for Warhammer: Underworlds and we're taking a dive into Direchasm – join us for a quick tour!
Warhammer: Underworlds Direchasm is up for pre-order and coming to stores this weekend. Want to get a closer look at the contents? Well let's do it:
Warhammer: Underworlds – Season of the Direchasm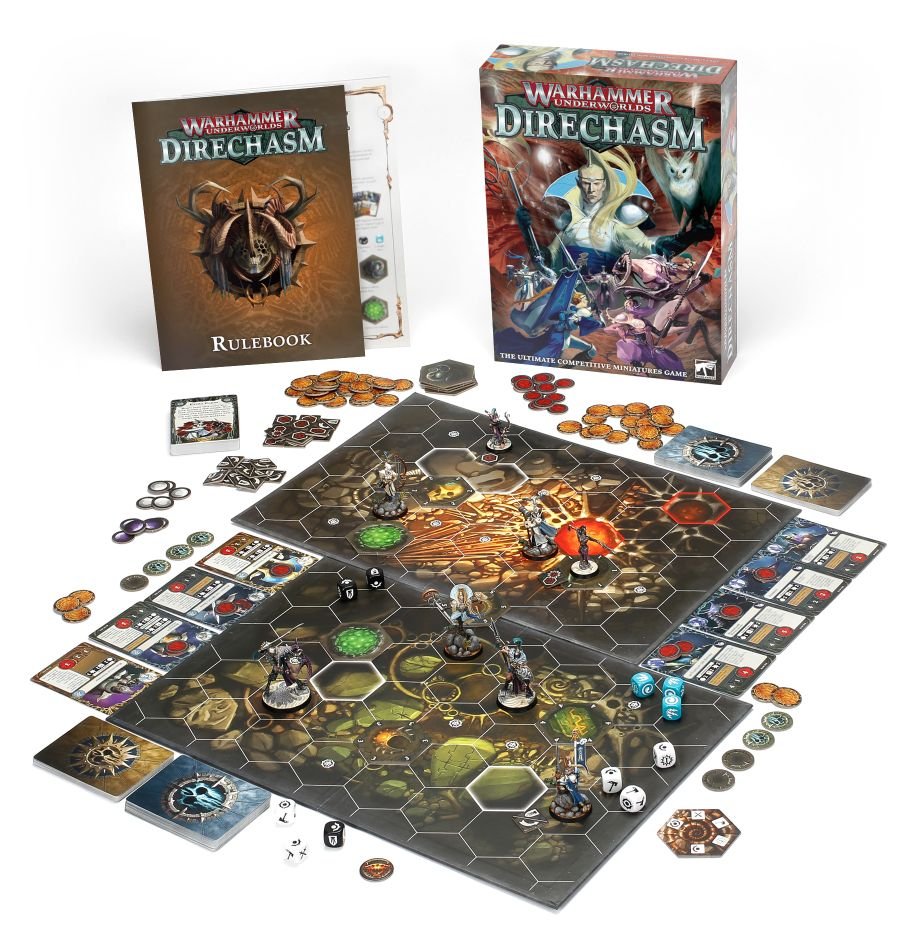 Direchasm is the latest expansion/season/starter box for Warhammer: Underworlds. By now, you've probably seen the two Warbands and a ton of the cards. We'll tackle the warbands in a moment, but first I wanted to address the cards. There are a LOT of them. You can find a pretty good chunk here and here. And, eventually, GW will also update their deck builder with more cards – that's if they haven't already done so by the time this publishes. "Why don't you go over the cards in the video?!" Because it's just too much to do in a quick unboxing. Plus, you can get better quality shots of the cards direct from GW.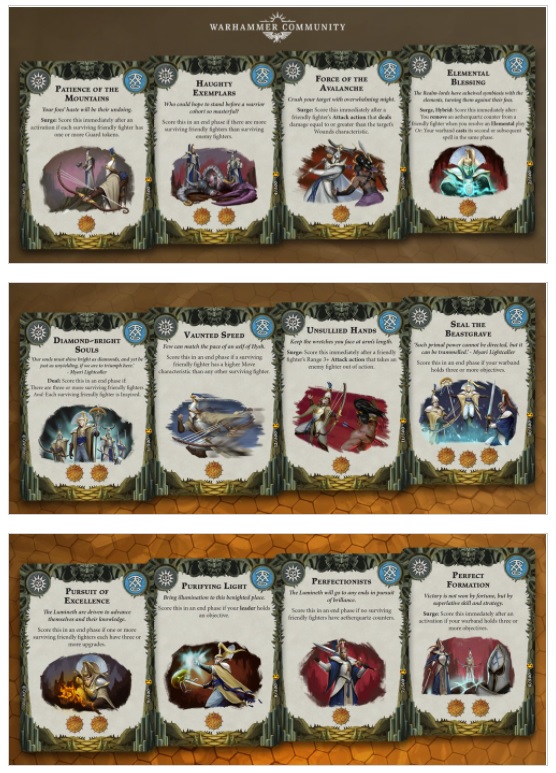 ..Seriously – just check out the GW articles if you only care about the cards.
Okay, now that we've covered the cards, let's take about the REST of the cool stuff in the box.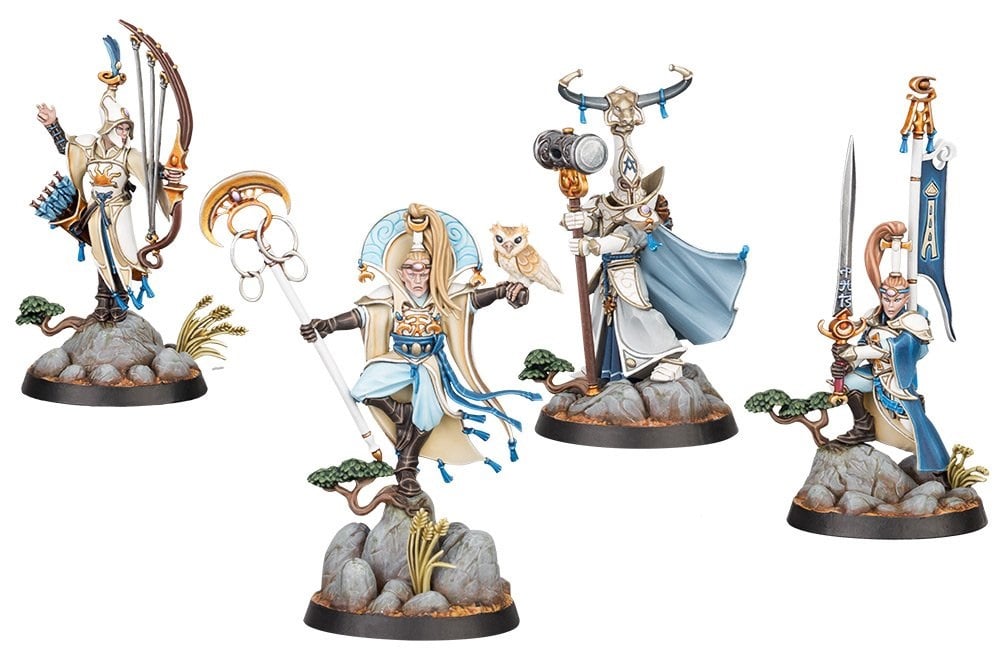 Miniatures-wise, we do get the two Warbands. And yeah, I butchered their names. My bad. Anyhow, they come in dyed plastic and I really liked all the poses. One thing in particular I liked was all the scenic bases that came with these models. The Lumineth Realm-lords in particular have some pretty crazy bases with the large, rounded rocks. Certainly it's a call back to their other non-Underworlds models and designs.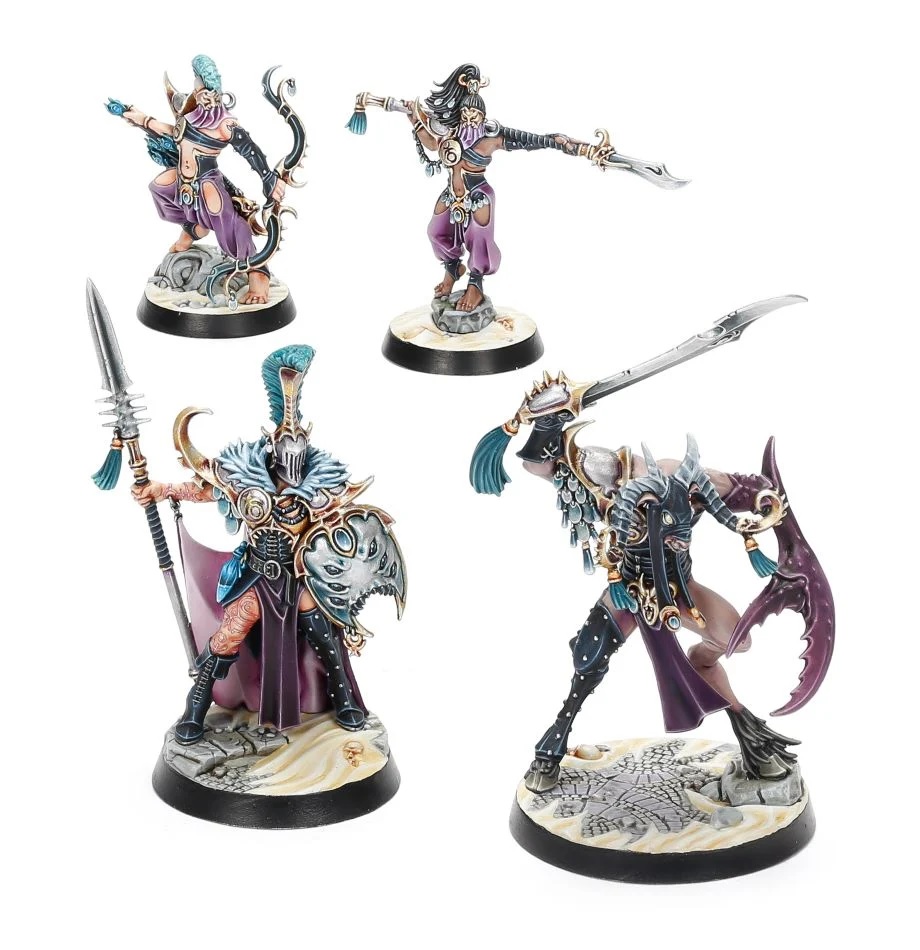 Subscribe to our newsletter!
Get Tabletop, RPG & Pop Culture news delivered directly to your inbox.
The Slaanesh Warband, on the other hand, actually had somewhat tame looking bases. But the models more than made-up for that! Also, can we talk about the Slaanesh Beastman in the crew? What are we calling them? Slaanesh-a-gors? Slaan-men? Slaangors? I dunno. But I think it's about time! I'm hoping we see even more of these guys in the future as they round out the Chaos Beastmen with some Slaanesh versions.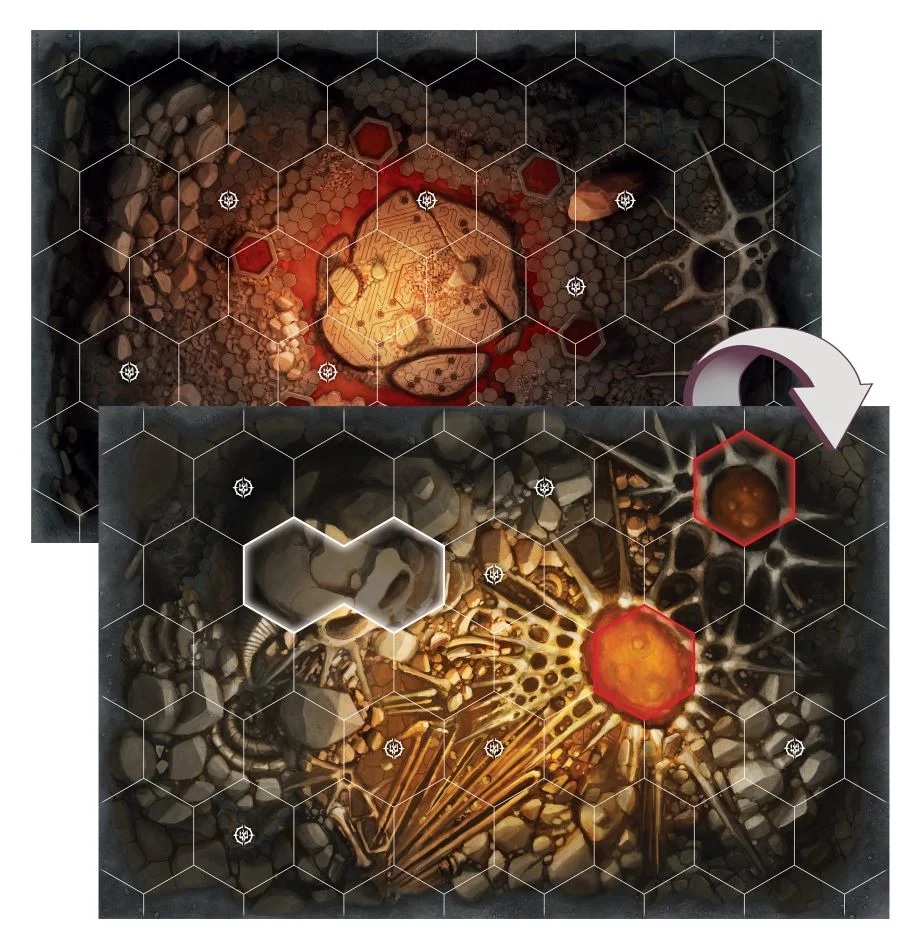 Also included in the box are two double-sided boards. So if you're brand new to the game, you've got enough boards for two players. If you've got all the expansions upto this point, now you've got two more sets (4 sides) to mix things up with. They each have their own deployments, objectives, and hazards to worry about as well. On top of the boards you also get all the tokens you'll need to play as well as a new rule book, dice, and instructions for building your new warbands.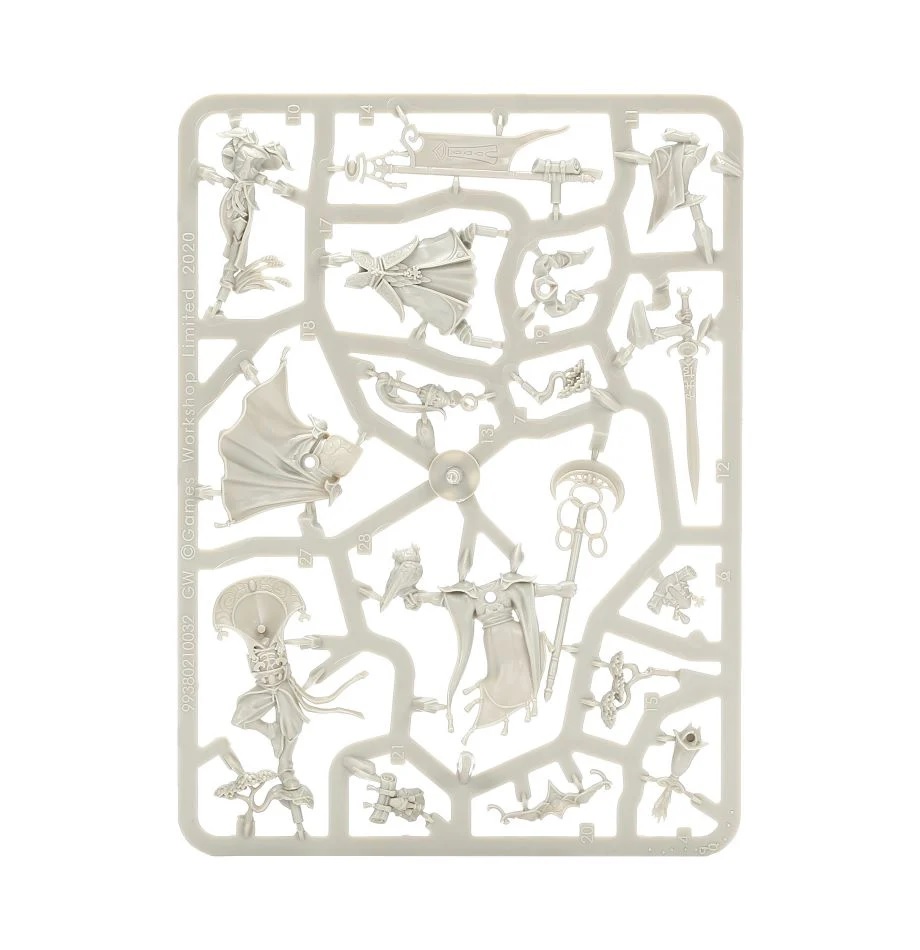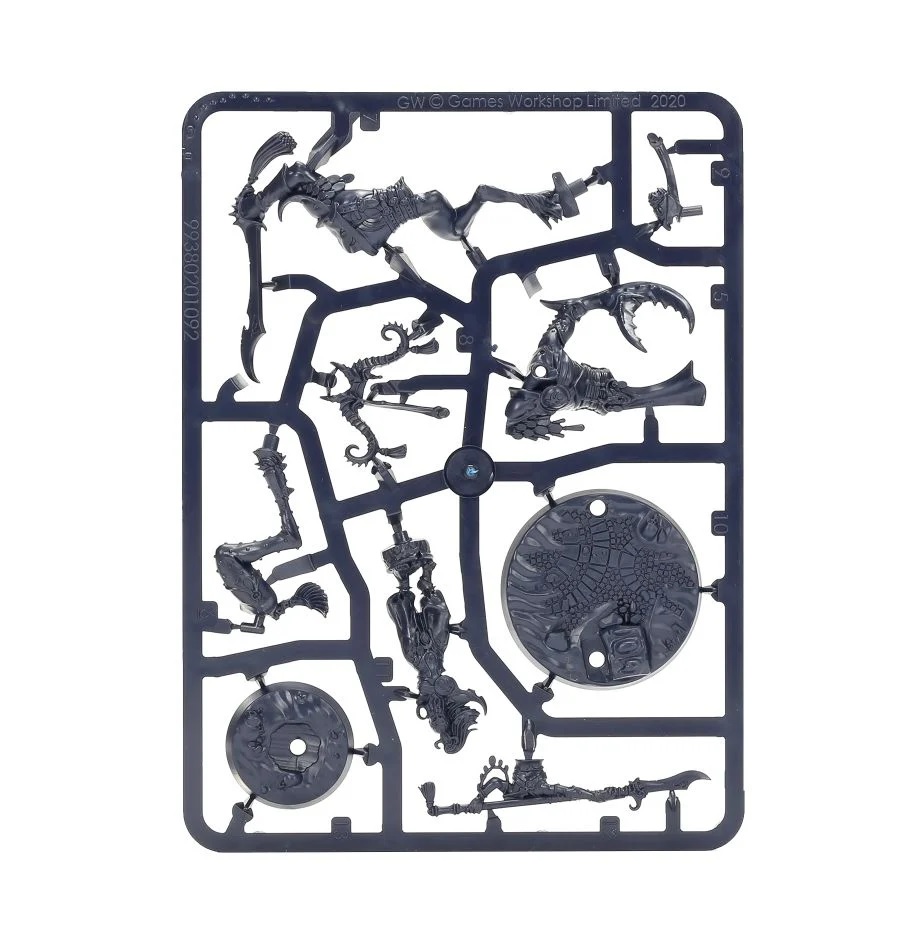 The components are all the same high quality you'd expect from GW and the models are push-fit. Although, I personally still like to clip down the pegs a bit and use some plastic glue for a super snug fit. But you don't have to be super into the hobby side of the house to enjoy this box. Assembly is pretty quick and easy and you'll be up and playing in no time.
PSA – Rules Changes
Games Workshop also covered many of the changes to the game and we didn't touch on the rules updates in the video (again, it's an unboxing and not a "how to" video). If you're going to pick this one up you're going to want to read through the rules section to see what's new. You can also cross-check that with the two article from GW. One goes over the big changes. The other is more of a designers commentary and has some minor info on rules.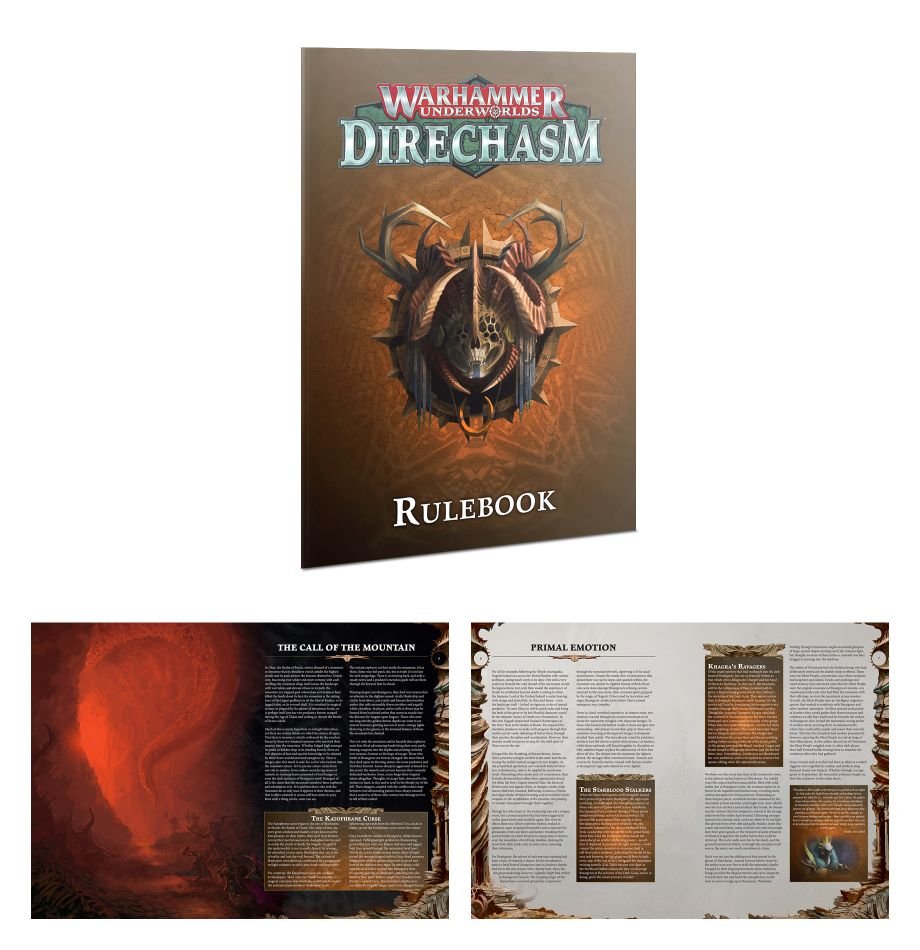 This is the new boxed set and makes a great entry point into the series for new players and it's an update for all you veterans out there. So if you're interested in Warhammer: Underworlds, you can't go wrong with this boxed set!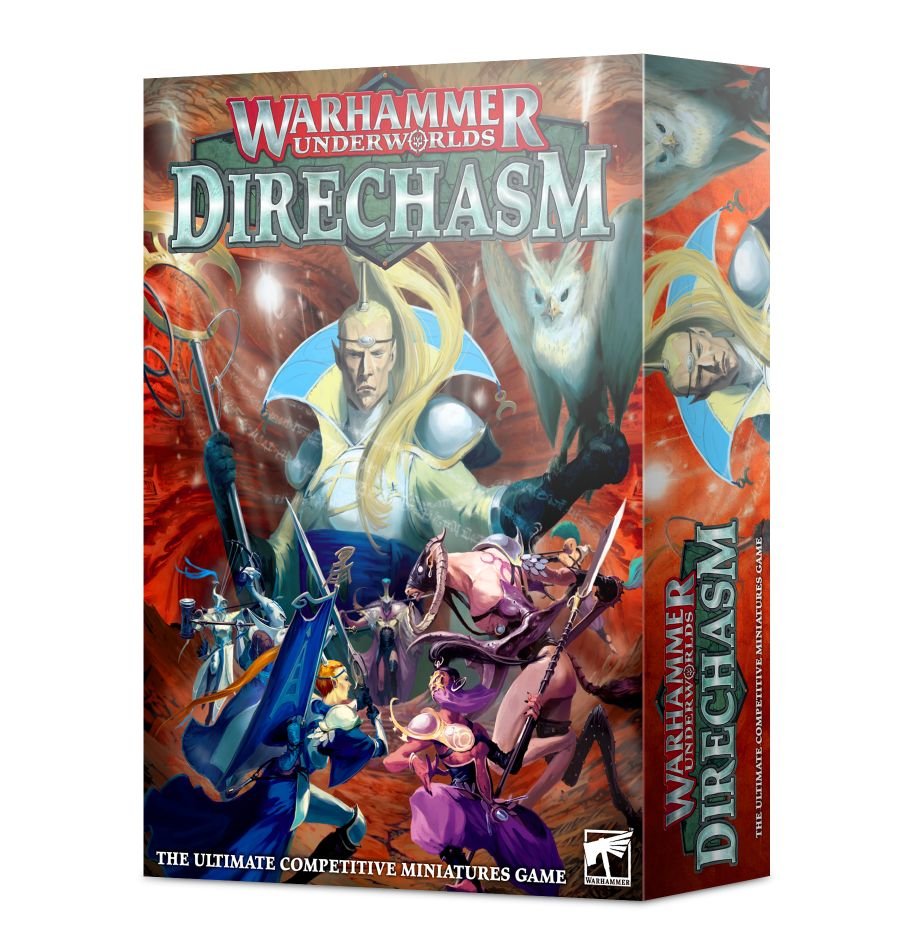 This set contains:
– The complete rules for Warhammer Underworlds, clearer, sharper and tighter than ever before, featuring thrilling new game mechanics like Primacy, as well as containing lore and art that further explores Beastgrave itself.
– The complete Myari's Purifiers warband – a company of Lumineth aelves seeking to quell the monstrous heart of Beastgrave. Build your warband with the four push fit plastic models, cast in coloured plastic to ensure they stand out even when unpainted, plus fighter cards and a number of warband-specific cards that let you unleash their noble strategies in battle.
– The complete Dread Pageant warband – a group of depraved Hedonites of Slaanesh tormenting the living mountain. Build your warband with the four push fit plastic models, cast in coloured plastic, and build your decks with fighter cards and a number of warband-specific cards that let you harness their power of excess in battle.
– 2 double-sided game boards that can be used to assemble your battlefield.
– Warhammer Underworlds tokens, including objectives, wound markers, glory points and many, many more.
– 32 universal cards – gambits, objectives and upgrades that can be used by any warband, perfect for deck-building with Myari's Purifiers and The Dread Pageant or bringing your favourite warband into Warhammer Underworlds: Direchasm
– 11 Dice – 5 Attack dice, 3 Defence dice and 3 Magic dice, enough for the most devastating blows, desperate defences and cataclysmic spells!