Amass Your Undead Army with These Fantastic 28mm Skeletons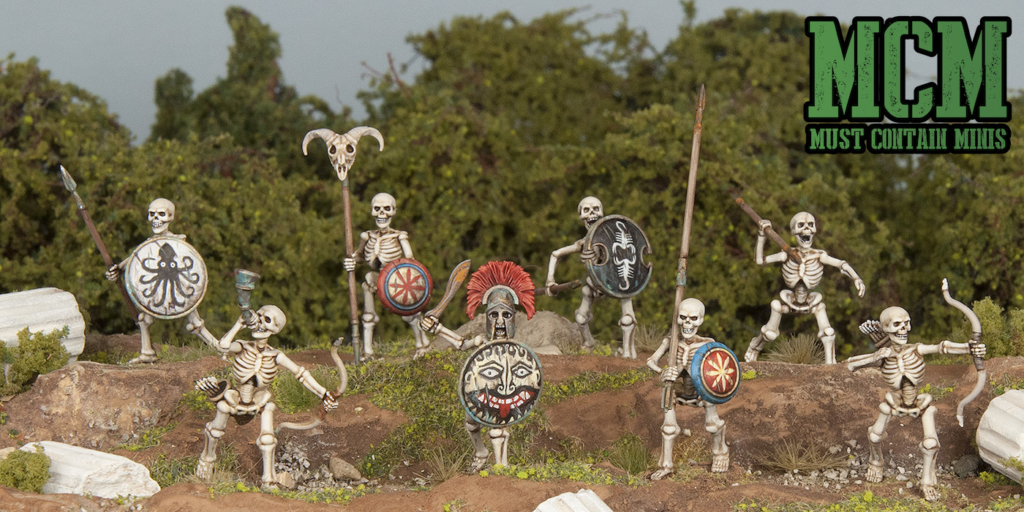 If you are looking for an affordable way to build up a 28mm undead army, be sure to take a look at Wargames Atlantic!
These guys make quality hard plastic miniatures at a fraction of the cost of many of their competitors. This makes them a great option for those looking to beef up their armies or even start a new one. Even if you don't play fantasy miniatures games, these figures could easily find their way into the homes of Dungeons and Dragons players and Dungeon Masters too. At $34.95 for 32 figures, I find them extremely affordable. Why not use them for your undead dungeon adventures too!
With that out of the way, let's take a look at their 28mm Skeleton Warriors!
What's in the box?
So, the first thing that I hear from you is what is in the box, well, you get 8 plastic frames with parts for four miniatures each.
The details on each miniature are clean and crisp. Three out of four are extremely easy to build while the one without an integrated base is slightly harder. If you want to see how I dealt with that one, check out the YouTube video that I embedded further down below.
Each sprue comes with 3 spears, 1 Bow, 1 Sword, and one pike. Some people use that pike to build a tall flag standard. On top of that, you get four shields and one horn pure sprue. How does a skeleton blow a horn with no lungs? I have no idea!
Here are the first four miniatures that I built from this box set.
An Undead Army from one Affordable Box
Using the Wargames Atlantic Skeleton Warriors box set, I was able to make a small army of 32 miniatures. That army consists of two ten-man squads of spearmen, five archers, and five swordsmen. Using the last two figures, I created an undead necromancer and a skeleton champion. Below are just some of the pictures. For more, check out the full review or scroll down and watch the video.
Hopefully, you enjoyed those images. This is but a small sampling of the many I took. The video below features 70 images from the photoshoot.
The YouTube Review
This Wargames Atlantic kit is great and a fantastic value. Below is the extremely thorough video version of the review.
Kitbashing Opportunities
For those who like kitbashing, here are a few images from Codex d'Araden. He is well worth a follow on Facebook if you like combining elements from different miniatures to make a unique figure.
Subscribe to our newsletter!
Get Tabletop, RPG & Pop Culture news delivered directly to your inbox.
Aside from showing the kitbashing opportunities, I wanted to share Codex d'Araden's pictures to also give a sense of scale between Skeletons by Warlord Games and Warlord Atlantic. It also shows you the size difference between Games Workshop Age of Sigmar minis and the Skeletons by Wargames Atlantic. Thanks goes out to Codex d'Araden for allowing us to use his images.
Wrapping it up…
Thank you for joining me in this review of Wargames Atlantic's 28mm plastic Skeleton Warriors. Overall, these are great miniatures at a very affordable price. For a more complete account of the miniatures kit, you can also check out the full review over on my personal site. Over there I have different pictures and another couple of scale comparison images too.
Special thanks goes out again to Wargames Atlantic for sending me these miniatures for review.
Until next time, Happy Gaming Everyone!!!

Read more about great Indie and Historical games on my site!
Must Contain Minis is my personal reviews, showcases, and battle reports website where I look at mostly Indie and Historical Games. Mainstream games and products also enter the mix. You can also follow me on Social Media. I am very active on Facebook and share posts of a wide variety. I upload my best pictures to Instagram and am also on Twitter. Oh, I am on YouTube now too!
My aim is to promote gaming with companies outside of those that already dominate the gaming market.
Latest News From BoLS: