Boy Problems, The Carly Rae Jepsen RPG, Gets B-Side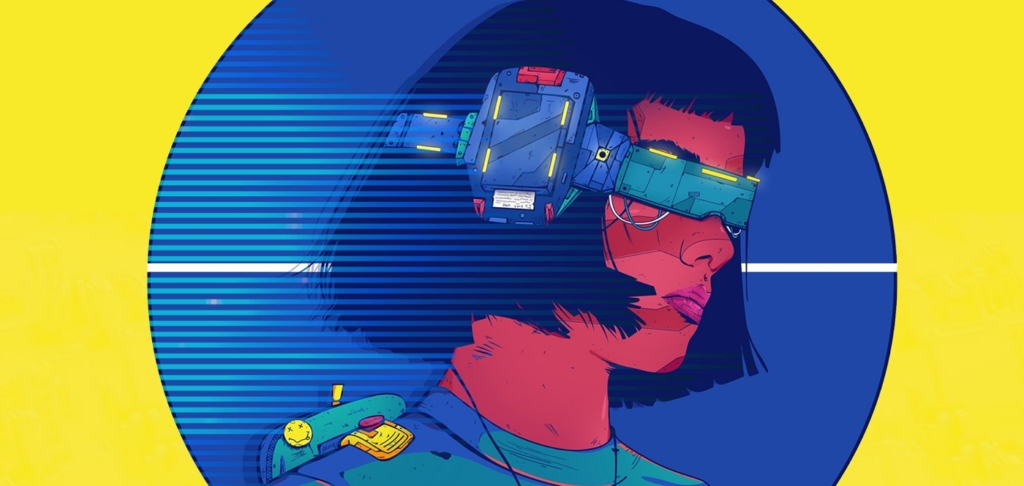 Boy Problems isn't just a great Carly Rae Jepsen song, it's also a Carly Rae Jepsen Sci-Fi Heist RPG, and it's getting a worldbuilding expansion!
Roleplaying games are art. And I can say that with confidence because we live in a world where you can play two different Carly Rae Jepsen RPGs right now, and before too long you can play a third. That's right, national treasure Carly Rae Jepsen is the inspiration at the heart of a triptych of games from Colin Cummings, who is currently growing the first of the CRJRPG triptych, Boy Problems, with Side-B, a new expansion that builds out the world, adds new mechanics, and an additional heist.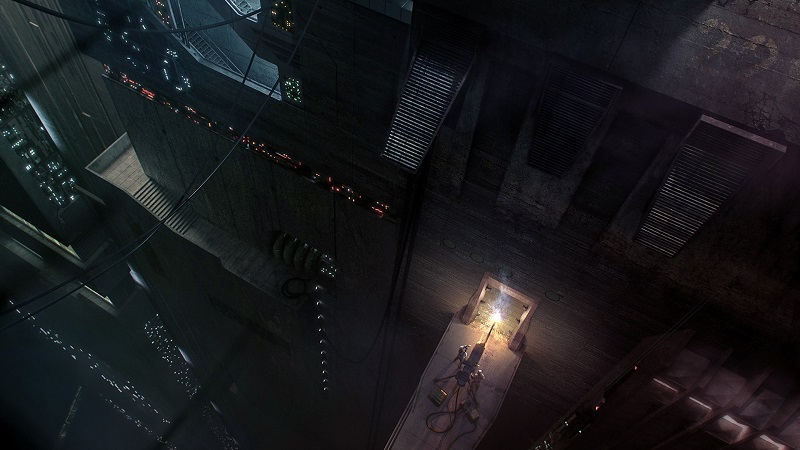 We've previously featured Boy Problems right here on BoLS, but if you're unfamiliar, Boy Problems is a hack of Lasers & Feelings, a one-page RPG that is itself inspired by a hit album of completely unrelated music. The basic premise of Boy Problems is that in a dark, dystopian future, the players are contracted by an anonymous sponsor to break into the highly sought after Vault of CRJ's unreleased songs. Your mission is to raid the Vault and break out what's inside.
Which brings us to Side-B, the upcoming expansion to Boy Problems.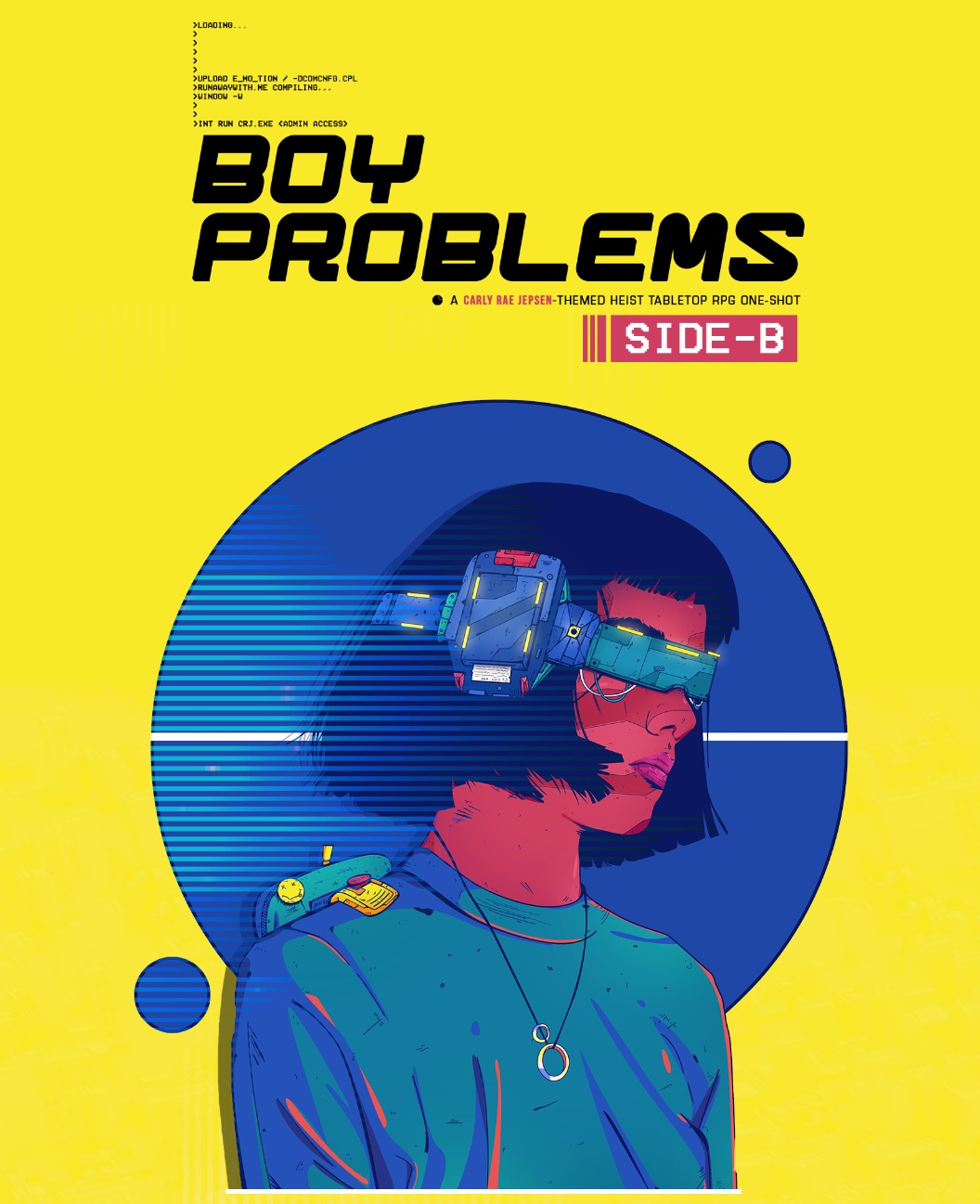 Side-B opens up the world of Boy Problems. Lasers & Feelings is a fun, but streamlined RPG, and with the new book, new mechanics loom, including different ways to customize your character and where they live:
An expansion to the original Carly Rae Jepsen-inspired cyberpunk heist game, Boy Problems Side-B will provide new jobs for your crew, expand on character customization, and let you carve out a home for yourself. There is even more intrigue that awaits, are you ready?

With an all-new creative team, Side-B will delve even deeper into the cyberpunk world of Boy Problems. Inspired by fashion-zines, the expansion will provide brand new art, mechanics, and story for the original game.

Which is great, because the original Boy Problems hints at a much deeper world with its simplicity. When I first played it, I wanted more, and this is exactly what I'd hope to see. Cummings is currently running a crowdfunding campaign on itch.io, everyone's favorite Indie RPG home, where you can pre-order the expansion (as well as grab the original if you don't already have it). Funds from this will go to hire a team to deliver the best Side-B we could hope for. Check it out: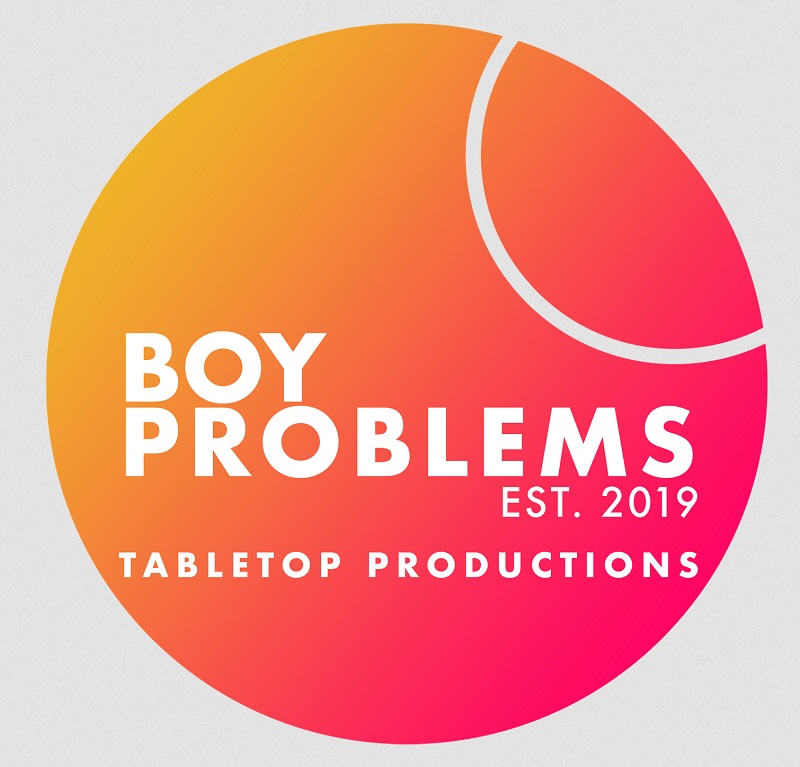 The original release of Boy Problems saw the hack of Lasers & Feelings (by John Harper) ride a wave fueled by a love for Canadian pop artist Carly Rae Jepsen and a genuine curiosity for this unlikely mash-up. Since that initial launch, the game has received numerous updates to include new mechanics, balance adjustments, a story and canonical world, and an entire overhaul of its design with new cover art by artists Saffron Aurora and Gabby DaRienzo.

Subscribe to our newsletter!

Get Tabletop, RPG & Pop Culture news delivered directly to your inbox.

The Side-B launch will continue the work done in the original release and help to expand the world of Boy Problems even more. By pre-purchasing a copy of Side-B and/or the original Boy Problems release within the campaign window, these funds will go towards hiring artists and writers to help make this expansion even better. These writers will help create new heists for the crime crew and expand on the world-building of the pop-infused cyberpunk world of Boy Problems. Talented artists will create new illustrations to include in this expansion/zine that will help immerse players in the game and it's world even more.

The initial fundraising goal will cover three artists and two writers who will work alongside the creator and designer of the original game, Colin Cummings. This expansion will also include new mechanics to give more ownership to your characters and their legacy, as more options will expand on things like cybernetic enhancements or their heist headquarters.
The campaign only runs until the first of February, with a planned release of March 2021, so check it out today!
Latest News From BoLS: