Canadian Terrain Companies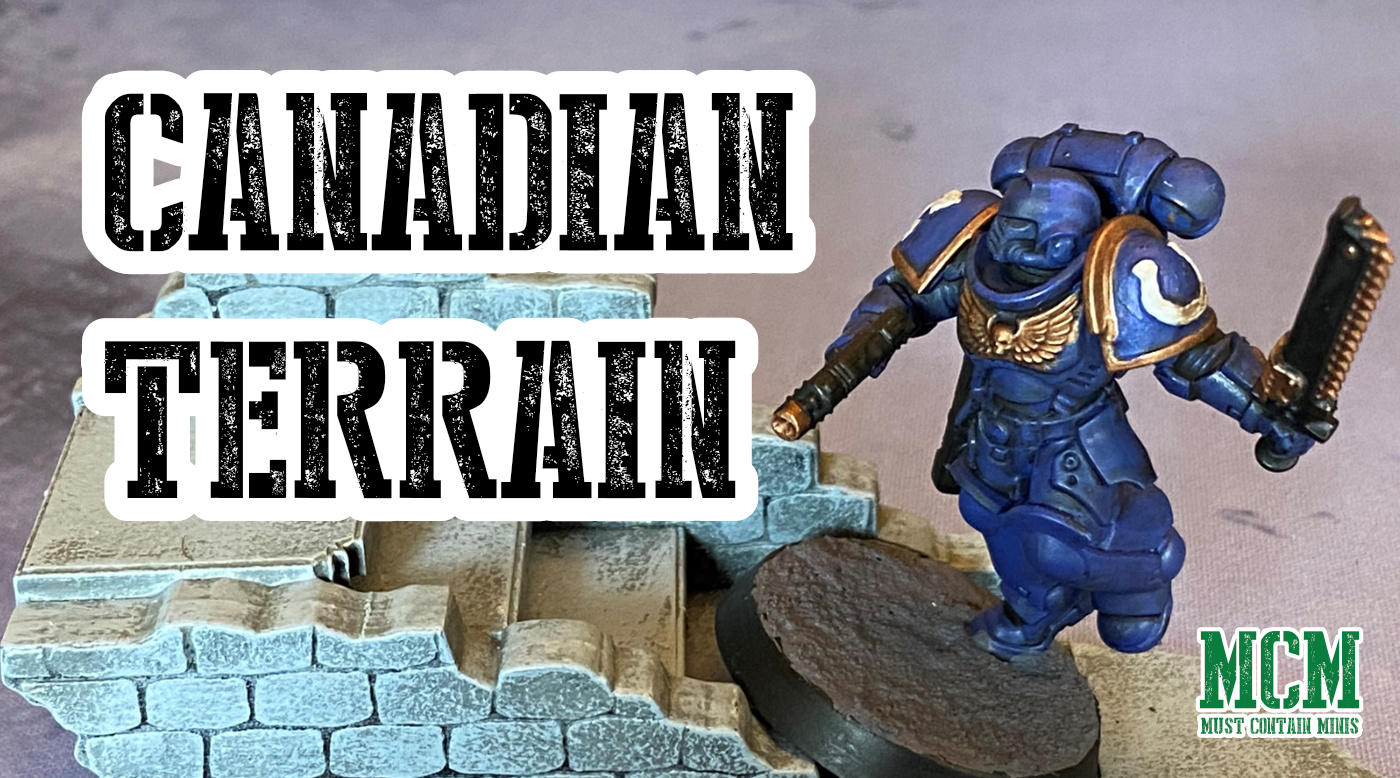 North of the border, there is a heck of a lot of good talent. In this post, we take a look at Canadian companies who make gaming terrain.
To start, I list all of the companies of which I know. Afterwards, I take you on a narrated slideshow showcasing and reviewing the products of three of those businesses. All of these companies make terrain for mass distribution and have good online stores.
For my American readers, this means good bargains for you. The American dollar is much stronger than the Canadian dollar. Every Canadian Dollar is roughly 78 cents American. That translates to roughly a 22% discount on prices simply due to the differences in currency values. Many of these companies can ship free of charge once you hit a certain threshold. Some of them don't even have shipping rates because they sell files for 3D Printers. Some of them (like RM Printable Terrain) have American Partners where you can buy print outs of that terrain if you don't have your own printer.
Below is a list of terrain companies based out of Canada along with a quick description of what they do. This list comes to us from the Canadian Miniatures Gaming Companies Page.
Canadian Terrain Companies
This list includes just the companies that I know of that do terrain. There are plenty of more Canadian Miniatures companies on the Canadian Miniatures Gaming Companies Page. Make sure you check that out if you haven't already.
YouTube Video
This YouTube video showcases three of the above companies, quickly reviews their products and tours their websites. Come check out Cardboard Dungeon Games, XOLK and Six Squared Studios for some excellent wargaming terrain at good prices.
Above is my YouTube video discussing Six Squared Studios, XOLK and Cardboard Dungeon Games.
Wrapping it up…
Thank you for joining me in this look at Canadian Companies that make terrain. Hopefully you enjoyed the video too. If you haven't already subscribed to my YouTube Channel, please do so. Also, remember that you can find a listing of all of the Canadian miniatures related companies that I know of through the Canadian Miniatures Gaming Companies Page.
Finally, happy 2021 everyone!

Read more about great Indie and Historical games on my site!
Subscribe to our newsletter!
Get Tabletop, RPG & Pop Culture news delivered directly to your inbox.
Must Contain Minis is my personal reviews, showcases, and battle reports website where I look at mostly Indie and Historical Games. Mainstream games and products also enter the mix. You can also follow me on Social Media. I am very active on Facebook and share posts of a wide variety. I upload my best pictures to Instagram and am also on Twitter. Oh, I am on YouTube now too!
My aim is to promote gaming with companies outside of those that already dominate the gaming market.