Of all the wizards from the coast, Halaster Blackcloak is one of the biggest and baddest. At CR 23, he's a prime example of what an archvillain is like.
The master of Undermountain, the wizard who's been to many worlds, including Earth, the lord of paranoia, and one of the few people who's armed and dangerous because he just has a gun (no for real he does though), it's Halaster Blackcloak. He is as arch a villain as you can get in D&D, and if you want to see how to have a villain that your characters can't just one-shot, check it out!
When it comes to delivering a beating to a party, Halaster Blackcloak has a few tricks up his sleeve.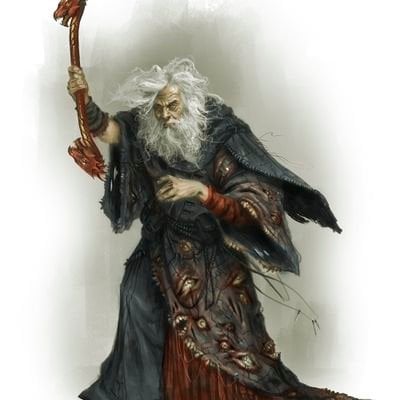 And what I like best about this is, you might not even need any of this. Halaster Blackcloak, while giving the book its name, might not even be opposed to the party when they come into play. He's certainly an antagonistic presence–but there's plenty of ways (and reasons) for him to interact with the party without resorting to combat. Depending on what his goals are (see below) he might even help the erstwhile adventurers who have had the audacity to break into his lair. But, should he need to go toe to toe with the players… well take a look.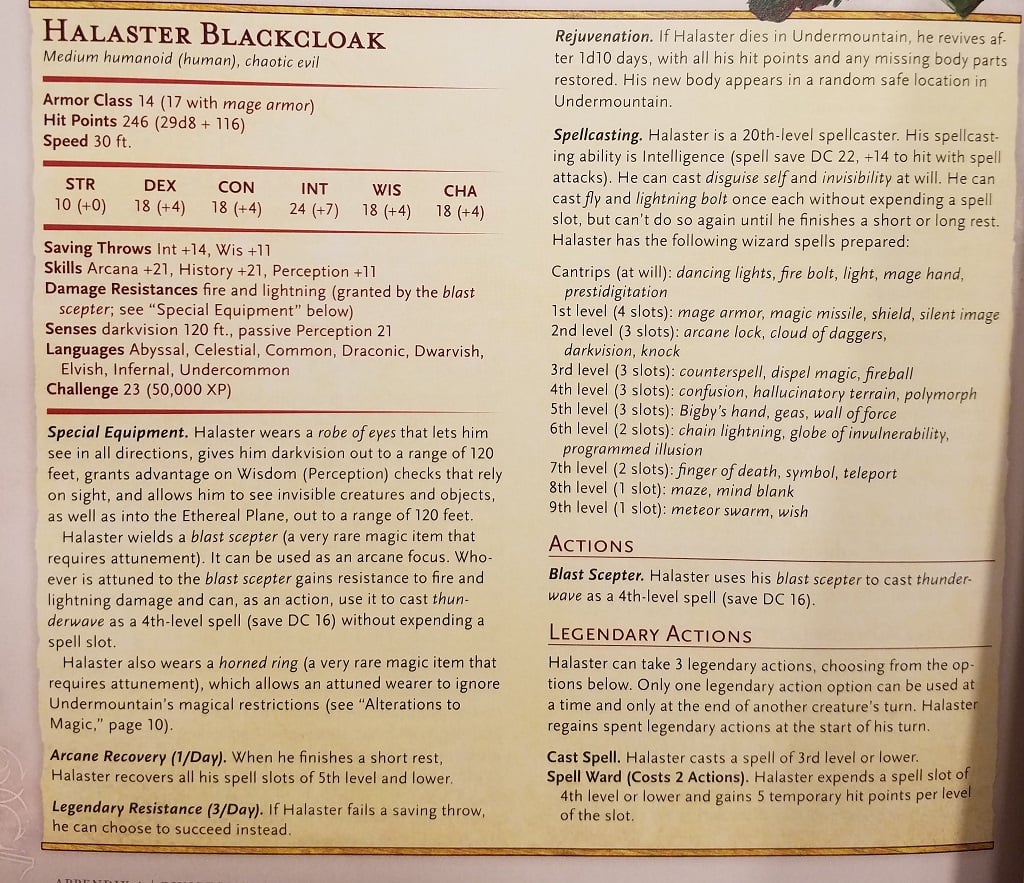 At CR 23, Blackcloak is one of the most powerful spellcaster type enemies we've seen. He's a 20th level Wizard and sports some powerful magic items, including a Robe of Eyes, which is incredibly useful, if creepy, and a magical item that just lets him cast a 4th level Thunderwave at will. That's a whopping 5d8 area blast for free. And that's before you take into account his more powerful spells. He's got options–a toolbox with a solution for every problem.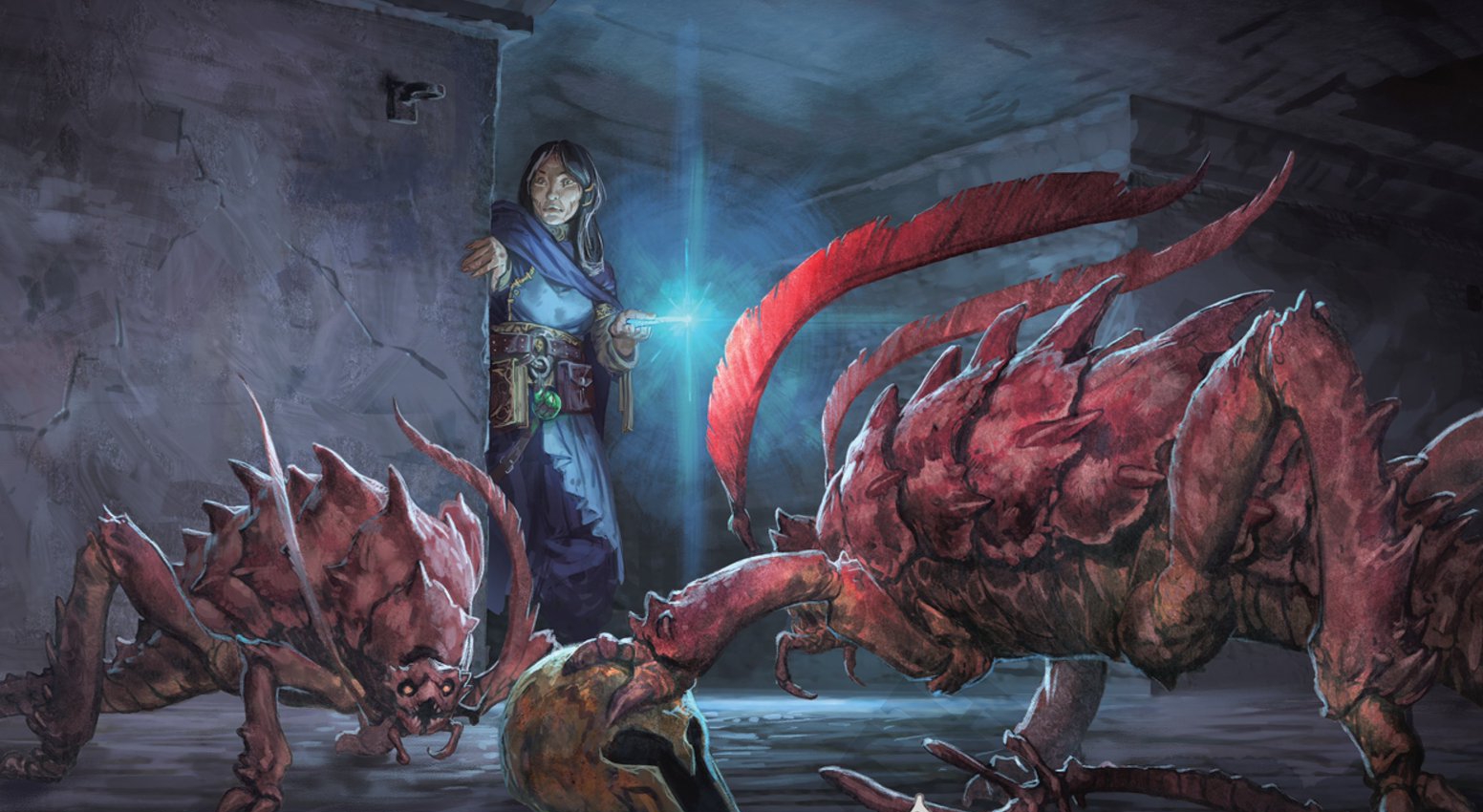 Powerful melee attacker? Unstoppable (and at this level potentially undying) Barbarian? Maze will shut them down. Spellcasting enemies getting you down? Wall of Force can block most of what you need, plus Mind Blank will prevent the worst of the mind control spells. Then layer on Chain Lightning, copious Fireballs, and a Meteor Swarm, and you've got a recipe for dishing out loads of damage in a wide swath of an area.
The trick is to keep Halaster on the go. Fly and Invisibility are crucial for him. Especially since he can cast the latter at will. It's easy enough to go invisible, then use one of your legendary actions to attack from a safe place–or to vanish out of turn.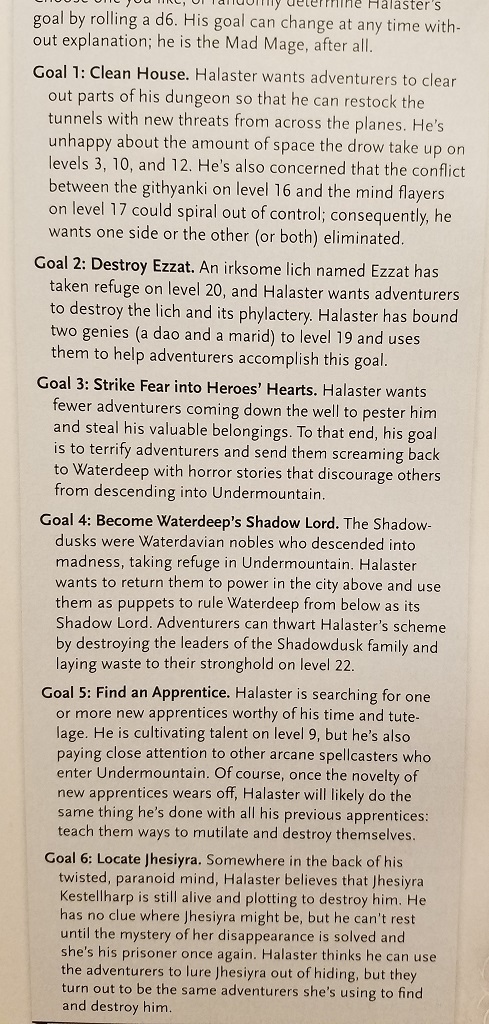 Again though, this all depends on Halaster deciding that he needs to fight the Players. He might prove to be a powerful, if unlikely ally. Which is what I love about this villain. With Halaster you have a chance to have your players make some shady deals, to set up some real grey areas for your party to flounder into.
 Happy Adventuring!