Star Wars: Stunning Concept Art Of The Original Trilogy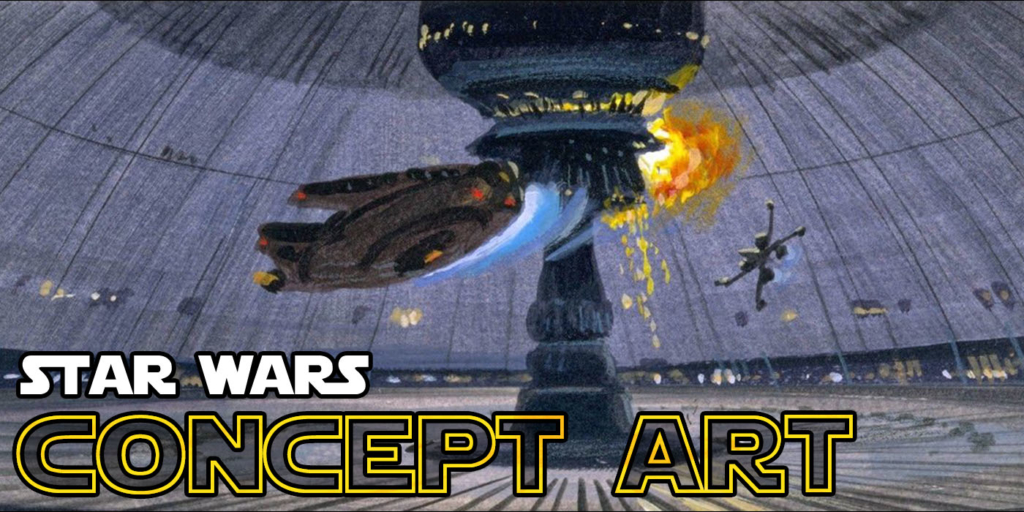 Concept art is always fun to flip through, and with its long-ago far-future and larger than life space setting the Star Wars art is some of the best.
Concept art is always one of my favorite parts of movie making to see. It's incredibly interesting to follow the first idea of what characters and locations would look like and eventually what they turned into by the end. And between some extra stylized art, the fantasy elements, and shifts in art style since the original trilogy came out, Star Wars has some especially fun concept art to look through.
This very early drawing of what would eventually become Darth Vader and Luke has always been one of my favorites. The breathing apparatus that never makes it into the actual films adds a very cool, classic sci-fi look that would have made going from ship to ship easier in a universe less equip for humans and humanoid creatures. The lightsaber designs here are also so similar but so far off. Vader is by and large unchanged, but his stature in this art makes him even more imposing and larger than life. That said, it seems like they really figure out how to make a perfectly scary villain almost right away.
Storm Troopers with lightsabers? Why not! In a version of the galaxy where they're less individualized and more commonplace it could have been pretty neat to see more non-Jedi characters wield them. In the end, I'm glad they decided to make them more special and rare. Storm Troopers can hardly aim with a blaster, it wouldn't have been pretty to see what they'd do with a lightsaber.
This piece could have been a piece of concept art or a painting that someone made after watching the movie; it's that close to the final product.
Another that is so strikingly similar to the final product, this AT-AT takedown is basically exactly what we got on Hoth. This one and the X-Wing above show how beautiful concept art can be and I'd like to hang prints of either of these pieces on my wall.
If that spider looks familiar, you may be thinking of the terrifying swarm of monsters from the ice planet we spent an episode on this season on The Mandalorian. While this art is from The Empire Strikes Back and shows what would have probably been one of Luke's less fun Dagobah adventures, this particular creature didn't make the cut and never saw screen time.
Subscribe to our newsletter!
Get Tabletop, RPG & Pop Culture news delivered directly to your inbox.
Until years later when they were dusted off and given new life in the animated Rebels and then again with their cold weather cousins in The Mandalorian. This obviously isn't original trilogy art, but it's nice to see how seemingly discarded art can come back around and find new life.
Do you enjoy concept art as much as I do? What is your favorite piece of Star Wars Concept art? Is it similar to what we ended up seeing on screen? Let us know in the comments!
May The Force Be With You, Adventurers!
Latest News From BoLS: