WandaVision Much More Than Classic TV – Breaking Down Episodes 1 & 2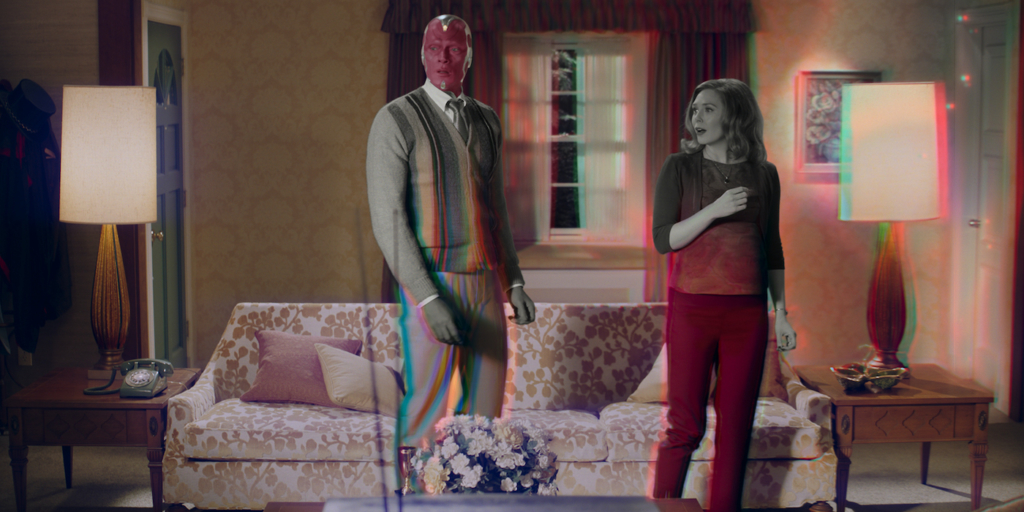 The first of Marvel's Disney+ shows debuted Friday, and it is packed with hints about what's up next for the MCU. Those plans are huge.
We got two episodes to start – one of them was the traditional 30-minute sitcom length and heavily based on the Dick Van Dyke Show and others that aired in the early 1960s. They talked to the comedy legend before filming, and it was filmed before a live audience with vintage cameras from the era. Off the classic TV tangent – what about the underlying weirdness?
There are a lot of spoilers below this adorable gif.
Episode 1 is a classic dinner with the boss who goes wrong episode, but its two main characters have to hide their powers and their total confusion about the situation they're in. By situation, I mean life and everything. It is evident they have been dropped into this life without all of the information they need. The first glitch of the show happens during dinner with Mrs. Hart (Debra Jo Rupp) repeating the same line and laughing while her husband chokes on a piece of sausage. After Mr. Hart is rescued by Vision, everything is fine, and neither of the Harts remember what happened. The episode closes with Wanda and Vision creating some of their own history.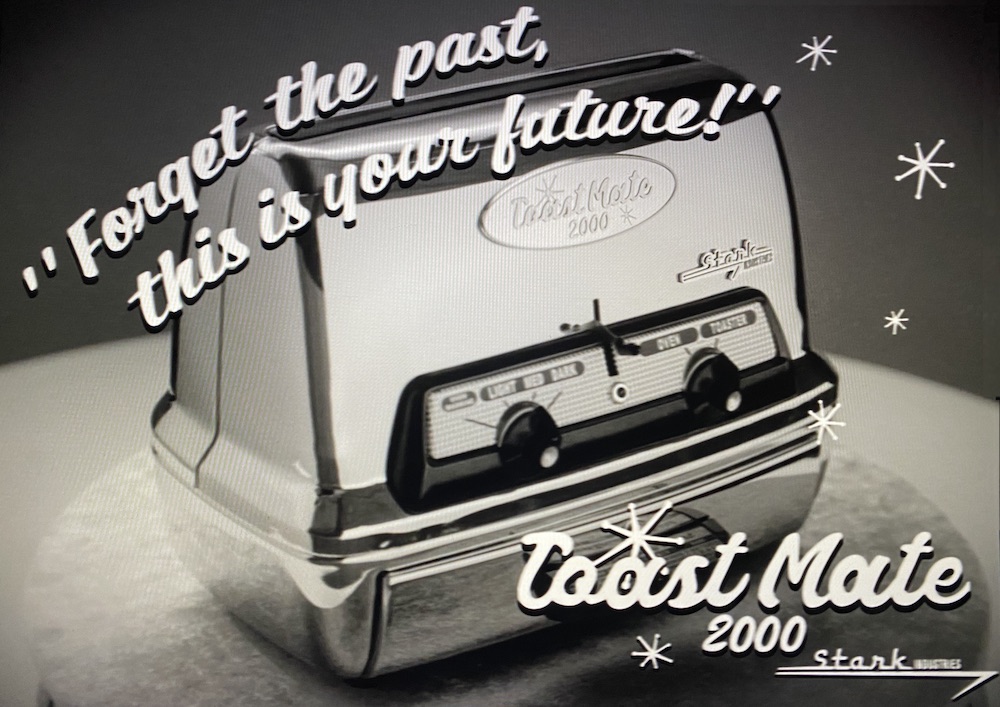 The Stark Industries Toast Mate wasn't just a cute ad given its tagline: "Forget the past; this is your future." The red light and beeping that quickly sounded like a ticking time bomb could be a reference to her past. Her parents died in an explosion caused by a Stark missile. She and her brother vowed revenge on Tony Stark for the loss of their family. This info is also front and center in the Marvel Legends episode about Wanda that came out the week before the show premiered.
Oh, and S.W.O.R.D. is definitely going to be a thing in this show. The organization was created to deal with beings like Wanda and Vision – born from HYRDA experiments performed by Baron Wolfgang Von Strücker and a malfunctioning defense system and an Infinity Stone, respectively. The organization is at least observing the pair, likely more.
The titles for episode 2 were a call back to the I Dream of Jeannie opening from 1965. It pulls us into a new era and a new house with new characters – and more oddities that make it clear that this life in Westview isn't normal at all. The characters are all a little off in an NPC way – they're all very cookie cutter for their role in Westview's existence. When someone tries to reach Wanda through a radio till it explodes, we see Dottie lose herself, breaking a glass and cutting her hand. She bounces right back into her role and doesn't remember a thing.
Oh, hey – that's Monica Rambeau (She's an agent of S.W.O.R.D.) complimenting Wanda's pants.
The scene cuts to an ad for a Strücker (yep, that guy) watch that features the Hydra logo. The tagline: "Strucker – he'll make time for you." The Hydra scientist gave Wanda her powers. She and her brother, Quicksilver, were the only ones that survived his experiments. The watch also speeds up in the same way the toaster did. Maybe pushing Wanda to be quick, there may not be much more time to run from her past.
Subscribe to our newsletter!
Get Tabletop, RPG & Pop Culture news delivered directly to your inbox.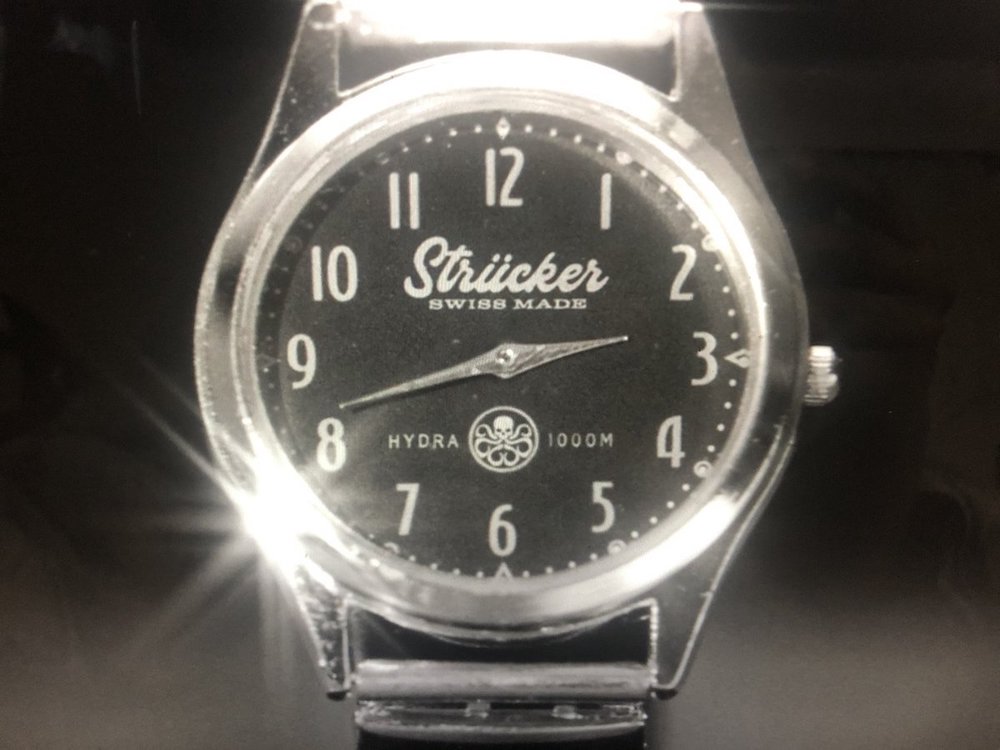 We get to see a hint of Wanda's powers in the talent show, which is followed by a big life step for the couple: a rather far along pregnancy.
What the heck is up with the beekeeper? Well, that's a S.W.O.R.D. logo, but the bees are weird. Weird enough that there is another possibility that comes to mind, especially what's going on in the MCU at large, how this show fits in it, and the fact that S.W.O.R.D. gets infiltrated all the time. It may be AIM. Advanced Idea Mechanics is a super-science company founded by Baron Wolfgang Von Strücker (yep, that guy again). Its agents wear suits that have earned them the nickname 'beekeepers.'
It also may be a dude Wanda doesn't like, and she rewound everything to get away from him, and we're all overthinking it.
Nah.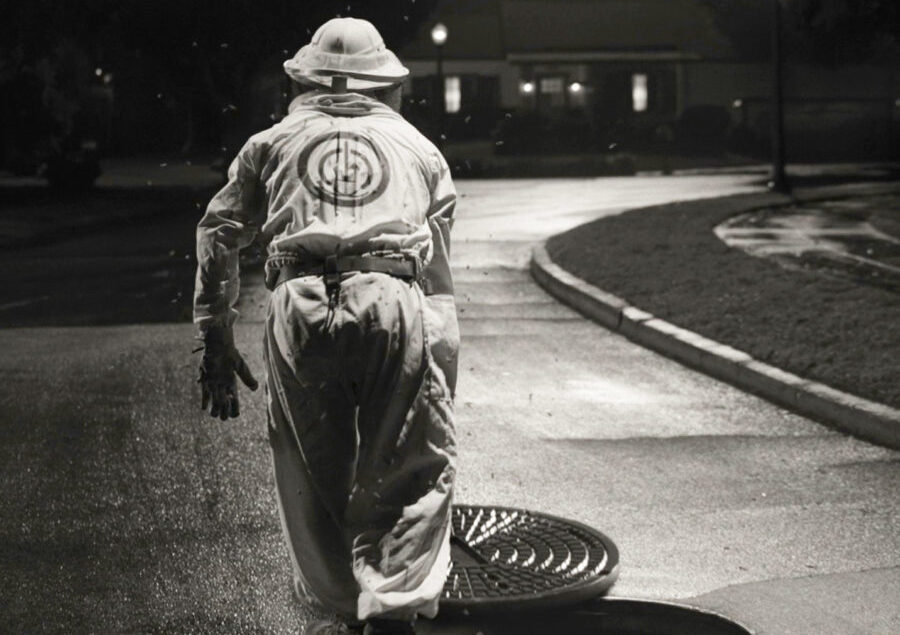 At the end of the episode, she ditches the B&W era for full color, where we will return next week.
This show has many possibilities crammed into it, and I think it'll end up being the glue for the next phase of the MCU – with tie-ins from at least one movie and several Disney+ series. I'm really enjoying this, and I'm glad I can't binge it.
Some last things to throw around:
House of M?
How does this tie into the next Doctor Strange movie?
How does this tie into Secret Invasion?
Latest News From BoLS: