Watch These Fist Fight Fests While You Wait for 'Mortal Kombat'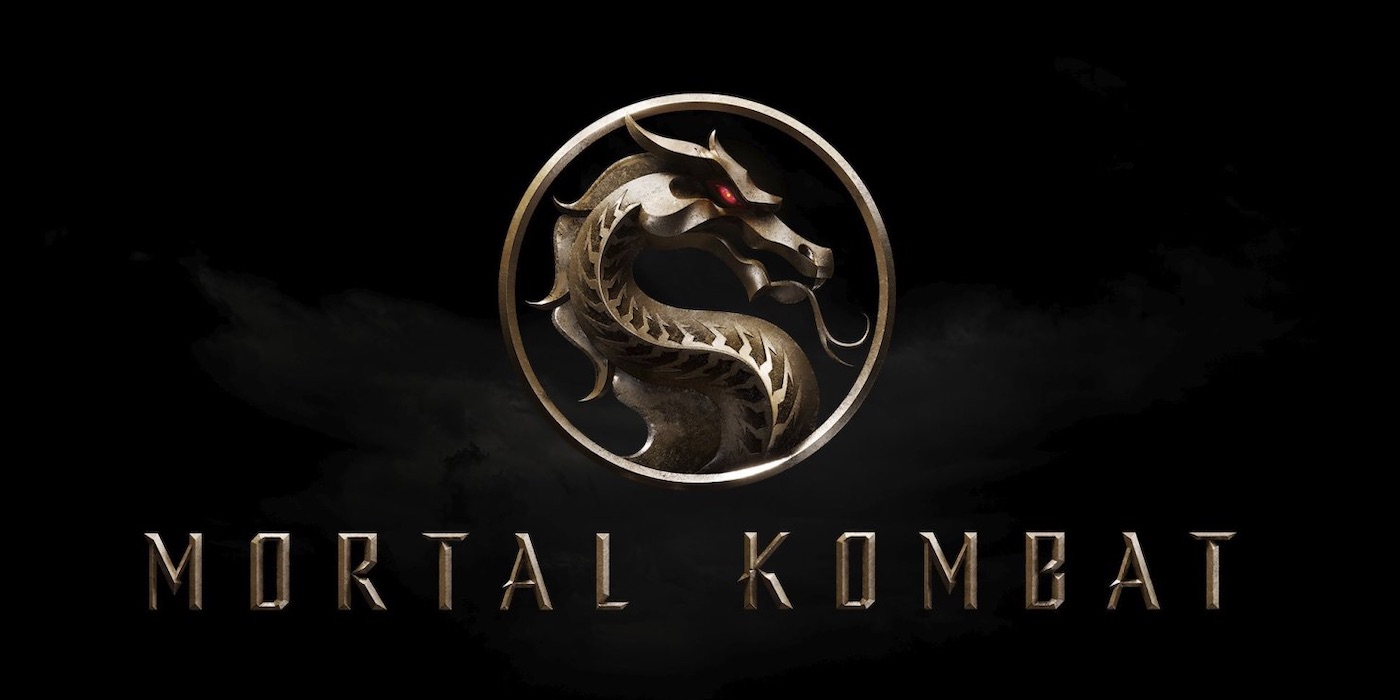 Mortal Kombat isn't the only tournament around. These heroes jump in the ring to get things or rescue stuff or prove themselves worthy. Why doesn't matter – there just has to be flying fists.
Enter the Dragon
Released a month after Lee's death – it went on to be one of the most profitable films ever made and is thought of as the greatest martial arts film of all time. It's currently on Netflix.
Bruce Lee plays a martial-arts expert determined to help capture the narcotics dealer whose gang was responsible for the death of his sister. Lee enters a kung fu competition in an attempt to fight his way to the dealer's headquarters with the help of some friends.
Street Fighter
It's horrible and it's not a tournament and Raul Julia's participation makes me sad. But I'm including it anyway because it's a video game adaptation… there are two others that are just as bad.
Gen. Bison, the evil dictator of Shadaloo, captures a busload of relief workers and holds them for ransom. Col. Guile leads an international strike force to invade Shadaloo and rescue the hostages. Along the way, Guile recruits Chun-Li, a reporter and martial-arts expert whose father was killed by Bison years ago, two young con men, and a sumo wrestler.
The Karate Kid
The '80s classic that's all about heart and car wax.
Daniel (Ralph Macchio) moves to Southern California with his mother, Lucille (Randee Heller), but quickly finds himself the target of a group of bullies who study karate at the Cobra Kai dojo. Fortunately, Daniel befriends Mr. Miyagi (Noriyuki "Pat" Morita), an unassuming repairman who just happens to be a martial arts master himself. Miyagi takes Daniel under his wing, training him in a more compassionate form of karate and preparing him to compete against the brutal Cobra Kai.
Subscribe to our newsletter!
Get Tabletop, RPG & Pop Culture news delivered directly to your inbox.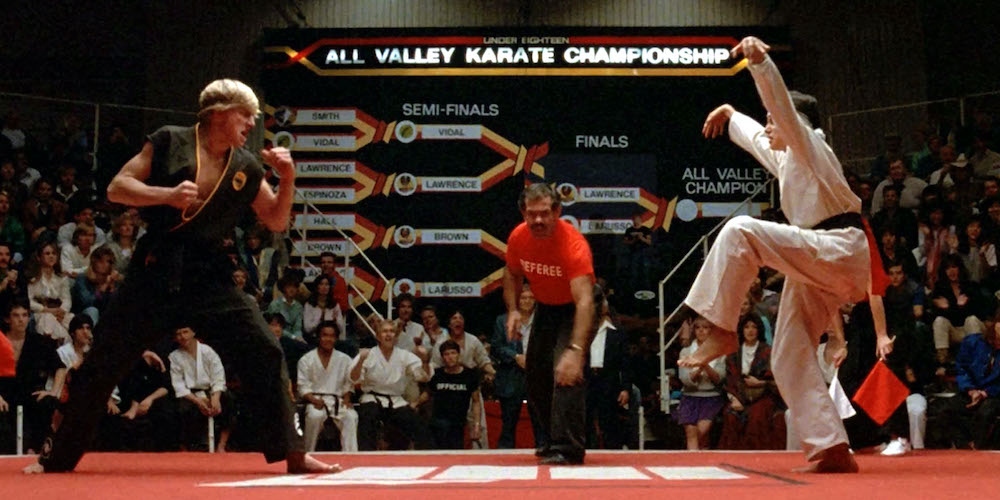 Jet Li's Fearless
After a terrible tragedy, a martial artist (Jet Li) retreats to a remote village to gain a new appreciation for the important things in life, but when he returns to the city to reconcile his past with the present, he gets caught up in a duel to the death defending China's honor.
Circle of Iron
Based on a story is from Bruce Lee and stars David Carradine, Christopher Lee, and Rodd McDowall. It's… a mix of bonkers fantasy and questionable martial arts. It merges the martial arts craze of the 1970s into the early '80s run of what are now classic fantasy movies. The hero high kicks a horse in the face and it falls down.
In a mystical desert kingdom, young martial arts fighter Cord loses a contest to determine who will journey to take the powerful Book of All Knowledge from Zetan, an evil wizard. Despite his lack of a sponsor, Cord's rule-breaking nature leads him to try retrieving the book anyway. Help is offered by a mysterious blind man who gives advice as Cord fights his way through multiple opponents, discovering more about himself as he gets closer to Zetan.
Bloodsport
Like Mortal Kombat, it has an amazing soundtrack. Unlike Mortal Kombat, it has Jean-Claude Van Damme doing a lot of things that look extremely uncomfortable.
U.S. soldier Frank Dux has come to Hong Kong to be accepted into the Kumite, a highly secret and extremely violent martial-arts competition. While trying to gain access into the underground world of clandestine fighters, he also has to avoid military officers who consider him to be AWOL. After enduring a difficult training and beginning a romance with journalist Janice Kent (Leah Ayres), Frank is given the opportunity to fight. But can he survive?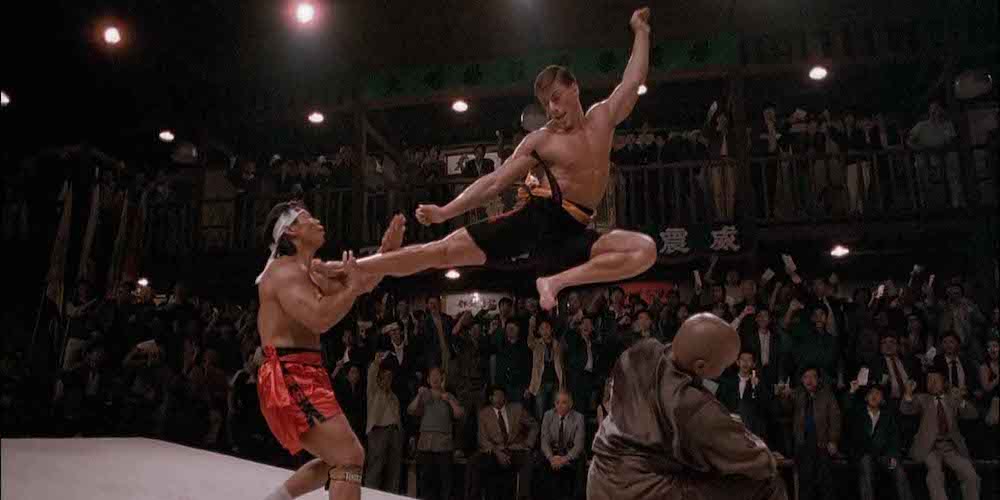 Mortal Kombat and Mortal Kombat: Annihilation
To be a completist.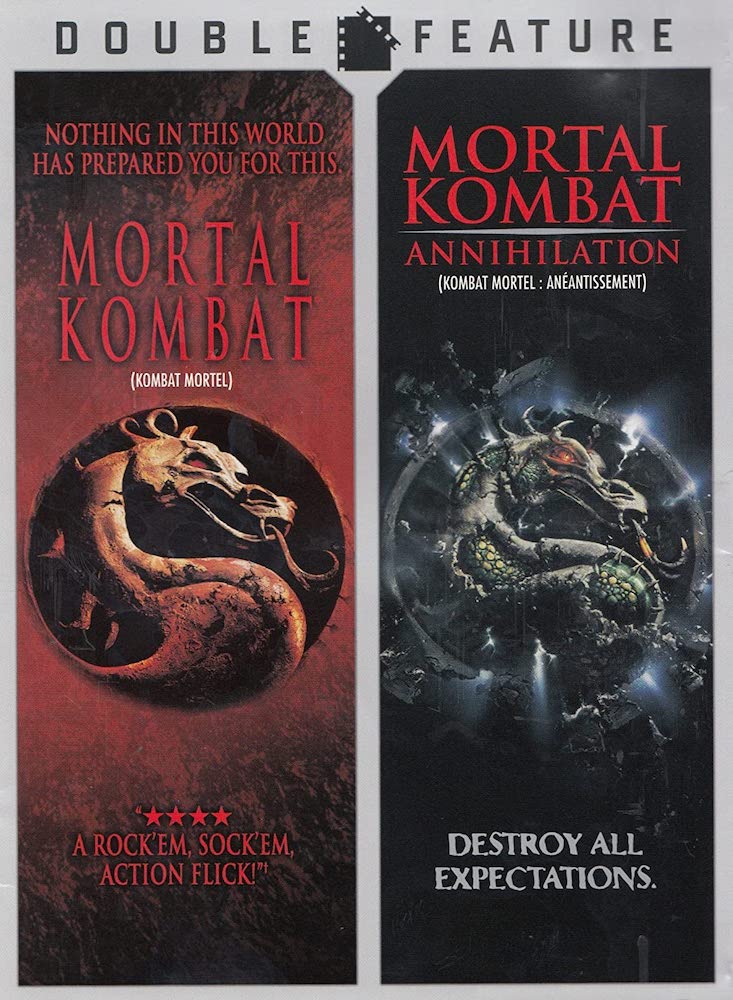 We don't have too much longer to wait for the 2021 take. The official synopsis is not exactly descriptive, but we all have a pretty good idea of what this is going to be.
Mortal Kombat is a mysterious, intergalactic tournament of ancient martial arts. Shaolin Monk Liu Kang, from Earth, gets invited as a competitor. 
The cast includes Ludi Lin as Liu Kang, Hiroyuki Sanada as Scorpion, Chin Han as Shang Tsung, Joe Taslim as Sub-Zero, Jessica McNamee as Sonya Blade, Josh Lawson as Kano, Mehcad Brooks as Jax, Tadanobu Asano as Raiden, Max Huang as Kung Lao, Elissa Cadwell as Nitara, and Sisi Stringer as Mileena. Lewis Tan is playing Cole Young, a new character.
Mortal Kombat arrives on HBOMax and in theaters on April 16th.