Anime: Studio Ghibli Park Has An Opening Date And New Concept Art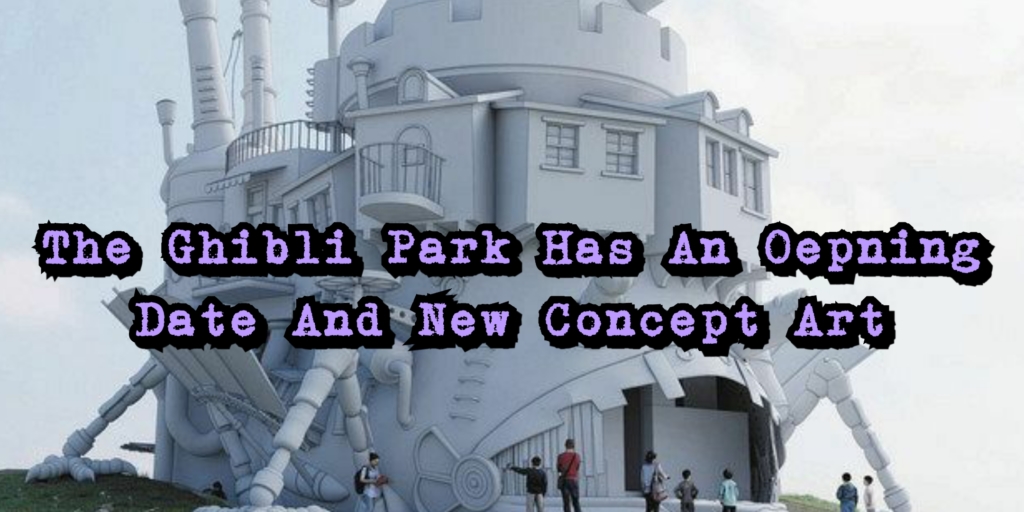 Studio Ghibli's theme park is will be ready for visitors in Autumn 2022, but until then we have How's Moving Castle and Irontown to wistfully look at.
Way way back in 2017 beloved animator of some of our most peaceful childhood memories, Studio Ghibli, announced plans to bring all of their classics together to visit in the Ghibli Park. Looking forward to an autumn 2022 opening date, the team behind the Ghibli Park have been busy at work creating incredible replicas of some of the most iconic locations throughout their movies, releasing concept art, and even a prospective map of the park to get us all ready to book our airfare just as soon as we can.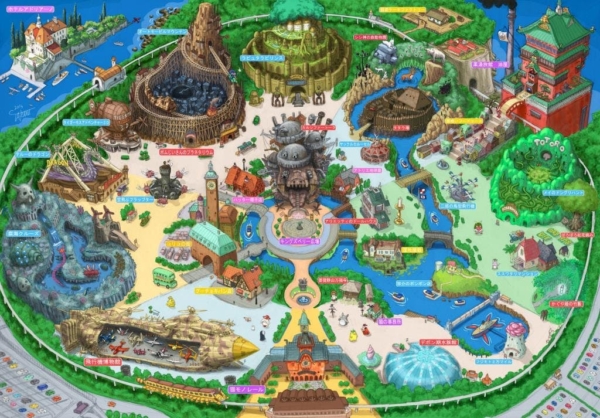 The layout and general feel of the map reminds me of Disney in a really positive way – it's the happiest place on Earth for a reason. It looks like the Ghibli Park will be broken up into sections representing some of their most popular films with Prince Mononoke's village, Totoro's forest, the bathhouse from Spirited Away, and what I may just be most excited to one day see in person, Howl's Moving Castle. It looks like there will be a monorail for quickly getting around the park and sightseeing themed after the Catbus and various rides and rollercoasters, as well as the announced restaurants and facilities sprinkled throughout the the various areas. I'm not sure if I'd want to go to a café in whichever village Kiki's delivery things or see what they're serving at the Spiritied Away bathhouse, but I have a feeling the answer will be "both."
Also announced is the indoor Ghibli's Giant Warehouse which will feature an exhibition room, play areas, cafes, shops, and a video room if you need a break from wandering the Ghibli Park to watch a quick Ghibli film.
The Ghibli Park will also pay homage to nature in the same way that many of its films have. There are no plans to cut down any trees in order to make room for their main attractions and the park's goal is to be environmentally friendly as well as to feature nature trails and plenty of untouched natural untouched space.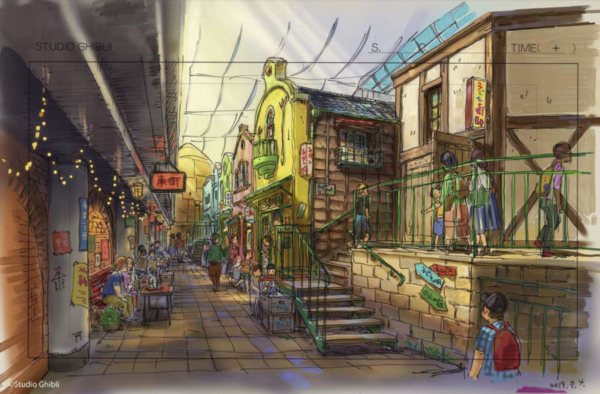 But if concept style art and the promise of a theoretical park isn't enough to get you excited, I'm happy to announce that last week we started seeing more solid renderings for some of the more impressive features still in production.
Ghibli Park will be opened 2022 in Aichi Prefecture. Howl's Castle and Irontown of Princess Mononoke will be reporduced !! pic.twitter.com/twPxz61CvR

— otakujp (@otakucalendarjp) February 4, 2021
Subscribe to our newsletter!
Get Tabletop, RPG & Pop Culture news delivered directly to your inbox.
It looks like Howl's castle will be unsurprisingly stationary, but huge with a tremendous number of details. Is it going to be crowded and messy inside, or will Sophie have already gotten that castle in order? And will it smell like Calcifer's bacon inside at all times? Irontown from Princess Mononoke looks lifted out of the animation and I can't wait to see if they incorporate special effects steam or smoke to get that industrial look as visitors wander in and away from all of the nature.
The Ghibli park will encompass more than 700 acres of land in Aichi Earth Expo Memorial Park in Aichi Prefecture. The space already housed a replica of Satsuki an Mei's house from My Neighbor Totoro, but they're soon to have many new neighbors and are expected to see 1.8 million visitors a year.
Personally, I've been meaning to visit Japan for too long and Autumn 2022 seems like it may be the perfect time. What do you think? Will you be trying to make a trip to the Ghibli Park once it's open? What movie are you most looking forward to see come to life? Which pleasant staple Ghibli detail are you most excited for? Is it the beautiful calming music? The food that somehow always looks too good to be real? The incredibly huggable mascots? Let us know in the comments!
Ja Ne, Adventurers!
Latest News From BoLS: