Awesome Arch Light Will Illuminate Your Workspace & Miniatures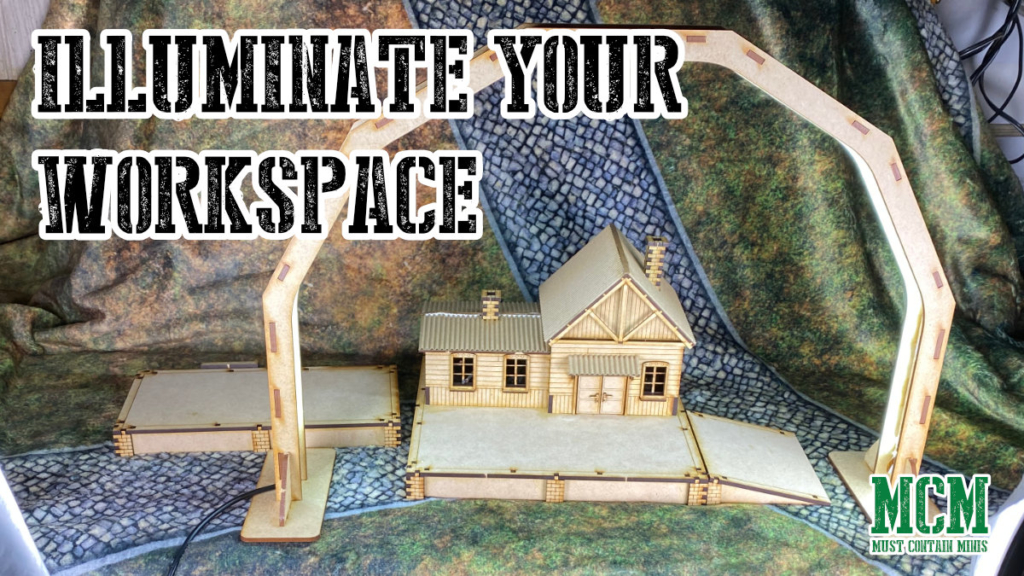 For a while now, Game Craft Miniatures caught my eye. Recently, they sent me a shipment for review, and today we take a look at their LED Workbench Light.
Now, straight up, this is a product that I did not expect to like as much as I do. This thing is great! It literally bathes your miniatures in light from all angles while you work on your figures. This light contains two 21″ long LED Light Strips that work great as a "fill light" and helps to remove the shadows you see when working with traditional lights. If you want to get a hold of one of these for yourself, be sure to check it out afterward on Game Craft Miniatures.
Building the Lamp – So Easy!!!
This American-made lamp by Game Craft Miniatures illuminates your work area in a light that feels soft and it works well as a "fill light" too. More on that later. It comes pre-assembled. All I had to do was attach the feet to the arch and the light was ready to go.
What is it Good For?
Well, illumination for painting, building, and photographing miniatures.
This lamp is great for painting miniatures, building models, and even for photography too. Personally, I find the lamp best when mixed with ambient light while painting or building minis, and when taking pictures, I will either pair up the lamp with some daylight temperature utility lights or use the light on its own.
For the picture below, I used only the LED light by Game Craft Miniatures.
For the train station review that I did last week on Bell of Lost Souls, I used the Game Craft Miniatures Lamp coupled with two 100W equivalent Daylight lamps.
If you want to know more about using the Game Craft Miniatures lamp for photography, I go deep into it in my YouTube Review of the LED Light. I also go deeply into it in my longer written review on my personal website. For here, I am going to quickly show you the difference in the photos based on how I use the light.
As you can see, this lamp works really well for miniature photography.
Subscribe to our newsletter!
Get Tabletop, RPG & Pop Culture news delivered directly to your inbox.
YouTube Review
If you prefer watching over reading, below is my review of the lamp on YouTube.
Wrapping it up…
This LED Workbench Light, Double Wide, Extra Tall by Game Craft Miniatures is absolutely awesome. It is a product that I thought I would review and then pass along to a friend afterward. I like it so much, I don't think it will be leaving my place. I love it! It works great for photography and for illuminating my workspace.
If you enjoyed this review, be sure to check out the even more in-depth review article about using this lamp on Must Contain Minis. I also wrote a great article this week about an affordable paint mixer from Amazon. Be sure to check that article out too for some really well-received content.
Until next time, Happy Gaming Everyone!!!

Read more about great Indie and Historical games on my site!
Must Contain Minis is my personal reviews, showcases, and battle reports website where I look at mostly Indie and Historical Games. Mainstream games and products also enter the mix. You can also follow me on Social Media. I am very active on Facebook and share posts of a wide variety. I upload my best pictures to Instagram and am also on Twitter. Oh, I am on YouTube now too!
My aim is to promote gaming with companies outside of those that already dominate the gaming market.
Latest News From BoLS: