GW Now Available: Hedonites & Daughters of Khaine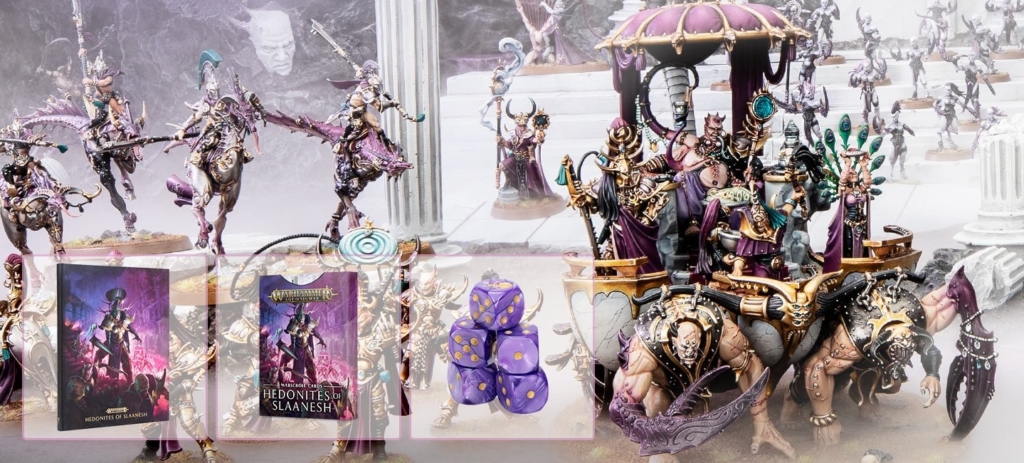 The Hedonites of Slaanesh and Daughters of Khaine are out and available in stores this weekend!
via Games Workshop

This limited edition is only available while stocks last. It features a soft-touch cover, gilt-edged pages, and a ribbon marker, and is limited to 560 numbered copies.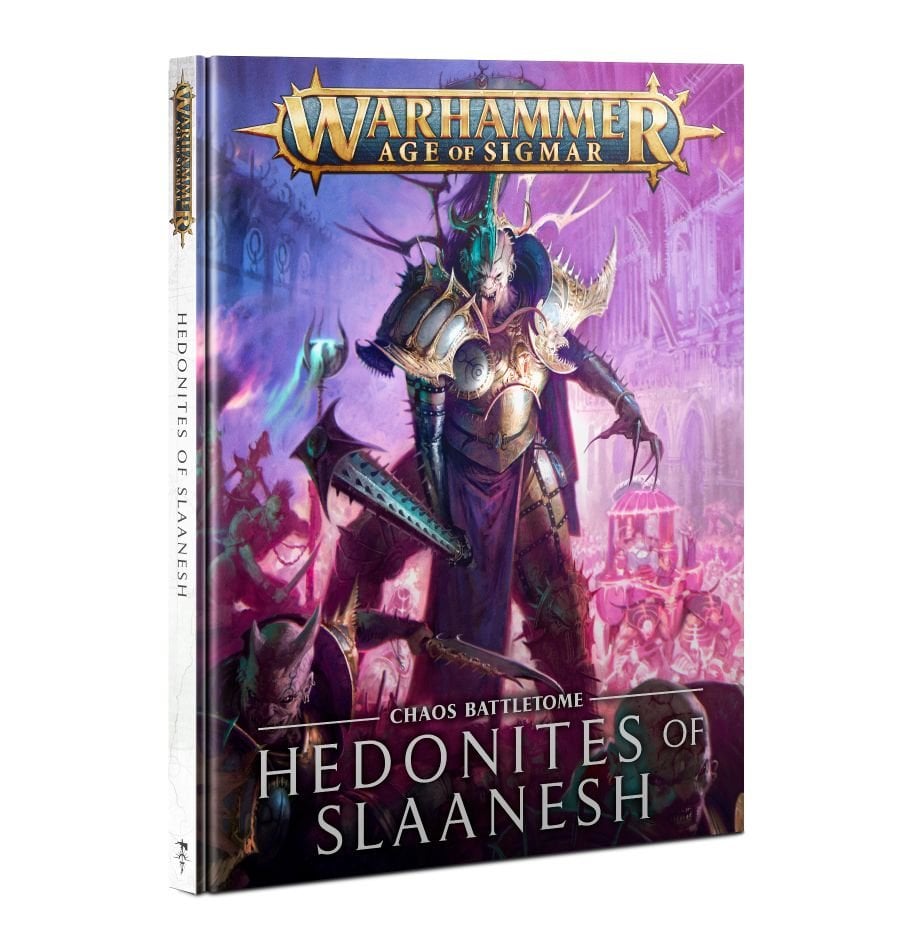 The Hedonites of Slaanesh revel in the vilest acts and most stimulating sensory excesses. The battlefields of the Mortal Realms provide an abundance of both. Empowered by depravity and addicted to the most extreme pains and pleasures imaginable, the servants of Slaanesh are a scourge on the realms. When the hosts of the Dark Prince go to war, preening mortal warriors stride forth alongside cruel quicksilver daemons, tearing apart their beguiled foes with ecstatic abandon.
Battletome: Hedonites of Slaanesh is your guide to the mortal and daemonic warriors of the Dark Prince. It includes extensive background about the Chaos God and the three affiliations of their followers: Godseekers, Pretenders, and Invaders, each of which have their own motivations and drives. When it comes to rules, you can put together an army to suit your tastes, choosing one of the three hosts and using whatever mix of daemons and mortals you prefer to create a swift and murderous army that reflects the way you like to play.
This 128-page hardback battletome includes:
– A wealth of lore about Slaanesh's mortal and daemonic servants, illustrated by incredible art
– A showcase of stunningly-painted Citadel miniatures
– 32 warscrolls – including three endless spells – and seven warscroll battalions
– Battle traits, spell lores, and rules for Invaders, Pretenders, and Godseekers hosts
– Two battleplans which each epitomise the way the Hedonites wage war
– Rules for using Hedonites of Slaanesh in a Path to Glory campaign
– Pitched battle profiles with points for matched play games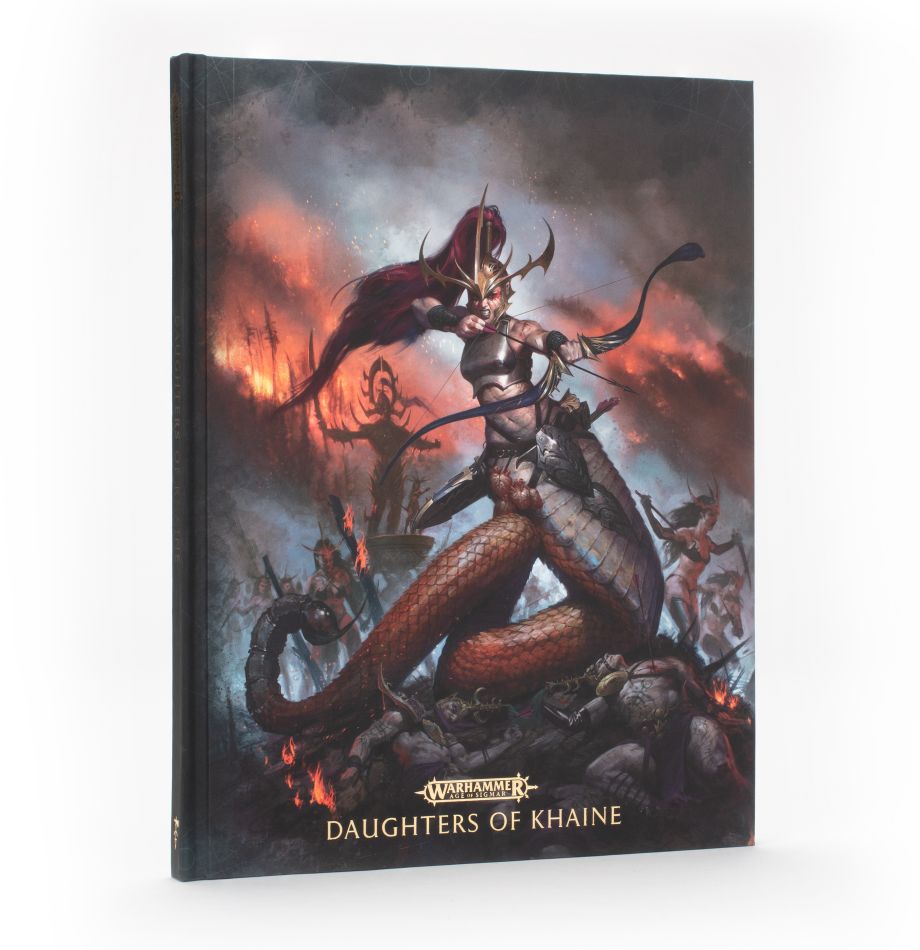 Show your loyalty to Morathi with this lavish limited edition battletome, which is individually numbered inside the front cover. That same cover is printed in a soft touch finish with beautiful art, the pages edges are gilded, and a black silk ribbon bookmark nestles between the leaves.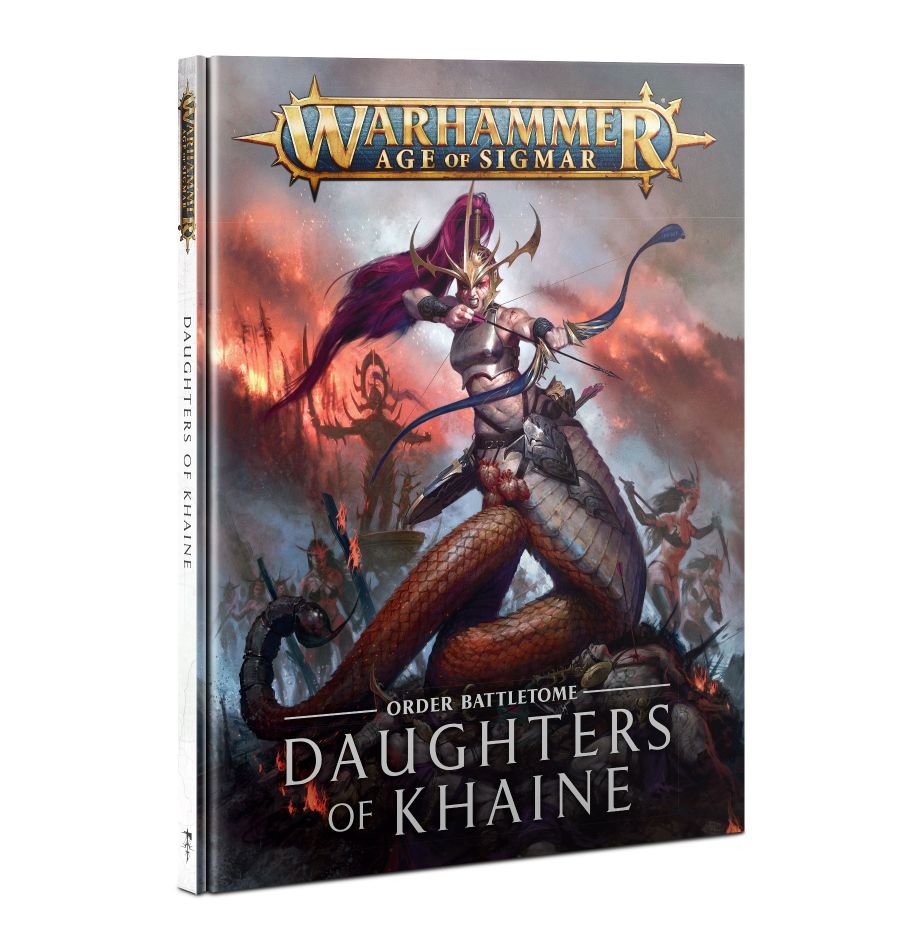 Many are the tales told of the Daughters of Khaine, those fearsome and bloodthirsty zealots who hail from the shadowed lands of Ulgu. Masters of blade and umbral magic, they seek out battle with manic fervour, for slaughtering foes and bathing in their blood grants them terrible power. Guided by the will of Morathi, their mysterious and cunning ruler, Khaine's faithful go forth in search of conquest and sacrifice.
Subscribe to our newsletter!
Get Tabletop, RPG & Pop Culture news delivered directly to your inbox.
With Morathi ascended, the Daughters of Khaine are ready to take on the worst the Mortal Realms have to offer. With their mix of highly-mobile, aggressive units, empowering sorcery, and deadly Heroes, this is an army that wants to get in their opponents face. This battletome will help generals make the most of their unusual abilities and tactics. Customise your army to your preferred play style with six different Temples of Khaine, each with their own abilities, traits, and Artefacts of Power. This essential guide also contains a wealth of updated background material detailing the aftermath of events in Broken Realms: Morathi, painting guides, and stunning art.
This 104-page hardback book contains:
– Allegiance abilities for the Daughters of Khaine, including a variety of battle traits
– 6 Temples of Khaine, including abilities, command traits, and Artefacts of Power.
– Lore of Shadows spell table
– Prayers of the Khainite Cult prayer table
– 1 Ceremony of Blood battleplan
– Rules for creating a Daughters of Khaine warband for Path to Glory, including Champion and Followers Rewards Tables
– 7 warscroll battalions
– 23 warscrolls, including 2 endless spells and 1 Invocation of Khaine warscroll
– Pitched battle profiles for all units and endless spells featured in this battletome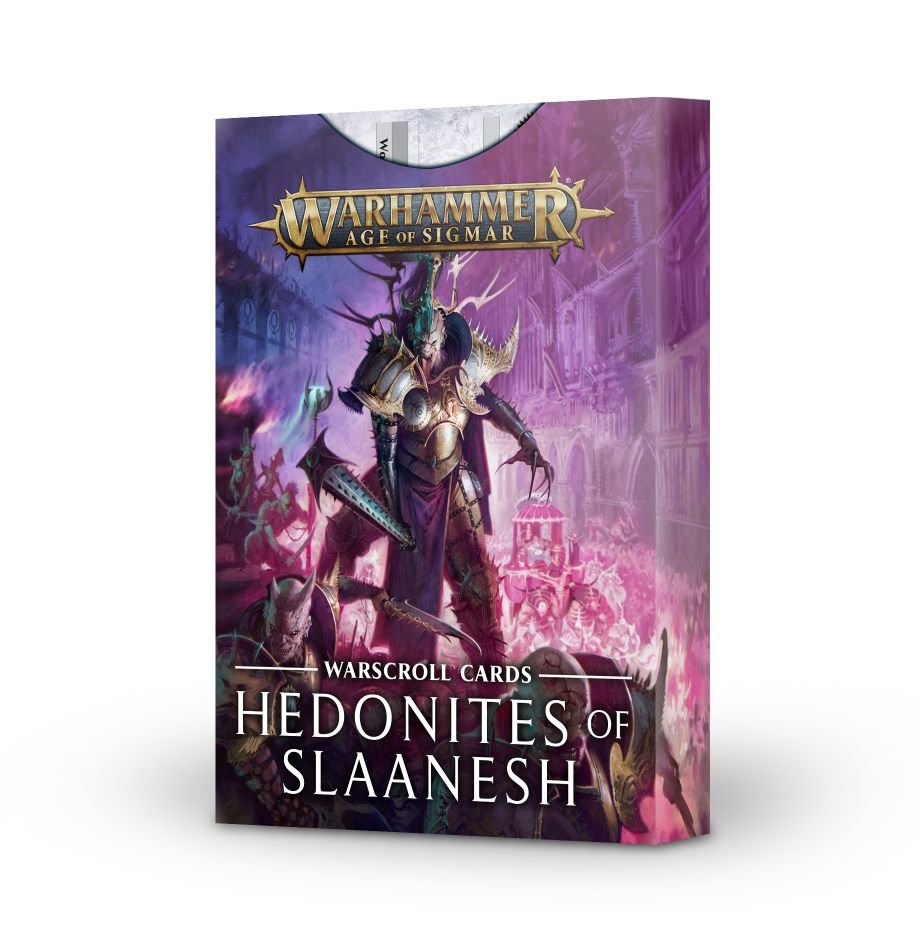 Keep your focus on the battlefield rather than flipping through your battletome with this essential set of reference cards for every Hedonites of Slaanesh unit! As an added bonus, this set includes 40 tokens that you can use to track a wide variety of effects as you play.
In this pack you'll find:
– 33 warscroll reference cards for units, endless spells, and faction terrain
– 40 double-sided tokens tailored to Hedonites of Slaanesh spells and abilities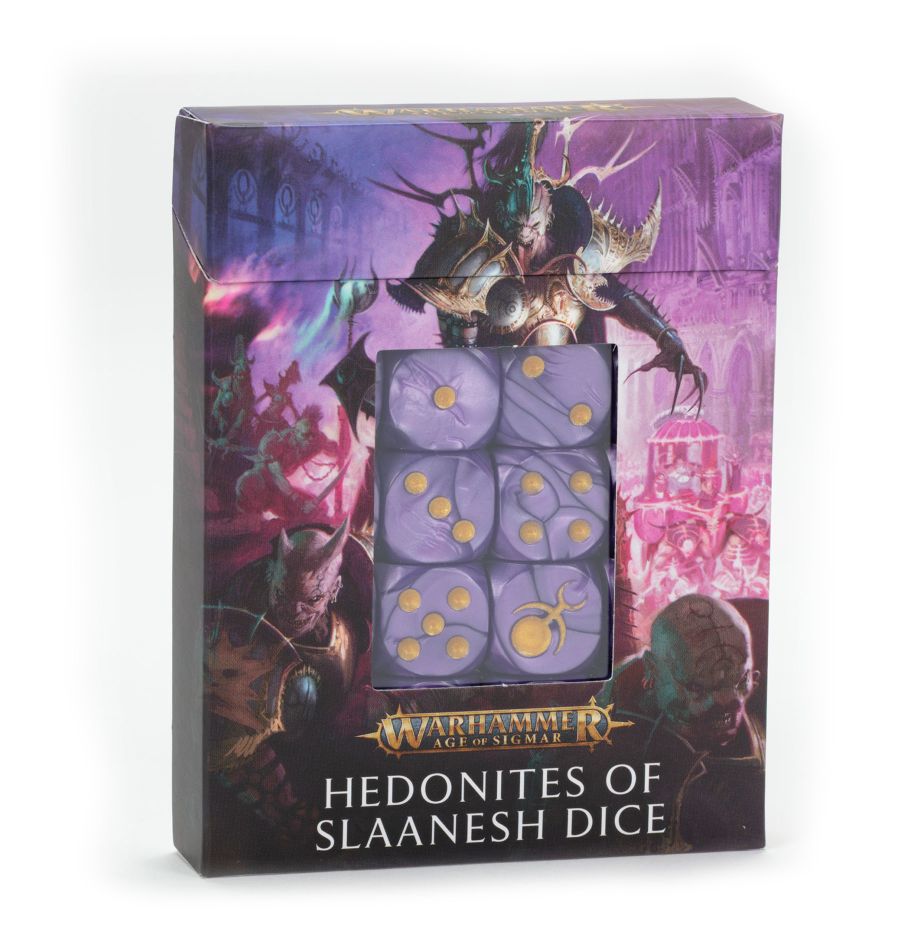 The Chaos Gods reward those who worship them – and these dice are both worship and reward, with an icon of Slaanesh in place of those 6s that you crave in excess!
This set includes 20 six-sided dice. They measure 16mm along each edge and have rounded corners. They're purple with a metallic swirl, giving them a two-tone effect, and the pips are in gold ink – as is the Slaanesh icon that adorns the '6' faces.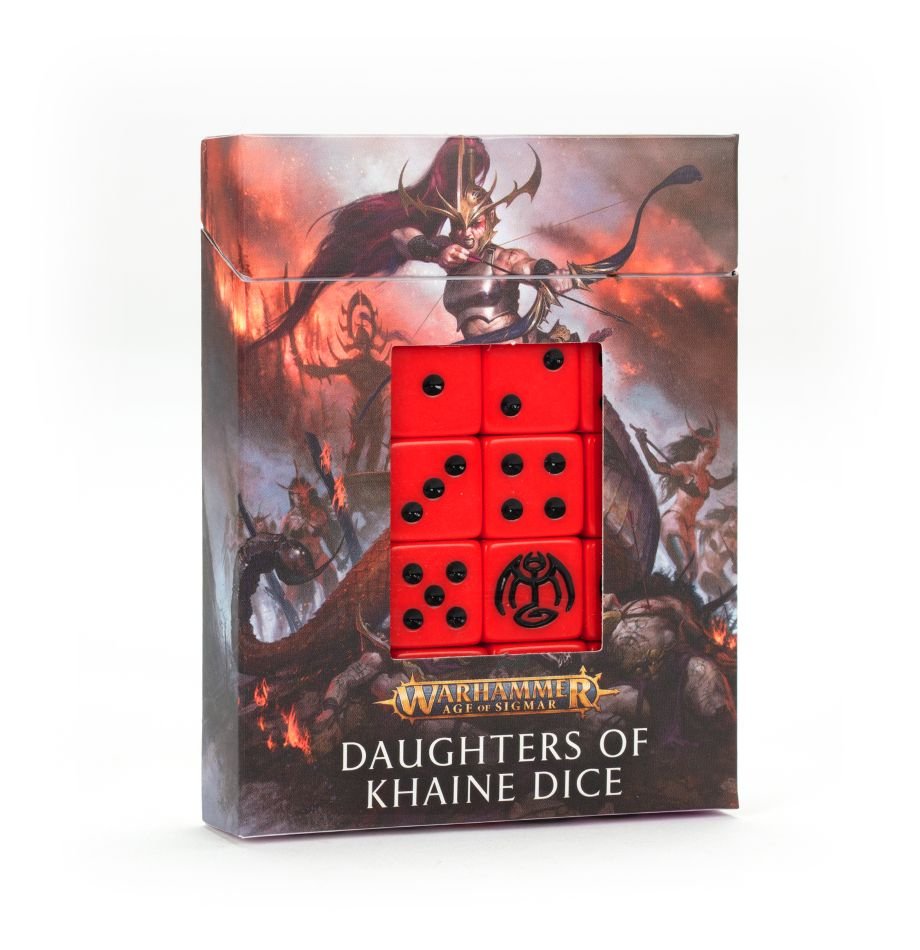 Step out of the shadows of Ulgu with a set of dice themed around Morathi's favoured servants. This pack contains 20 dice, with a Daughters of Khaine icon in place of those all-important 6s.
This set contains 20 16mm six-sided dice in blood-red colour with black ink. The 6 facing on each one depicts the Daughters of Khaine faction icon.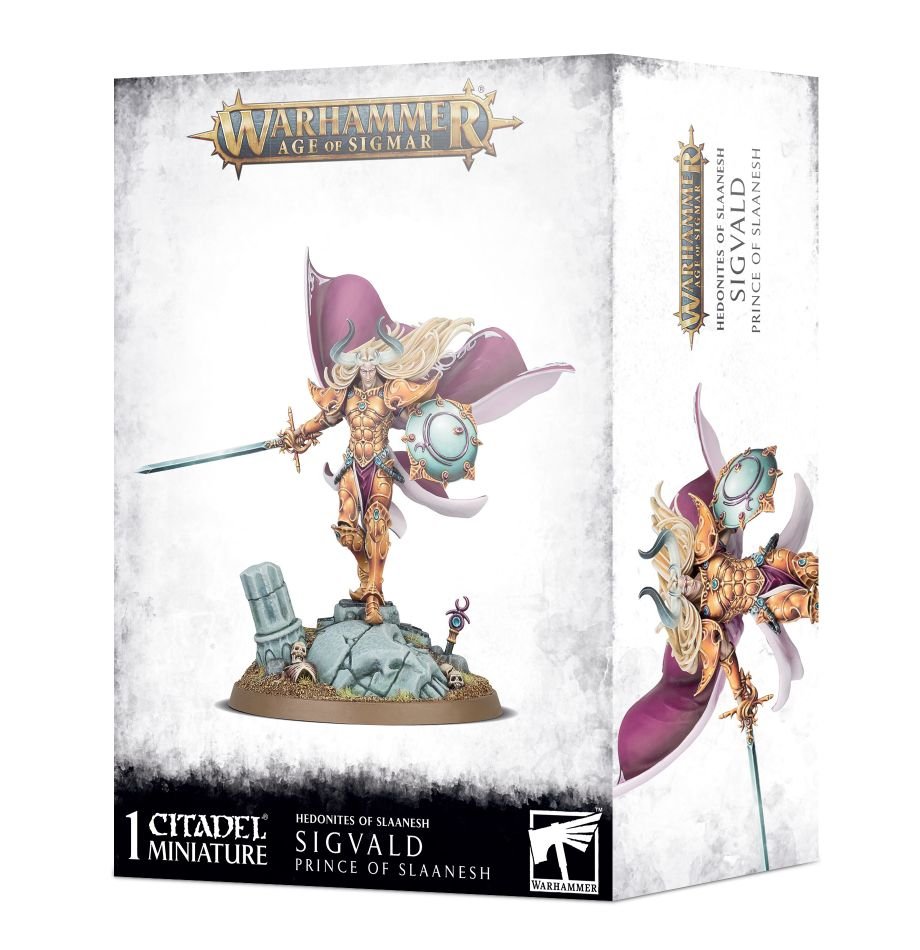 Sigvald the Magnificent considers himself to be the favoured son of Slaanesh. Few would dare question this belief. In battle, the Geld-Prince fights as a golden blur, laughing cruelly as his elegant blade tears through rabble and champions alike.
Whether you're after a duellist who can lay low some of the mightiest Heroes and Monsters in the game or you simply want a someone to use a blunt (or gracefully swift) instrument to tear through the enemy line, Sigvald the Magnificent is everything you need and more – and he wouldn't have it any other way!
This kit comprises 26 plastic components with which you can assemble 1x Sigvald, Prince of Slaanesh, and comes supplied with a Citadel 60mm Round Base.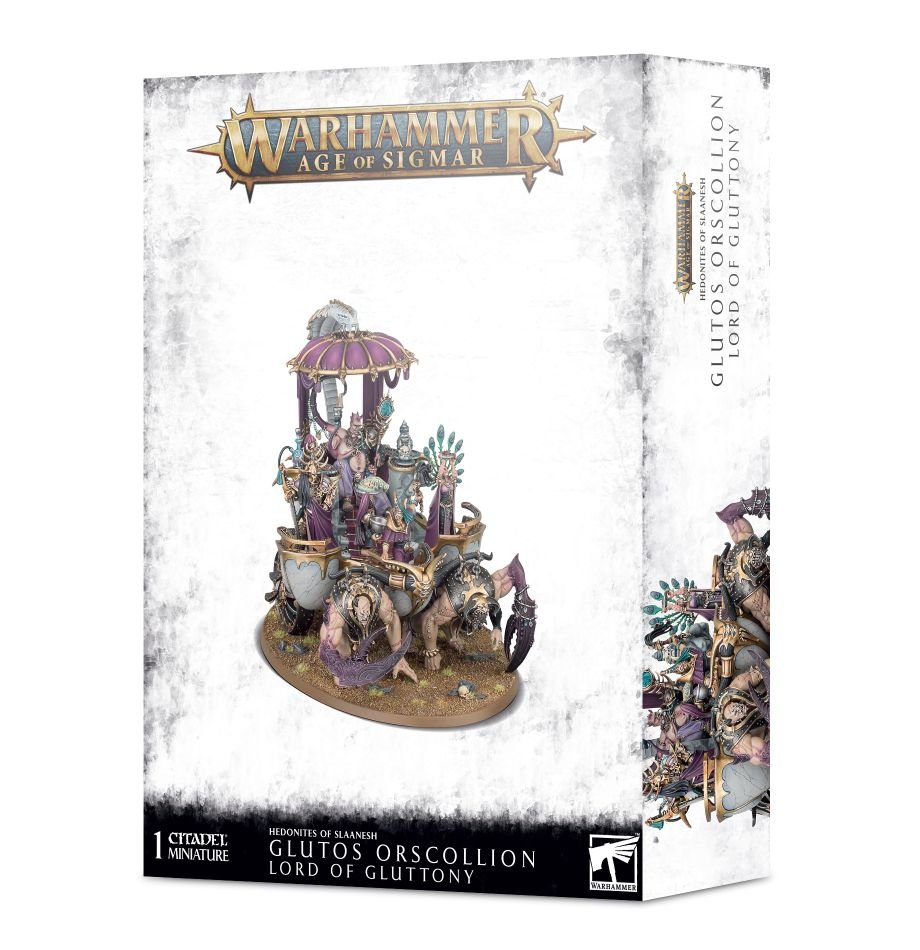 Guided by the Daemon Loth'shar, Glutos Orscollion is on a quest to sample the most exotic tastes in the Mortal Realms. Riding atop an opulent palanquin and surrounded by his devoted court, he can unmake whole armies through his loathsome magics.
Glutos Orscollion not only augments those around him with powerful abilities, but he is also a formidable Wizard and certainly no slouch in combat. If you're after a consummate all-rounder to lead and bolster your Hedonite forces, look no further.
This kit comprises 101 plastic components, with which you can assemble Glutos Orscollion and his favoured retainers on an opulent palanquin. The model comes supplied with a Citadel 170mm Oval Base.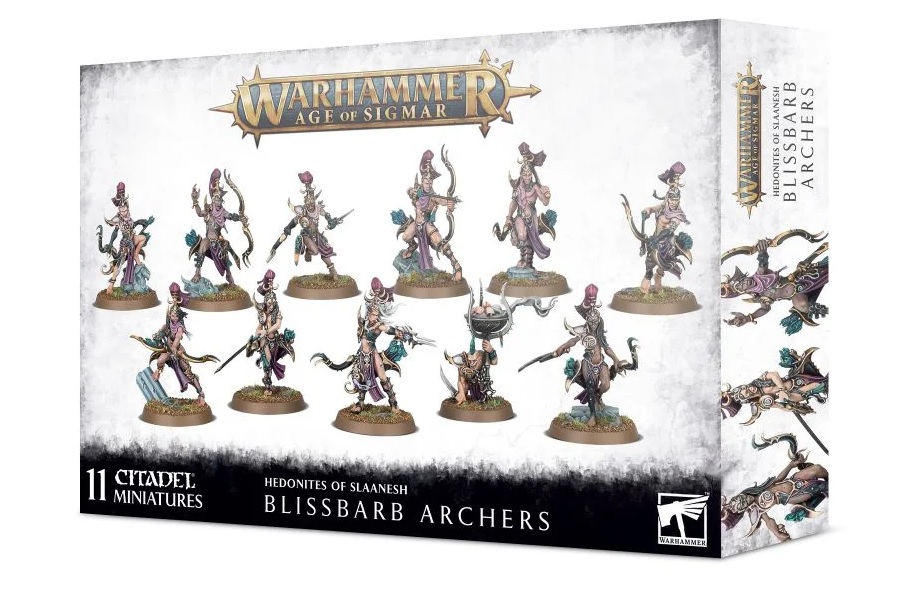 Blissbarb Archers are the lowest class of Sybarite, but no less deadly for it. Even when running pell-mell across the field, they fire with deadly accuracy, laughing with glee as their sharp and toxin-laced projectiles strike home.
The Blissbarb Archers dance around the battlefield, loosing volleys of deadly arrows. One model may be assembled as a High Tempter while the kit also includes a Blissbrew Homonculus, who can add even more potent toxins to your ranged attacks.
This 70-part plastic kit makes 10 Blissbarb Archers and one Blissbrew Homonculus for use in Warhammer Age of Sigmar. It comes supplied with 10 28.5mm Citadel Round bases and a 25mm Citadel Round base.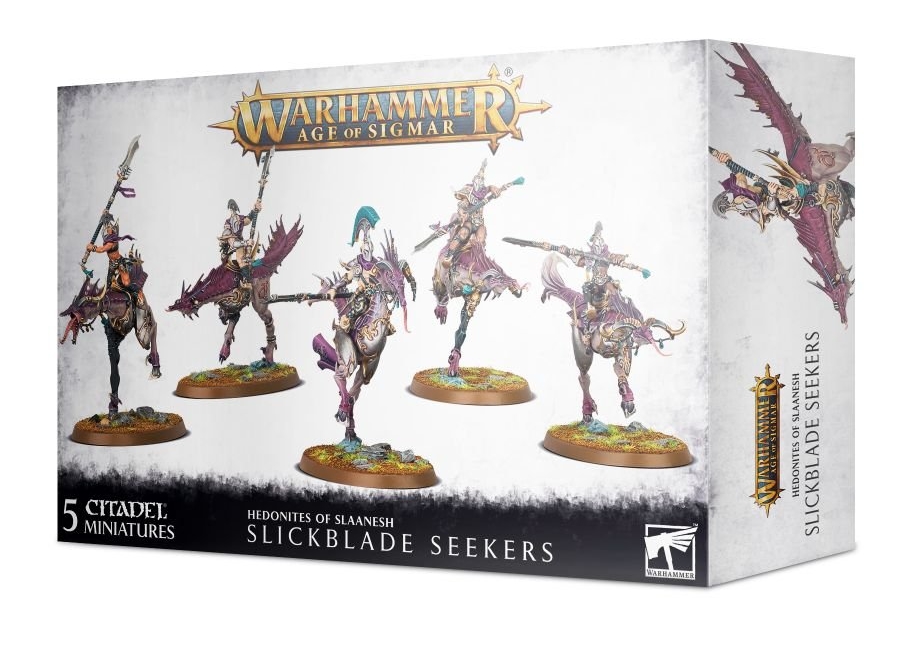 Slickblade Seekers believe themselves to be aristocrats of war, the chosen knights of the Dark Prince. They desire nothing more than to charge into the thickest portion of the fighting, their whistling glaives lashing out to neatly sever heads and limbs.
Sweep around the flanks of the enemy battleline with this hard-hitting light cavalry unit. With a speed that is all but unmatched, this unit is an exceptional choice for picking off isolated enemy units or vulnerable targets such as archers and artillery.
This kit comprises 114 plastic components, with which you can assemble five Slickblade Seeker miniatures (one of which can be the unit's leader, a Hunter-Seeker) and comes supplied with five Citadel 75mm Oval Bases. Alternatively, you can build five Blissbarb Seekers.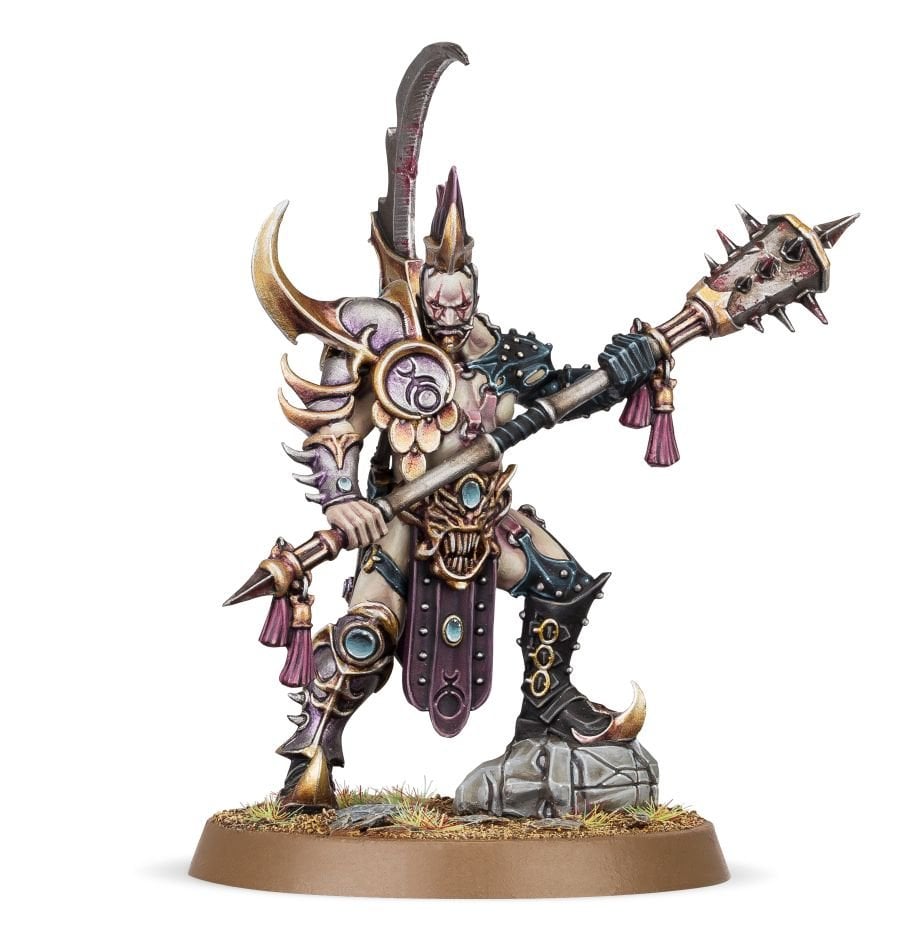 Lords of Pain are champions of Slaanesh who have sampled countless vices and excesses. Armed with wicked soulpiercer maces, they lead warbands of devoted followers and are always eager to demonstrate their mastery of all forms of agony.
These hard-hitting leaders inspire other mortal Hedonites to fight with even greater enthusiasm, and being inured to pain means they're able to ignore wounds that would lay a normal warrior low. They're nothing if not generous, imbued with a magical power to reflect the pain of their injuries back unto those that inflicted them! Woe betide any opponent that marks them for an easy target.
The kit is comprised of 8 plastic components, with which you can assemble one single-pose Lord of Pain, and is supplied with a Citadel 40mm Round Base.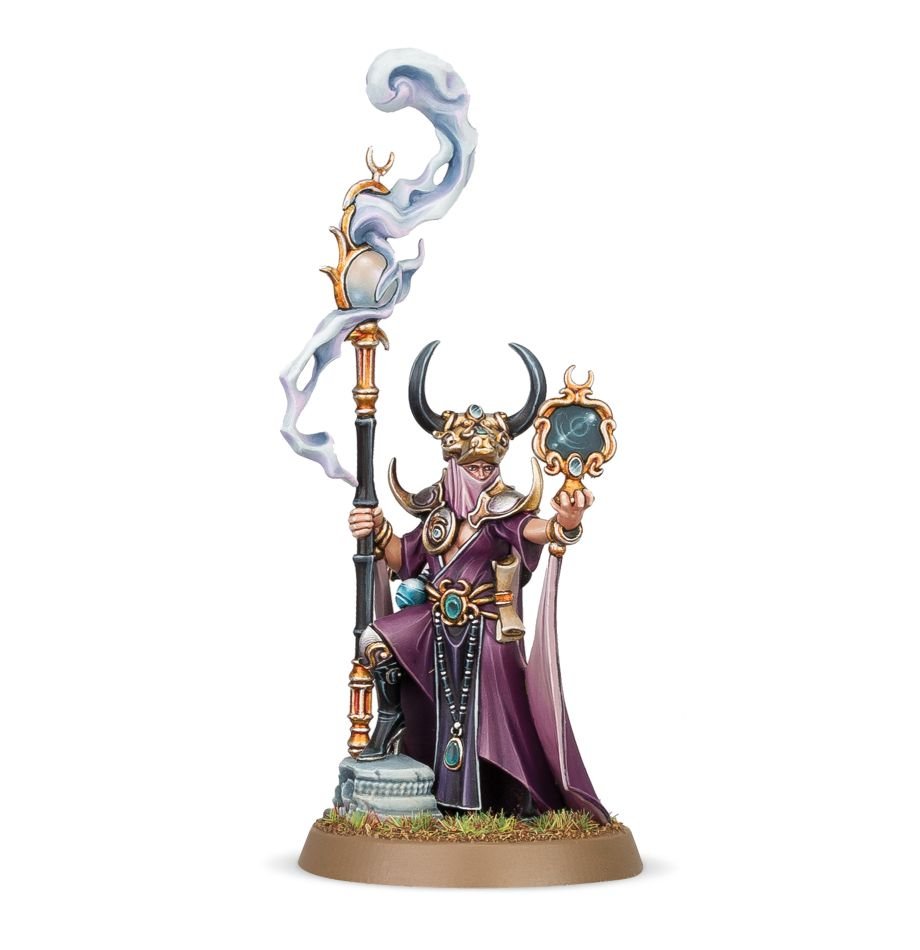 Shardspeakers of Slaanesh are favoured sorcerers who have been gifted with a relic from the Temple of Twisted Mirrors. By tapping into the power of these artefacts, they can reduce a disciplined regiment to a pack of howling beasts ripe for slaughter.
These wizards wield powerful malus-inflicting relics, and lurk behind your main lines to support your melee units with debilitating spells. Though lightly armed and armoured, they're surrounded by malefic spirits that come to their aid, both for their protection and to destroy any foe foolish enough to get too close.
The kit is comprised of 7 plastic components, with which you can assemble one single-pose Shardspeaker of Slaanesh, and is supplied with a Citadel 32mm Round Base.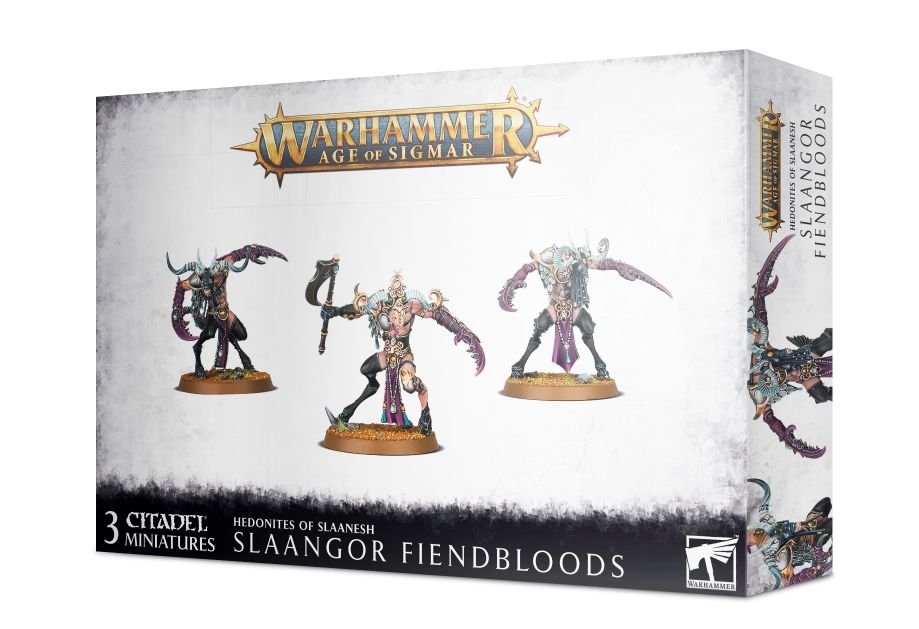 When the madness of battle descends upon Slaangor Fiendbloods, the carnage left in their wake is truly sickening. These gangly beasts are frighteningly strong and swift, and they fight with a frenzied disregard for their own survival.
Though they look almost delicate, these savage beasts hit with hurricane force. Possessed of both speed and unnatural strength, even a small unit can effectively harass foes, while a concerted attack can break even the largest formations. One model can be built as a Slake-Horn, the leader of this unit.
This kit comprises 37 plastic components, with which you can assemble 3x Slaangor Fiendbloods miniatures (one of which can be the unit's leader, a Slake-Horn), each supplied with a Citadel 40mm Round Base.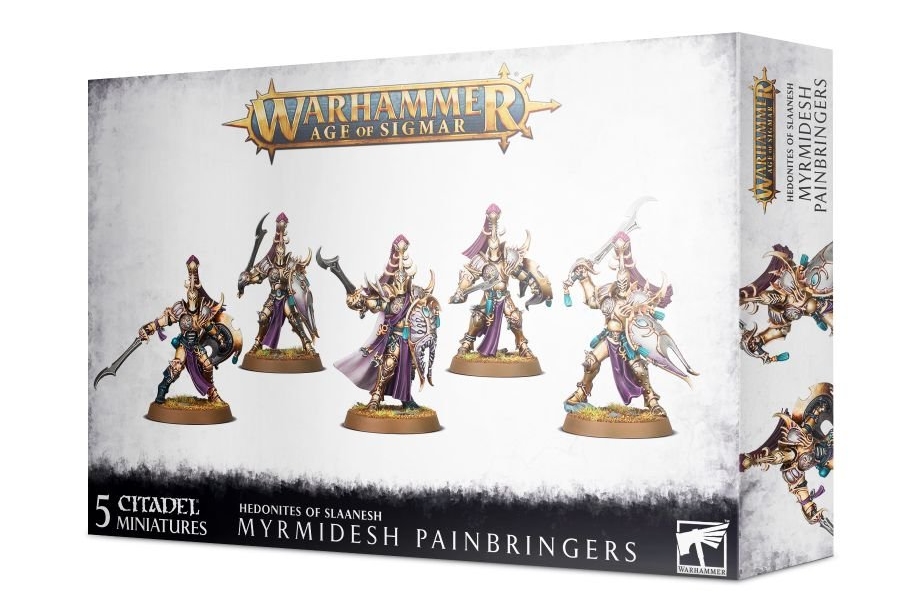 The Myrmidesh are an elite warrior-cult who exemplify the pride of the Dark Prince. Each of their blade-sects considers their own favoured technique to be supreme, and on the rare occasions they are proven wrong, their spiteful rage is terrible to behold.
Add a unit of graceful and deadly infantry to your Hedonites of Slaanesh army. Clad in the finest armour and wielding wicked blades, they dance their way into battle, slicing through enemy formations. One of the models may be assembled as a Painmaster, making it even easier for you to bring the pain.
This 86-part plastic kit makes five Mymidesh Painbringers for use in Warhammer Age of Sigmar. It comes supplied with five 32mm Round Citadel bases. The kit can alternately be built as Symbaresh Twinsouls.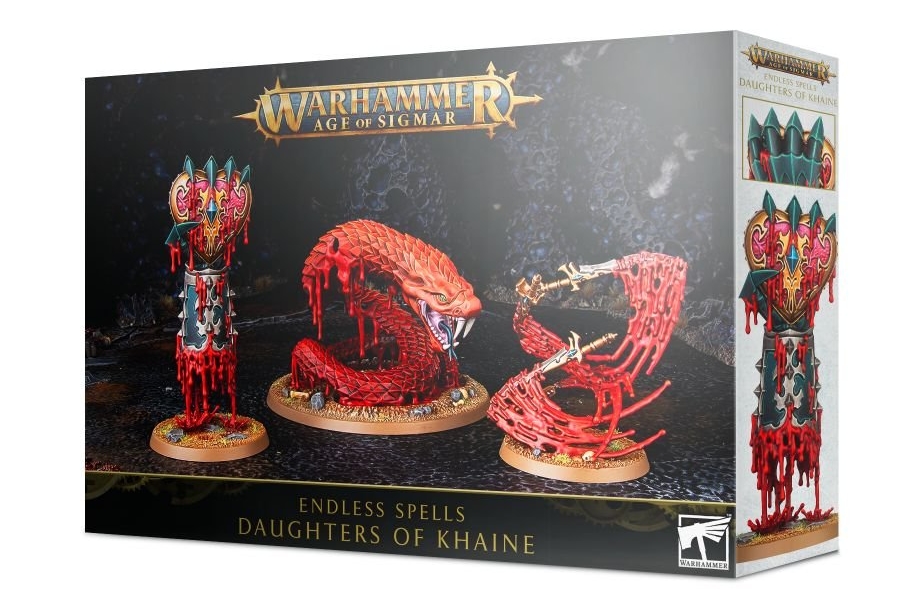 When the Daughters of Khaine march to war, their wizards and priestesses can conjure blood and shadow into dangerous magicks to harry their foes.
The Bloodwrack Viper is an enormous serpent formed from boiling blood, a manifestation of hatred and bitterness that binds its prey into a crushing embrace before squeezing so forcefully that the victim explodes in a shower of gore.
Carried through the air by a tempest of blood, the Bladewind carves a bloody path through anything in its way, slicing through armour with unnatural ease to get to the flesh and blood beneath.
The most devout of Khaine's priestesses can summon a manifestation of his Iron Heart, a blood-dripping icon that burns with supernatural rage. Those bathed in its wrathful aura continue to fight and kill even when stricken with mortal wounds.
The Daughters of Khaine endless spells offer diverse and powerful tactical options to your army, designed to slay your foes and offer helpful boons to your own units. This set contains models for all two endless spells and an Invocation of Khaine, two of which can be cast by your wizards, while the third can be summoned by priestesses.
This 42-piece kit builds three miniatures for Daughters of Khaine armies:
– Bloodwrack Viper
– Bladewind
– Heart of Fury
This kit also includes a 100mm round base and two 50mm round bases.
Warscrolls for these models can be found in Battletome: Daughters of Khaine.
It's a full blown Daughters and Hedonites dance party. And by "dance party" we mean tabletop murderfest.
Latest News From BoLS: