A new Cities of Sigmar Sub-faction and updates to a particular herald of Nurgle? Check out what else is coming in Broken Realms: Teclis!
The new Broken Realms: Teclis is coming very soon and Games Workshop is teasing out a few changes to some of the "side-players" involved in the conflict. First up, we get a look at some changes ahead for the hosts of Nurgle. Today, we have a preview of the best named herald of all the Dark Gods – Sloppity Bilepiper! He'd be utterly charming if it weren't for the smell. Or the boils. Or the fact that he's playing a bag pipe that looks like it was made from an oversized heart. Well at least he seems jolly.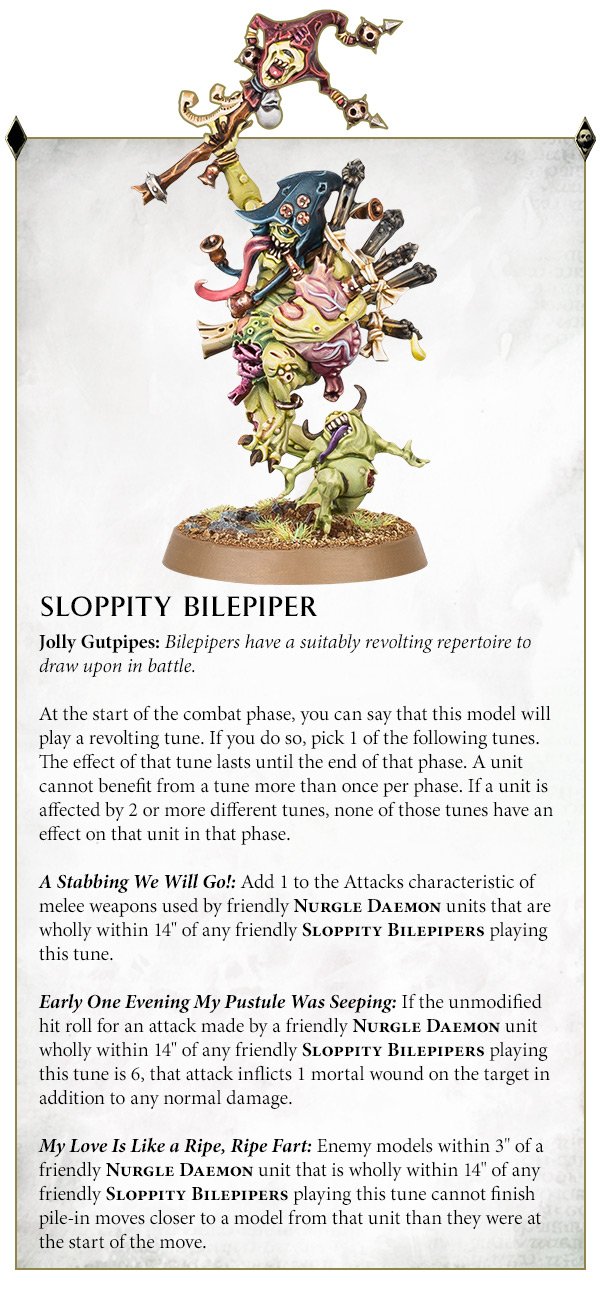 Okay…someone at Games Workshop was having way too much fun with these rules. How can you go wrong with a "song" that is titled "My Love Is Like a Ripe, Ripe Fart"? That's just an instant classic and GW, if you're reading this, I want sheet music and lyrics ASAP. As silly as these song titles are, they are also pretty useful. Ranging from Extra Attacks, to additional mortal wounds, to shutting down pile-in moves, these have their uses. You do your musical thing Sloppity Bilepiper.
New Cities of Sigmar Sub-Faction
With the Lumineth arriving en masse, GW is also acknowledging the fact that some of these Aelves moved to the settlements of other Order factions. We now have a look at a new sub-faction Settler's Gain.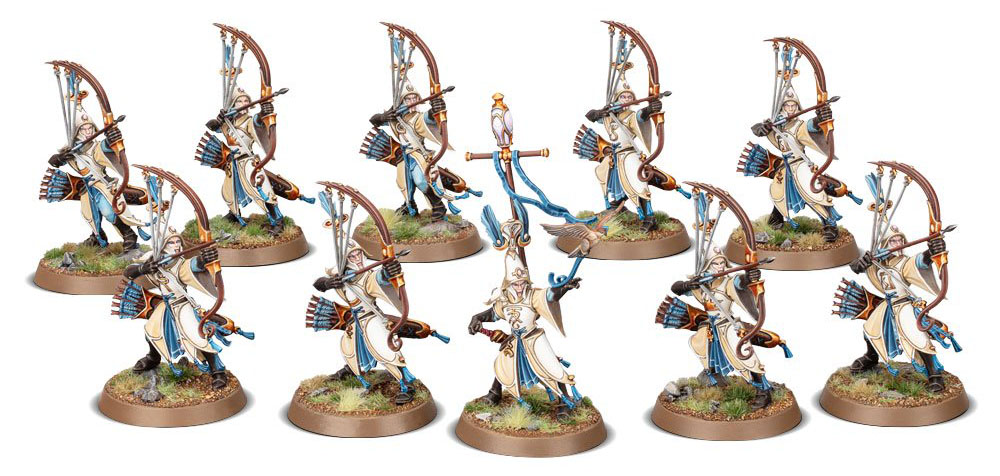 "The Hyshian city of Settler's Gain is also arriving on the battlefield to assist the Lumineth forces, with a full set of allegiance abilities, artefacts, and command traits for this new City of Sigmar to choose from. While it might seem like a good time to call in sick from militia duty, on the other hand, you get to fight alongside an eclectic mix of Stormcast, Lumineth, and fellow humans – which is not an experience that comes up very often."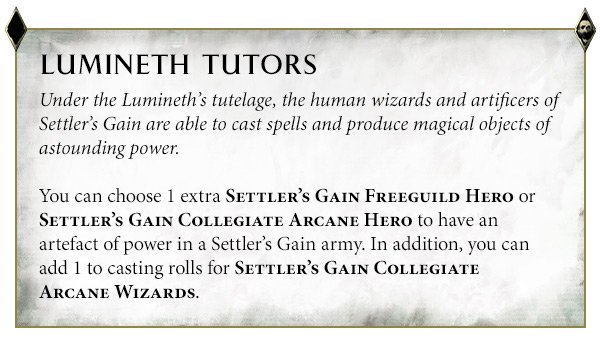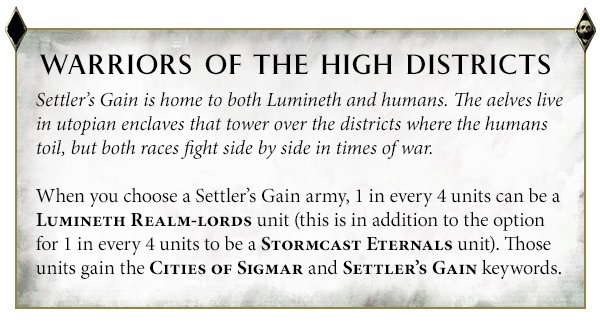 So, essentially, you're going to be able to slot in some Lumineth to your mixed armies of Cities of Sigmar. And there are very clearly some nice boosts from doing so.  Not only are you going to get a boost in the casting department, but you can ALSO stack this with some Stormcast Eternals units for an even more diverse army. But this also has some larger implications. For example, what if you just wanted to run Cities of Sigmar, but with Teclis.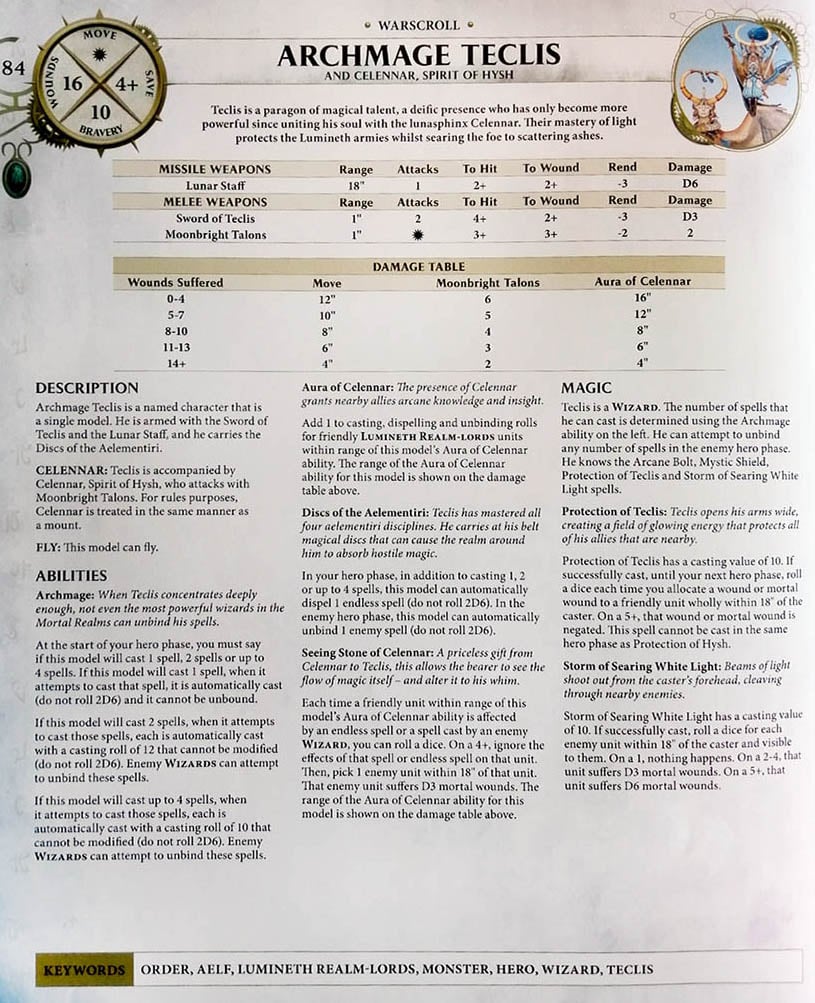 So…a couple of things here. First up, Protection of Teclis is "friendly unit" not Lumineth specific. That's going to be pretty nice for Cities of Sigmar. Furthermore, if I recall correctly, Cities of Sigmar also has access to empowered endless spells. If Teclis is in the list, well, have fun with that. Gee, this book really is going to be all about Teclis!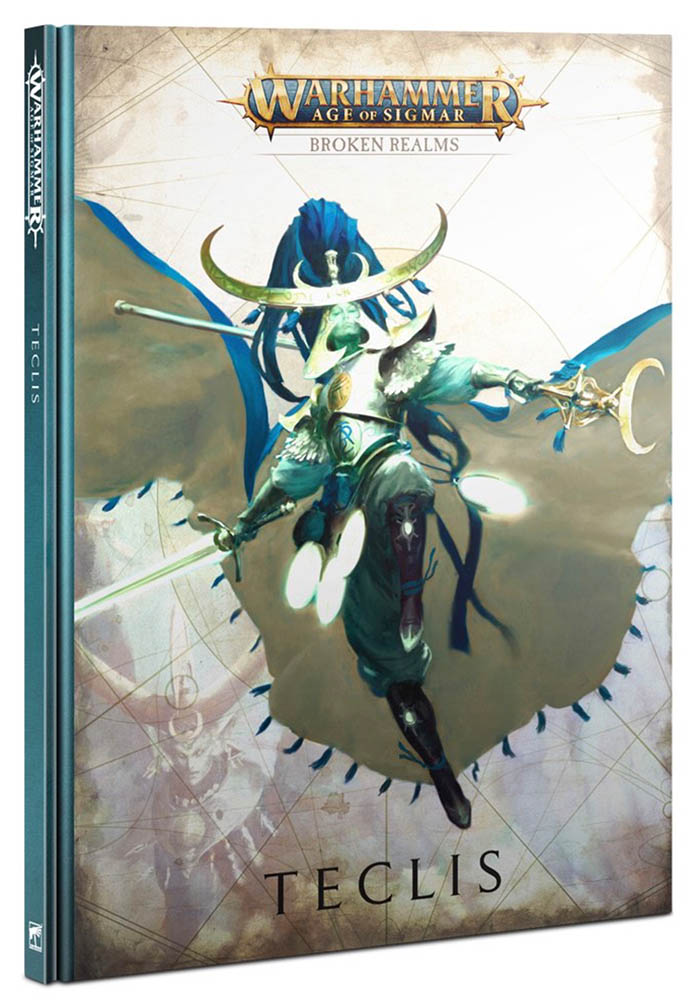 Broken Realms: Teclis, indeed!