D&D Accessories: Gift Sets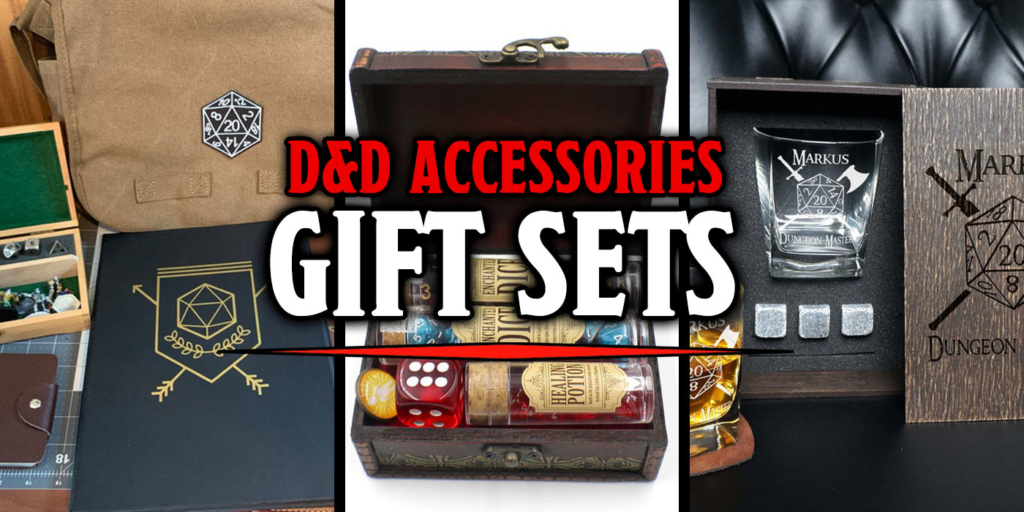 Picking out the perfect gift can be challenging, but with D&D themed gift sets finding an awesome present for the nerds in your life doesn't have to be.
Next time a tabletop playing birthday or anniversary comes around and you aren't sure what to get a nerd who seemingly already has everything, maybe one of these Dungeons and Dragons gift sets will offer you some inspiration. As always, links to buy are in the item titles.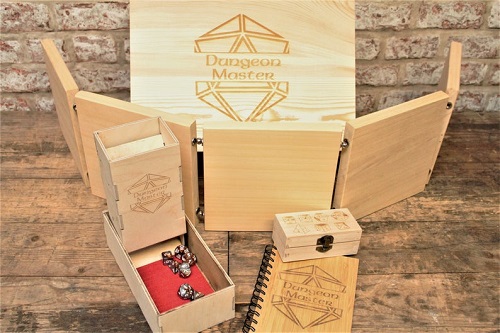 There's never a bad time to remind your resident Dungeon Master that you appreciate everything they do and thank them for the thankless job that is herding magic cats. Why not thank them with a collection of all of the tools they may already need anyway? Personalized with a name or gift message, this set comes with a DM screen, dice tower, bamboo notebook, a dice with their dice box, and it all comes backed away in a solid pine box.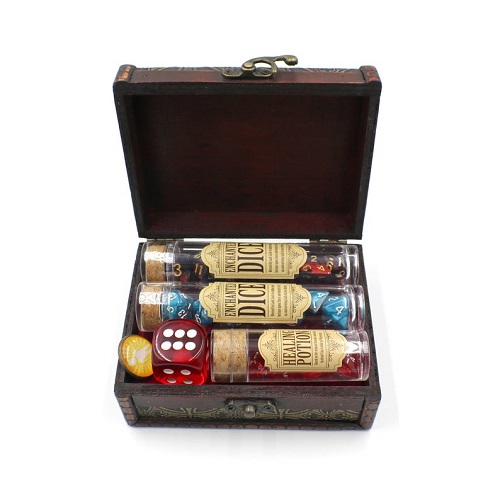 Dice are always a safe bet for a tabletop gaming enthusiast, and with a giant d6 and inspiration token, this set is ready for all sorts of different gameplay scenarios. All of the potion-style dice bottles come with different colored dice sets and the entire set comes in a velvet and wood carrying box. If you're ever in doubt, they always need more dice. Even when they don't.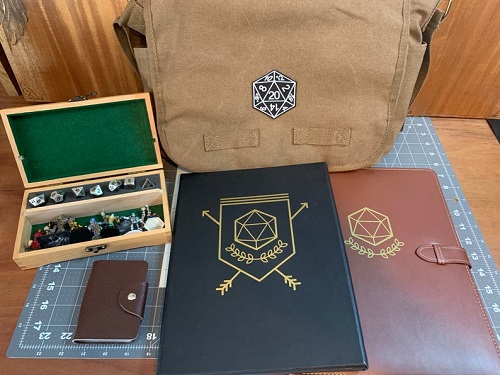 This pack has everything the newest addition to your party will need to start on their dungeon crawling adventure. With leather journals, dice, a vault, and a canvas bag to carry all of your D&D stuff to and from sessions and never lose a pen or a mini. With a variety of levels of completeness and colors, there's an adventurer's pack for everyone.
Subscribe to our newsletter!
Get Tabletop, RPG & Pop Culture news delivered directly to your inbox.
Not every D&D themed gift set has to be for playing D&D. Sometimes they can be used to enjoy libations while playing Dungeons and Dragons. Everything is personalized with the font of your choice from the box to the cup in a super high quality collection that makes the perfect present for any game-playing adult.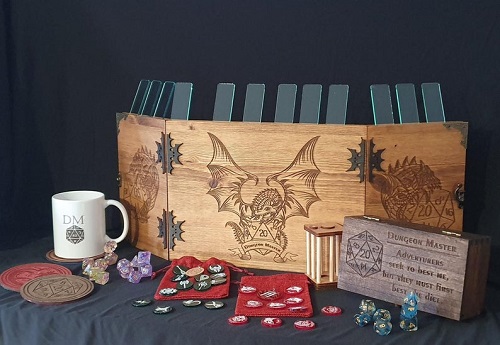 In this house, we appreciate our hardworking DMs and found multiple sets of goodies just for them. This collection comes with the DM screen with built-in initiative trackers, blank tracker tokens, class tokens, monster tokens, coasters, a dice box with three sets of dice, and a DM mug so nobody at the table forgets who is in charge. The artwork on everything is engraved and really pretty and the entire set comes in a variety of finishes so everyone set feels special and unique. There is almost a one hundred percent chance that your DM deserves more love, and I can't think of a better way for your party to pool together and thank them.
Will you be picking out any D&D themed gift sets as a present for somebody in the future? Or do you prefer to get gifts for yourself and then which one most catches your eye? What would you like to see combined into a set for your ideal D&D gift? Let us know in the comments!
Happy Adventuring!
Latest News From BoLS: