Goatboy here with some Chaos tips I've dug up while we await the imminent Drukhari release. Look what I uncovered!
This last week didn't see anything get shown beyond the amazing Bel'Akor (holy crap – yeah I will be happy to get that model) with a brand new Primaris Lt on the base.  But no real new rules, info, etc.  So what is a 40k fan to do during these slower times that remind me of the olden days where a new model only got shown in a Monthly White Dwarf?  Well, it means I go looking around and see if I find anything interesting.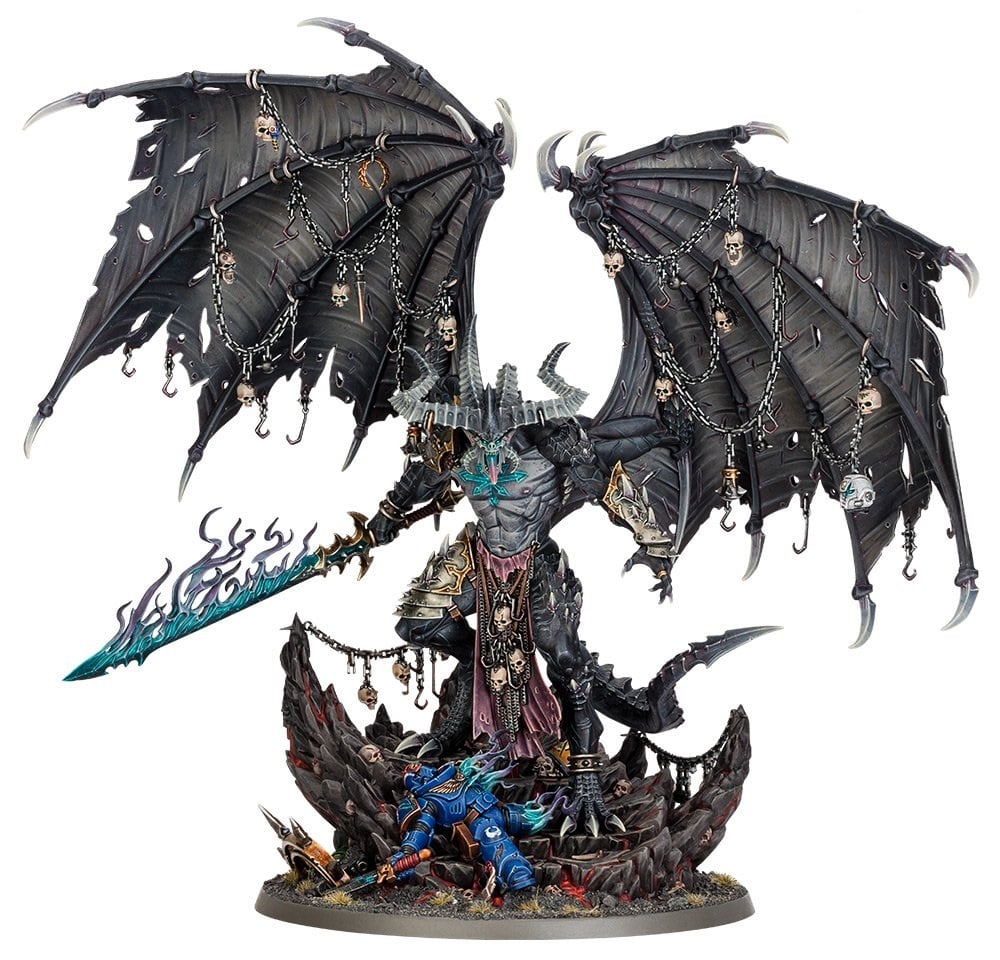 Happy Times for Chaos!
The US is starting to head in a good direction vaccine/virus wise so I am hoping to get a chance to throw down some dice in the coming weeks.  I'm keeping my head up, hooves to the ground, and writing up something fun for this week.  This means I need to actually look at playing an army competitively which is its own albatross to carry over the finish line.  As ever more people get vaccinated, I have a few weeks to figure that out so it isn't the end of the world.  But this isn't an editorial about list building.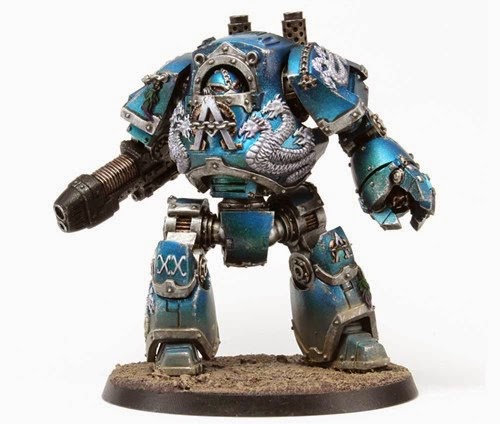 Chaos Diamonds in the Rough
This is an editorial about looking at some different units.  The newest one that has peaked my interest lately is looking at the ole FW Contemptor.  I am not the biggest fan of having to burn a CP to play one but there is something interesting lurking in weapon stat lines.  I am looking at the "Volkaite" options for the model.  I can thank Mr. Vessal for pointing them out to me by saying all the cool kids are liking them.  For those not knowing what they do each gun is a Heavy 8/AP 0/2 D gun that has an extra special rule of causing a mortal wound on a 6.  
This can be huge as you start to shoot out 16 shots that can be very damaging to Marines on a failed save as well as causing some extra "wounds" as needed.  I am looking at these with the Death Guard as I think the Blight Contagion trait to get another -1 AP might be really good with these guns.  Also having some fun abilities to make all guns shooting reroll 1's to wound and other fun things.  It seems good – the models are pretty tough and make up a good backfield objective holding option.  Plus I think it is 160 points for each one and that seems not too bad.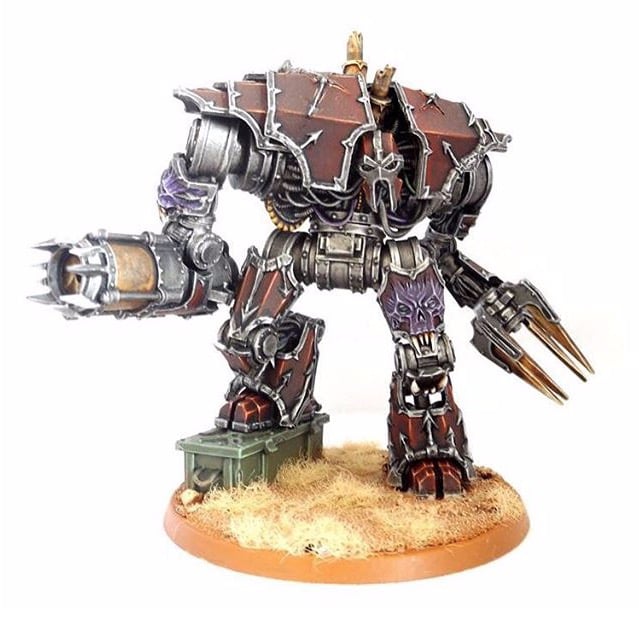 Along the same lines, the Decimator might be worth it too – but I don't like the degrading stat line versus the Contemptor that will just always do work.  If it can shoot – it will shoot etc.  Though having an auto-heal and a 2+ to cause Mortal wounds seems decent too.  It is something to think about as we move into events and start to face extremely tough units.

Running CSMs – Maybe
I know I am not the only one mad at GW for not updating CSM – but they are not terrible right now.  Chaos and the Daemon keywords are pretty friggin nutty right now if you start to look at the combos.  Heck, even Chaos Terminators with free Lightning Claws seem good.  Sure the regular CSMs are pretty terrible – but they still have some options in a whirlwind of keywords and detachments.  I really think the Possessed army is something to think about as it can move so fast and cover the table.  Hell my dumb Lord of Skull lists is a very annoying gatekeeper that feels like the Knights used to.  This slow roll of rules is annoying but it does allow for players that have just too many options – well too many options to make something rough as hell for the game.

Heavy Intercessors
This week's army list will be dealing with Heavy Intercessors.  I find them an interesting unit as they are tough, throw out some decent firepower, and have the lovely "troop" choice keyword that makes them interesting. Is he the best?  I am not sure.  I like them with White Scars as you can set up a unit of 30 wounds, T5, and can advance/shoot/assault all day long.  Once they hit turn 3 they become a rough unit to deal with.  They make a really nice backfield holder too as their guns all shoot farther than normal on these shorter boards.  I enjoyed painting the 5 and I am glad to see we could see boxes in May.  I saw one box pic leak out so we know they are made – thus making the whole waiting for the Factory less of an issue.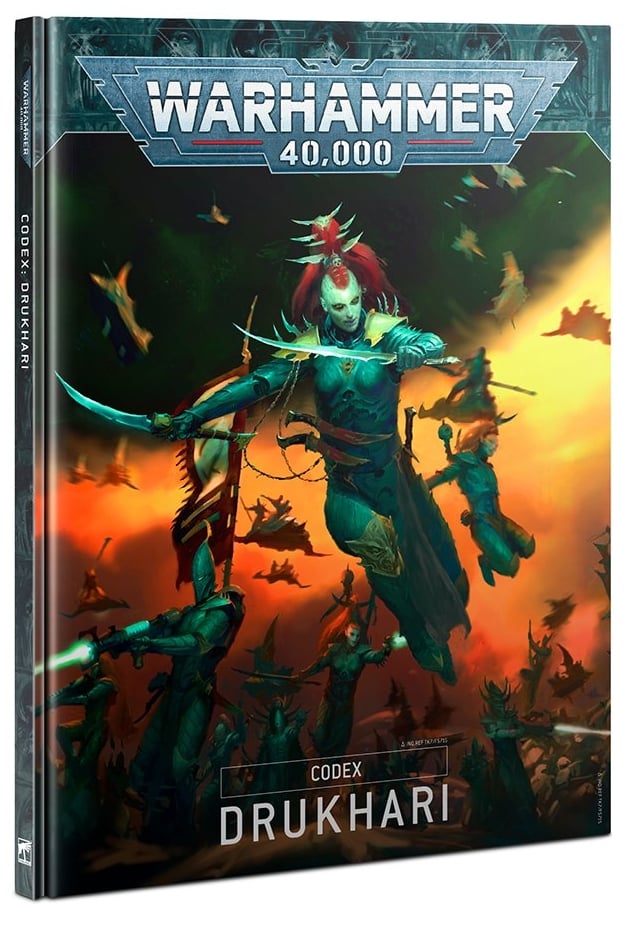 Cannot get here fast enough!
Anyway – this went on rambling long enough.  I got to write up my army list for the week, figure out a comic idea to start working on, and finish some client stuff. All while trying to get back to normal after my second vaccine shot.  It will be a long day.