Star Wars Unveils New Cover Featuring Trans And Non-Binary Jedi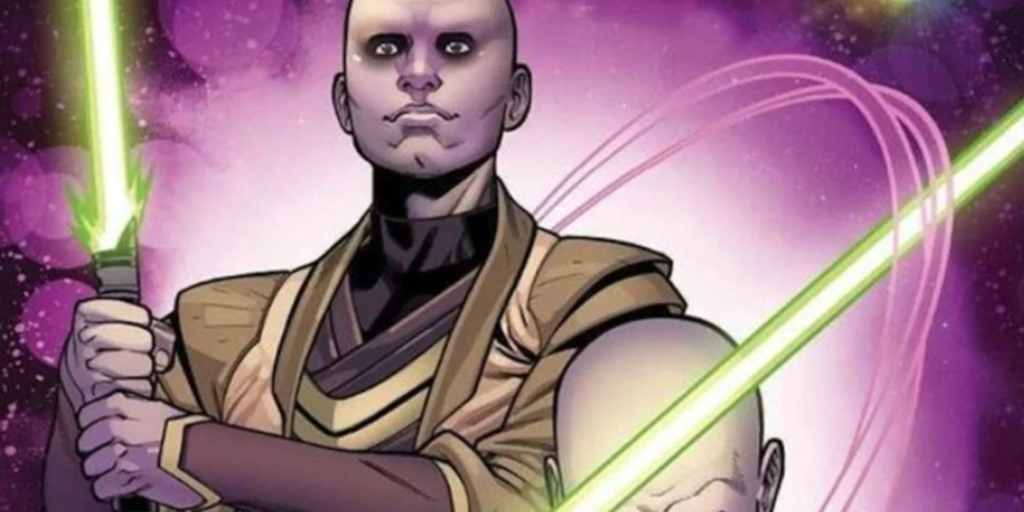 Even a long time ago in a galaxy far, far away they say trans rights. Star Wars has unveiled a new cover highlighting trans non-binary jedi Terec and Ceret.
In honor of Trans Day of Visibility, Star Wars has revealed an exclusive new cover that highlights the trans non-biary jedi Terec and Ceret, two characters introduced by High Republic writer Cavan Scott. In a post on Instagram, Star Wars makes explicit what the writer had confirmed on Twitter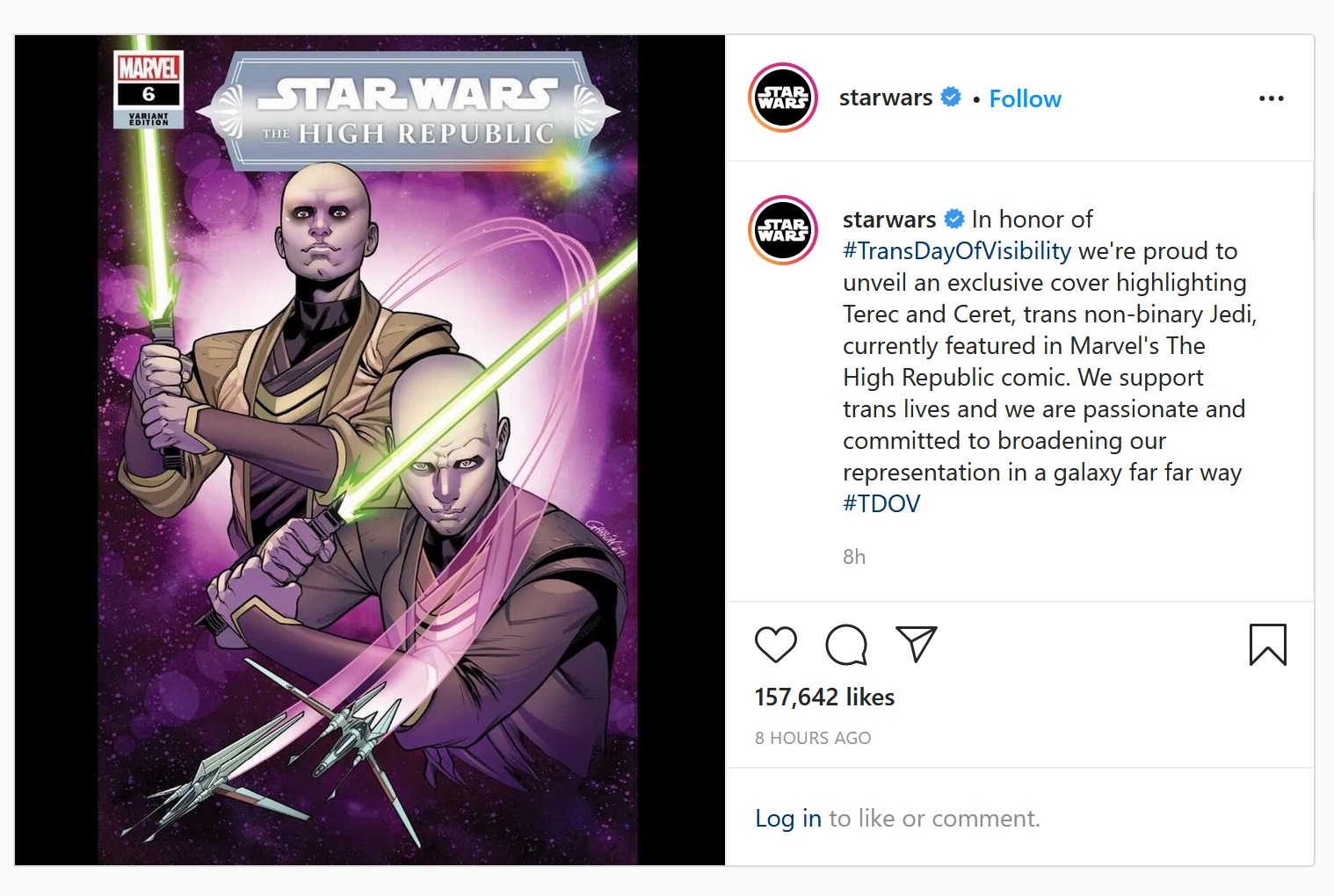 The message accompanying the reveal reads:
In honor of #TransDayOfVisibility we're proud to unveil an exclusive cover highlighting Terec and Ceret, trans non-binary Jedi, currently featured in Marvel's The High Republic comic. We support trans lives and we are passionate and committed to broadening our representation in a galaxy far far way #TDOV
These two are Kotabi "bond-twins" — they are two individuals who share a gestalt ind that allows them to share thoughts and emotions and express them together. This announcement makes Terec and Ceret the first explicitly trans characters in the current, official canon.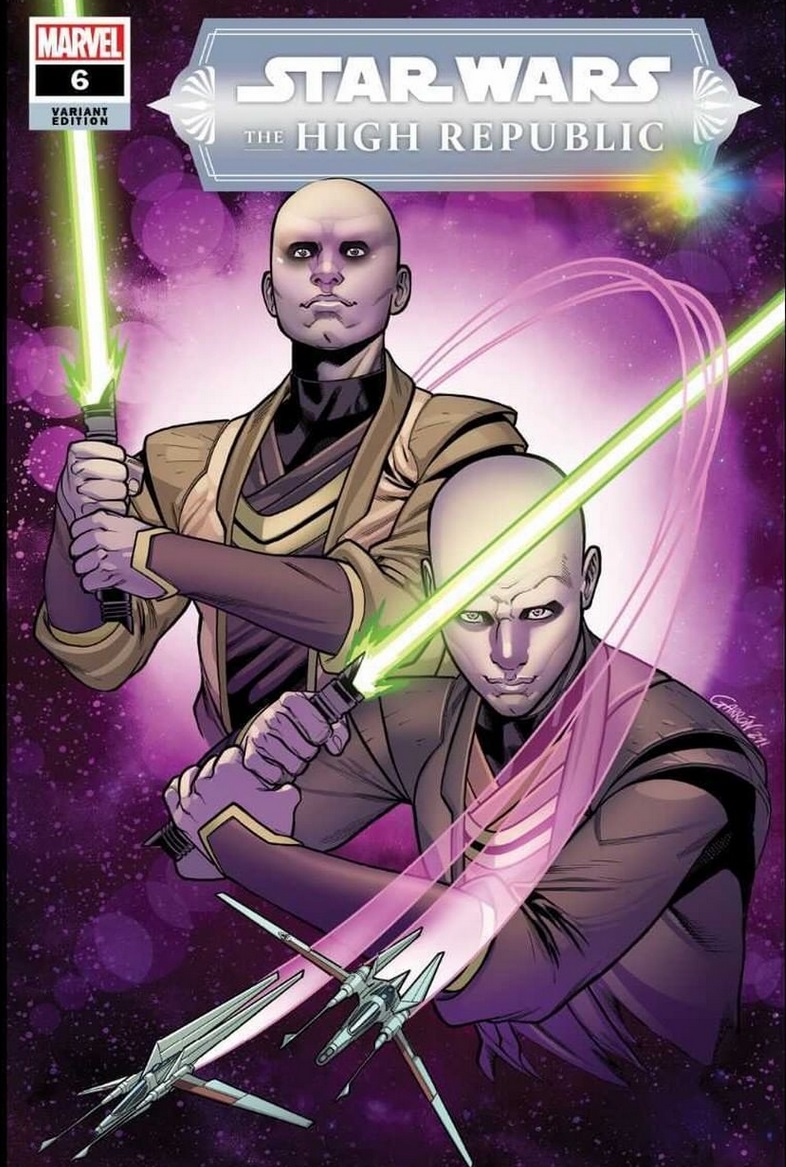 Though it's worth pointing out that they aren't the first characters to exist outside of the gender binary. Previously we've seen characters like Eleodie Maracavanya who uses zhe/zher pronouns, introduced in Star Wars: Aftermath–Life Debt, or Taka Jamoreesa, who uses they/them, introduced in Last Shot, or non-binary Mirialan A-Wing Pilot Keo Venzee introduced in Star Wars: Squadrons.
This is a big step for Star Wars, and while the franchise still has its work cut out for it as far as representation of LGBTQ+ charcters in its different franchises, it's heartening to see this move in the right direction.
Especially since this move comes just a day after the biggest fan-run Wiki, Wookieepedia went through a fight over gender identity–that's a whole other story, but the upshot of it is Fandom, the parent company that owns Wookieepedia intervened in an argument between the mod community to settle a dispute over whether or not they should remove a creator's deadname.
PSA: @WookOfficial is currently voting on whether to remove VIP deadnames and thanks to their insane consensus standard that change is uncomfortably close to failing. If you're an active editor (50+ edits in the last 6mo) they could use your vote pre-3/30.https://t.co/nMHDzrY3Zc

Subscribe to our newsletter!

Get Tabletop, RPG & Pop Culture news delivered directly to your inbox.

— Eleven-ThirtyEight (@eleventhirtyate) March 27, 2021
Fandom has since made it clear that transphobia of any kind has no place at any of their sites. But that this issue even came to a vote is a sign of just how much work the franchise and its community have left to do.
May the Force be with you
Latest News From BoLS: