D&D: Enter The World Of The Venture Maidens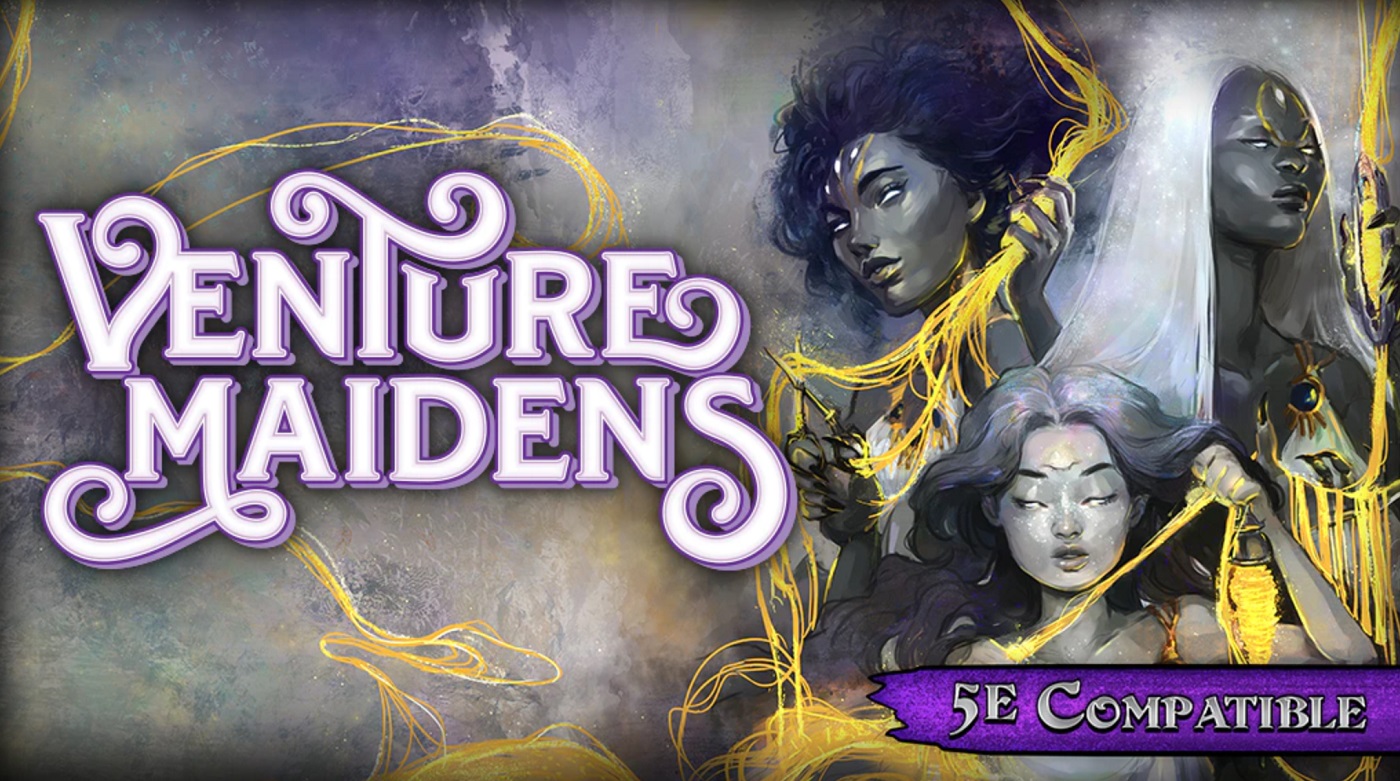 Popular D&D podcast the Venture Maidens invite you to explore their world with a new 5E roleplaying setting with new classes and more.
One of the best things about the current RPG golden age we're in is the blurring of boundaries between player, creator, and designer. Because it's always been the case that playing an RPG welcomes creativity and exploration, and these days it seems like more and more people are taking their creativity beyond their tabletops.
Whether that's through podcasts or livestreams or now, as The Venture Maidens are doing, with a new roleplaying sourcebook. This is a huge step for the popular 5E podcast. At press time it's already raised more than 300% of its original funding goal, and backers who get in within the first 48 hours get additional rewards.
But what is their world like? It's a homebrew setting full of opposing magical forces, destinies, and a lot of magitech interpreted in an interesting way. Let's check it out below.
via 2C Gaming
Enter a world of high fantasy where both gods and mortals war against the binding threads of fate.
Venture Maidens is a 5th Edition roleplaying setting born from the actual-play podcast of the same name, which five femmes bring to life every week for thousands of listeners. Our world is riddled with machinations of the powerful and plagued by ancient forces ready to devour the unwary, where only adventurers who possess an unshakeable will can hope to forge their own path. Are you prepared to take up the challenge and fight for your destiny?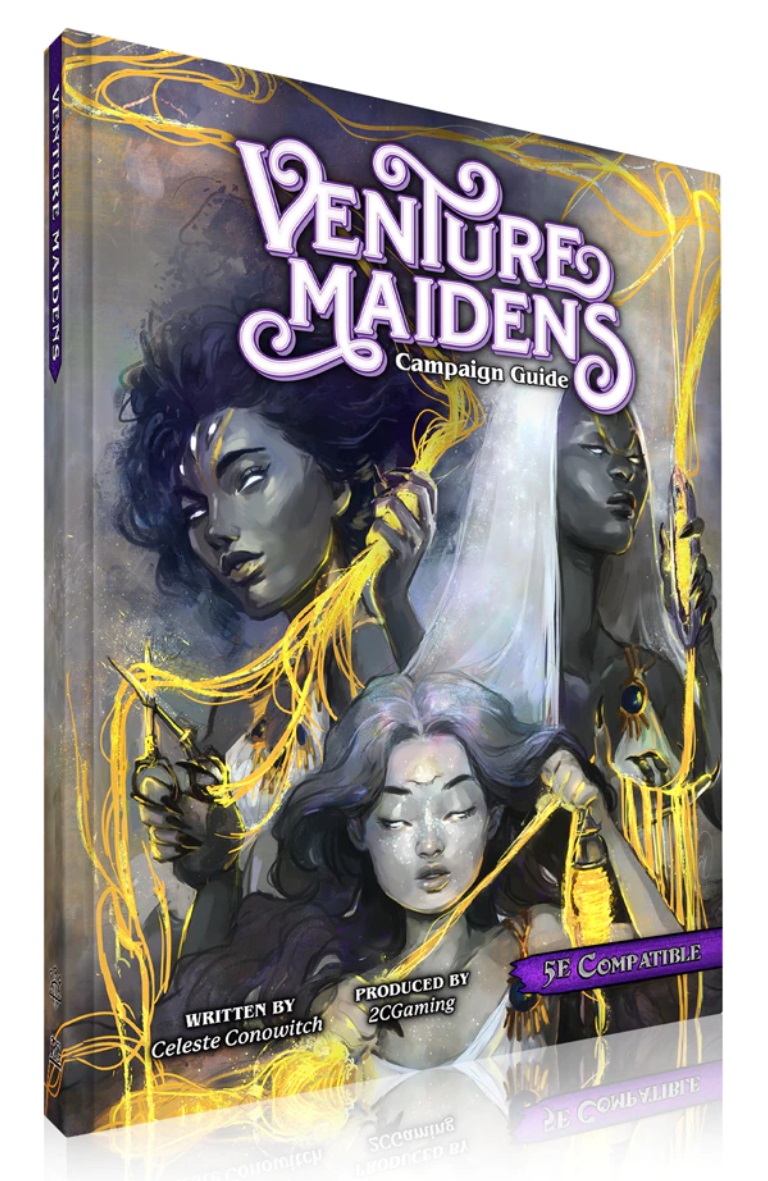 At the heart of Venture Maidens is a homebrew 5th Edition campaign brought to life as a bi-weekly live stream and podcast. Five years ago, a group of lifelong friends came together to fumble their way through tech troubles to produce a show that now boasts millions of downloads and thousands of listeners across the globe. However, somewhere along the way, Venture Maidens became so much bigger than just one show. The venturers are a passionate gaming community who champion friendship and creativity in all things. The stories we tell both on and off the table are fun, fearless, and unapologetically human. Learn more about the show on their website here.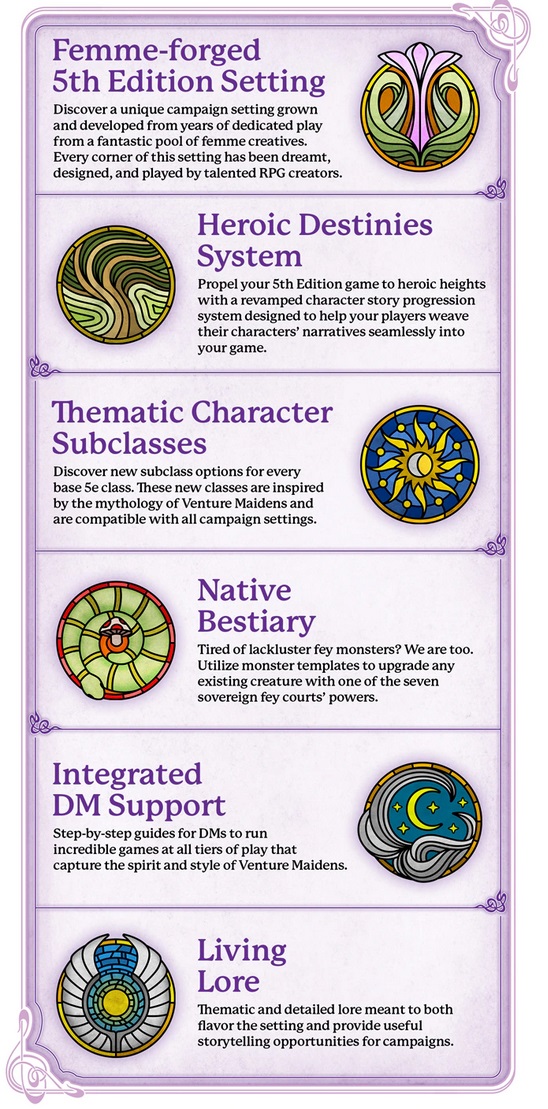 You can check out a free preview of the campaign guide that features a new Warlock Patron, the Otherworldly Titan, which is all about creation, not like artificing or anything, but like capital C Creation that a divinely powerful being might do. You'll understand the fundamental architecture of matter and that's always fun.
Happy Adventuring!
Subscribe to our newsletter!
Get Tabletop, RPG & Pop Culture news delivered directly to your inbox.