May's New Releases – Mads Mikkelsen, Murderous Toys, Castlevania, & More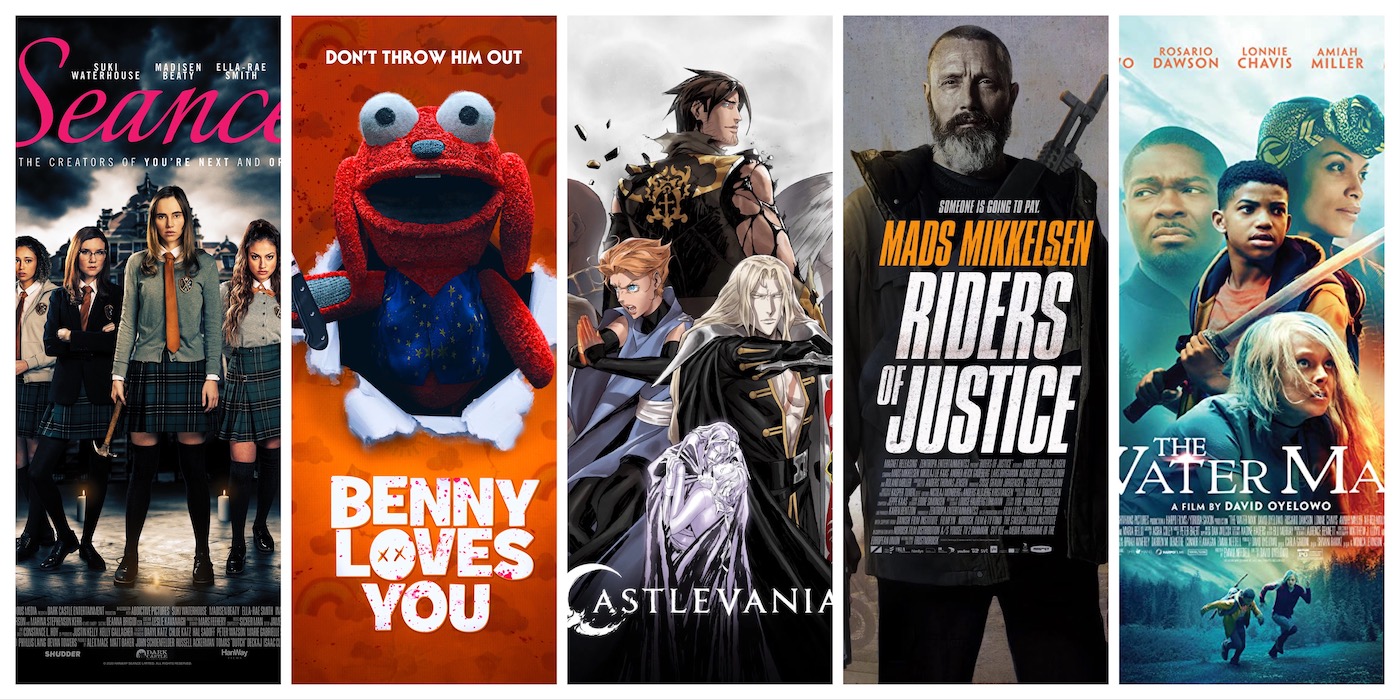 Next month brings new movies to the small and big screen – an action movie with the world's favorite Dane, a family fantasy advenutre, and a bunch of horror.
Benny Loves You – VOD May 11th
After the accidental death of his parents, Jack's comfortable lifestyle comes to an end and he must sell his family home. Desperate to improve his life, Jack throws out his childhood belongings including his beloved plush, Benny. It's a move that has disastrous consequences when Benny springs to life with deadly intentions!
The Water Man – Theaters May 7th
Gunner sets out on a quest to save his ill mother (Rosario Dawson) by searching for a mythic figure who possesses the secret to immortality, the Water Man. After enlisting the help of a mysterious local girl, Jo (Amiah Miller), they journey together into the remote Wild Horse forest — but the deeper they venture, the stranger and more dangerous the forest becomes. Their only hope for rescue is Gunner's father (David Oyelowo), who will stop at nothing to find them.
Castlevania Season 4 (Final Season) – Netflix May 13th
Castlevania is a dark medieval fantasy that follows Trevor (Richard Armitage), the last surviving member of the disgraced Belmont clan, who is trying to save Eastern Europe from extinction at the hand of Vlad Dracula Tepes (Graham McTavish). But Trevor no longer is alone, and now he and his misfit comrades race to find a way to save humanity from extinction at the hands of the grief-maddened Dracula and his sinister vampire war council.
The Djinn – Theaters & VOD May 14th
A mute boy (Ezra Dewey) is trapped in his apartment with a sinister monster when he makes a wish to fulfill his heart's greatest desire.
Subscribe to our newsletter!
Get Tabletop, RPG & Pop Culture news delivered directly to your inbox.
Riders of Justice – Theaters May 14th & VOD May 21st
RIDERS OF JUSTICE follows recently-deployed Markus, who is forced to return home to care for his teenage daughter after his wife is killed in a tragic train accident. But when a survivor of the wrecked train surfaces claiming foul play, Markus begins to suspect his wife was murdered and embarks on a mission to find those responsible.
Seance – Theaters & VOD May 21st
Camille Meadows is the new girl at the prestigious Edelvine Academy for Girls. Soon after her arrival, six girls invite her to join them in a late-night ritual, calling forth the spirit of a dead former student who reportedly haunts their halls. But before morning, one of the girls is dead, leaving the others wondering what they may have awakened.
Cruella – Theaters & Disney+ on May 28th
"Cruella," which is set in 1970s London amidst the punk rock revolution, follows a young grifter named Estella, a clever and creative girl determined to make a name for herself with her designs. She befriends a pair of young thieves who appreciate her appetite for mischief, and together they are able to build a life for themselves on the London streets. One day, Estella's flair for fashion catches the eye of the Baroness von Hellman, a fashion legend who is devastatingly chic and terrifyingly haute, played by two-time Oscar® winner Emma Thompson. But their relationship sets in motion a course of events and revelations that will cause Estella to embrace her wicked side and become the raucous, fashionable, and revenge-bent Cruella.