Netflix is Bringing the Thrills, Chills, & Drama to the Small Screen This Summer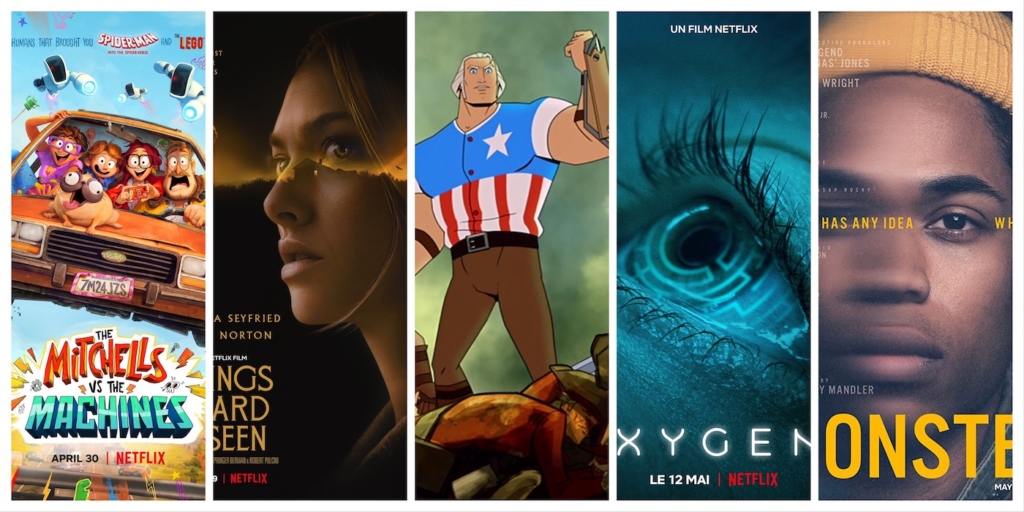 The streaming giant promised a new, original movie every week, and based on this preview they are delivering.
They've done some pretty heavy marketing on some of these already, but there are a bunch of new titles in there from across genres and the globe. I'm looking forward to more about Beckett (a conspiracy soaked thriller led by Tenet's John David Washington), Skater Girl, Ice Road (it's going to be dumb but hopefully a good time), the Bob Ross documentary, and Fear Street (based on the series by R.L. Stine).
America: The Motion Picture also stands out – from the brains of Matt Thompson (Sealab 2021, Archer), Dave Callaham (Jean-Claude Van Johnson, Zombieland: Double Tap), and Mark Mothersbaugh (Disenchantment, What We Do in the Shadows). It is bound to be inappropriate and ridiculous. There's a robocop-centaur carrying a sword in the promo stills. I think that explains it pretty well.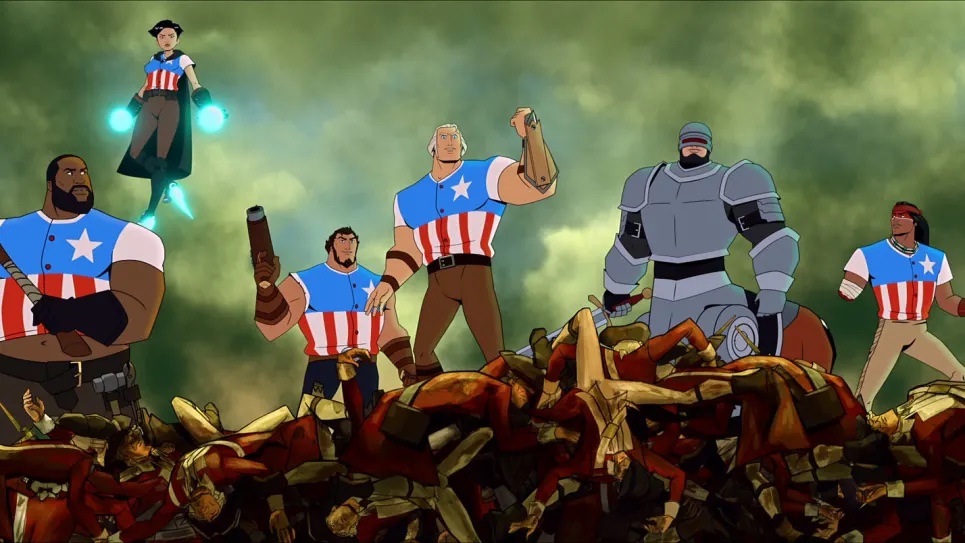 What's Coming Up Soon
Things Heard and Seen – April 29th
A Manhattan couple moves to a historic hamlet in the Hudson Valley and come to discover that their marriage has a sinister darkness, one that rivals their new home's history.
The Mitchells vs The Machines – April 30th
A quirky, dysfunctional family's road trip is upended when they find themselves in the middle of the robot apocalypse and suddenly become humanity's unlikeliest last hope!
Monster – May 7th
Monster tells the story of Steve Harmon, a seventeen-year-old honor student whose world comes crashing down around him when he is charged with felony murder. The film follows his dramatic journey from a smart, likable film student from Harlem attending an elite high school through a complex legal battle that could leave him spending the rest of his life in prison.
Subscribe to our newsletter!
Get Tabletop, RPG & Pop Culture news delivered directly to your inbox.
Oxygen – May 12th
No escape, no memory, 90 minutes to live. Liz is running out of oxygen and time, in order to survive she must find a way to remember who she is.
The Woman in the Window – May 14th
Anna Fox feels safest when she's watching the world from behind her window. Until the Russell family moves in across the street, and she witnesses something unimaginable. The question is… what really happened?
Army of the Dead – May 21st
ARMY OF THE DEAD takes place following a zombie outbreak that has left Las Vegas in ruins and walled off from the rest of the world. When Scott Ward, a former zombie war hero who's now flipping burgers on the outskirts of the town he now calls home, is approached by casino boss Bly Tanaka, it's with the ultimate proposition: break into the zombie-infested quarantine zone to retrieve $200 million sitting in a vault beneath the strip before the city is nuked by the government in 32 hours.
America: The Motion Picture – June 30th
In this wildly tongue-in-cheek animated revisionist history, a chainsaw-wielding George Washington assembles a team of rabble rousers — including beer-loving bro Sam Adams, famed scientist Thomas Edison, acclaimed horseman Paul Revere, and a very pissed off Geronimo — to defeat Benedict Arnold and King James in the American Revolution. Who will win? No one knows, but you can be sure of one thing: these are not your father's Founding… uh, Fathers.
Channing Tatum is George Washington!
Olivia Munn is Thomas Edison!
Other actors are other characters!

Time to officially reveal the cast of AMERICA: THE MOTION PICTURE, crossing rivers to deliver you to a prosperous new horizon on June 30. pic.twitter.com/PWy1Yo62ms

— NetflixFilm (@NetflixFilm) April 27, 2021
Vivo – TBA
An animated musical adventure that follows VIVO, a one-of-kind kinkajou (aka a rainforest "honey bear," voiced by Lin-Manuel Miranda), who must find his way from Havana to Miami in order to deliver a song on behalf of his beloved owner and mentor Andres (Buena Vista Social Club's Juan de Marcos Gonzáles). Voice talent includes three-time Grammy-winning Latin pop legend Gloria Estefan, Zoe Saldana, and Michael Rooker. VIVO is an exhilarating story about gathering your courage, finding family in unlikely friends, and the belief that music can open you to new worlds.
Latest News From BoLS: