The Paint Case 2.0 Has All the Right Features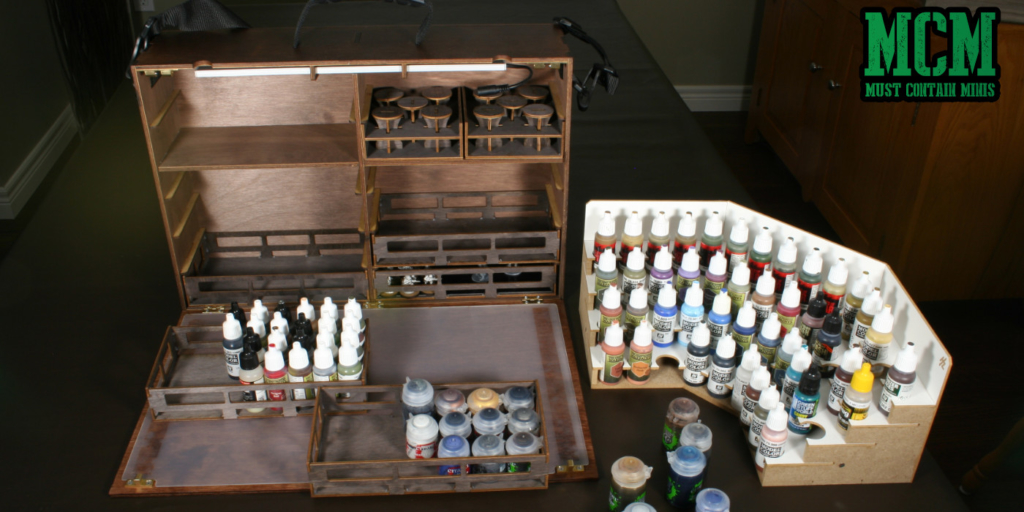 Ever want to store or carry your paints in something that could give others "hobby envy?" If so, you need to check out this case.
Now, I reached out to Frontier Wargaming about this because I lost my dedicated Hobby Space. I found myself painting at the kitchen table using this pizza box to store my paints and miniatures in progress. After every session, I would pack this pizza box back up, and store my brushes and extra paints elsewhere.
I saw a nicer option in The Paint Case 2.0. After reaching out to Frontier Wargaming and explaining my situation, they sent me a product for review. This is the base product with an added LED Lamp, extension for the lamp, and a magnetized miniature transport tray.
Check this thing out!!!
Now, Frontier Wargaming will put a logo or name on any side of the case that you want. I did not know that in my original review of the product. If you want the case for some quick advertising of your commission painting business or your media platform, be sure to ask them to engrave the back as well as the lid. That way, when you fold down the lid, you still have a built-in sign letting others know about your business while you are painting at your Friendly Local Gaming Store or in convention space.
So, what is on the inside? Let's open it up…
This box not only gives you a classy way to carry your paints, but it also opens up to give you a portable workstation too. The plastic part on the lid is a cutting board and it comes with 10 painting handles. How nice is that? For those who want a very in-depth review, check out my video below. For those who prefer to read, the story continues just scroll down a bit more.
The YouTube Review
If you prefer, you can also check out the review on YouTube.
Continuation of the Written Review
Welcome back, everyone. I hope you liked that video. For those who prefer text and pictures, well we have that on Bell of Lost Souls too. Let's carry on. With the case opened, I started loading it up with the paints that I own.
With the portable set up out of the way, I carried on with what was left in my HobbyZone setup. It fit all of that paint with room to spare.
I added in a few more bottles. When I was done, the case looked like this…
Now, I will come out and say that this case is on the pricier side of things. That said, it is a beautiful luxury item that looks really nice and holds a lot of paint. The LED lamp works well and it is very functional. If you are in the market for a paint case that doubles as a portable paint station, be sure to check this case out.
Subscribe to our newsletter!
Get Tabletop, RPG & Pop Culture news delivered directly to your inbox.
Wrapping it up…
If you are after a beautiful case that carries your paints around in style, this might be the right case for you. It doubles as a paint station and is extremely functional. It actually holds a lot of paint too. My opinion is that this case is best targeted towards a person who doesn't have a dedicated painting space (it is perfect if you have to pack up your hobby space each time you use it) and for those who paint on the go.
For actual numbers of how many paints it holds, and for a more in-depth version of this article, check out my longer review on Must Contain Minis.
Until next time, Happy Gaming Everyone!!!

Read more about great Indie and Historical games on my site!
Must Contain Minis is my personal reviews, showcases, and battle reports website where I look at mostly Indie and Historical Games. Don't forget to check out my fuller version of this article on that site. You can also follow me on Social Media. I am very active on Facebook and share posts of a wide variety. I upload my best pictures to Instagram and am also on Twitter. Oh, I am on YouTube now too!
My aim is to promote gaming with companies outside of those that already dominate the gaming market.
Latest News From BoLS: