Bolt Action Enters the Pacific Theater With New Island Assault Box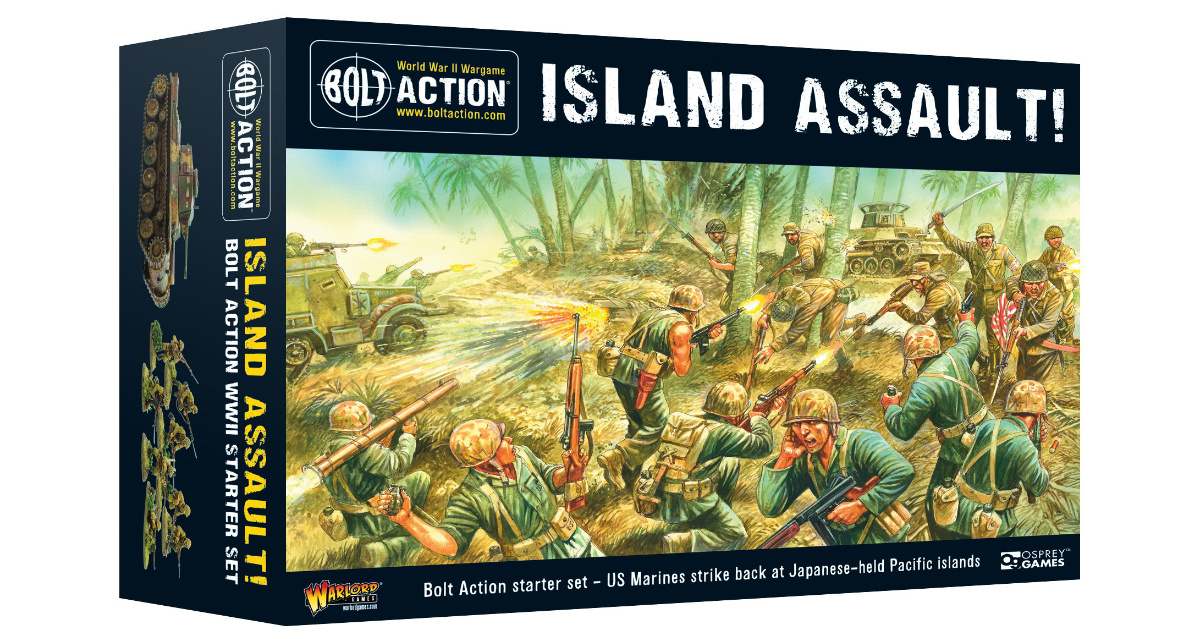 Enter a new theater of World War II battles with this new 2 player starter box.
This new two-player starter set features the Unites States Marine Corps taking on the Japanese army. This product is currently available for Pre-order and if you order direct from Warlord Games, they will give you a free, special miniature with your order too.
The Contents
Inside, Warlord Games packed the small second edition rule book for Bolt Action in the box. This looks to be the same book as what you get in the Band of Brothers starter set. It makes me wonder whether we will have two starter sets (one for the European Front and the other for the Pacific).
Aside from that rulebook, let's look at what else is in there!
Containing two opposing forces set amongst the many islands in the Pacific theatre, Island Assault! contains the Bolt Action 2nd edition rules as well as a scenario booklet guiding you through your first steps in the game. Before long you'll be adding to your new army and wreaking havoc on your foes be they fighting for Uncle Sam or the Emperor!
Bolt Action A5 Rulebook
Island Assault booklet
24 Imperial Japanese Army soldiers
Chi-Ha tank
24 US Marines
M3A1 Half-track
Dice
Pin marker sprue
Template sprue
1 Pillbox (exclusive to this set)
2 Spiderholes (exclusive to this set)
Wrapping it up…
Overall, this looks to be an exciting way to get into Bolt Action. I like that they give you more infantry and vehicles than their other starter sets in trade for less terrain.
If you want to learn more, check out the Warlord Games Website. You can also come over to my personal website where I have a whole section dedicated to Bolt Action.
Again, this product is up for Pre-Orders. I am not 100% sure when it will be delivered.
Until next time, Happy Gaming Everyone!!!

Read more about great Indie and Historical games on my site!
Must Contain Minis is my personal reviews, showcases, and battle reports website where I look at mostly Indie and Historical Games. You can also follow me on Social Media. I am very active on Facebook and share posts of a wide variety. I upload my best pictures to Instagram and am also on Twitter. Oh, I am on YouTube now too!
Subscribe to our newsletter!
Get Tabletop, RPG & Pop Culture news delivered directly to your inbox.
My aim is to promote gaming with companies outside of those that already dominate the gaming market.