Find One Eyed Willie's Rich Stuff in 'The Goonies' Board Game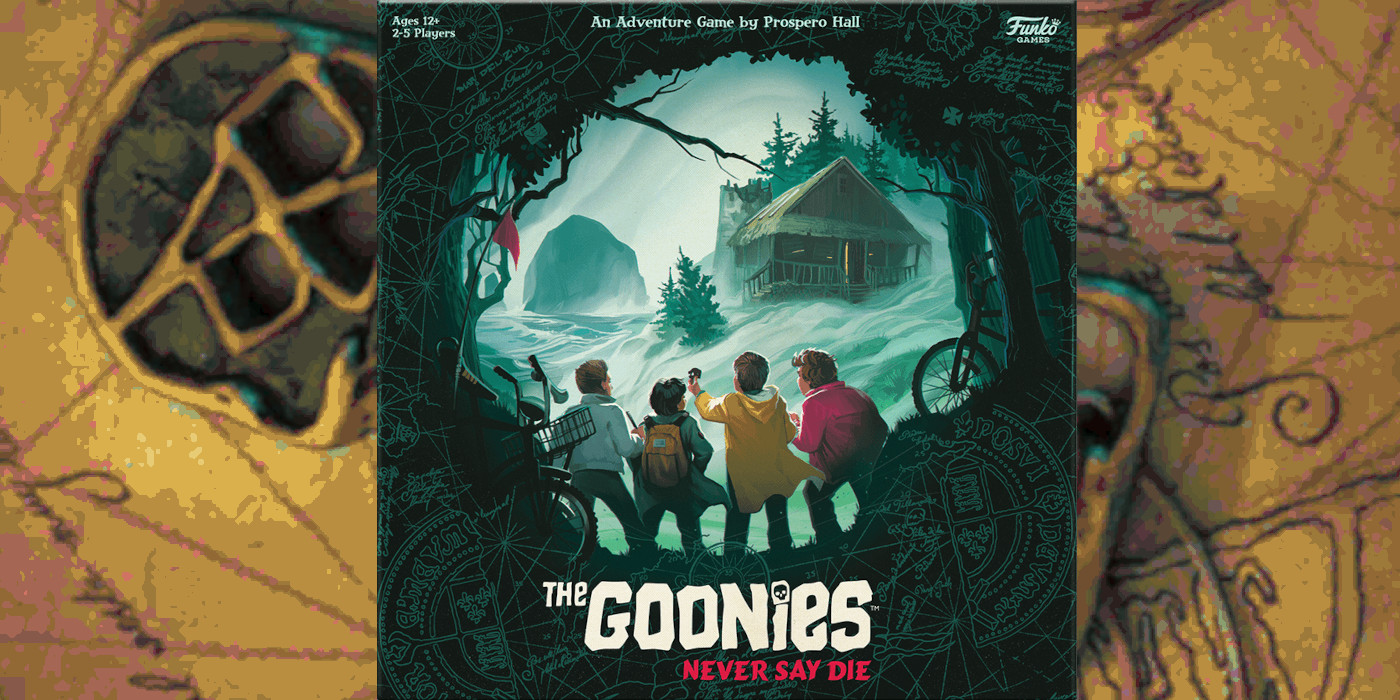 Make sure to bring a Baby Ruth bar.  You know, just in case.
Funko Games has announced The Goonies: Never Say Die board game from their Prospero Hall design team. The Goonies game will be something of an RPG style adventure game.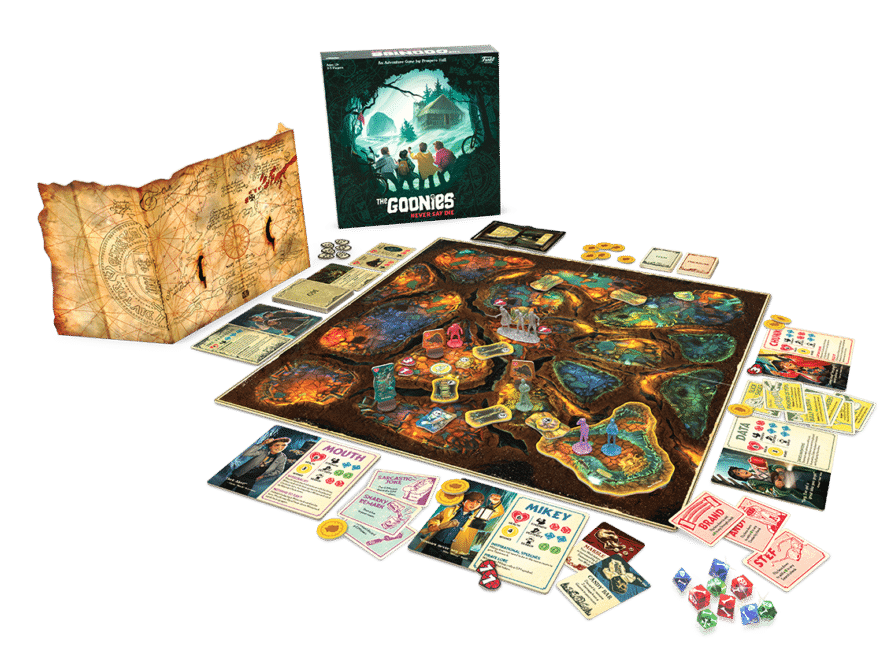 One player will take the role of Goondocks Master, and will control the various villains from The Fratellis to One-Eyed Willie himself. The goal of the GM is to delay the Goonies from competing their objecting within a certain time limit, as dictated by the scenario being played.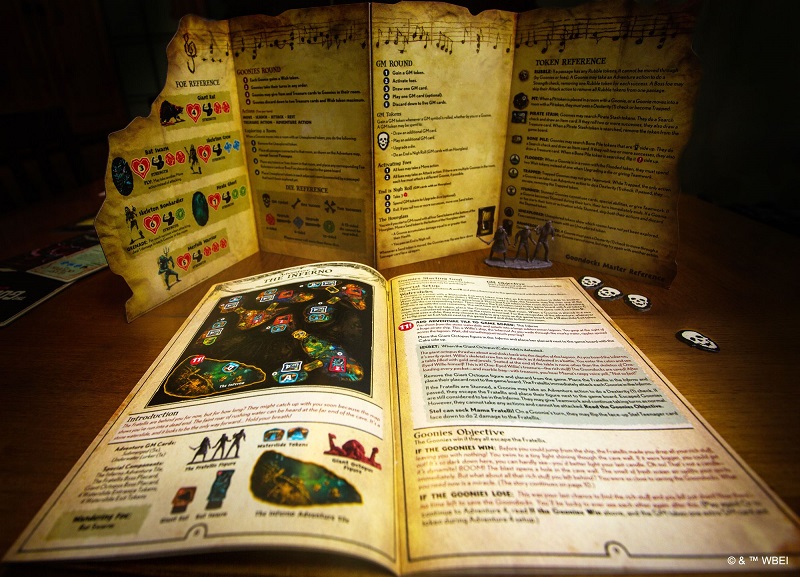 Is that an A-sharp or a B-flat?
The rest of the players take the role of the Goonies – Mikey, Mouth, Chunk, Data, and Sloth. They will have to use teamwork and strategy work through cryptic puzzles and deadly booty traps.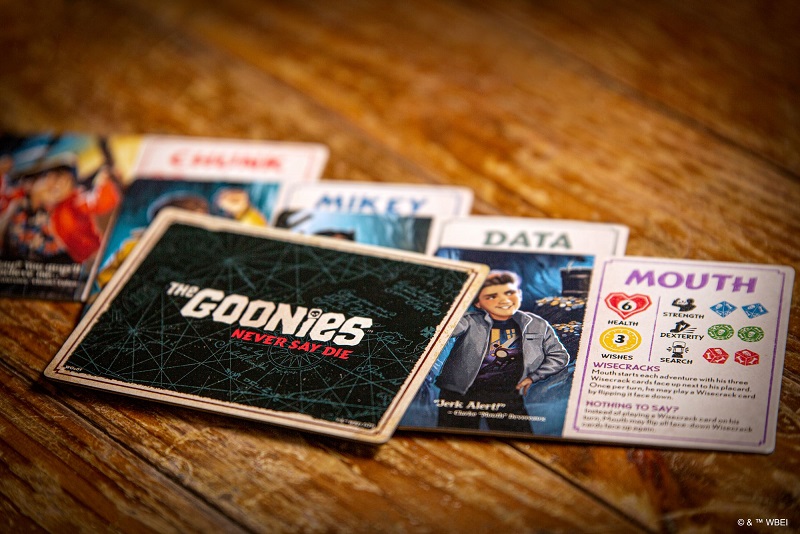 Shut up, Mouth.
As they work through the various challenges laid out before them, they will have to perform skill checks. Each character has a set of dice they use for each type of skill check, as well as unique abilities will will help them as well. Goonies can also use Teamwork to assist each other on skill checks and use Wish tokens to upgrade their dice to improve their chances. As a last ditch effort, Goonies can play a Teenager card and enlist the aid of Brand, Andy, or Stef to give them an extra die.
The stupid guys tell me to use the stairs.
Goonies will have to navigate treacherous corridors and search through each room to find clues and hidden items to aid them. And if they're lucky, they might find a secret passage.

That's my mom's favorite piece!
But when worst comes to worst, they may have to do some fighting against all sorts of monsters, human and otherwise.
Subscribe to our newsletter!
Get Tabletop, RPG & Pop Culture news delivered directly to your inbox.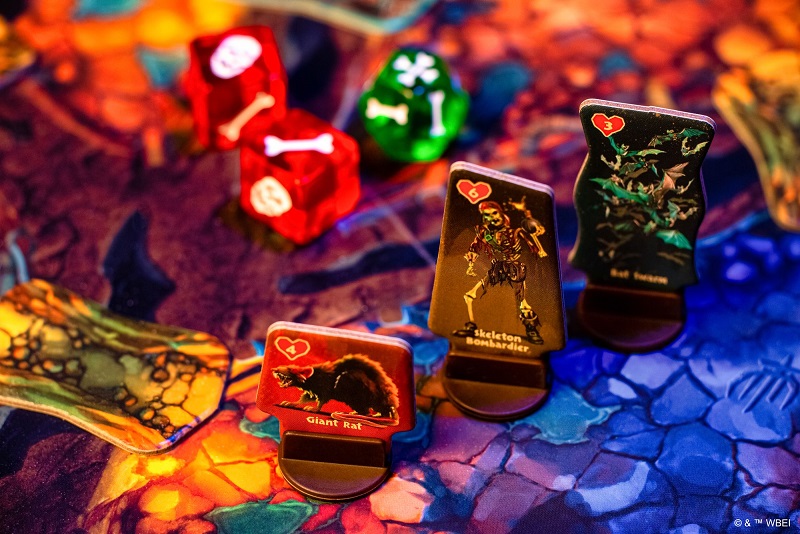 God put that rock there for a purpose… and, um… I'm not so sure you should, um… move it…
The GM will have a deck of cards for each adventure, which will grant them special activations and effects to slow the Goonies down in an attempt to delay them long enough that time runs out and they fail the scenario.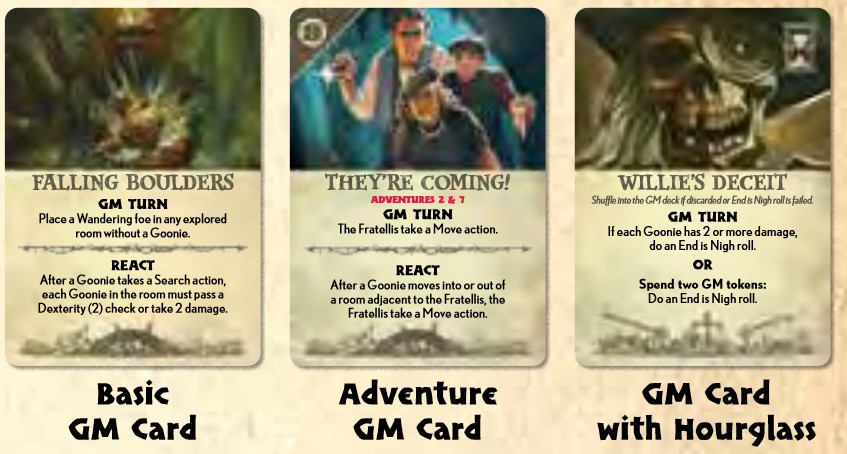 Apologies for the fuzzy card art. I had to rip this from the PDF rulebook, available here.
The game features 9 different adventures to play through, and includes 8 miniatures – Mikey, Mouth, Chunk, Data, Sloth, Giant Octopus, The Fratellis, and One Eyed Willie.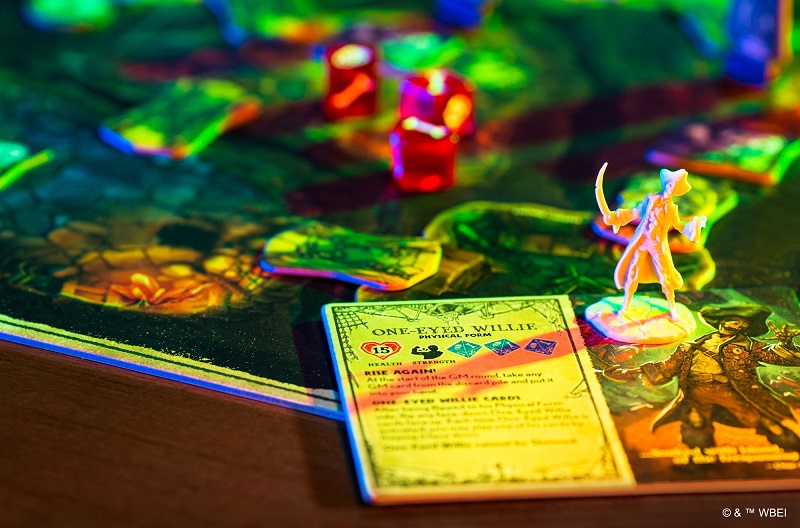 I made it. I beat you. I got here in one piece.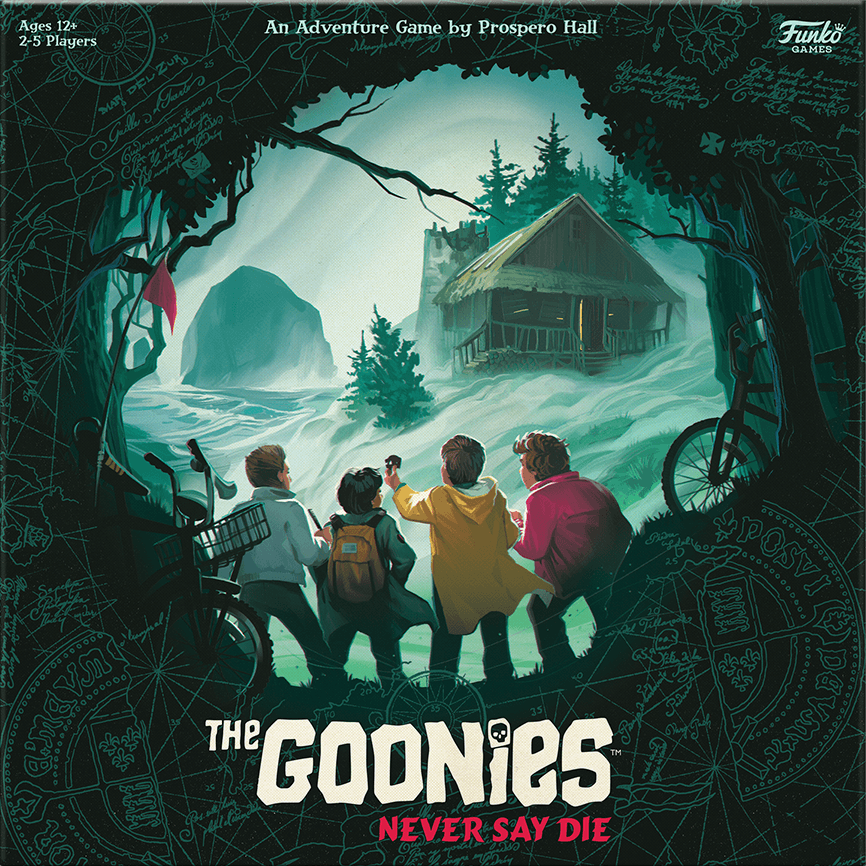 Embark on a perilous adventure full of dangerous booby traps and treacherous treasure-filled caverns! One player is the Goondocks Master, controlling fearsome foes, from the outlaw family, the Fratellis, to the legendary pirate, One-Eyed Willie. The other players take on the role of the Goonies — Mikey, Mouth, Chunk, Data, and Sloth — overcoming cryptic puzzles and deadly challenges with teamwork, strategy, and Data's clever contraptions! Will the Goonies discover the legendary riches that will save their homes, or will they follow the fate of Chester Copperpot… and never see the light of day?
2 – 5 Players
50 Minutes
Ages 12+
Now I have to go rewatch The Goonies for the hundredth time.
Not that I'm complaining.