Wargames Atlantic Lets You Build an Army Without Busting Your Wallet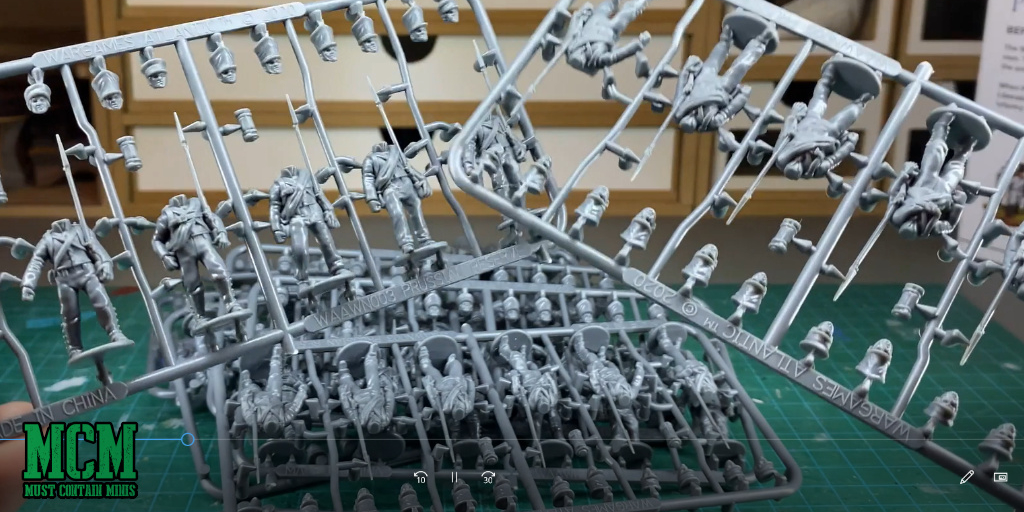 I like to keep my eyes on the miniatures market. One of the companies that came in crushing it with the scene is Wargames Atlantic.
They make quality plastic miniatures at fantastic prices. On top of that, their release schedule and upcoming plans are dizzying! If you are into proxy miniatures or historical figures, this is a company to watch! Take for instance this 28mm box of Prussian Infantry for $34.95.
It is deals like this that got me into historical wargaming. You can get quality miniatures at a fraction of the cost of Warhammer miniatures. That said, Wargames Atlantic does Sci-Fi and Fantasy miniatures too, so you could do a Proxy Imperial Guard army through them with many boots on the ground at a very affordable price.
Now, let's take a closer look at these miniatures.
Napoleon's Wars Prussian Reserve by Wargames Atlantic
They go together very quickly and easily.
If you ever wondered about Napoleonic Wargaming, this is a very affordable way to start building an army. The miniatures are of good quality too.
Further Review
If you want a more in depth review of these figures, there are two good ways to do so. You could check out my written review on my personal site. That review includes a scale comparison image along with more images of the models and sprues. For more on that, check out my article How to quickly fill a 28mm Napoleonic Prussian Army on MCM.
Alternatively, you can check out my video review of this product on YouTube. That video is below.
Wrapping it up…
If you haven't checked out Wargames Atlantic, they are well worth the look. This is the new value miniatures company on the market and their figures are of good quality too!
In this quick review, we look at their Prussian Infantry, but they make so many products in so many other genres. These miniatures come 60 figures to a box for $34.95. A great way to fill the ranks of a Napoleonic era army fast. They also sell many products that can beef up your other Sci-Fi, Fantasy and Historical Armies.
Subscribe to our newsletter!
Get Tabletop, RPG & Pop Culture news delivered directly to your inbox.
Before finishing, I want to let you know that this week I am celebrating five years of writing miniatures related articles for the internet.
Until next time, Happy Gaming Everyone!!!

Read more about great Indie and Historical games on my site!
Must Contain Minis is my personal reviews, showcases, and battle reports website where I look at mostly Indie and Historical Games. You can also follow me on Social Media. I am very active on Facebook and share posts of a wide variety. I upload my best pictures to Instagram and am also on Twitter. Oh, I am on YouTube now too!
My aim is to promote gaming with companies outside of those that already dominate the gaming market.