Let's take a look at a unit that is courting victory, the fleet Drukhari Court of the Archon.
In the ever-shifting meta of 40K, armies rise and fall. We've spent a lot of time talking about armies that are hot or not, but a lot less time looking at units that are running the show. Today let's start by taking a look at one of the hottest units currently running around the tabletop.

The Unit
This week's hot unit is the Court of The Archon. This strange unit has gone through a few iterations and in the past has been mostly discounted as a poor unit. It is billed as a mixed support/bodyguard unit for Archon and combines four sub-unit types. In the past, these could function as independent models, but under the current codex, they are a single combined unit.
Why They Are Good
Now when talking about the Court of The Archon we should be clear that only two of the 4 options in it are seeing play. In particular, we are seeing players running lists with 4 Sslyth and 4 Ur-Ghuls. This particular combo is good for a couple of reasons.  For a relatively cheap unit, 136 pts, they are fast and can put out a lot of attacks. Thanks to being Kabal of the Black Heart, they can advance and charge on turn one, giving them 8+d6+2d6 movement a turn, enough to get on objectives or grab turn one charges. Thanks to having assault weapons the Sslyth can fire 3 shots and then charge with 3 attacks, while the Ur-Ghuls get 6 attacks on the charge. An effective 6 attacks per model isn't bad. The Ur-Ghuls attacks are, to be fair – not amazing, but at S5 and AP -2 the Sslyth are pretty decent.  And the unit can really chow down on light infantry.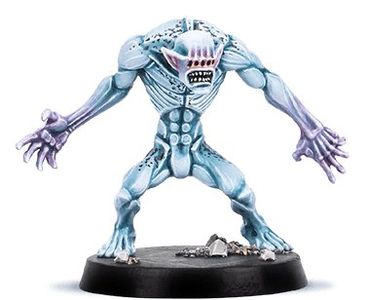 The Drukhari army of course doesn't really lack for units that can put out a lot of attacks. It does however lack some resilience, and here the Court stands out well. Each of the 8 models in the Court (as people are taking it) has 3 wounds, in addition, thanks to Power From Pain, they have a 6++ save, going up to a 5++ on turn 3. On top of that, they have a 5+++ save. For its cost and unit size, the Court is very hard to kill, with lots of wounds and a decent save. On top of all that, the unit is Core, so can benefit from plenty of buffs, and can still act as a bodyguard to an Archon. Overall you've got a cost-effective unit, that doesn't take up force org slots, that is fast, relatively deadly, and hard to kill. It's not the star of the show maybe, but it IS very annoying and flexible.
A Sample List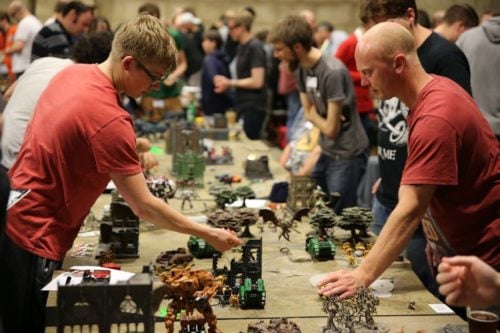 Saying a unit is hot is all well and good, but let's take a look at how players are using it. The Court of the Archon has started showing up in a number of lists that have really dominated at recent tournaments. One list that highlights them is the list that John Lennon ran to win the Dallas Open.
3 Patrols full of Dark Eldar Goodness (for now… Admech is a comin')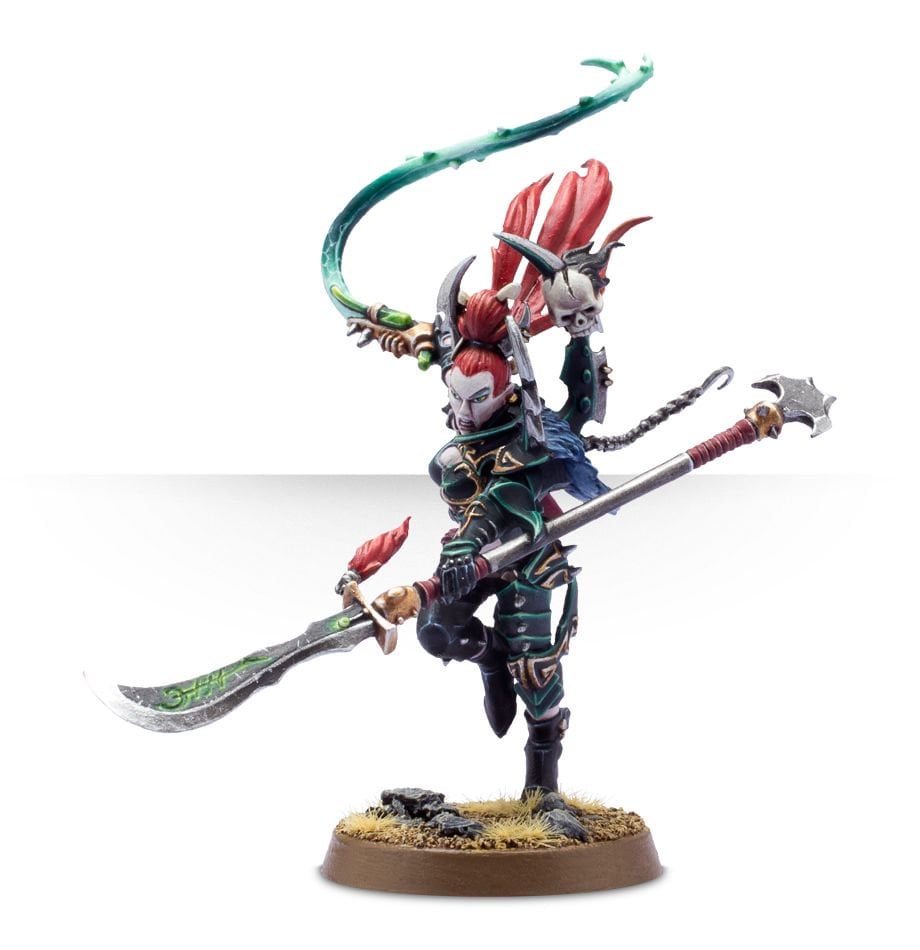 Patrol – Cult of Strife
-HQ-
Succubus, Competitive Edge, Dark Lotus Toxin, Razorfails, Warlord – Show Stealer
-Troops-
Wyches X 5 – Hypex, Hekatarii Blade, Splinter Pistol
Wyches X 5 – Hypex, Hekatarii Blade, Splinter Pistol
Wyches X 8 – Grave Lotus, Lots of other stuff that is hard to write out – I am thinking his Blood Brides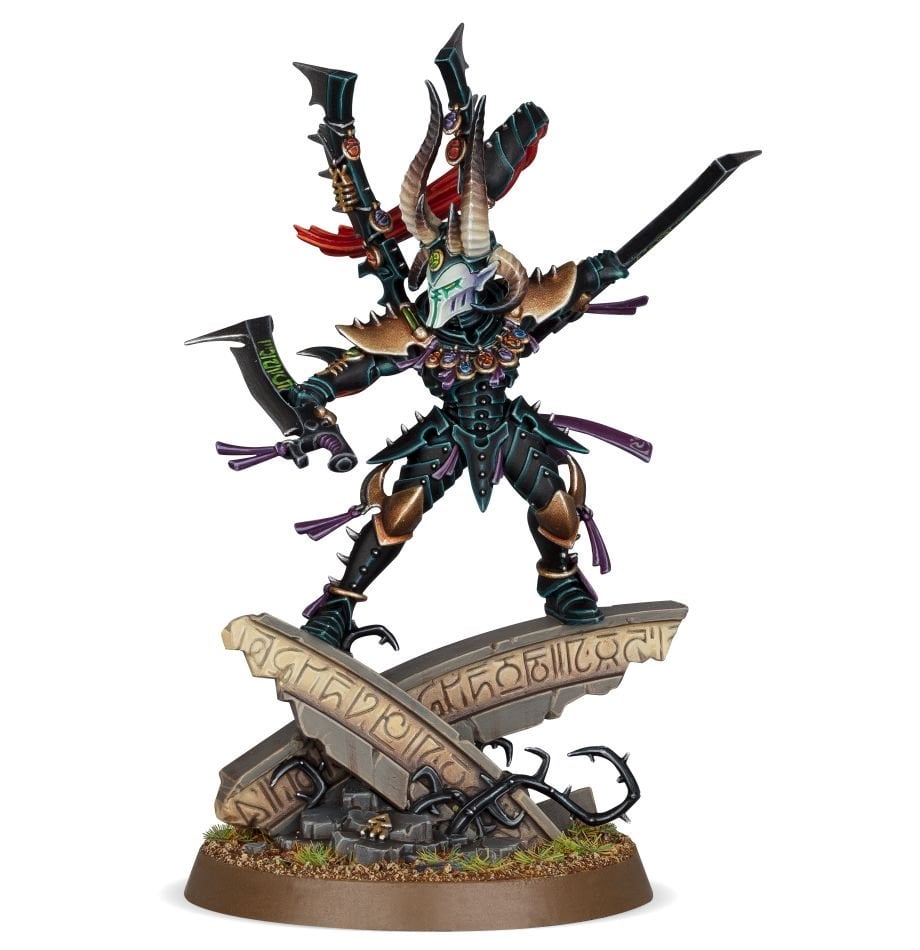 Patrol – Dark Technomancers
-HQ-
Drazhar
-Troops-
Wracks X 5 – Liquifer X 2
Wracks X 5 – Liquifer X 2
Wracks X 5 – Liquifer X 2
-Elites-
Incubi X 5
Mandrakes X 5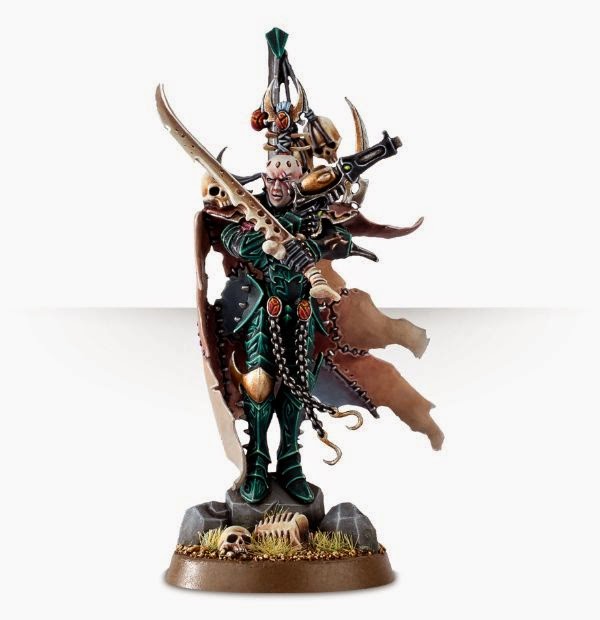 Patrol – Kabal of the Black Heart
-HQ-
Archon – Helm of Spite, Tolerated Ambition
Archon – Blast Pistol, Overlord, Djin Blade, Splintered Genius
-NA-
Court of the Archon
Sslyth X 4
Ur-Ghul X 4
Court of the Archon
Sslyth X 4
Ur-Ghul X 4
-Troops-
Kabalite Trueborn – X 10 – Blaster X 2, Dark Lance
Kabalite Warriors X 5 – Blaster
Kabalite Warriors X 5 – Blaster
-Elites-
Inubi X 5
-Dedicated Transports-
Raider – Dark Lance, Phantasm Grenade Launcher
Raider – Dark Lance, Splinter Racks
Raider – Dark Lance
Raider – Dark Lance
Raider – Dark Lance
Raider – Dark Lance

Using the Unit
Looking at the list we can see that John ran two Courts of the Archon in his list. The unit is of course limited to one per Archon, so it's unlikely you will see more than 2. Each of these took 4 Ur-Ghuls and 4 Sslyth and clocked in at 136 pts (or 10 PL, showing that they are getting a pretty steep pts discount). John's list has a lot of deadly units, but the Court fits right in. They are also one of the more durable units in his army, with more wounds than any other unit. They fill the role of a fast harassing units, freeing up other units to take on harder targets, and a strong tarpit/tank unit.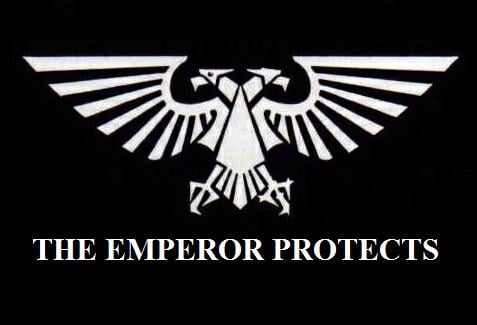 Let us know what units you think are hot right now, down in the comments!