'Warhammer Roadshow' USA Brings Back In Person Events Direct From GW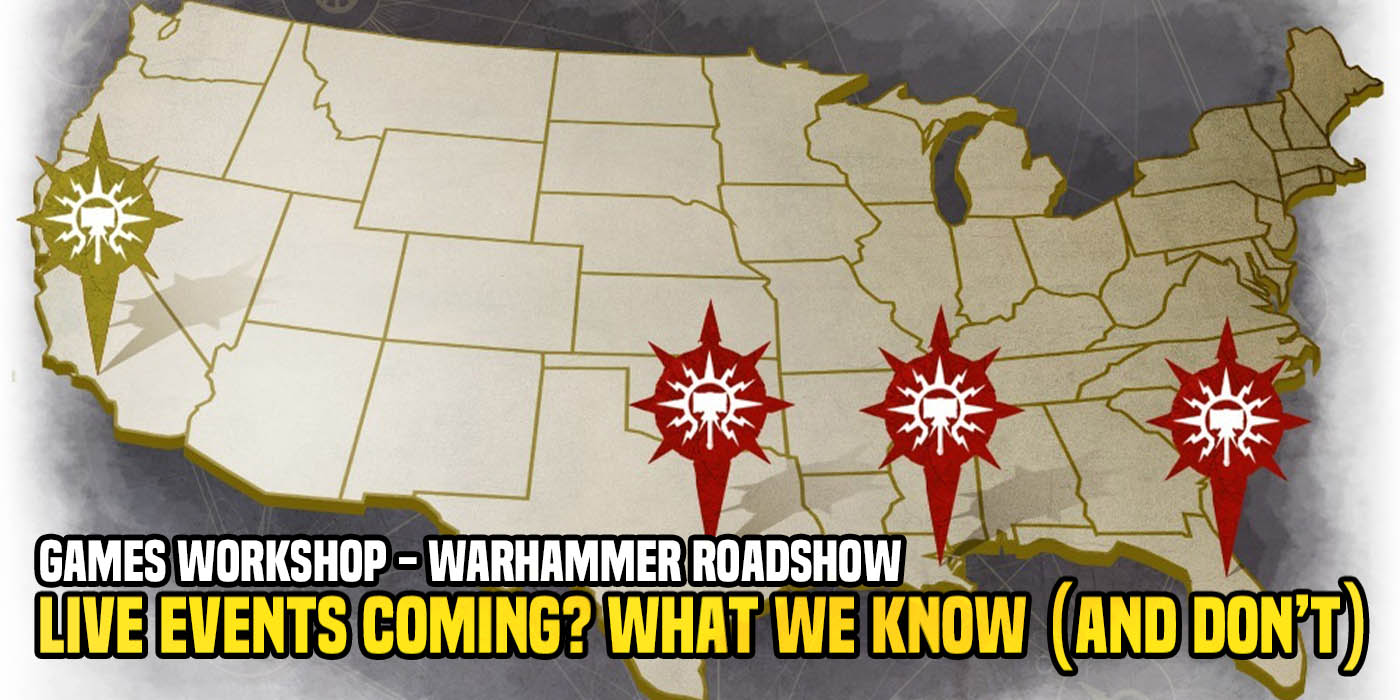 We need to talk about the Warhammer Roadshow from Games Workshop – what we know and what we don't.
This past Sunday Games Workshop announced they were going to launch some in person events with the Warhammer Roadshow USA. They also announced two Golden Daemon events. We've seen a lot of speculation about these things popping up online, but there really isn't that much to go on – at least officially from Games Workshop. So let's talk about these events and where they have been announced.
Golden Daemon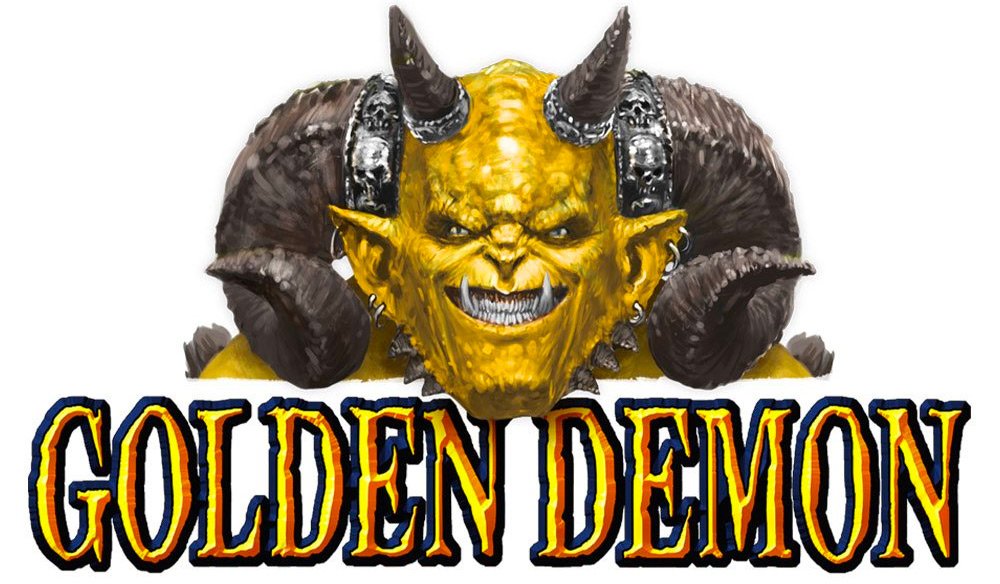 "In 2022, you can expect not one, but two major Golden Demon events – one in the UK and another at Adepticon in North America."
So there you go. That's means in 2022, we're getting TWO Golden Daemon events. One at an undisclosed location in the UK. And another in the US at AdeptiCon 2022.
AdeptiCon 2022 will be held from March 23-27, 2022. And here is they statement about the Golden Daemon Event from their Facebook Page:
---
"Golden Demon Returns to the US at AdeptiCon 2022
It is with immense pride that we can officially announce the return of the Golden Demon painting competition to AdeptiCon. The world's most prestigious hobby contest returns, like a phoenix, to North America's most prestigious hobby event. From Games Workshop…
"Golden Demon Returns to the USA
We're delighted to announce that Golden Demon will be returning to the USA at Adepticon 2022. The triumphant return, first planned for 2020, will see the world's premier Warhammer painting competition held in America again, for the first time in a decade.
Golden Demon is a spectacular celebration of painting, miniatures and the Warhammer hobby. Even for those not competing, it's a chance to see the best Warhammer miniatures in the world up close. And for those who do compete – there is no higher honour for a Warhammer painter, than a Golden Demon statue, save perhaps the coveted Slayer Sword itself.
We'll have more news and details for you soon. For now – start thinking about what you want to paint! We can't wait to see what you come up with."
Subscribe to our newsletter!
Get Tabletop, RPG & Pop Culture news delivered directly to your inbox.
So to all the painters and hobbyists out there, as the great bards of Whitesnake advised, "an' I've made up my mind, I ain't wasting no more time. Here I go again!" What are you waiting for?!"
---
AdeptiCon is over 300 days away but if we're honest, it's going to sell out as soon as tickets go live – good luck to all the attendees and folks who are heading there in person!
As for the the UK event…we have seen no further details. So, there you go.
Warhammer Roadshow USA
"This is a completely new series of Warhammer tournaments hosted across North America. The first events will take place in Orlando, New Orleans, and Austin. The Warhammer 40,000 games will use the 9th edition ruleset, and the Warhammer Age of Sigmar tournaments will be some of the first in the world to use the 3rd edition rules we just announced. 
The venues at each location are gorgeous – we'll show you more a bit later on. Extra care has been taken to make sure there's plenty of room to maintain social distancing, with all the safety precautions you've come to expect. You can also get your hands on plenty of swag and exclusive offers, as well as having opportunities to shop for models and merch (yep, that includes Forge World miniatures) at every event. "
All we know so far is that there will a total of 4 events. The first three of these events are slated to take place in Orland, New Orleans, and Austin. There has been no announcements about the location or dates for these events. The final event is going to be at the Warhammer Store & Cafe in Los Angeles. That store is opening in June, however, we don't believe these events are happening as a ramp-up to the store opening.
It does sound like Games Workshop has secured venues and they are saying they are going to be able to "maintain social distancing" at these venues – but other than that, we have no further information about these locations. There will also be both 40k and AoS events will be held at these events so we're looking forward to those.
That said, we also don't have any other information about the dates of these events. So there isn't a whole lot to go on.
Why These Locations?
While we don't have any direct confirmation, this infographic from the New York Times might shed some light on the subject: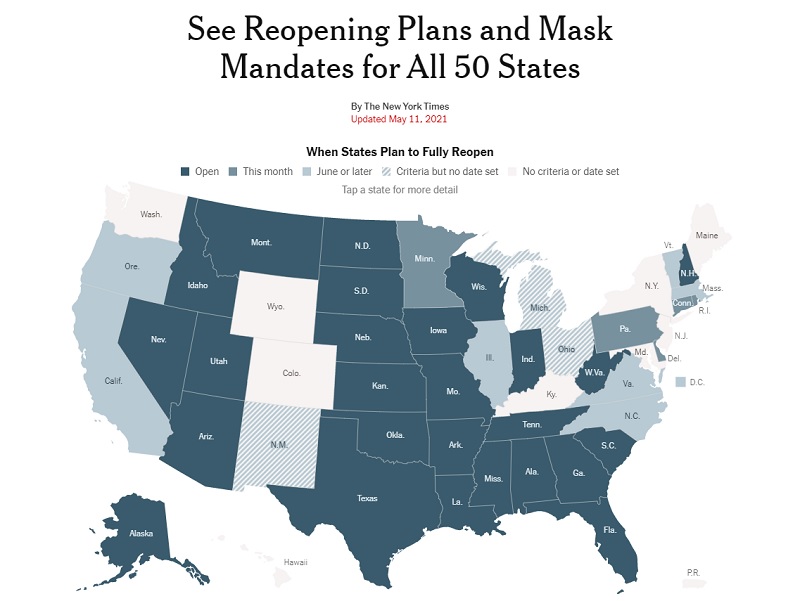 As of writing, three of the states (Florida, Louisiana, and Texas) are open. You can check out the NYTimes break down on a per-state basis but the main point is that these states are allowing gatherings. Texas (currently) has no state mask mandate and no state restrictions on businesses. Louisiana has lifted it's statewide mask mandate, however, they do have mask restrictions still in place for specific events. Florida has also currently "suspended all local coronavirus restrictions and mandates" at this time. What about California? They are expecting to re-open and lift most of the restrictions by the summer.
While these are state-level views, also keep in mind that cities may also have different rule in place for things (like masks). Honestly, it's confusing and we're not going to get into it. The point I'm trying to make here is:
If you are planning to travel to one or more of these events, be sure to do a little bit of research on what you need to do in regards to COVID protocols to protect yourself and others before you travel there.
It's probably safest to keep a mask or two handy regardless. And to reiterate, we also don't have ANY dates or specifics on the locations. These could be happening later this summer or they could be in the fall – or they could be in 2022!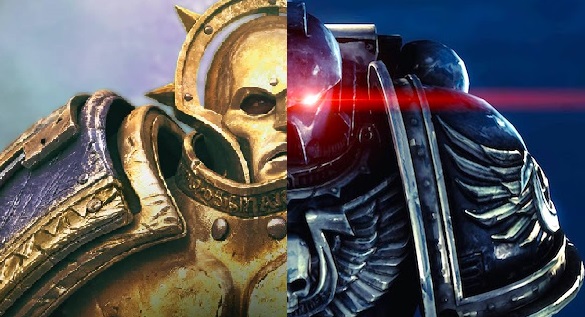 While all this info is vague, what we do know is that folks are excited to play in person and engage with the hobby and community again. We're looking forward to more details and we'll keep you posted as we learn more about these events.
Here's hoping we find out more soon…Folks want to make informed travel plan decisions!