'Dystopian Wars' Returns with Warcradle Studios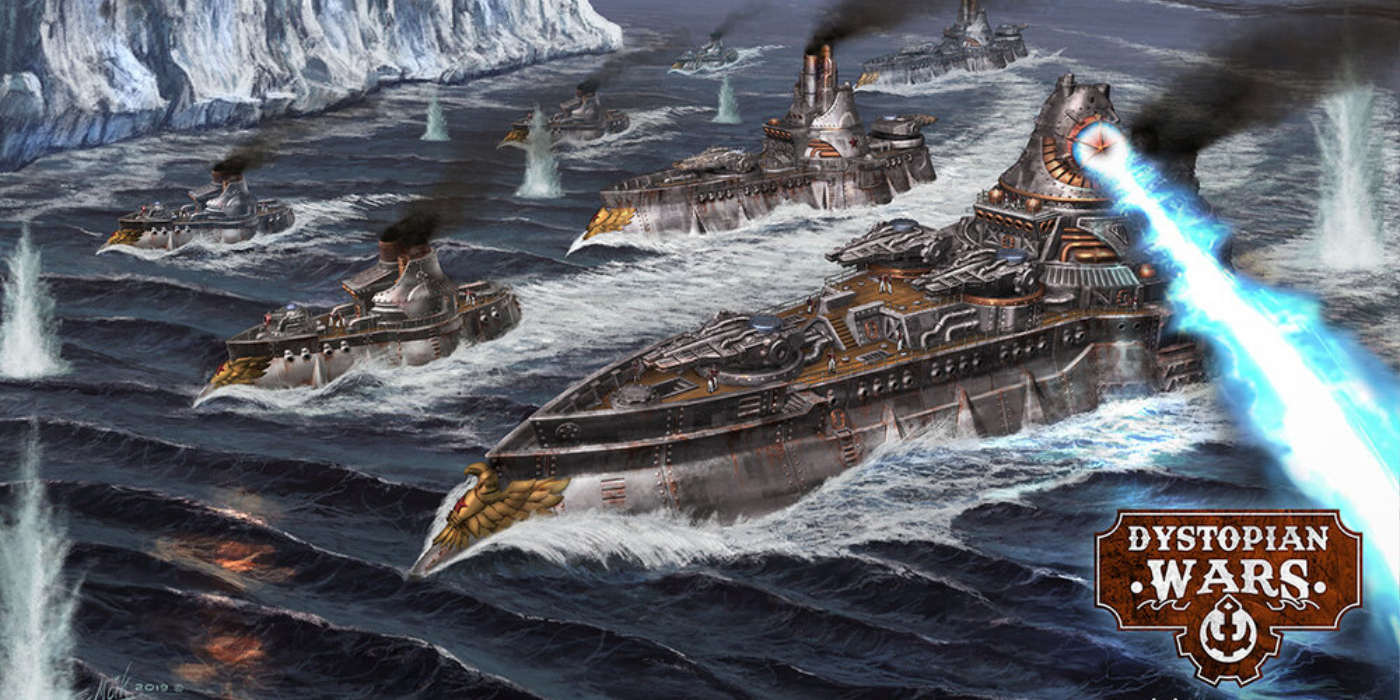 The steampunk wargame set on the oceans of an alternate world is back!
Back in the day, there was a game by Spartan Games called Dystopian Wars. Spartan Games no longer exists, but another company picked up the mantle and took over the game. Meet Warcradle Studios. They own the rights to Dystopian Wars, and a number of other games too. Today, we are quickly looking at Dystopian Wars.
For those that don't know, Dystopian Wars is a Steampunk Victorian Sci-Fi Game of naval battles. Warcradle rebuilt this game from the ground up and is in the process of redoing the miniatures now. These new miniatures look nice, and many of them are modular so you can build them in multiple ways. Right now, there are multiple ways to get in on the game.
Getting in on the Game
First up, you can download the rules for free from Warcradle Studios. You can do that over here on their site. Alternatively, you can buy the Rules & Gubbins Set or the two-player starter set – Dystopian Wars: Hunt for the Prometheus to get the rulebooks too.
If you buy the Hunt for the Prometheus, you get a ton of content in there. Enough for two navies to start with, and these ships are very interesting.
If you like these two forces (the Commonwealth or the Enlightened), then there are already ways that you can expand upon these two fleets. You can get more of the ships that match the starter sets in separate fleet sets, or you can branch out to other units in the same faction.
Other Factions
This launch of Dystopian Wars is still pretty new. Eight factions are planned for release, but at this point, there are four available for purchase. Each faction has a different feel and style for play. I am still getting into the game myself, so I can't go too much into the details at this time, but I can show you some of the other Battlefleets from other nations available for sale now. If the game does well, I would not be surprised to see more factions joining in on the game in the future too.
On top of the Imperium, there is another faction currently available now too. That is the Empire.
More Nations to Come
Dystopian Wars now has four factions available to choose from, but soon enough that will increase to eight. Some of the next factions to come include the equivalent of what would be considered the United Kingdom (Crown) today and the USA (Union) too. Below is some teaser artwork that I found on the web.
Wrapping it up…
The point of this article was to draw awareness to a gaming world that you may, or may not, have known about. The game looks extremely exciting to me and I really like that the ship builds are modular. When I started researching the game, I was blown away by how many different types of cruisers you can build within just the Two-Player Starter Set.
If you are interested in more, you can check out the Dystopian Wars Website or the website of the company that releases the products, Warcradle Studios.
This game really has my eye and already I am really liking the aesthetics of the Enlightened, Commonwealth, and Crown factions.
Subscribe to our newsletter!
Get Tabletop, RPG & Pop Culture news delivered directly to your inbox.
Until next time, Happy Gaming Everyone!!!

Read more about great Indie and Historical games on my site!
Must Contain Minis is my personal reviews, showcases, and battle reports website where I look at mostly Indie and Historical Games. If you haven't visited for a while, come on over and check the site out! I've changed the landing page this past week to better share my videos and posts. You can check that out with this link right here. On top of a website, I have my own YouTube channel too!
You can also follow me on Social Media. I am very active on Facebook and share posts of a wide variety. I upload my best pictures to Instagram and am also on Twitter.  
My aim is to promote gaming with companies outside of those that already dominate the gaming market.