Games Workshop Pre-Orders: Pricing & Links – Adepta Sororitas & Necromunda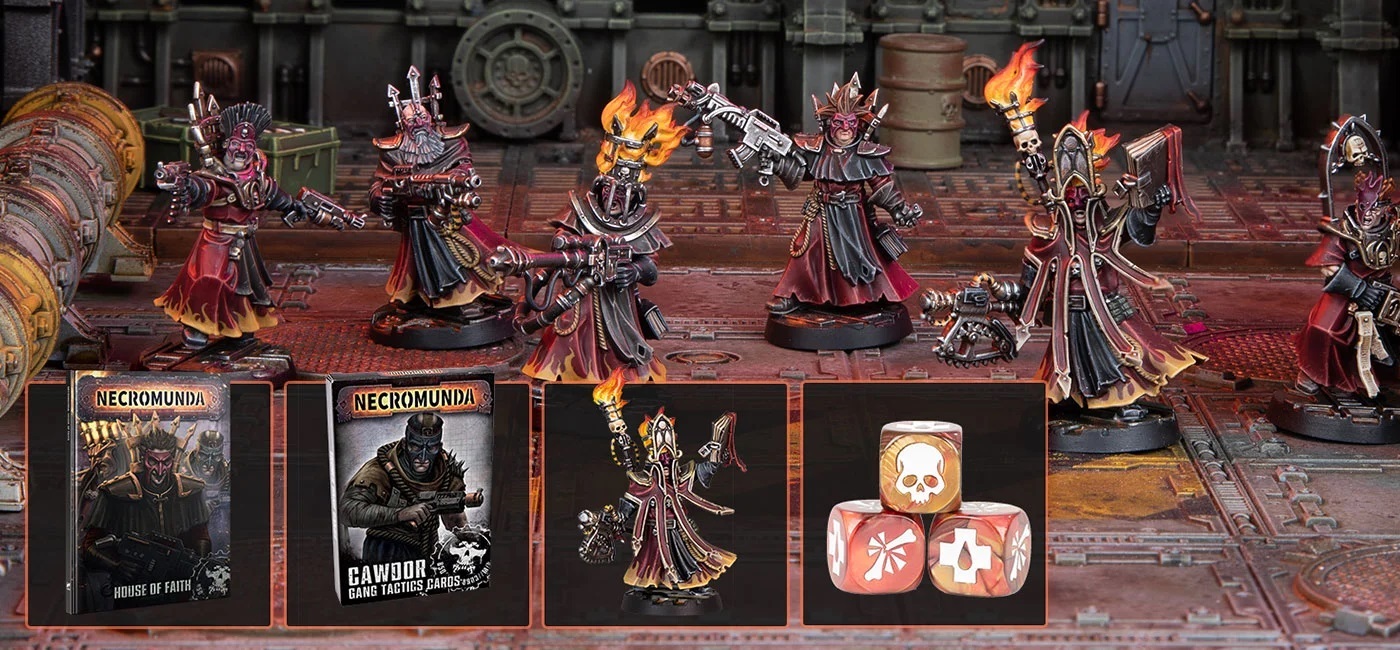 The Adepta Sororitas have a new Codex and the Redemptionist arrive on Necromunda. Coincidence? What do you think?
This glorious collector's edition features a soft-touch cover with foil backing and a black ribbon marker.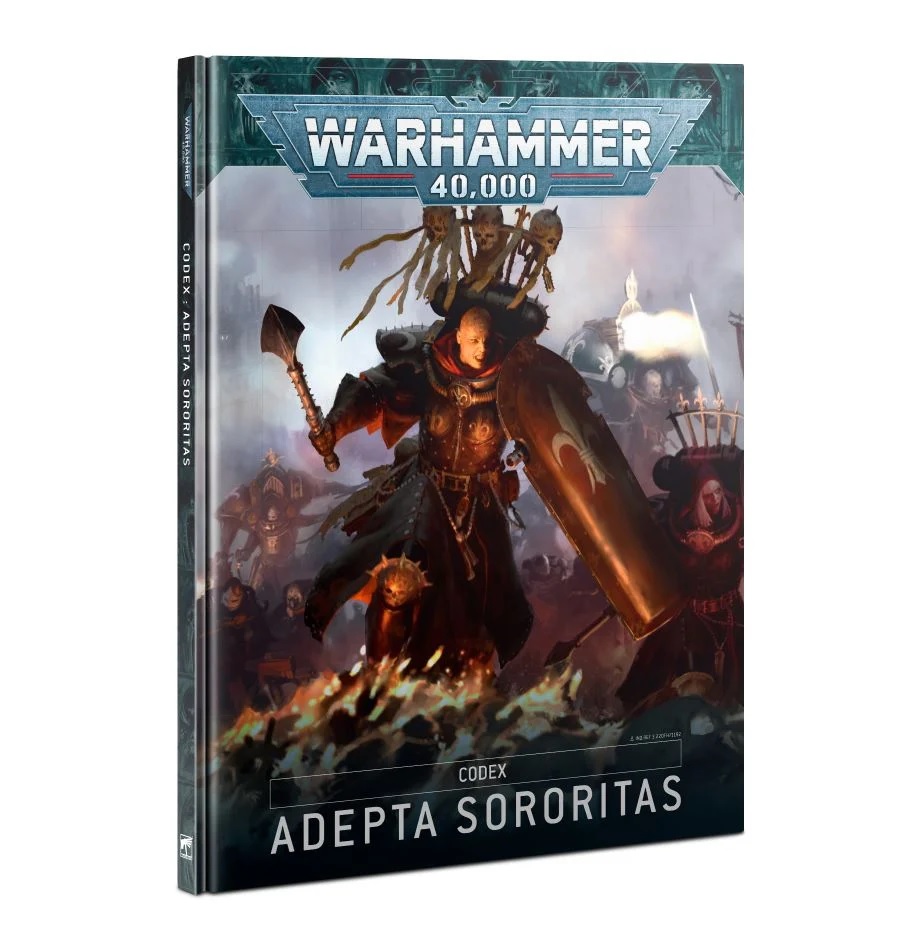 The Adepta Sororitas are the Chamber Militant, or armed fighting force, of the Adeptus Ministorum. Often known colloquially as the 'Sisters of Battle', their Order was created to defend the faithful and their places of worship, battling threats from daemons, xenos, and even heretical humans. With the opening of the Great Rift and the sundering of their Emperor's realm, new crusades brimming with Battle Sisters have struck out across the galaxy to bring judgement with flame, blade, and bolt.
Clad in thick suits of power armour and wielding weapons usually seen only among the Emperor's Angels of Death, the Adepta Sororitas take to the field with an unquenchable zeal. Empowered by their faith and capable of performing miraculous feats, the Battle Sisters march alongside mighty tanks and powerful mechanical warsuits to bring fire and fury to every corner of the galaxy. Along with inspirational photographs of stunningly painted models, you can delve into the background and lore of the Adepta Sororitas, and discover the rules that you need to field them in your games of Warhammer 40,000.
Inside this 128-page codex, you will find:
– The history and origins of the Adepta Sororitas, detailing how they rose from a galaxy-spanning heresy to defend the Emperor's faith
– A showcase of stunningly painted Citadel Miniatures that displays the martial liveries of their many Holy Orders
– A vast range of datasheets providing tabletop rules for 34 units from the Adepta Sororitas army
– A bounty of Stratagems, Relics, and Warlord Traits featuring updated favourites and brand new options for your army on the tabletop
– Bespoke Crusade rules that allow you to embark upon a quest to raise your Canoness to the status of Living Saint
– And more!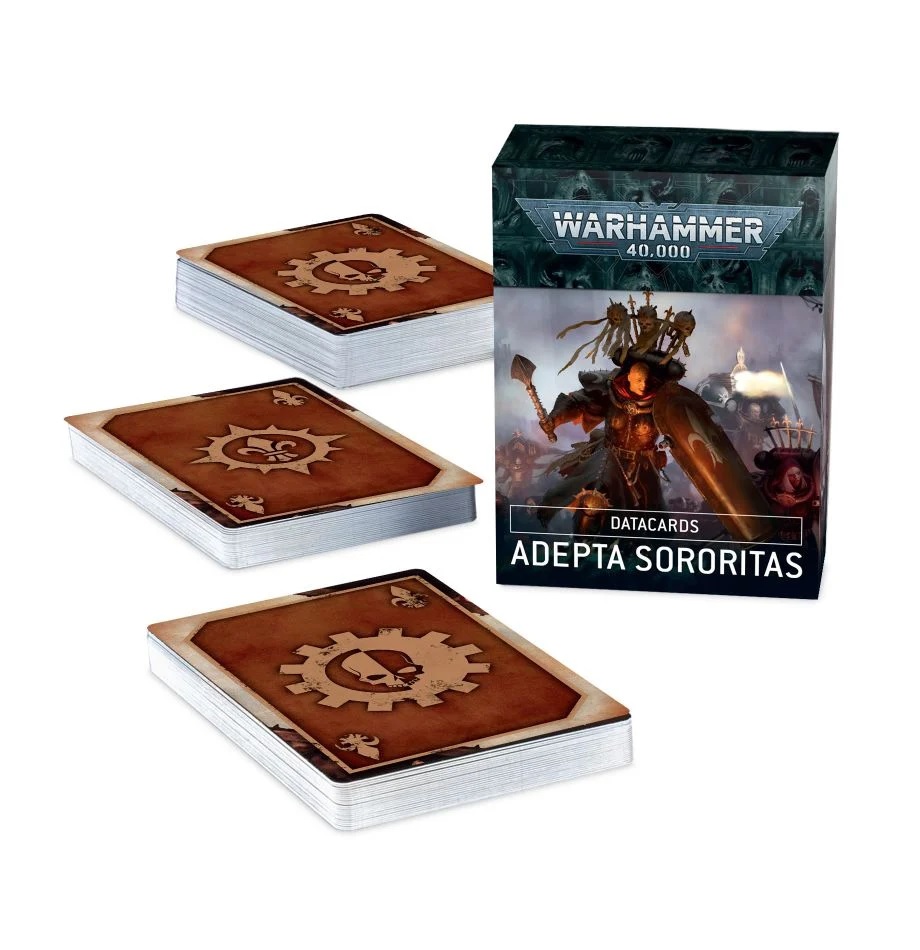 Datacards make referencing your rules in battle easy, perfect for when a game has you so engrossed you can't tear your eyes off the battlefield for a second. Gone are the days of rifling through your codex for a Stratagem you half-remember, now all of the Adepta Sororitas' tactical genius is close at hand for when you need it most.
This pack contains 51 datacards, divided as follows:
– 7x Core Stratagem cards
– 32x Adepta Sororitas Stratagem cards
– 6x Orders Stratagem cards (one each for the Orders Our Martyred Lady, Valorous Heart, Bloody Rose, Ebon Chalice, Argent Shroud and Sacred Rose)
– 6x Sacred Rites cards
You will need a copy of Codex: Adepta Sororitas to use the contents of this set.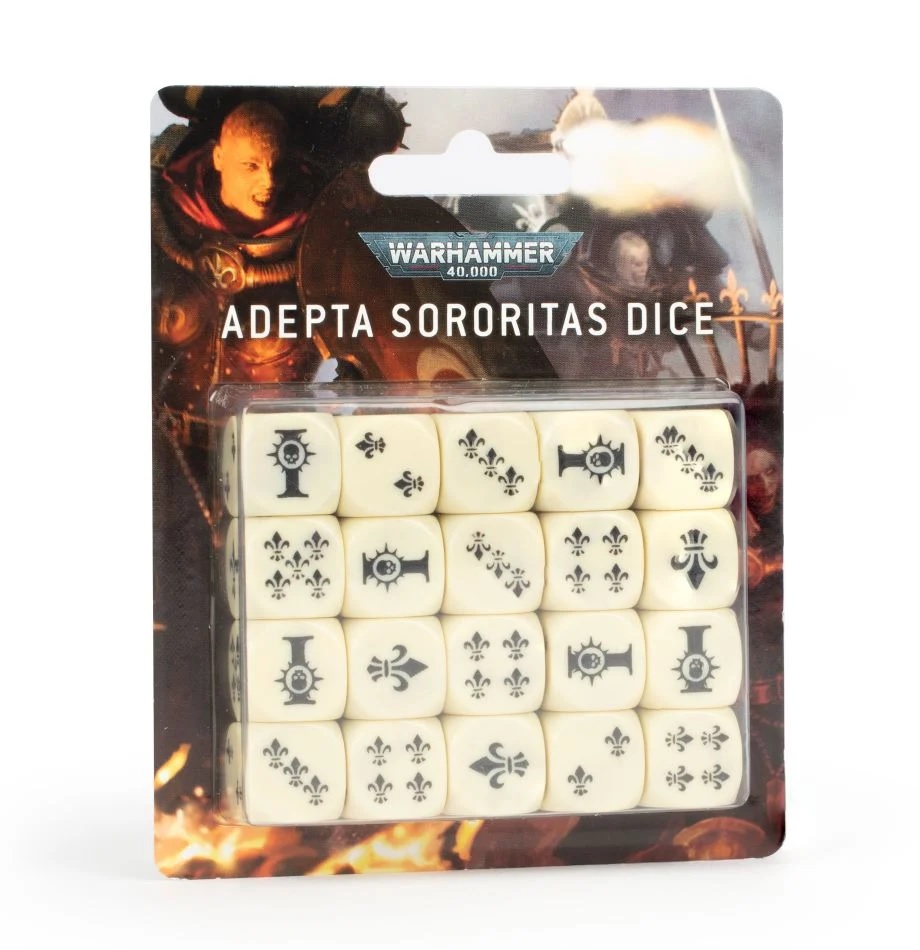 Subscribe to our newsletter!
Get Tabletop, RPG & Pop Culture news delivered directly to your inbox.
Leave your fate to the Emperor's will (or just roll hoping for a 6) with these themed dice for your Adepta Sororitas army. They're perfect for giving a suitably pious feel to your Miracle dice, and they match up with your Battle Sisters in all their ornamented glory.
Each six-sided, round-cornered die is cast in a bone white colour. The 20 dice in this set each measure 16mm x 16mm, and they all feature the icon of the Adeptus Ministorum on the 1 face and a single large fleur-de-lis on the 6 face in black ink.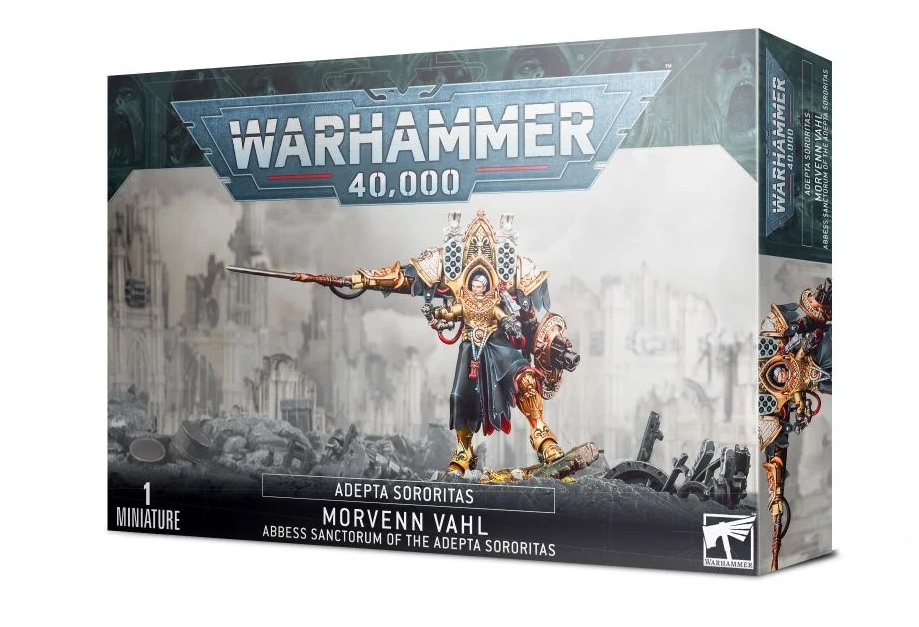 When the Ecclesiarchy sought to elect a new Abbess Sanctorum to lead the Adepta Sororitas, they chose Morvenn Vahl. Believing the young Celestian Superior to be easily manipulated in the political arena, they instead found a forthright and iron-willed warrior who wore her full battle plate to meetings of the Holy Synod and intimidated many who sought to influence her. Dissatisfied with exercising her command from the safety of Holy Terra, Vahl departed almost as soon as she arrived and has been at the forefront of many crusades since.
The Supreme Commander of the Adepta Sororitas is a powerful figure to behold on the battlefield, marching to war in her relic Paragon Warsuit, Purgator Mirabilis, and carrying an ancient spear gifted to her by the Adeptus Custodes. Equally at home directing her Battle Sisters and getting stuck into the thick of combat, Vahl is a potent force multiplier capable of shifting the flow of the battle by her presence alone, driving nearby troops to the full extent of their ability and seeing the Emperor's will done beneath her steely gaze.
The kit is comprised of 41 plastic components, with which you can assemble one Morvenn Vahl, Abbess Sanctorum of the Adepta Sororitas, and is supplied with 1x Citadel 60mm Round Base. This kit also includes three head options, one with a helmet and two without.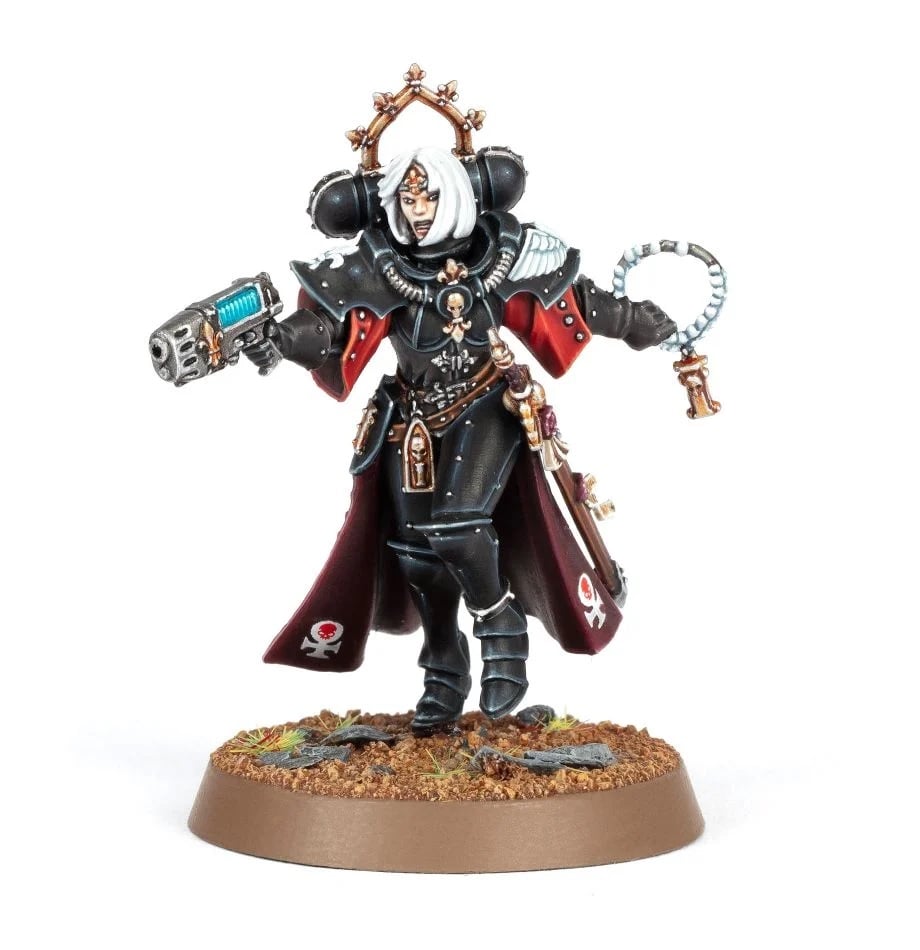 As experienced commanders and skilled combatants both, Palatines act as lieutenants to their respective Canoness, helping to direct the firepower of their Battle Sisters and leading them in the charge when duty calls for retribution to be delivered up close. Unshakeable of faith and filled with divine purpose, they inspire all around them in pursuit of victory.
Bolster your Battle Sister firing line with the Palatine, who casts a watchful eye over the rank and file of the Adepta Sororitas when the Canoness' attention is needed elsewhere. As a powerful force multiplier, she is an excellent lynchpin to firing lines looking to fell profane war engines or large hordes of enemy warriors.
The kit is comprised of 10 plastic components, with which you can assemble one Palatine, and is supplied with 1x Citadel 32mm Round Base.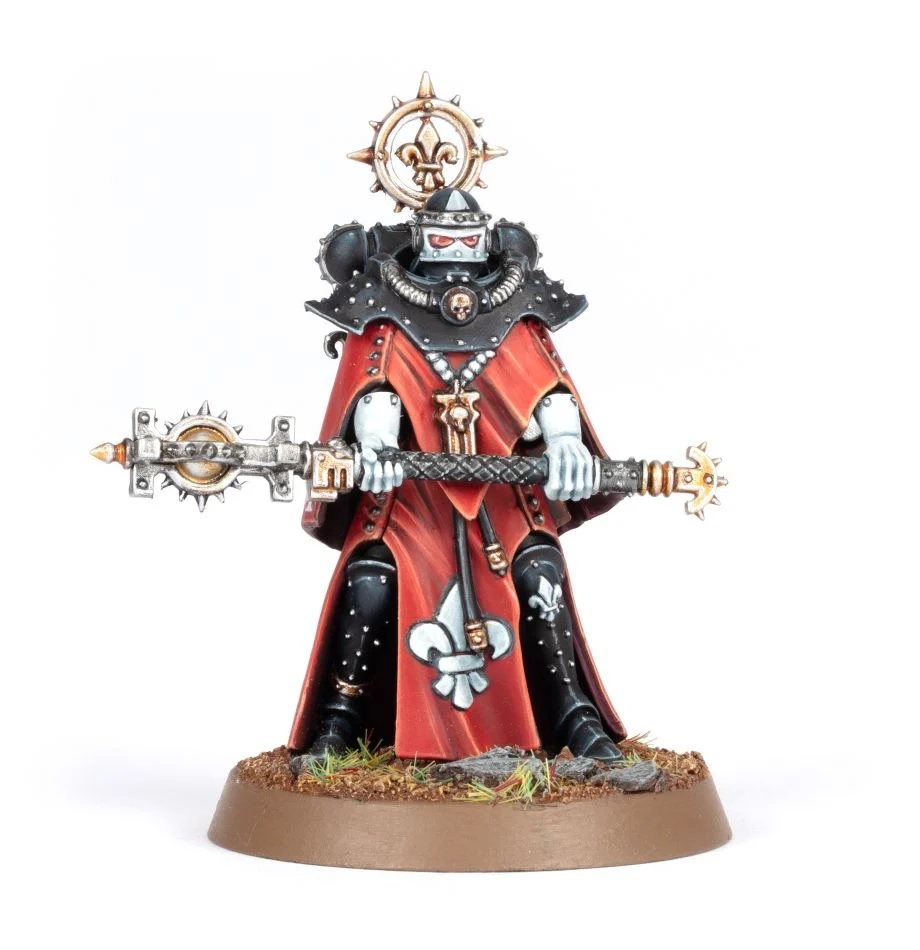 The Sister Dogmata is a figure revered and feared in equal measure within her order, as only she has the authority to condemn a Battle Sister to the ranks of the Repentia with but a word. With shouted prayers and swings of her colossal mace, the Sister Dogmata drives the Adepta Sororitas to ever greater heights of faith and fury under her steely gaze.
As a strong core around which her fellow Battle Sisters fight, the Sister Dogmata is a powerful supporting Character able to bolster the forces around her with her presence alone. When a furious glare alone is not enough, she bellows holy war hymns and crushes the skulls of her foes with mighty swings of her righteous mace.
The kit is comprised of 15 plastic components, with which you can assemble one Sister Dogmata, and is supplied with 1x Citadel 32mm Round Base.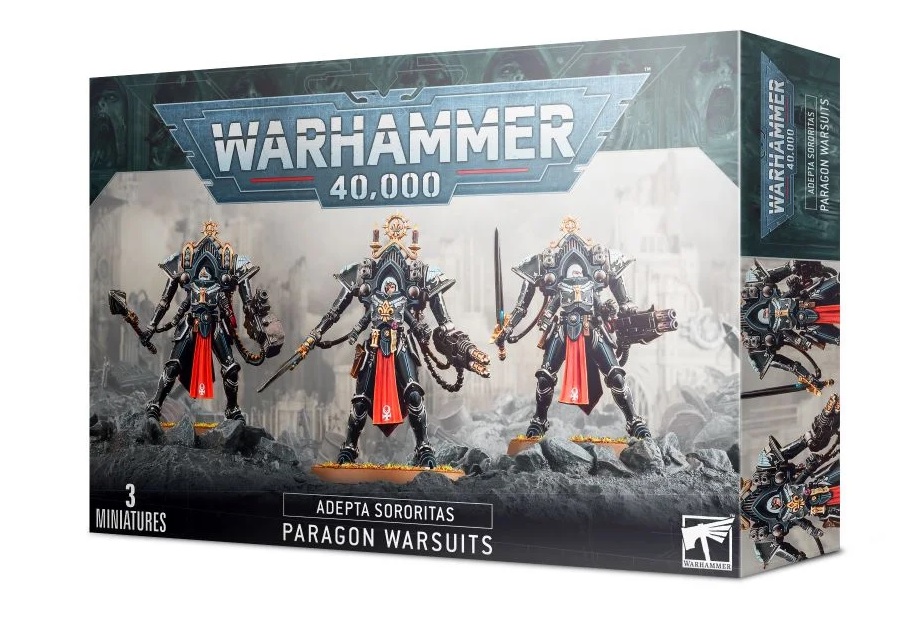 While most members of the elite Celestian Order take to the battlefield on foot, a privileged few are afforded the honour of making war in mighty Paragon Warsuits. The machine spirits of such powerful war engines are fickle indeed, and the pilot must have both immense faith and incredible skill to control the warsuits effectively. Those who master the art, however, are capable of fighting some of the Imperium's largest foes and emerging victorious.
Paragon Warsuits are the epitome of the Adepta Sororitas' heavy infantry, carrying heavy firepower and massive close-combat weapons into the fray. Whether it's scouring away hordes of enemy infantry or dueling their strongest warriors, the pilots of these warsuits can tackle any challenge, all while trusting in the machine's thick armour plating to protect them from harm.
The kit is comprised of 179 plastic components, with which you can assemble three Paragon Warsuits, and is supplied with 3x Citadel 50mm Round Bases. This kit includes options to equip the warsuits with two different melee weapons, three different ranged weapons, two different carapace weapons, and includes helmeted and unhelmeted head options.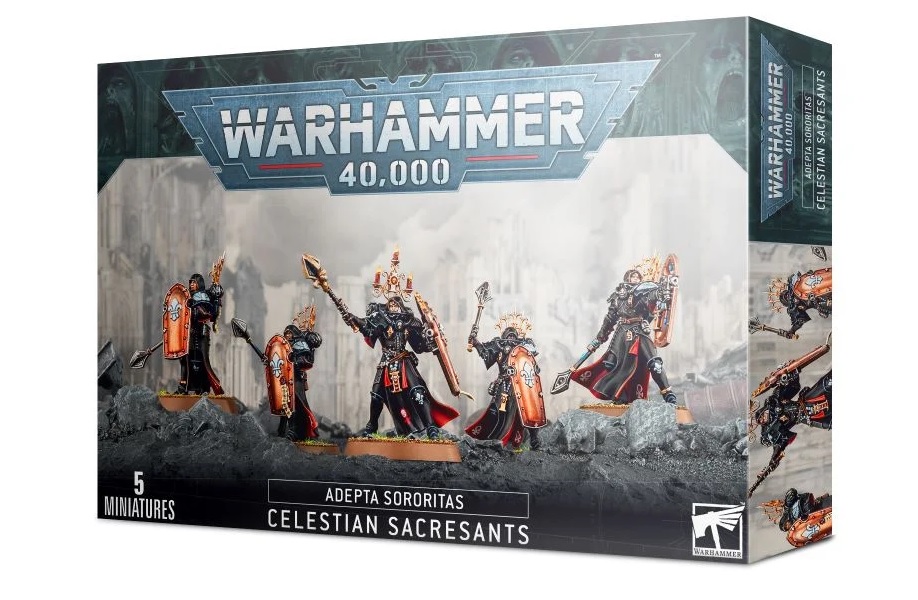 Celestian Sacresants are those elite members of the Adepta Sororitas who have departed the life of a bodyguard for their Canoness, instead questing across the Imperium on behalf of their order. Some root out heresy and sedition, while others hunt down lost relics and holy sites, but all return at their master's call to fight with shield, mace, and blade when the trumpets of war sound.
Equipped with their distinct Sacresant shields and clad in the Adepta Sororitas' signature power armour, these close-combat specialists are a durable force on the battlefield, capable of withstanding tremendous firepower. With a choice of armour-piercing anointed halberds or heavy hallowed maces, the Celestian Sacresants are equipped to deal with the enemy's elite and emerge victorious.
The kit is comprised of 69 plastic components, with which you can assemble five Celestian Sacresants, one of which may be assembled as a Celestian Superior, and is supplied with 5x Citadel 32mm Round Bases. This kit includes options for hooded or helmeted heads, and may be equipped with either anointed halberds or hallowed maces.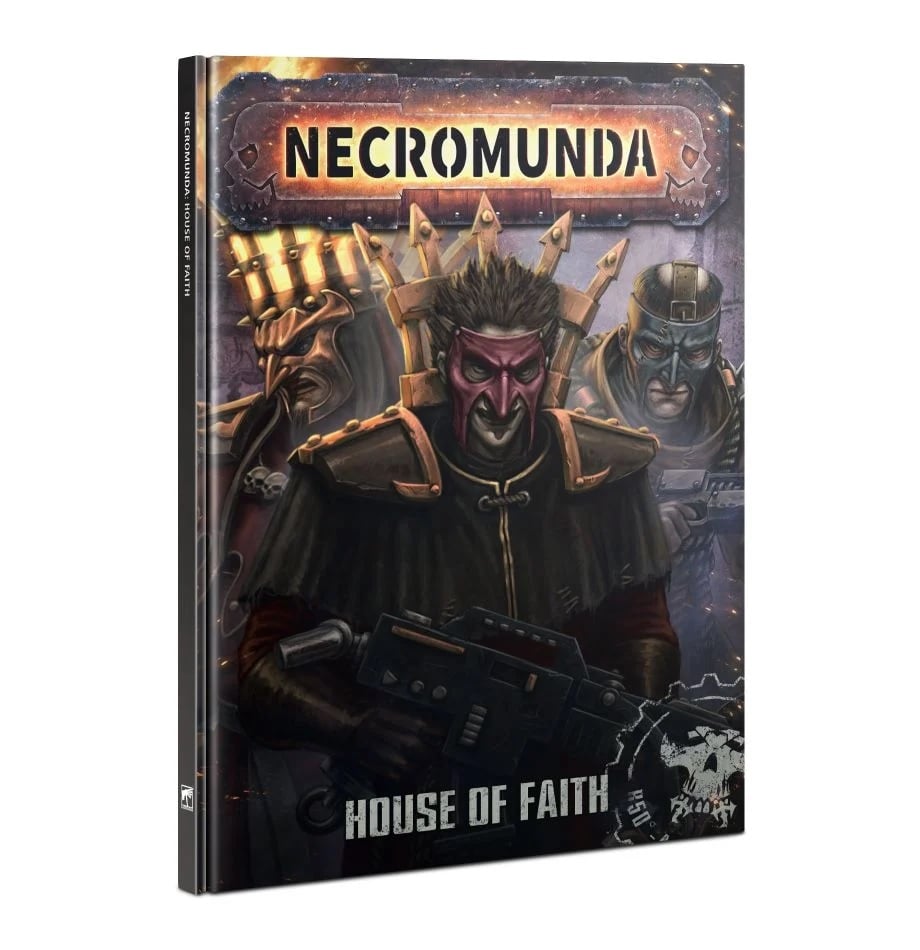 From the outside, other Necromundans see House Cawdor as bonepickers, scavengers and beggars, little better than hive rats. But House Cawdor has faith, a faith so strong that it has been saved from extinction where so many other Clan Houses have succumbed to the march of time or other disasters.
Get the ultimate guide to House Cawdor. This 136-page hardback book features the definitive history of the House and rules for fielding the eight different types of fighters available to House Cawdor – Word-Keepers, Priests, Firebrands, Deacons, Cawdor Brethren, Redemptionist Brethren, Bonepickers, and Zealots. It's ideal for fans of House Cawdor or anyone who wants to delve deeper into the dark side of the underhive.
Inside this book you will find:
– House Cawdor History and Background: An expansive and extensive background on the origins of House Cawdor and how it went on to become the largest clan on Necromunda.
– House Cawdor Gang List: All the rules you need in order to field a Cawdor Gang in games of Necromunda, including rules for using Redemptionists in your gangs or for fielding gangs made entirely of these flaming zealots.
– Hangers-on and Brutes: Rules for hiring Hangers-on and Brutes for your Gang, including Cawdor-specific ones and for using them in games of Necromunda.
– Hired Guns: Rules for using Bounty Hunters, House Agents, and Hive Scum.
– Strong Alliances: Rules for forming alliances with three organisations that House Cawdor has connections with, including the Corpse Guild, Rogue Factoria, and House Ko'iron – the Noble House that backs the House of Faith.
– Additional Rules: This section includes new and additional rules usable by House Cawdor gangs in games of Necromunda, providing Cawdor players a variety of options, including Skills, Abilities, and gang-specific terrain.
– Weapon Reference Chart: A comprehensive weapons reference chart for all weapons and wargear available to House Cawdor and their Allies.
– House Cawdor Gang Tactics: A D66 table of Gang Tactics for use in Scenarios.
– Dramatis Personae: Rules for hiring and using four brand-new Dramatis Personae characters in your games of Necromunda.
This is an expansion to Necromunda – you'll need a copy of the Necromunda Rulebook or the Necromunda: Dark Uprising Rulebook to use the contents of this book.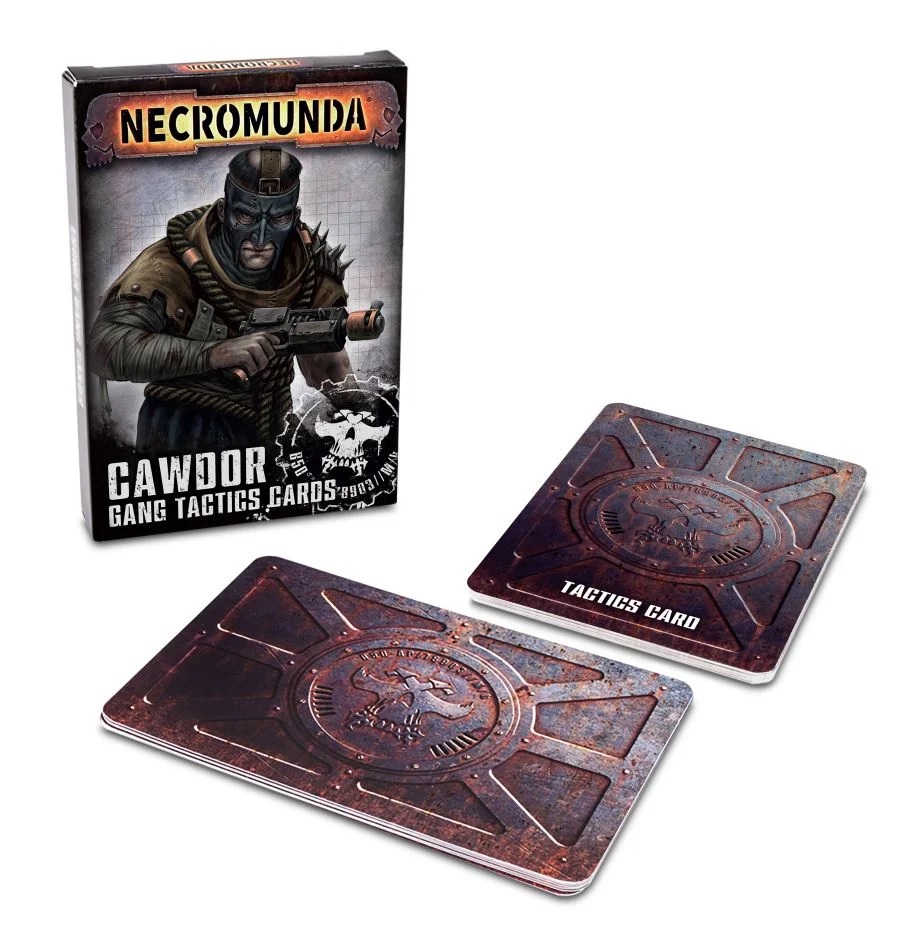 Unleash the wrath of the House of Faith with these 26 handy reference cards, representing the myriad tricks and schemes that can be used to gain an advantage in the underhive. As well as 18 gang-specific Tactics cards that perfectly encapsulate the way that House Cawdor fight, there are also 8 blank Fighter cards for you to keep track of your gang.
This box contains 26 100mm x 75mm cards for use in games of Necromunda:
– 18x Cawdor gang-specific Tactics cards
– 8x Blank Fighter cards
You will need a copy of the Necromunda: Rulebook and Necromunda: House of Faith to use the contents of this set.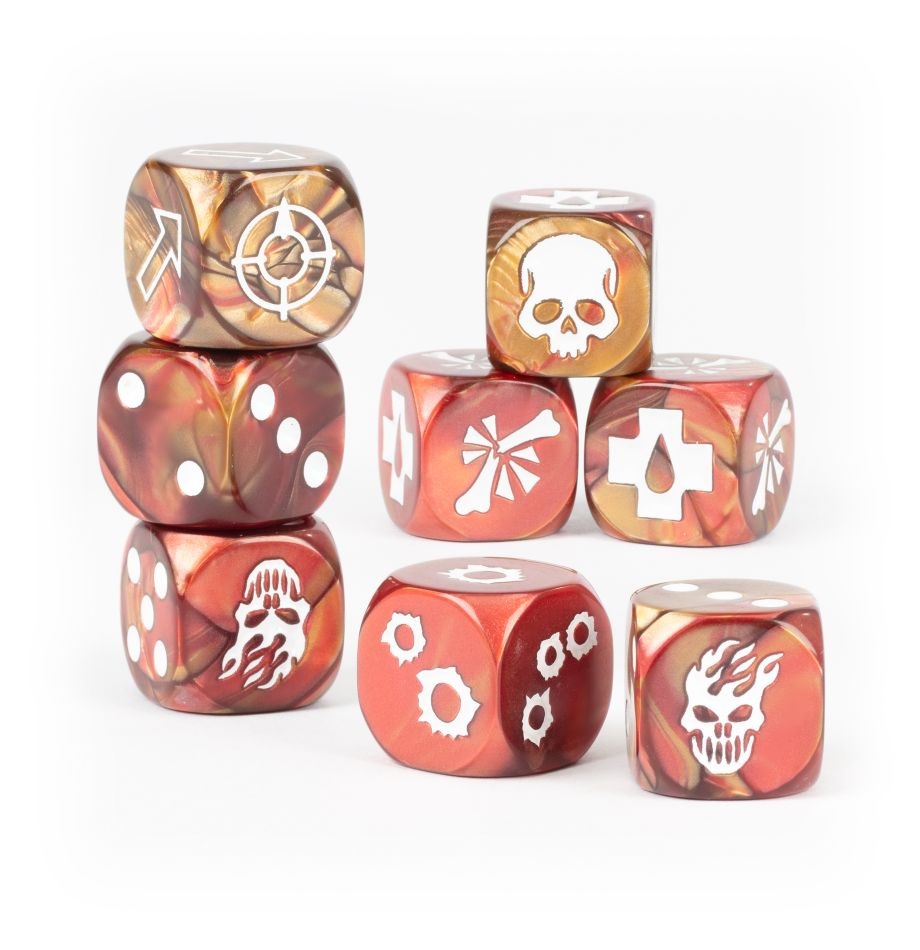 Forged in the fires of House Cawdor, these dice are sure to bring luck to any gang hailing from the House of Faith. Whether you're a Word-Keeper, Firebrand, or Brethren, you'll want a set of these dice to show your allegiance to the Thane of Cawdor.
These 16mm dice are a deep red with yellow and black swirls and white pips and symbols.
The box contains:
– 3x D6 with the House of Faith logo on the '6' face
– 1x Necromunda Firepower dice
– 3x Necromunda Injury dice
– 1x Necromunda Scatter dice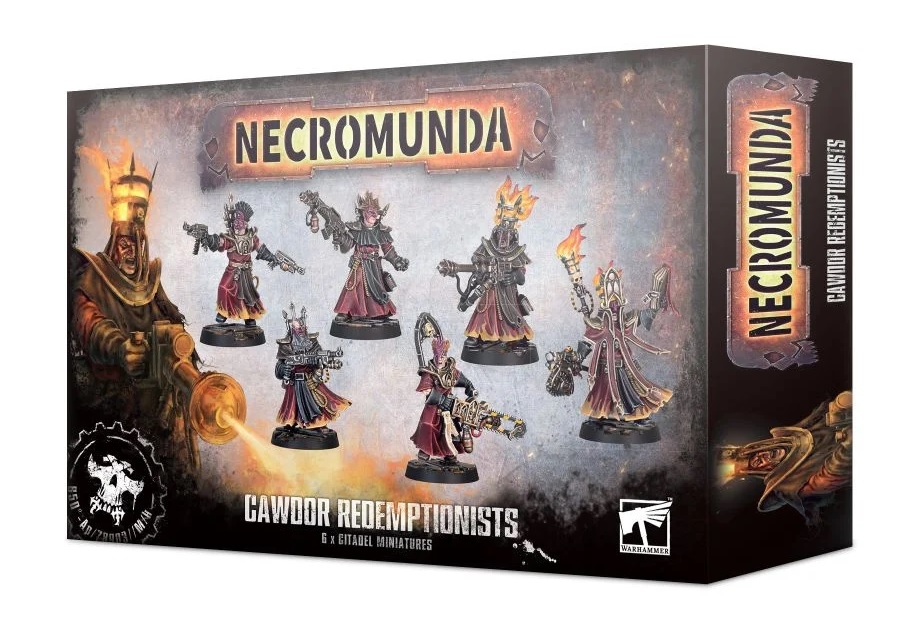 The Redemptionist sect believes that Humanity has fallen from the path of righteousness decreed by the God-Emperor and that the sins of Mankind will drown the Imperium in filth and depravity. As long as Humanity is unable to control its sinful nature, it will not be able to unite and conquer the stars as the Emperor truly wishes them to. Sin must be purged from all by fire, blood, and faith, and the Redemptionists are only too happy to do it.
Expand your Cawdor gang with these six fighters or start your own Redemptionist Crusade. The Redemptor Priest is a gang Leader, followed into battle by his Deacon (a gang Champion), three Brethren (Gangers), and a Zealot (Juve). Whether you field them as their own gang or add them to your existing Cawdor fighters, their unique weaponry will soon help you purge the underhive of sin.
This 76-part plastic kit makes:
– 2x Redemptor Priest or Brethren
– 2x Deacon or Brethren
– 2x Zealot or Brethren
It is supplied with 10x 25mm Necromunda Round bases. Rules for using these models in games of Necromunda can be found in the House of Faith supplement.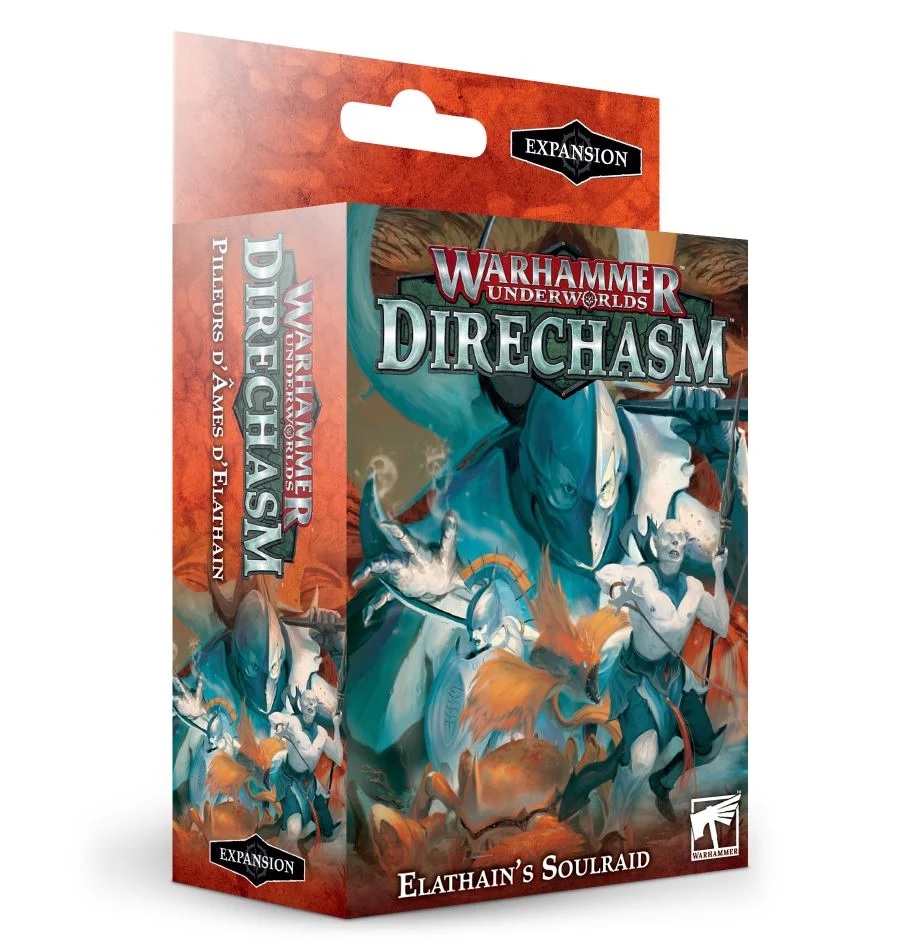 Over the Centuries, the Idoneth Deepkin of the Ionrach Enclave had visited Beastgrave many times, claiming countless souls from the Silent People with which they might ensure their own survival. The Celebrated Isharann Soulrender Elathain was tasked with leading the latest foray, and took with him his soul-bound Thrall Tammael, the bond-beast Duinclaw, and his sworn Ishlaen escort, Fuirann.
Elathain's Soulraid bring the speed and skill that you'd expect from an aelven warband into your games of Warhammer Underworlds. They also bring the unexpected in the form of their mastery of the Ethersea, and the giant crab, Duinclaw. This set also features universal cards for any warband in Warhammer Underworlds, while a free downloadable warscroll lets you fight with Elathrain's Soulraid in Warhammer Age of Sigmar.
This set contains:
– 5x push fit Elathain's Soulraid miniatures – no glue required to assemble
– 5x fighter cards, representing each warrior in your games – Elathain, Fuirann, Tammael, Duinclaw, and Spinefin
– A further 62 playable cards (only available in this set) to enhance your fighters and provide new tactics and challenges for your games of Warhammer Underworlds: Direchasm, including:
– 12x Elathain's Soulraid objective cards
– 10x Elathain's Soulraid upgrade cards
– 10x Elathain's Soulraid ploy cards
– 10x universal objective cards, usable by any warband
– 10x universal upgrade cards, usable by any warband
– 9x universal gambit cards, usable by any warband
– 1x universal gambit spell cards, usable by any wizard
Sisters, Redemptionists, and…Crabs!