New Trailers for 'Fear Street', 'Space Jam', and Other Horror Movies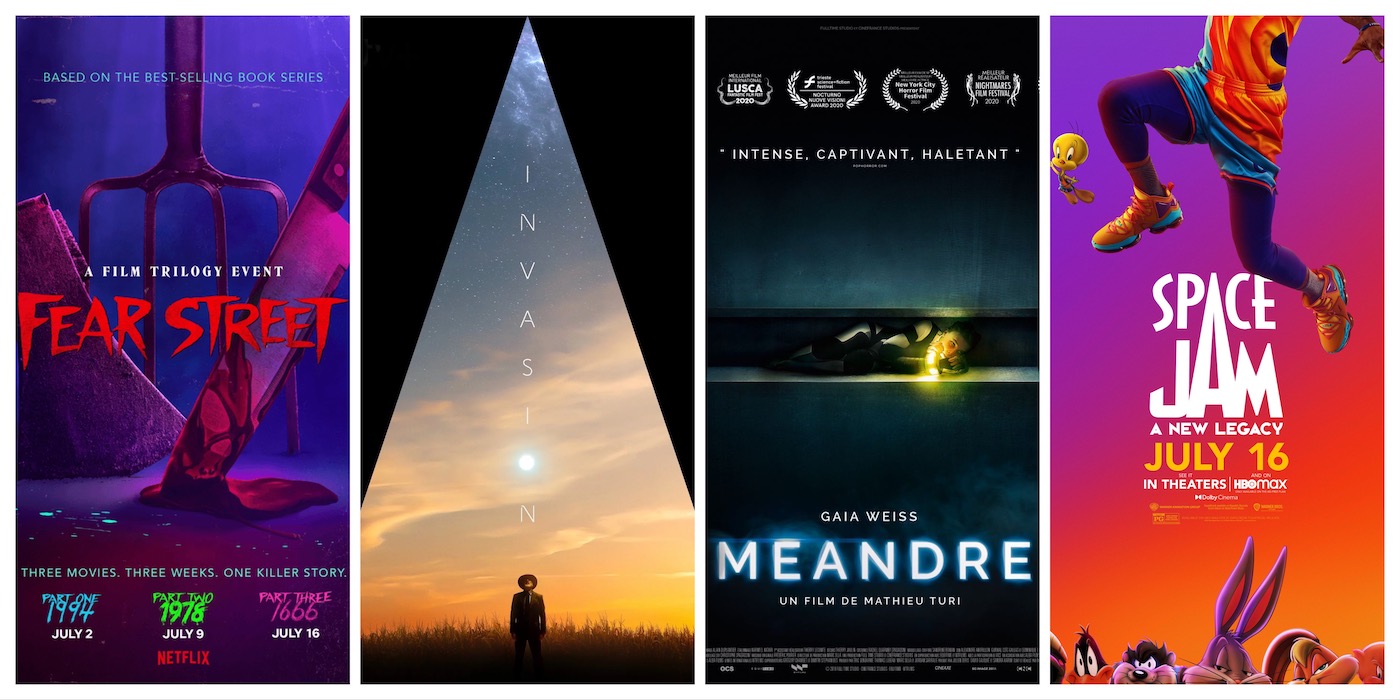 You can't convince me that anthropomorphic animals playing basketball against aliens while characters from A Clockwork Orange watch isn't horror.
Fear Street – Netflix July 2/9/16
In 1994, a group of teenagers discovers that the terrifying events that have haunted their town for generations ​may all be connected — and that they may be the next targets. Based on R.L. Stine's best selling horror series, the trilogy follows the nightmare through Shadyside's sinister history.
Meander – Theaters/VOD July 9th
After getting a car ride from an unknown man, Lisa wakes up in a tube. On her arm is strapped a bracelet with a countdown. She quickly understands that every 10 minutes, fire burns an occupied section. She has no choice but to crawl into safe sections to survive. To know why she's there and how to get out, Lisa will have to face the memories of her dead daughter…
Space Jam – Theaters/HBOMax July 16
LeBron James and the Tune Squad only have one shot to win the highest stakes game of their lives. Watch them battle it out on the court against the Goon Squad.
Teen Titans Go! Watch Space Jam
The Teen Titans are visited by the Nerdlucks, the iconic Space Jam villains who tried to enslave Michael Jordan and the Looney Tunes. Astonished to discover his fellow Titans have never seen Space Jam, Cyborg organizes an exclusive watch party.
Invasion – Apple Tv+ October 22
Shamier Anderson, Golshifteh Farahani, Sam Neill, Firas Nassar, and Shioli Kutsuna star in this sci-fi drama that will make you question what you would do under extraterrestrial threat. Following multiple storylines across different continents, Invasion takes a global look at how one alien invasion would affect us all.
Reminiscence – Theaters/HBOMax August 20
Nick Bannister, a private investigator of the mind, navigates the darkly alluring world of the past by helping his clients access lost memories. Living on the fringes of the sunken Miami coast, his life is forever changed when he takes on a new client, Mae (Ferguson). A simple matter of lost and found becomes a dangerous obsession. As Bannister fights to find the truth about Mae's disappearance, he uncovers a violent conspiracy, and must ultimately answer the question: how far would you go to hold on to the ones you love?
Subscribe to our newsletter!
Get Tabletop, RPG & Pop Culture news delivered directly to your inbox.