The Mighty Ships You'll Find in the Oak & Iron Core Rule Box Set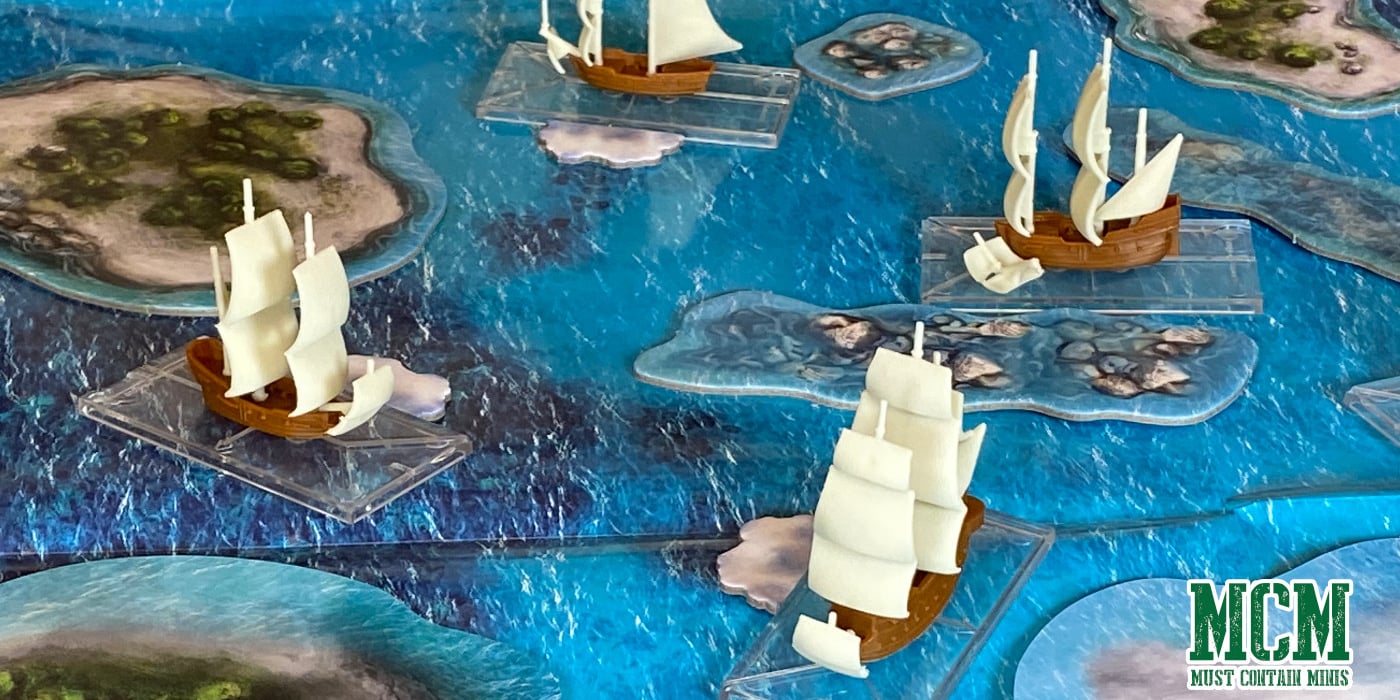 In this quick post, I show you the ships that come in the core set box of Oak & Iron by Firelock Games.
For those who do not know, Oak & Iron is a 1/600 scale historical naval game. Your battles take place during the golden age of piracy with tall ships and cannons on the high seas. There are a number of nations and factions that you can play and all are available in this core box. In this post, I have pictures of the ships and even a scale comparison image too!
Let's get right into it.
The Ships
The ships are actually more sizable than I expected. I built these ships without glue and quickly out of the box. The sloop below could have used a little glue to connect the sails. The rest went together pretty easily. If you want to see them being built, there is a video including that further down below.
These are some really nice-looking ships and they are all ready to go right out of the box. Firelock Games makes them in two different colors of plastic so you don't even have to paint them unless you want to.
The Contents of Oak & Iron – Core Box Set
Below is a quick image of what comes in the Core Box of Oak & Iron. It comes with all those cards, ships, and terrain. It comes with even more than that. There are rules, tokens and more yet to be seen.
Subscribe to our newsletter!
Get Tabletop, RPG & Pop Culture news delivered directly to your inbox.
This is just a fraction of what is in the Core Box. To see everything, check out my unboxing on Must Contain Minis or in the video below.
The Video Unboxing
To watch the video unboxing of this product, play the video below or use this link here. In the video, I flip through the rules, build the ships and give you a closer look at all of the components.
Wrapping it up…
I hope that you enjoyed this quick showcase of the ships of Oak & Iron straight out of the box. If it interests you, be sure to check out Oak & Iron on Firelock Games. They are expecting a restock of all of their Oak & Iron expansions soon and the game is well supported.
Until next time, Happy Gaming Everyone!!!

Read more about great Indie and Historical games on my site!
Must Contain Minis is my personal reviews, showcases, and battle reports website where I look at mostly Indie and Historical Games. If you haven't visited for a while, come on over and check the site out! I've changed the landing page this past week to better share my videos and posts. You can check that out with this link right here. On top of a website, I have my own YouTube channel too!
You can also follow me on Social Media. I am very active on Facebook and share posts of a wide variety. I upload my best pictures to Instagram and am also on Twitter.  
My aim is to promote gaming with companies outside of those that already dominate the gaming market.