Age of Sigmar: Three New Starter Boxes Announced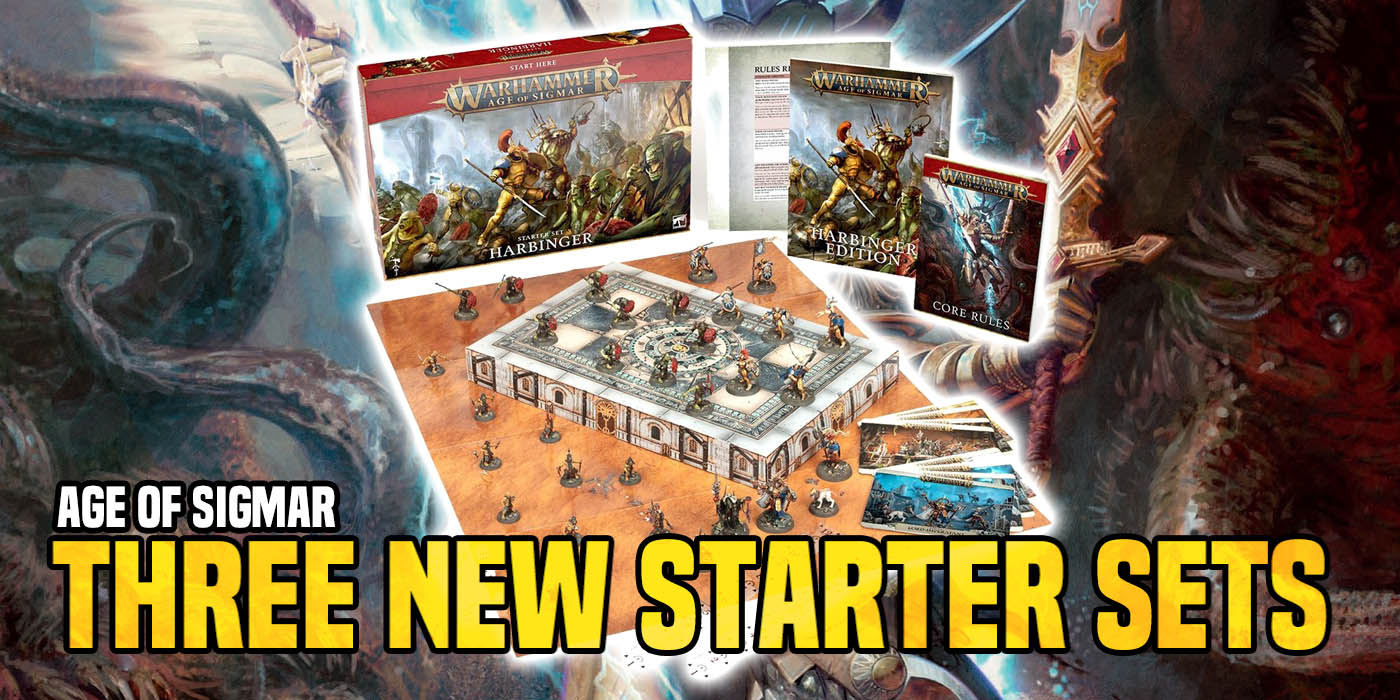 Following in the footsteps of the Dominion Boxed Set, Games Workshop has announced three new Starter Boxes for Warhammer: Age of Sigmar.
If you're looking to jump into Warhammer: Age of Sigmar then GW has some great news for you – three new Starter Boxes are on the way and they have everything you need to jump right into the Mortal Realms. Check this out:
"The launch of the new edition of Warhammer Age of Sigmar means this is the perfect time to jump into the wars raging across the Mortal Realms. Whether you want to dip your toes into the setting and play a few skirmish games or own two fantastic armies led by powerful Heroes, the new starter sets contain everything you need to build a force and take it into battle. "
What's In The Boxes?
Warrior Starter Set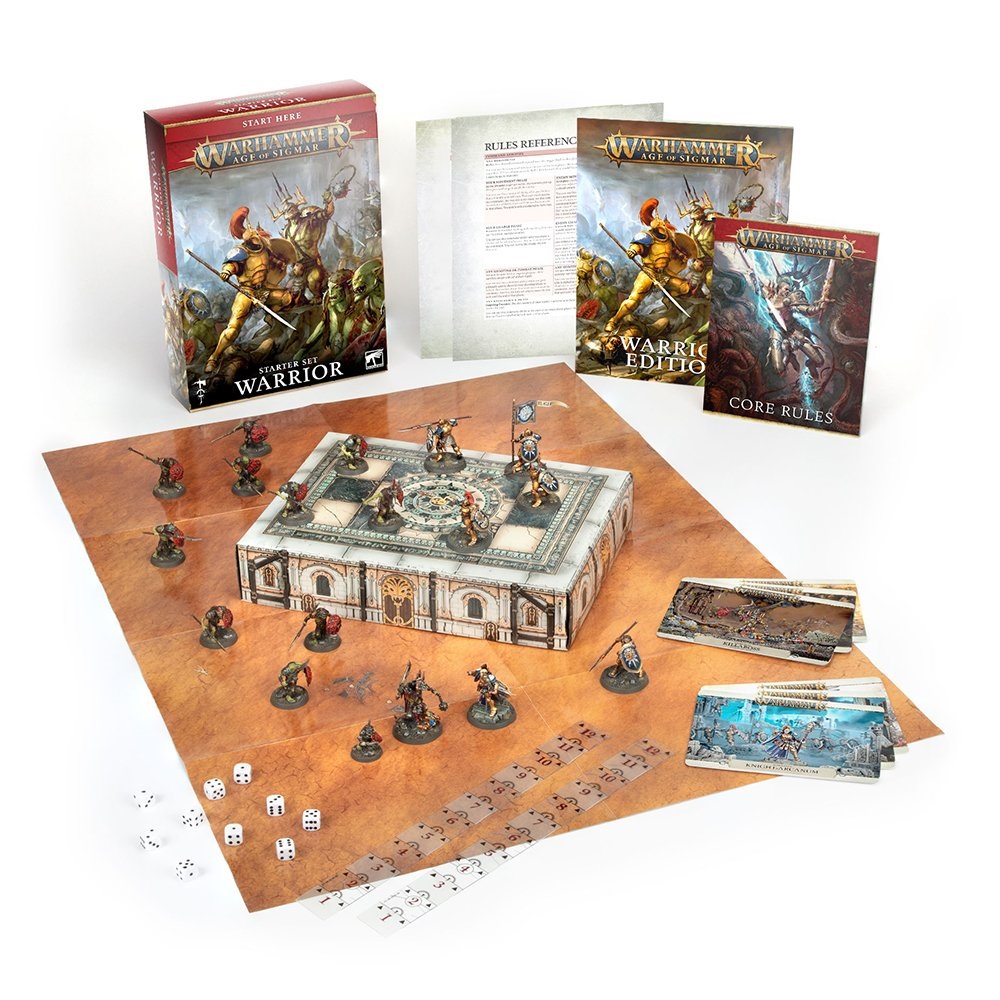 "The Warrior Starter Set is ideal for people playing Warhammer Age of Sigmar for the first time. It's been designed for people who want to learn – or teach – the basics of the game without worrying about advanced rules."
Miniatures-wise, it's 18 plastic miniatures:
Knight-Arcanum
5x Vindictors
Killaboss w/Stab-grot assistant
10 x Gutrippaz
And of course you get everything else you'll need – dice, range rulers, a double-sided gaming mat, two manuals, and all the warscroll you'll need.
Harbinger Starter Set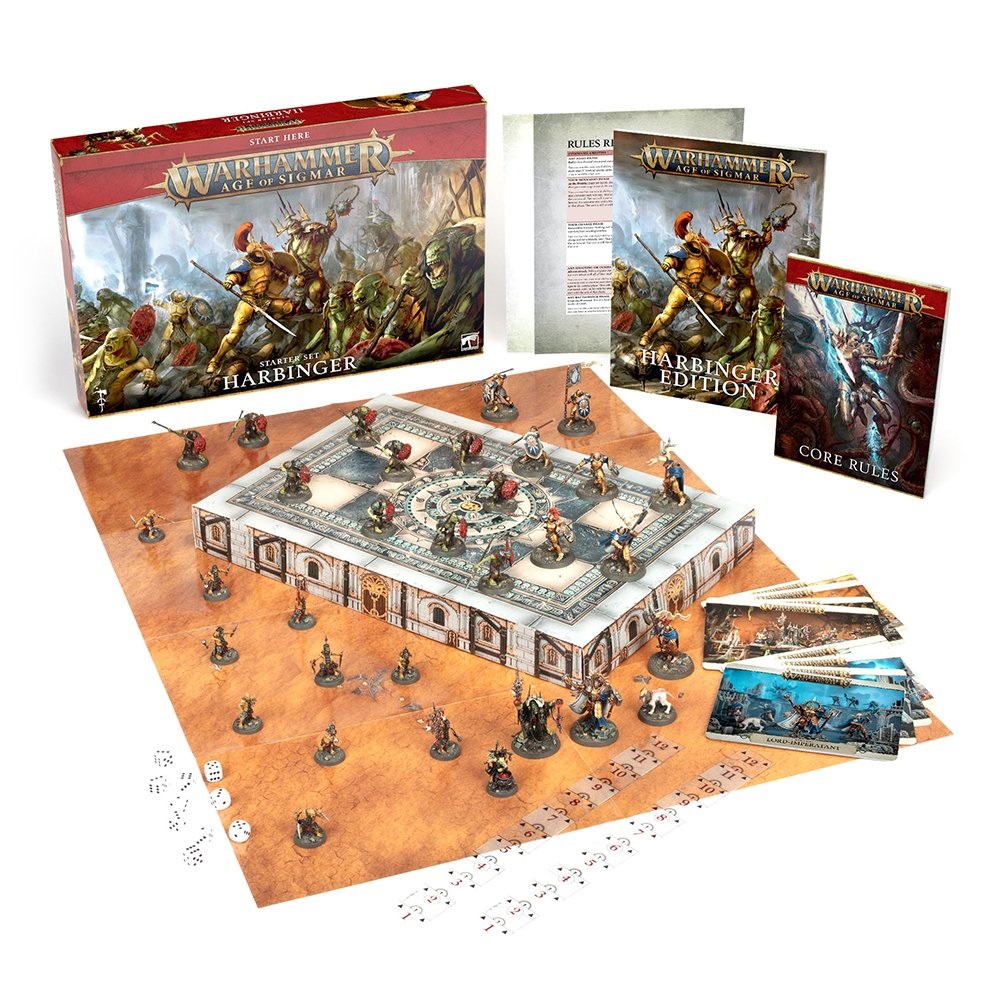 Subscribe to our newsletter!
Get Tabletop, RPG & Pop Culture news delivered directly to your inbox.
This one is your mid-sized starter. More miniatures and a bit more complexity to go with it.
Mini-wise, it's 32 models:
5x Vidictors
3x Praetors
Lord-Imperatant w/Gryph-hound
 10x Gutrippas
10x Hobgrot Slittaz
Swampcalla Shaman w/Pot-grot
Plus all the extras like dice and such that you'll need to play.
Extremis Starter Set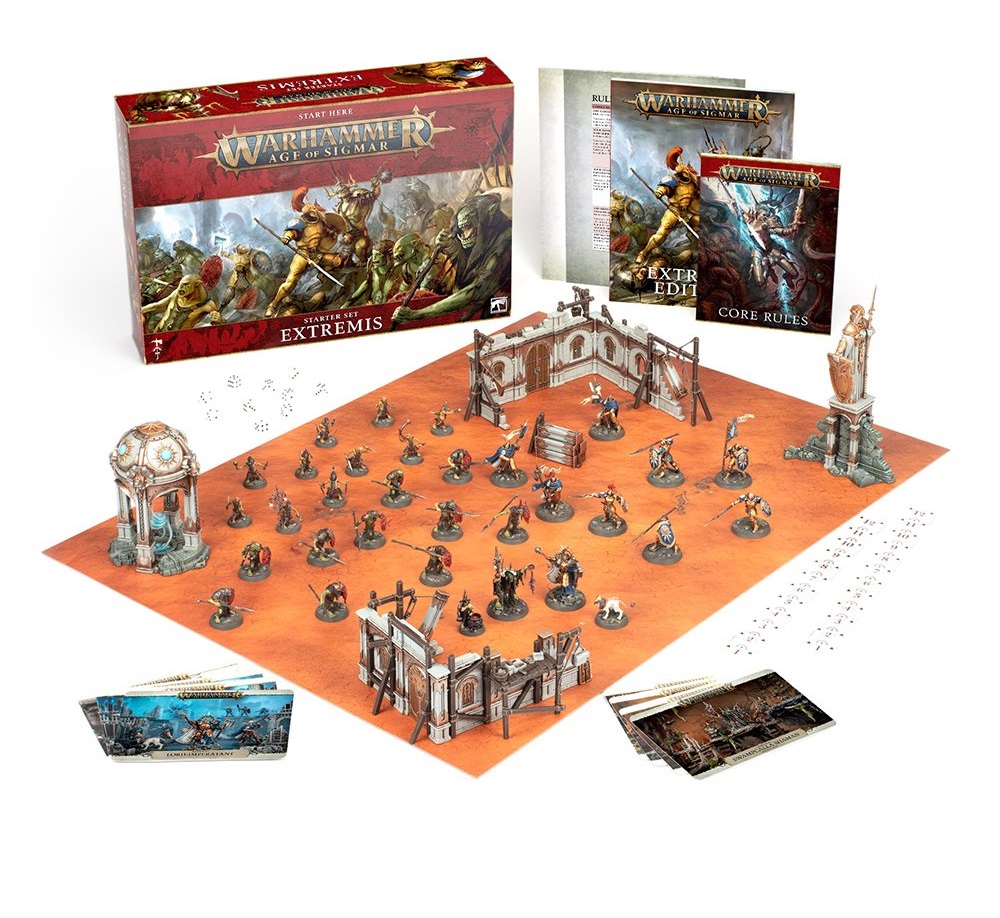 This box has it all – it's essentially the Harbinger box, but has the full rules for the game. On top of that, it's a fancier double-sided gaming board and five pieces of Citadel scenery:
1x nexus syphon
1x guardian idol
2x domicile shells
1x pile of pillars
This is a great start for a terrain collection and that gaming board just might come in handy when you start wanting to play bigger games…
These sets will be coming soon. If you still want the best overall deal, you might want to snag a Dominion box either from your FLGS or from GW. Those sets are going fast and while they made a lot of them, once they are gone, they aren't coming back.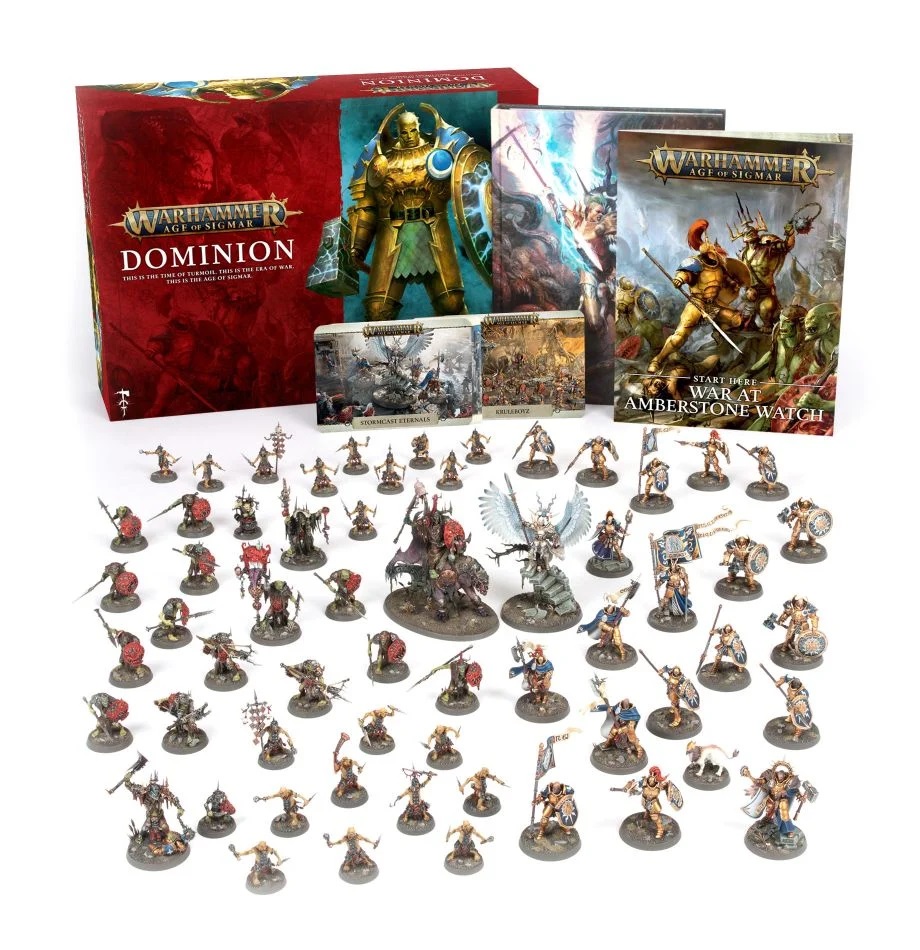 "It is a time of great change in the Mortal Realms. A surge of life sweeps across the eight realms to force back the tide of death left in the Necroquake's wake, and the forces of Order waste no time in laying claim to the newly rejuvenated land. But with Kragnos, god of Destruction, released from his prison and leading a vengeful rampage across Ghur, the Stormcast Eternals must fight their toughest battles yet to safeguard the pioneering Dawnbringer Crusades.
If you're looking to plunge headfirst into the new edition of Warhammer Age of Sigmar, look no further than this glorious boxed set. Warhammer Age of Sigmar: Dominion comes complete with two powerful armies, pitting the reforged Stormcast Eternals against the emerging threat of the Kruleboyz – cunning and deadly orruks native to the swamps of Ghur. The set also includes a Dominion-exclusive version of the Warhammer Age of Sigmar Core Book, which provides extensive background information on the game's fantastical setting as well as a full set of rules for playing thrilling games with your Citadel miniatures."
Which starter set are you most interested in?