D&D Accessories: Summer Dice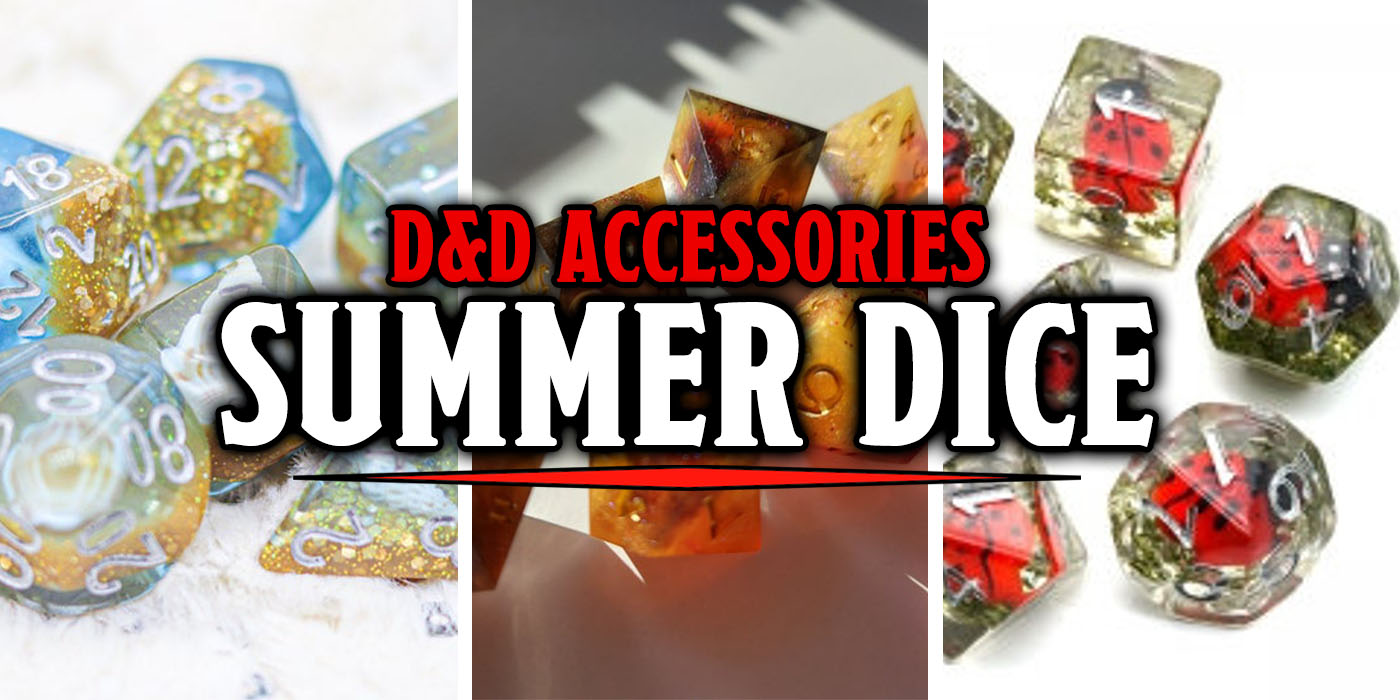 Summer is time for cookouts, beach trips, and playing D&D inside with air conditioning. If it's too hot outside, bring summer to you with some summer inspired dice.
July is here and summer is in full swing. Whether your next D&D session is a fantastical beach episode or you just want to get into the warm weather spirit, there are dice to help transport you and your character to a summertime state of mind. As always, links to shops are in the item titles.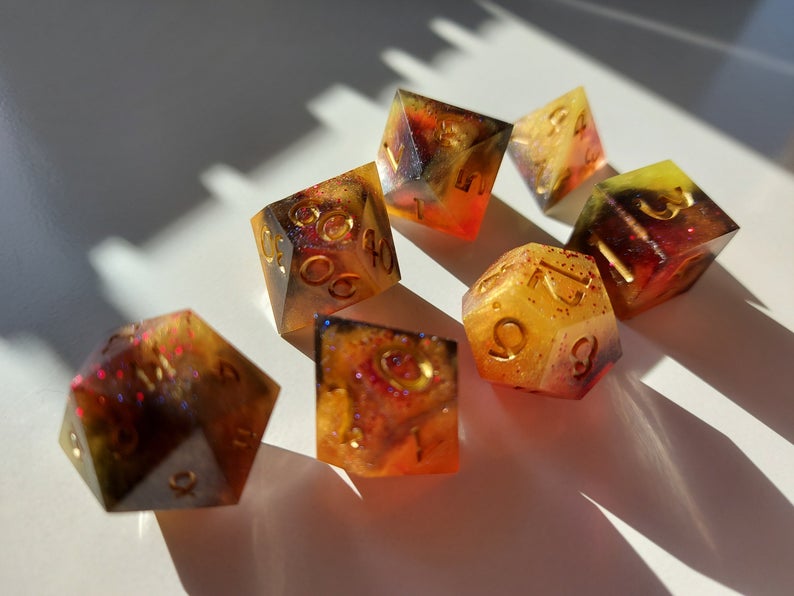 Unless you live in the southern hemisphere, it's probably hot where you are right now, and long sunny days are definitely helping with that. These dice are designed to look like the sun with their gold and orange hues and glitter accents. Even the dark parts lend themselves nicely to the fireball effect for a set of dice that look like they should be hot to the touch.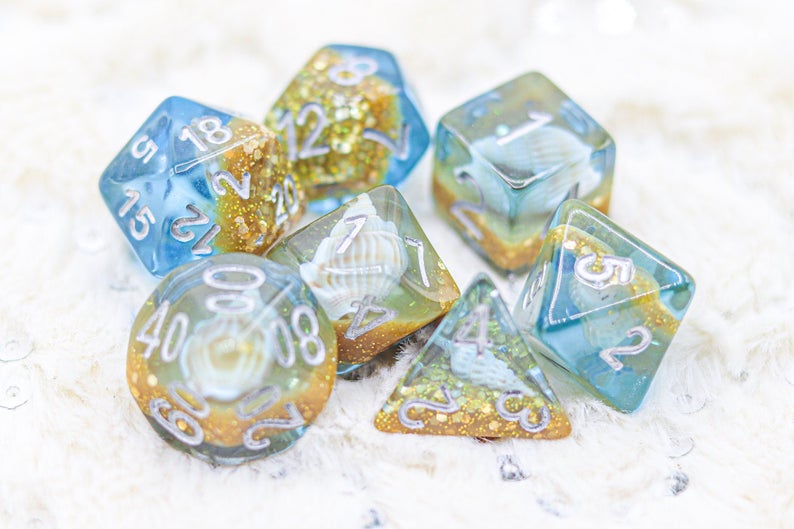 To me, few things are as summery as the beach. It always feels like nostalgic time away from school and vacations with my family. And this dice set makes that beachy aesthetic feel a little more magic with soft colors and a touch of shimmer in the sand. Tiny shells in the die add a certain feeling of walking through very clear shallow water and finding the perfect decorations for a sand castle or maybe even hunting for spell components.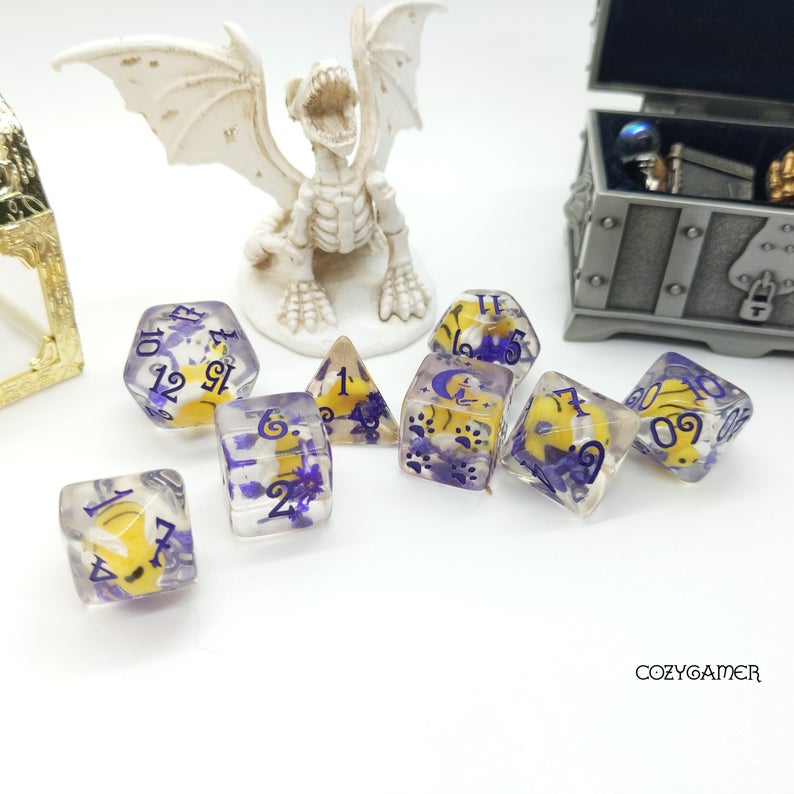 Blooming flowers mean bees buzzing around to pollinate and make honey. Bees are one of the most important parts of our ecosystems, and those fat, fuzzy bumble bees are some of the cutest bugs around. If you're playing a druid, these may be the perfect dice to show your appreciation for these helpful little guys, or if you just appreciate all of the work bees and the purple glowers resigned into the dice do.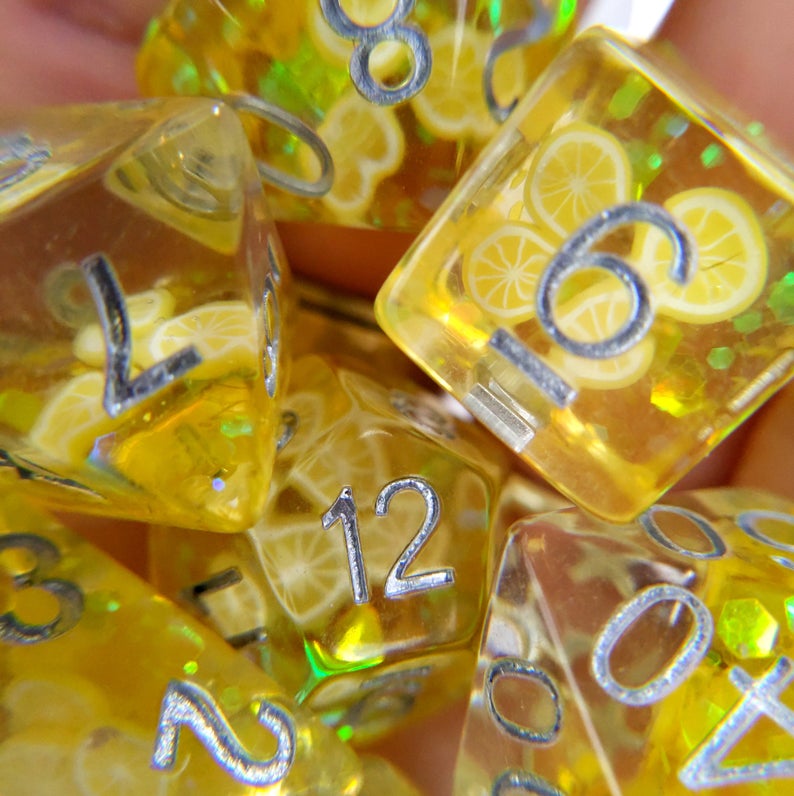 Subscribe to our newsletter!
Get Tabletop, RPG & Pop Culture news delivered directly to your inbox.
There is a huge variety of fruit filled and inspired ice out there depending on your personal tastes, but to me few things are as refreshing as a glass of lemonade. Little lemon slices and glitter make this set look almost good enough to drink. And while any dice can be used year round, these are a little less overtly summer than say… beach dice and can more easily become part of your week to week D&D look.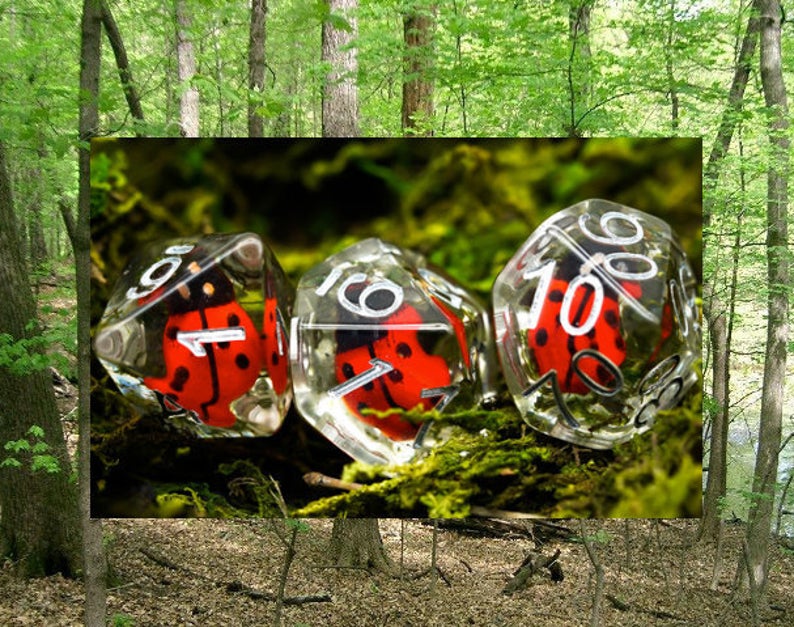 Lady bugs are one of those bugs that nobody can hate. They're cute, harmless, and sometimes associated with luck. And luck is something any D&D player can use more of in their dice rolls. Each die has a little lady bug and some grass so she feels right at home with a variety of upgrades and carrying case options for easy dice transpiration between games.
Have you gotten out any summery D&D accessories recently? Will any of our favorite warm-weather dice make it to your wish list? Which season is your favorite? Let us know in the comments!
Happy Adventuring!