D&D Live Lineup Reveal: Tiffany Haddish, Patton Oswalt, Seth Green, And More Join The Ranks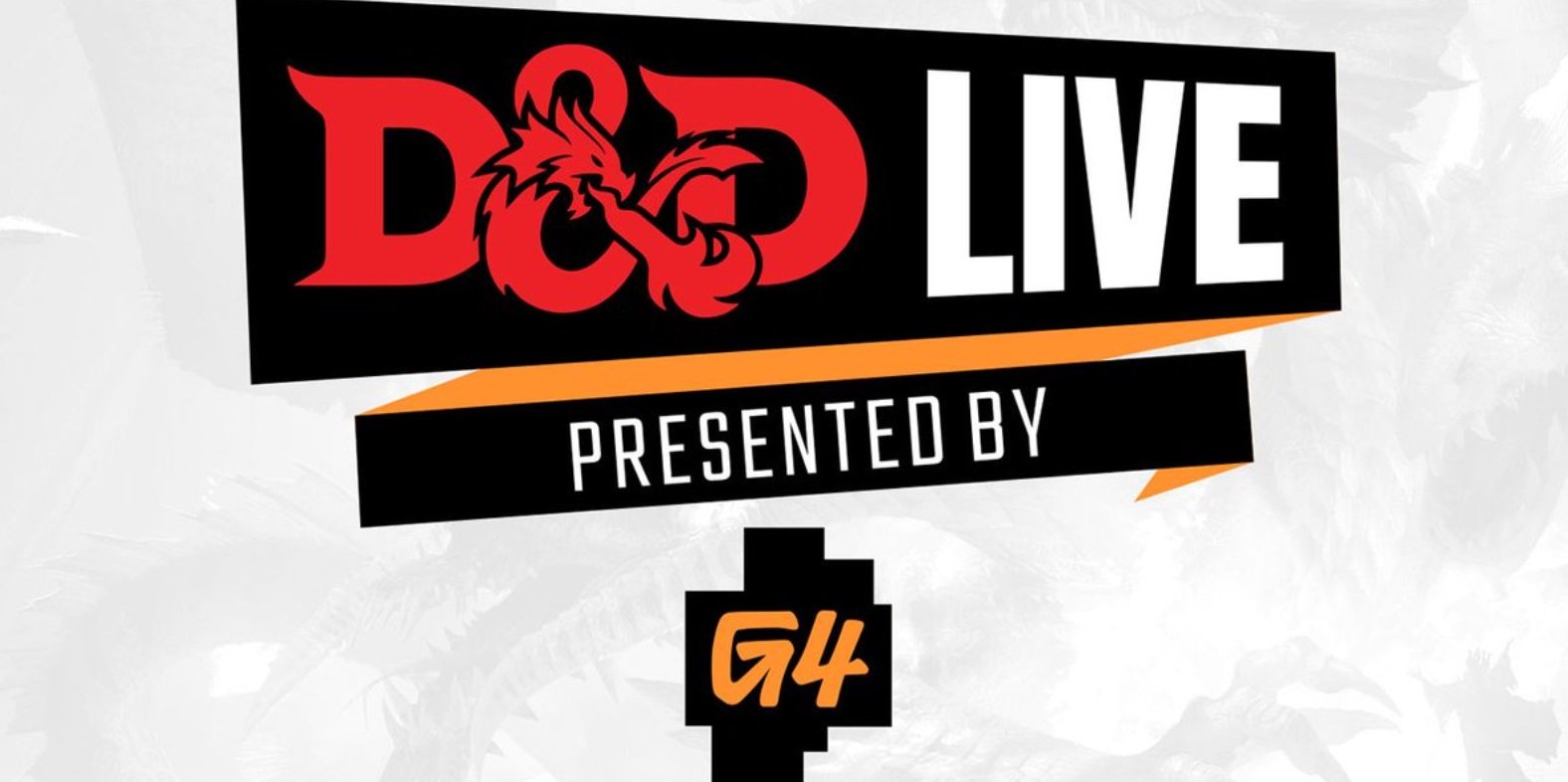 D&D Live is going to be packed with famous faces ready to play some Dungeons & Dragons, including Patton Oswalt, Tiffany Haddish, and more.
With D&D Live just around the corner, the full lineup has been unveiled and it looks like fans are in for quite the treat. At D&D Live, which is brought to you by WotC and the spectre of G4 TV back from whatever damned hellscape it was once banished to, not only will you get a glimpse of what the future holds for D&D, you'll also get to watch popular streamers and famous faces play some D&D. Here's a look at the full lineup.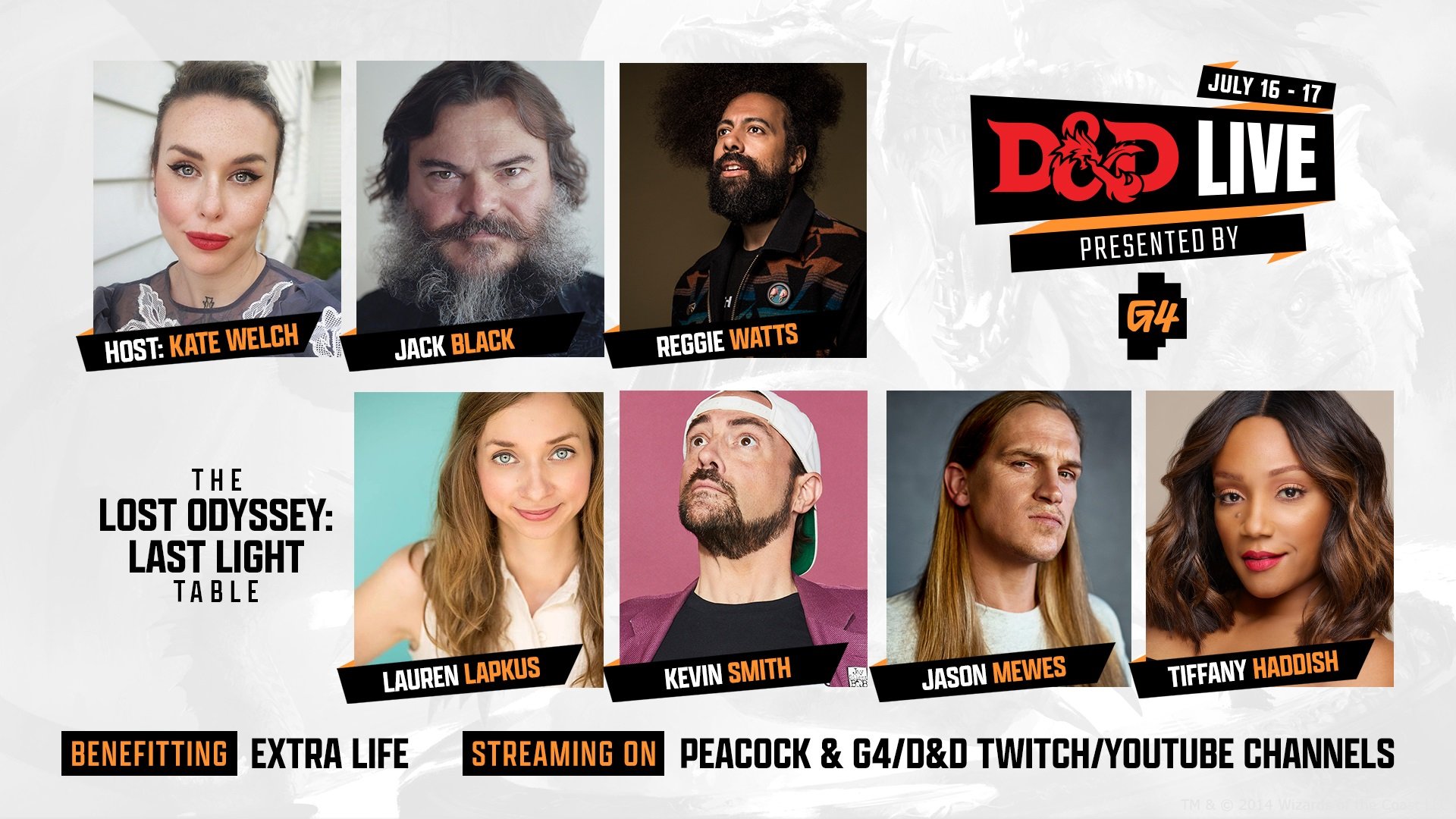 We've already seen a couple of the tables, the Lost Odysseys, which gathers Jack Black, Lauren Lapkus, Reggie Watts, Kevin Smith, and now… the mystery guest from before has been unveiled as Tiffany Haddish–star of Girl's Trip, Night School, and Keanu joins the cast. Haddish, who recently revealed that she, like many of us, credits her first orgasm to Nicolas Cage in Face/Off joins the first game of the celebration, which looks to be a comedic romp through Dungeons & Dragons.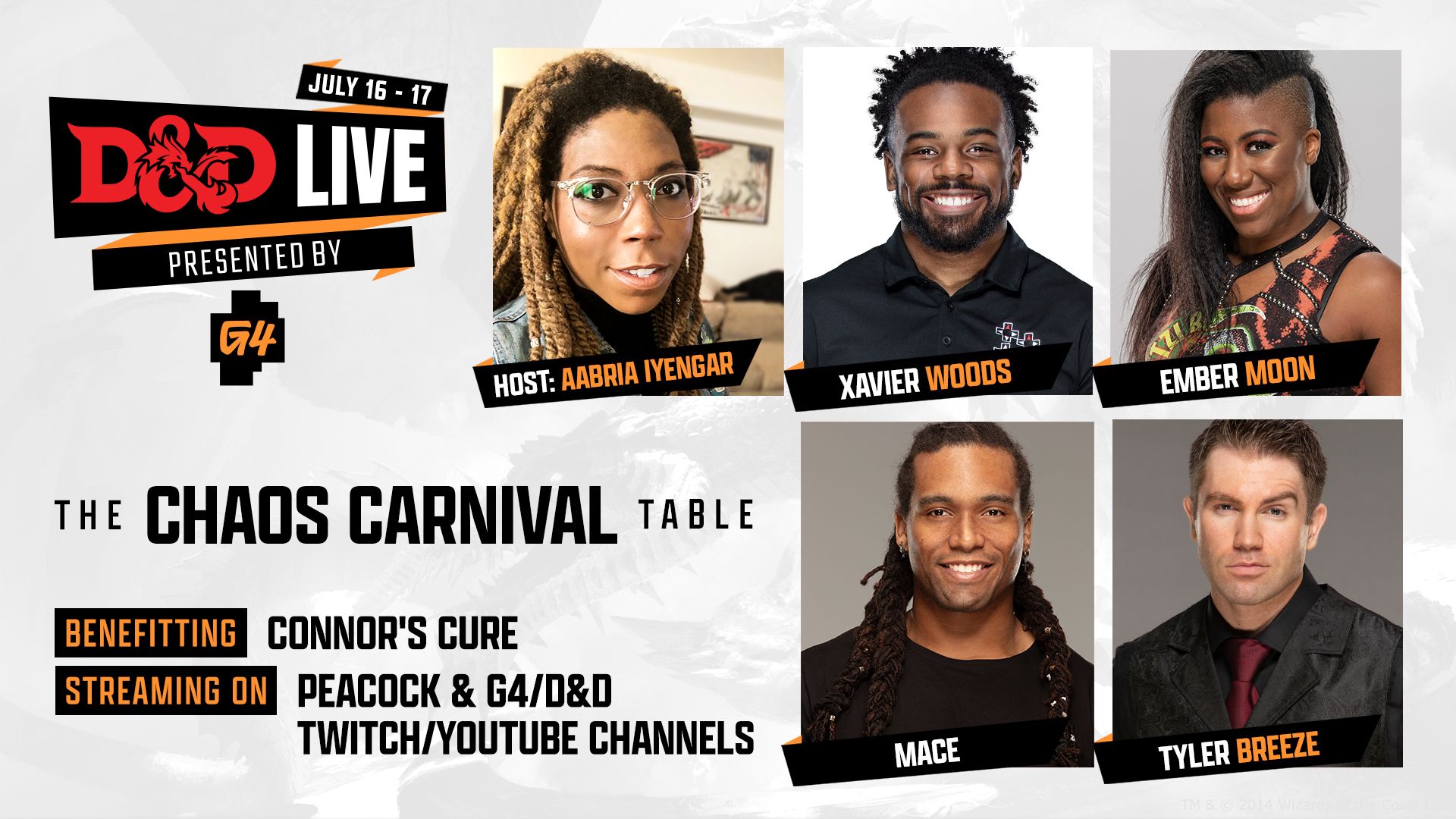 And of course, the Chaos Carnival table, which brings together the WWE's most renowned D&Dists, Ember Moon, Xavier Woods, MACE, and Tyler Breeze under legendary DM Aabria Iyengar who will be leaving behind both Dimension20 and Critical Role to show you all why she's the only one who can handle wrestlers like these. But, that's not all! Check out the newly revealed tables below: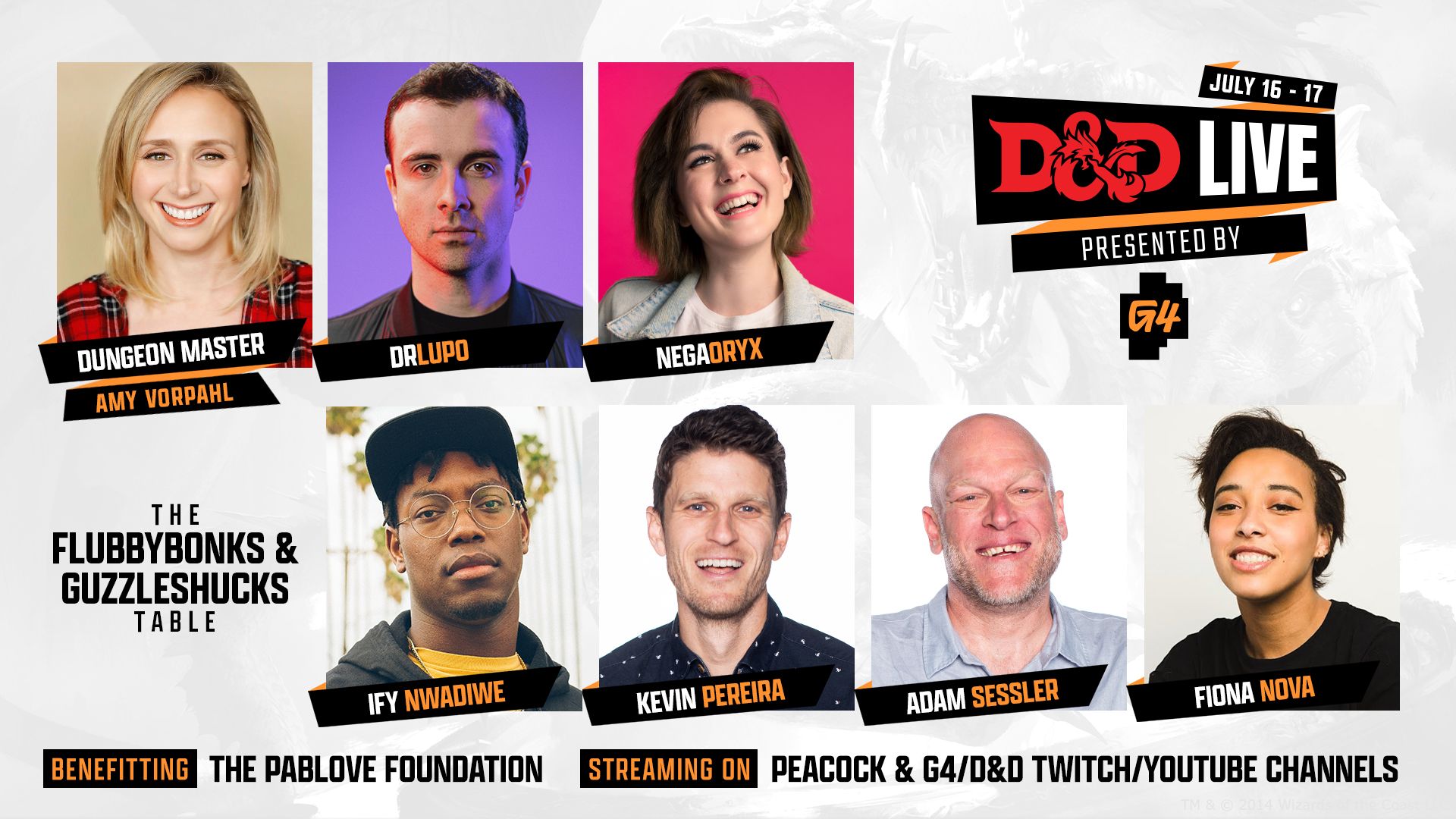 First up, real life D&D Bard, and head writer for D&D live, Amy Vorpahl, whose album we still love to this day, heads up a table full of streamers and comedians as she takes on the team from G4 plus DrLupo and Negaoryx:
DrLupo: A fan-favorite with a heart of gold, DrLupo has made a name for himself as one of the most generous streamers in the business. Will that heart of gold shine for his fellow players, or drastically shift alignment after a level 9 petrification spell?
Negaoryx:  Theme park enthusiast, film nerd, and a full-time variety streamer, Negaoryx loves story-driven games so she'll be a natural Flubbybonker, a team nickname I'm hoping the entire table uses liberally.
Ify Nwadiwe: Will the comedian who's appeared on Comedy Central's Key and Peele, Workaholics, IFC's Comedy Bang! Bang! roll all his stats into charisma and hit some Forgotten Realm mics, or shock the world and go full melee berserker?
Kevin Pereira: Attack of the Show! host and IRL office Rogue, Pereira's quick-wit will temporarily change targets from lampooning gaming culture to harpooning giant sea serpents.
Adam Sessler: G4's resident consolemancer who summons review scores directly from the fel, Sessler will lend his seasoned brand of demonology to the Flubbybonkers (I'm really trying to make "Flubbybonkers" a thing).
Fiona Nova: Fiona Nova is G4's jill-of-all-trades and a master of… well ALL of them actually. She honestly needs a nerf. I'm confident Fiona's meteoric rise as a director and producer will naturally translate to power-leveling in the Feywild forests.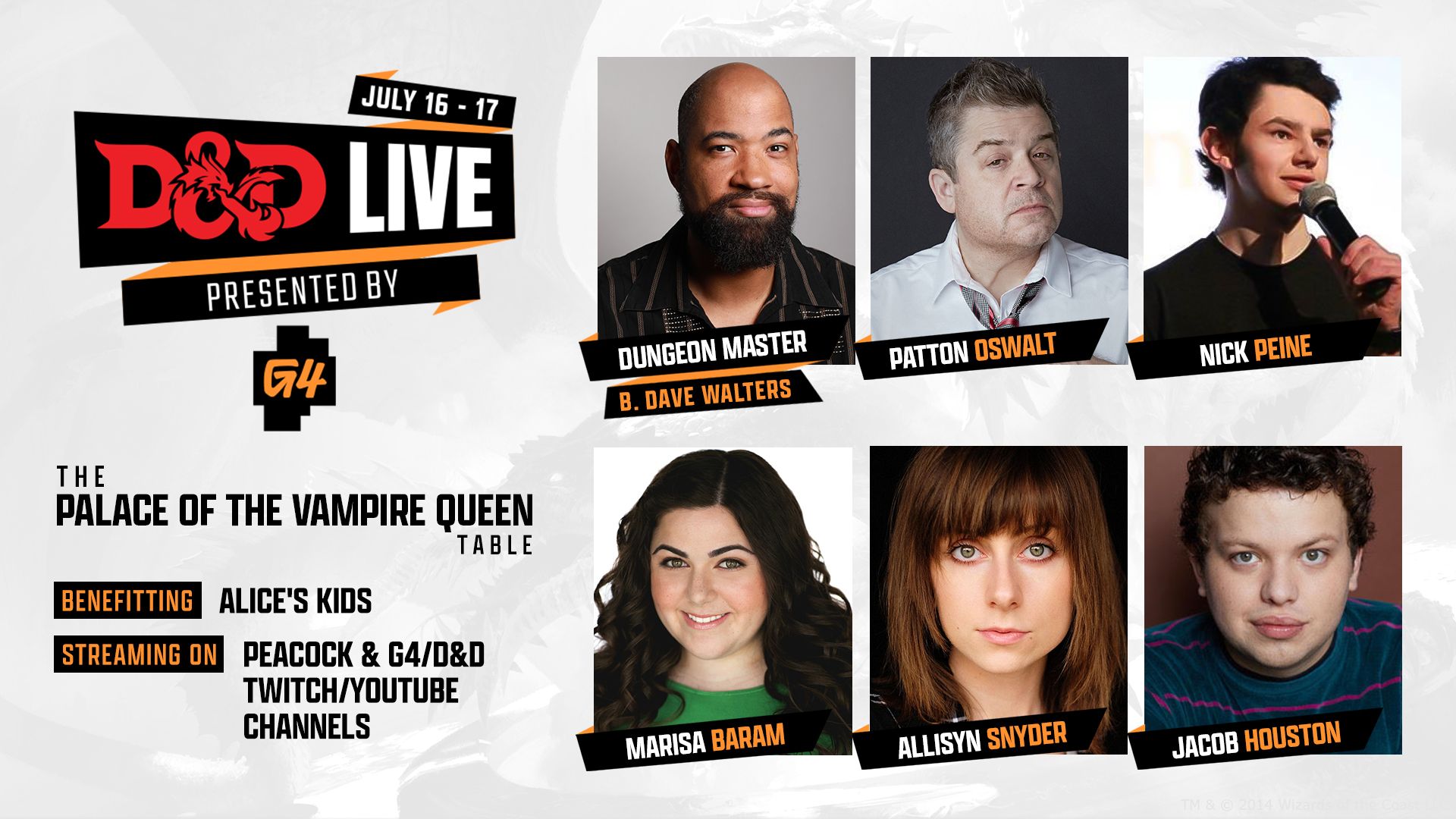 The cast of A.P. Bio joins the fray, guided by the one and only B. Dave Walters, who runs everything from D&D to Vampire: the Masquerade and back again. But can this master of Dungeon Masters wrangle Paton Oswalt, Nick Peine, Marisa Baram, Allisyn Snyder, and Jacob Houston? Almost certainly.
Patton Oswalt: A comedian, actor, writer, and all-around pillar of nerd culture, Oswalt needs no introduction, but he'll still need decent rolls to survive whatever Dave has planned.
Nick Peine: A comedy prodigy famously deemed the best college stand-up in the country, Peine will stress test the theory that the pen is mightier than the sword against dragons with imaginary swords.
Marisa Baram: Can the actress who's appeared on BET's Real Husbands of Hollywood and ABC's How to Get Away with Murder also get away from murderous bands of goblins?
Allisyn Snyder: Along with being an accomplished thespian, Snyder also does trapeze, scuba diving, and roller derby when not in front of the camera. A perfect mix of action and skills that will translate extremely well to the D&D table.
Jacob Houston: Known as the well-spoken comedic relief of the class in A.P. BIO, Houston will hopefully be the relief his fellow players need during this dangerous adventure.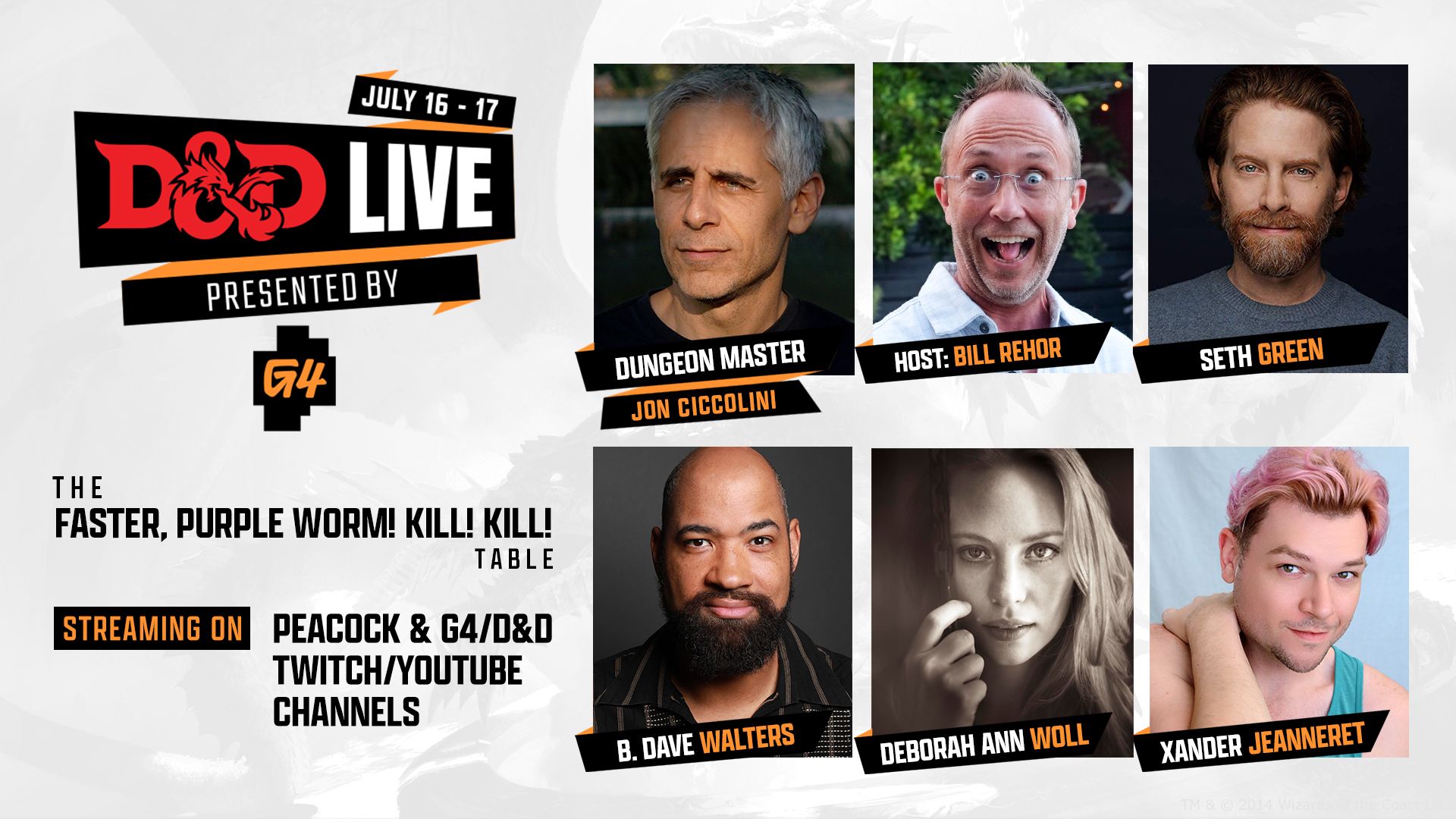 Finally Beadle & Grimms have sponsored a table called Faster, Purple Worm! Kill! Kill! Which gathers together a collection of D&D Live alumnae, including B. Dave Walters, Deborah Ann Woll, Seth Green, Xander Jeanneret, under DM Jon Ciccolini.
Subscribe to our newsletter!
Get Tabletop, RPG & Pop Culture news delivered directly to your inbox.
All of this kicks off this Friday, so be sure and stay tuned for any exciting announcements.
Happy Adventuring!