'Fear Street: Part One' Brings the Screams
Horror isn't just for Halloween – this ode to the 1990s slasher is a perfect way to escape the heat.
The trilogy is based on R.L. Stein's novels about the town of Shadyside – they're closer to Christopher Pike (those adaptations are coming later) than Goosebumps on the scary scale. A group of teens starts digging into the history of the town and find supernatural events and a string of murders that they think are starting to repeat, putting the entire town in danger. Each of the three episodes goes back in time and gets closer to the source of the original horror.
It also looks like each episode is taking on a different genre of horror – starting with the 1990s the rebirth of the slasher and moving through a Friday the 13th style ax murderer and finishing with historical/folk horror.
Part one, set in 1994, is now on Netflix. Even though the song is a year off, the clothing and that beige chunk of a computer are spot-on for the year.
Even though this is Stein, the series is not for younger kids – this is aimed towards adults and older teens that can handle gore and more mature content. Like the stuff they sold at Spencer's Gifts.
Does it look like something I've seen before based on the previews? Yep, but the series does have a modern twist to them that I'm curious about. I'm not going to object to a possibly campy high-production-value horror series with just the right amount of nostalgia. This could be fun and a good way to fill the Stranger Things hole many of our lives.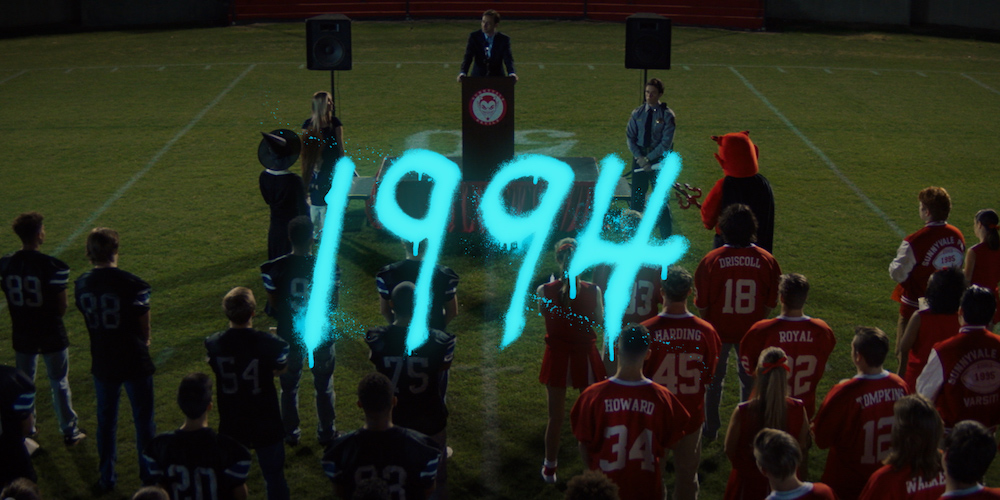 The official synopsis:
Wanna hear a killer story? In 1994, a group of teenagers discovers that the terrifying events that have haunted their town for generations ​may all be connected — and that they may be the next targets. Based on R.L. Stine's best-selling horror series, the trilogy follows the nightmare through Shadyside's sinister history.
Subscribe to our newsletter!
Get Tabletop, RPG & Pop Culture news delivered directly to your inbox.
The cast includes Kiana Madeira (The Flash), Olivia Welch (Panic), Benjamin Flores Jr. (Jurassic World: Camp Cretaceous), Fred Hechinger (The Woman in the Window), and Maya Hawke (Stranger Things). The series is directed by director Leigh Janiak who co-wrote it with Phil Graziadei.
Watch the Fear Street Trilogy on Netflix this month…
Fear Street Part Two: 1978 – July 9
Fear Street Part Three: 1666 – July 16