The 80's D&D Cartoon Returns To Twitch This Friday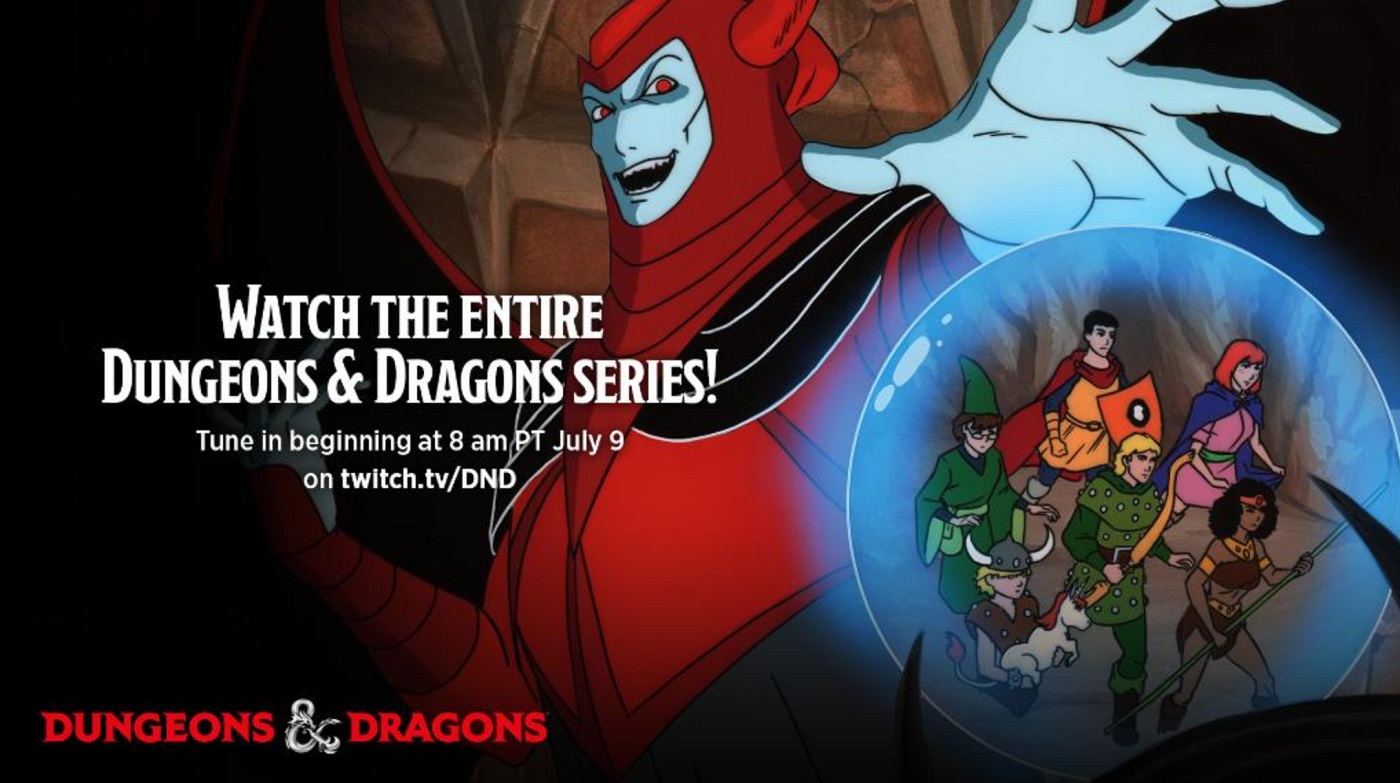 Grab your magic hat, your best friend unicorn, and your sense of adventure as the classic D&D Saturday morning cartoon airs on Twitch later this week!
Saturday Morning Cartoons might be a thing of the past–but that's absolutely perfect if you're riding a wave of nostalgia straight on 'til morning. And to help celebrate the vibrant, all-natural Summer Splash Secret Lair, WotC will be broadcasting the erstwhile D&D Cartoon, resurrected from the depths of the 80's to once again grace the airwaves.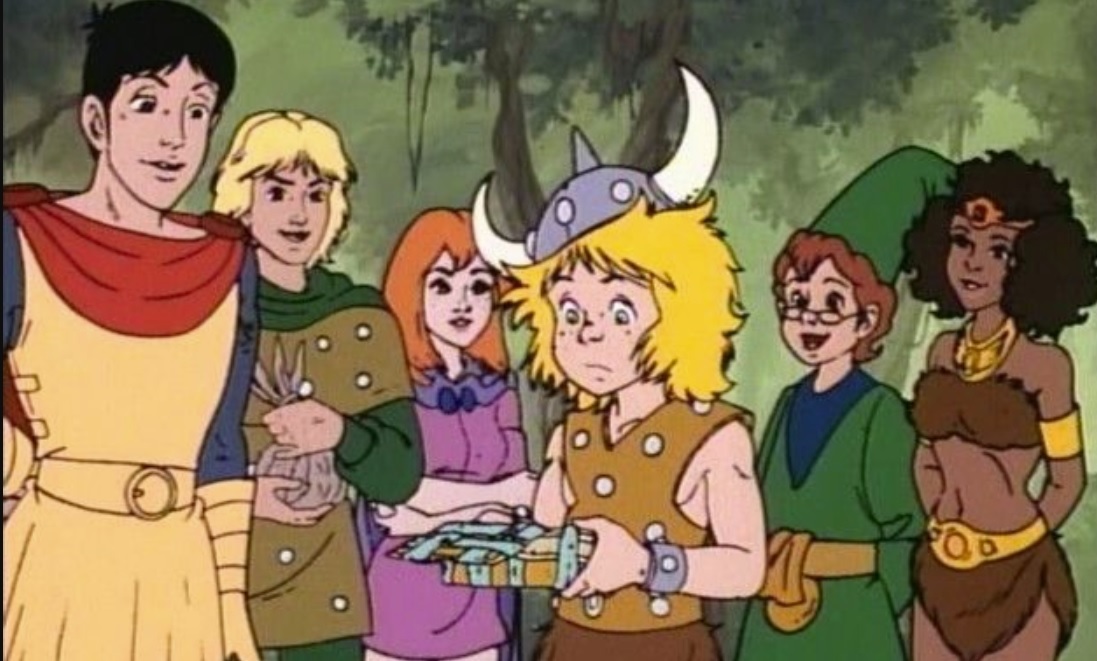 Only now they'll be the digital waves of the D&D Twitch Channel, and instead of Saturday Morning, it'll be starting Friday morning. But, if you get up early enough (8am PT) and with a big enough bowl of cereal, you won't even know the difference. Now's your chance to recapture some of the faded glory of your misspent youth. Which is something you'll be desperately in need of when you realize just how many people were born well after the last Saturday morning cartoons were even still a thing.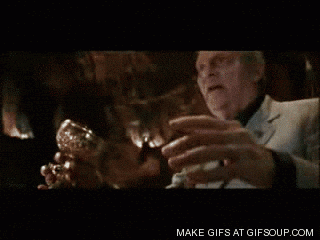 Still, whether you've just crumbled into dust or you're blinking in the haze wondering why everyone's clutching their hips and whispering "what have I done with my life", it's a great chance to catch a classic cartoon the way it was meant to be seen, on your computer/phone/tablet screen open in another window while you try and get the rest of your daily tasks done.
In honor of the Saturday Morning Dungeons & Dragons @MTGSecretLair, we're streaming the complete D&D animated series from the 80s!

Join us on our Twitch channel next Friday, July 9th at 8AM PT!

Learn more about the Saturday Morning D&D Secret Lair: https://t.co/kGvqL7eSc1 pic.twitter.com/U4EgC2I7fV

— Dungeons & Dragons (@Wizards_DnD) July 2, 2021
Subscribe to our newsletter!
Get Tabletop, RPG & Pop Culture news delivered directly to your inbox.
All of this is done in anticipation of the upcoming Saturday Morning Secret Lair Drop–which casts some of your favorite Magic cards in four-color D&D cartoon art: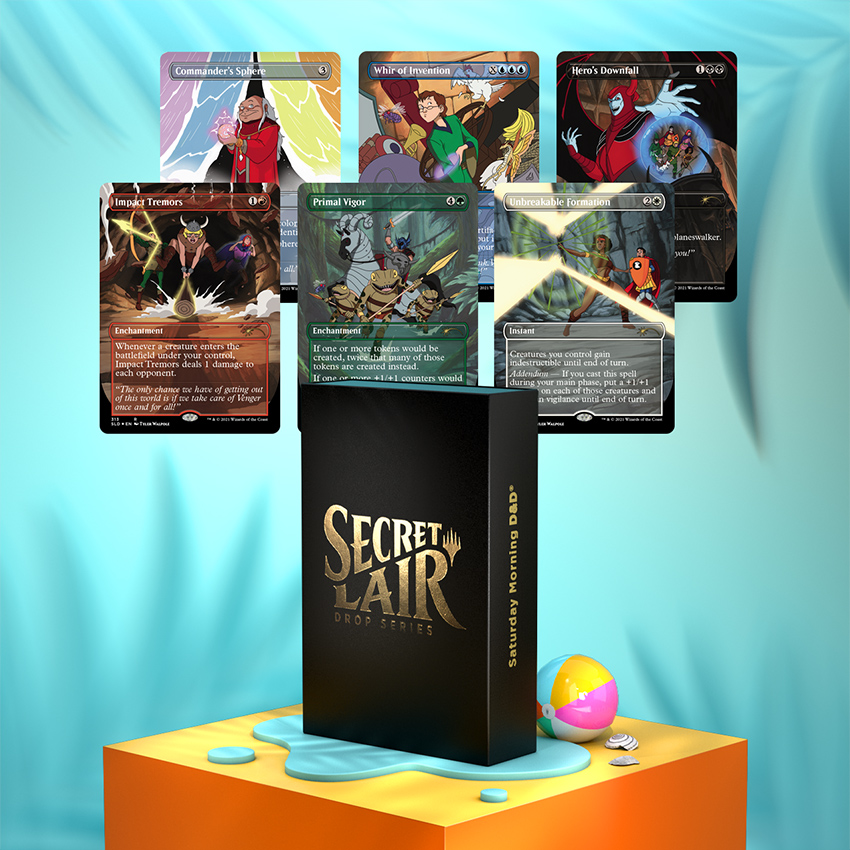 It's 1983. It's Saturday morning. You douse a bowl of sugary cereal with a splash of milk, then run over to the TV. (You try not spill, but you spill a little anyway. Someone else will get that.) After fiddling with the dials, you tune in for the first ever episode of the Dungeons & Dragons TV show. Cartoon scientist and skilled artist Tyler Walpole has successfully distilled that feeling into Magic art. Just look at these things, they're spot on! Whether you're a fan of D&D, a fan of Magic, or just a fan of fun, you'll find what you're looking for in this drop.
1x Borderless Commander's Sphere
1x Borderless Hero's Downfall
1x Borderless Impact Tremors
1x Borderless Primal Vigor
1x Borderless Unbreakable Formation
1x Borderless Whir of Invention
Be sure and catch the stream this Friday!