The Union of America goes to War in Dystopian Wars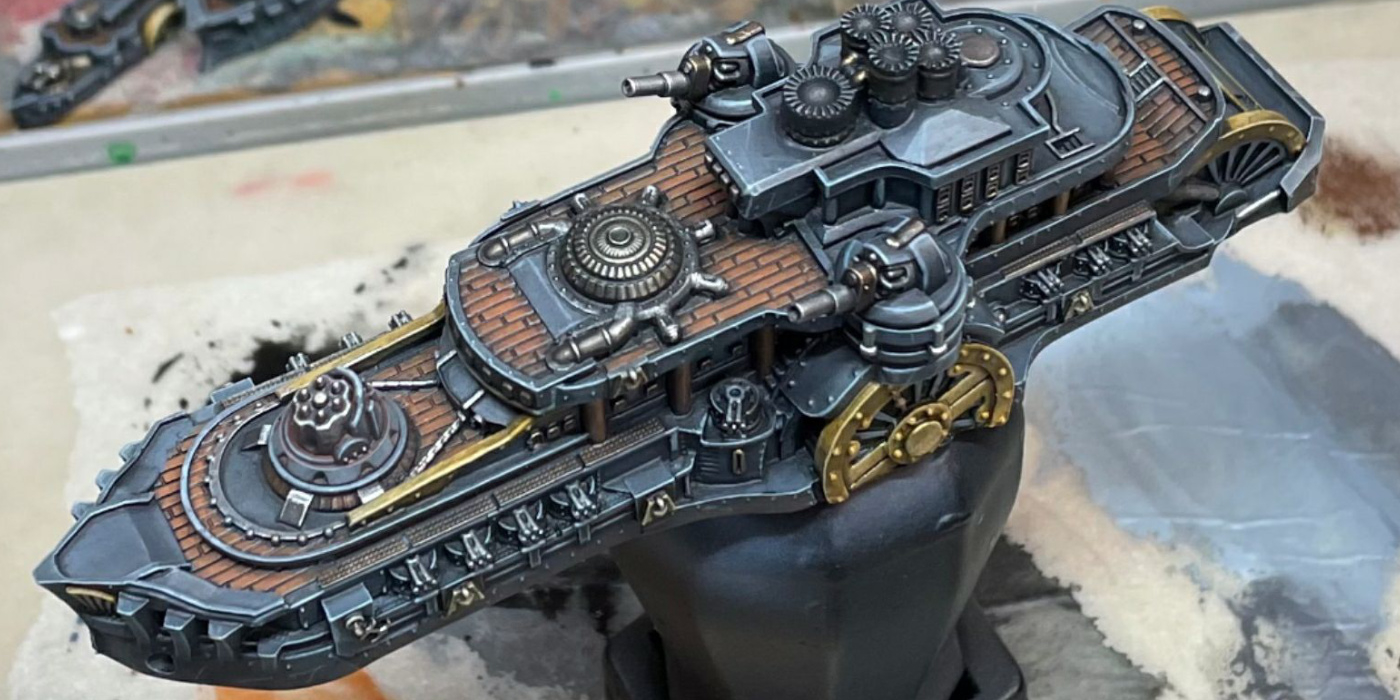 I keep my eyes on many companies and products. Warcradle continues to rock out their new Dystopian Wars and this time, America goes to war.
Okay, they are not called America, but rather the Union. Below is how Warcradle describes the Union faction for Dystopian Wars.
The Union
Tarnished by a recent Civil War and brutalised by the horrific technologies it unleashed to claim victory, the Union is a dark reflection of its former glory. The conquest and subjugation of the former Confederacy and the deeper south, as well as the new opportunities opening in the West stand as grim consolation for the Union's war-wearied soul. The Union cheer the formidable military might their country now wields to ensure that never again will anyone have to pay the brutal price that freedom demands.
Nothing, however, can truly extinguish the fire of the American spirit. Scarred and brutalised by their own experiences, the Union's military industrial complex is well-aware of the depths to which man can fall – the only hope is to be found in having strength and resolution to stand tall in the face of great adversity, whatever the cost.
Quote from the Dystopian Wars Website.
New Ships
These guys certainly have interesting ships. Take a look at some preview pictures from the Warcradle Facebook Page. These are painted by Daz.
It is so interesting to see huge battleships working with paddlewheels. Overall, these ships look really good.
Wrapping it up…
If you have been waiting for an American faction to come into Dystopian Wars before getting involved, now is the time to investigate the game. These new miniatures look great and I am really hoping to see this game do well.
This release brings the count of factions available in Dystopian Wars up to 5 with new miniatures. You can get into the game by buying the two-player starter set or by buying a battlefleet along with a rules box.
If this interests you, check with your favorite retailers or head on over to Wayland Games to give this a look. You can also find the pre-orders for Warcradle Studios page here.
Until next time, Happy Gaming Everyone!!!
Subscribe to our newsletter!
Get Tabletop, RPG & Pop Culture news delivered directly to your inbox.

Read more about great Indie and Historical games on my site!
Must Contain Minis is my personal reviews, showcases, and battle reports website where I look at mostly Indie and Historical Games. If you haven't visited for a while, come on over and check the site out! I've changed the landing page this past week to better share my videos and posts. You can check that out with this link right here. On top of a website, I have my own YouTube channel too!
You can also follow me on Social Media. I am very active on Facebook and share posts of a wide variety. I upload my best pictures to Instagram and am also on Twitter.  
My aim is to promote gaming with companies outside of those that already dominate the gaming market.