Upgrade Your Game Table with Value Packed Terrain from TTCombat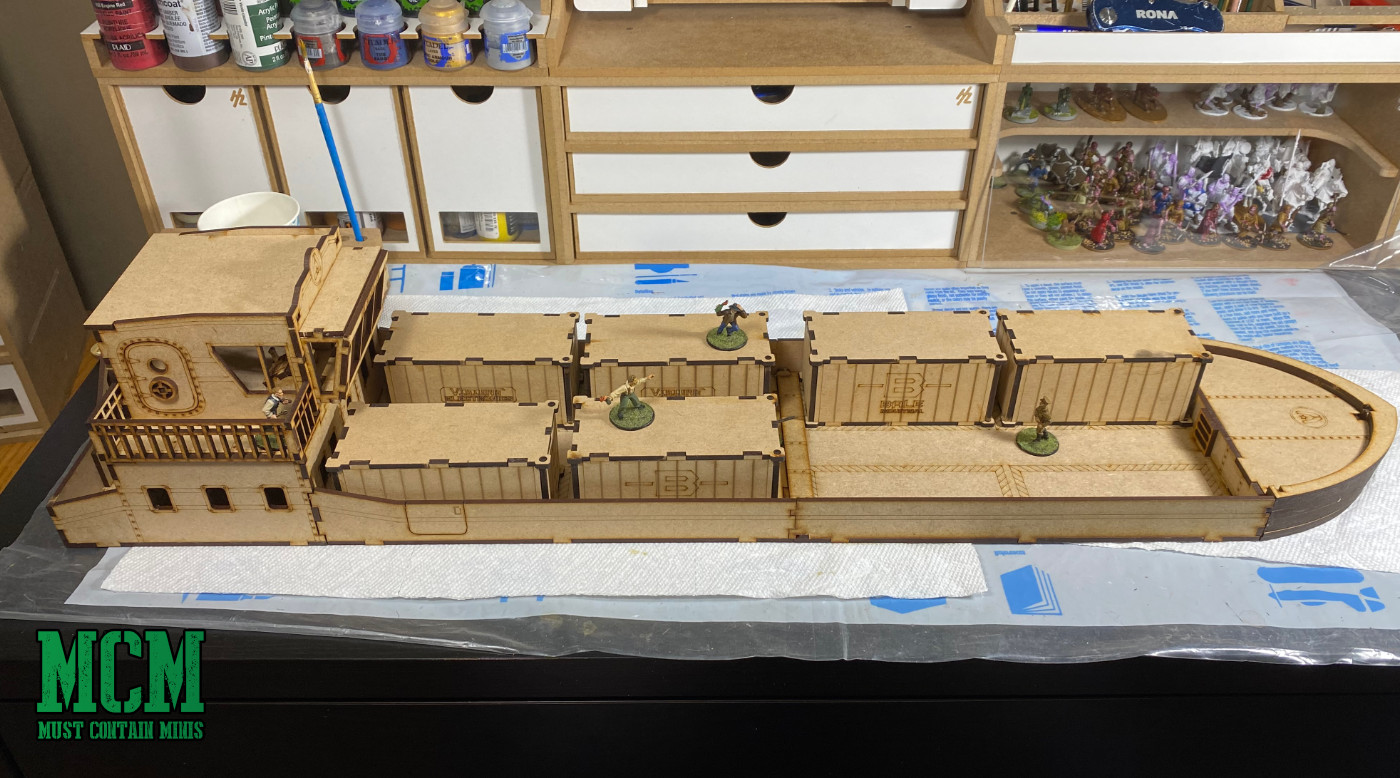 Need to fill a wargaming table with terrain on a budget? Check this laser-cut terrain!
TTCombat has an answer for you! If you haven't heard of this company, they are out of the UK and make MDF Terrain at extremely affordable prices. Look at the terrain in the picture below. This is the MSV Ironsides. In this kit, you can pick up all of this terrain for just $36 USD!
This ship is almost 30″ long by almost 6″ wide. That is a very sizable piece of terrain.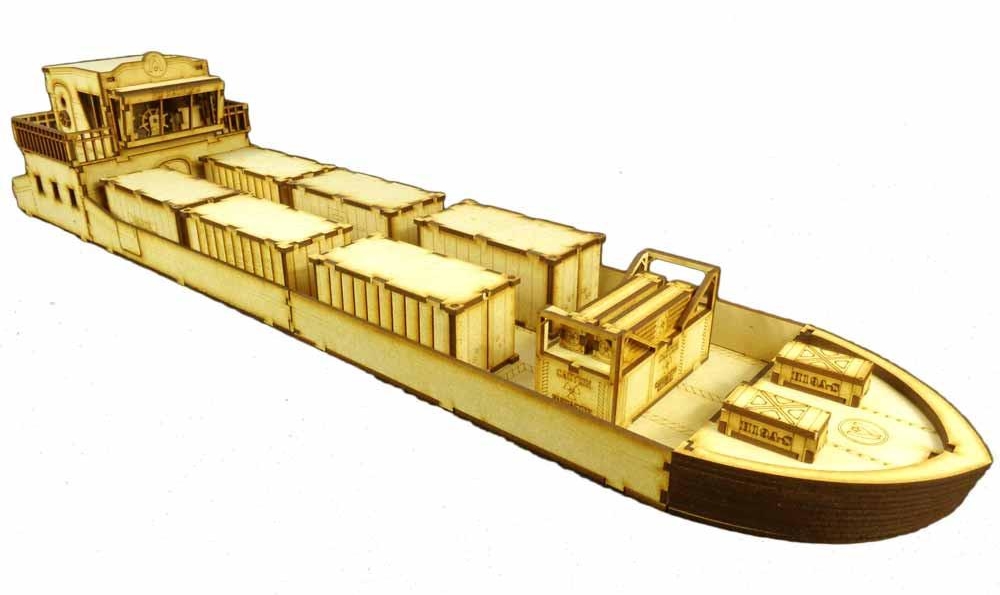 An Alternative Way To Buy
Now, you could also buy the parts individually as I did. To get the contents individually, you would be buying the TTCombat Cargo Ship, its extension, and two sets of intermodal containers. As such, you are looking at roughly $47 USD. That is still a deal compared to other companies for such a large model.
You could buy directly from TTCombat, but I bought from a Canadian Company that does free shipping within North America (for orders over $125 CAD). That company is Cardboard Dungeon Games.
If you like raffles, they are running a contest right now where you can buy tickets for charity and in exchange get a chance to win some prizes, including models by TTCombat. That raffle is open until July 31st and open to residents of both Canada and America.
Scale Comparison to 28mm Miniatures
For an idea of scale, here is that ship with some 28mm WW2 Bolt Action miniatures on it.
A Closer Look
The TTCombat terrain is good for its value. You get a lot of product that looks good for a very affordable price. I found that I had to do a little more filing and cutting than with other brands of MDF Terrain, but TTCombat's prices are hard to beat!
Once I completed the ship, I made it so the top cab is accessible as terrain. I wanted to modify the ship to make it so I could access the interior of the ship below the cab but accidentally glued it down instead. If you are inventive, you could probably make both levels accessible.
For me though, I am happy with what I have.
The Containers
Those containers on that ship come in at under $3 USD each. That is incredible!!! For just over $16 USD I was able to obtain six of those containers by buying two packs of the Intermodal Containers.
Subscribe to our newsletter!
Get Tabletop, RPG & Pop Culture news delivered directly to your inbox.
Now, if you want to learn more about these containers, I have a written review over on my personal website.
I also have a video review that I made of them over on YouTube too. If the embedded video below does not work, here is a direct link to the video for you to follow.
The video itself is very short, but well worth a watch if you want to see the quality of TTCombat terrain components. I also talked a little bit about what I learned about the kit while building the models.
Wrapping it up…
For their price, TTCombat is hard to beat. Considering what they sell their terrain for and what you get, their kits are packed with value. If you look around, you should be able to find this ship in this post for just $36 to $47 USD depending on whether you buy it as a kit or individual model sets.
On top of this ship, TTCombat makes a huge variety of terrain at extremely good prices. If you are open to building MDF kits, it is well worth checking out their prices on their UK website, or where you normally pick up your gaming supplies.
If you don't have your own preferred place to pick up TTCombat products, there is an online store in Canada (priced in Canadian Dollars) that will ship orders of $125 or more for free within North America. That company is Cardboard Dungeon Games.
That also happens to be where I bought my TTCombat terrain from.
Until next time, Happy Gaming Everyone!!!

Read more about great Indie and Historical games on my site!
Must Contain Minis is my personal reviews, showcases, and battle reports website where I look at mostly Indie and Historical Games. If you haven't visited for a while, come on over and check the site out! You can visit it with this link right here. On top of a website, I also run own YouTube channel!
You can also follow me on Social Media. I am very active on Facebook and share posts of a wide variety. I upload my best pictures to Instagram and am also on Twitter.