Gloomhaven creator cuts ties with The Broken Token after a former employee accuses the CEO of "five years of sexual, mental, and emotional abuse."
Content Warning: Discussion of sexual assault, emotional manipulation, harassment, and stalking.
The Broken Token is the company that makes organizational inserts for board games and other accessories. Late last week, former employee, Ashley Taylor, wrote a Medium article titled "Speaking up to Protect Others." In the piece, she accuses Greg Spence, the CEO of The Broken Token, of years of abuse that continued after she left the company. It's a powerful piece and one worth reading. It only takes a few minutes.
In short, Taylor tells the story of how she met Spence, how they would travel together, and how he would repeatedly attempt to pursue a relationship with her despite her not reciprocating his feelings.
"When I did not reciprocate the same feelings, he got upset and clearly agitated. He then angrily accused me of embarrassing him. […] It was at this time that I quickly learned I had to keep him happy in order to keep my job."
She did leave that job for another, but the gaming world is small.
"I finally found a job at an amazing company that took me in. […] I was finally free from his grasp, or so I thought. I attended GAMA [a game manufacturer's convention] a few years in a row and each show he would stalk me at my booth."
Taylor mentions the reason she has chosen to speak up now is after hearing the same was happening to another woman.
"Then it happened… my worst nightmare came true and it happened to another woman. I am still devastated to this day that I didn't come forward sooner to prevent this. So this is what I am doing now."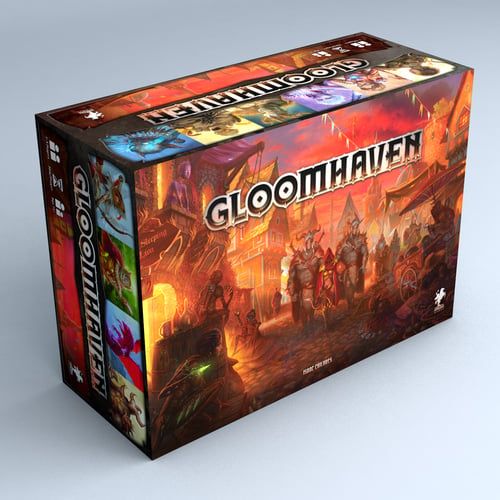 In light of the Medium piece, Isaac Childres of Cephalofair, makers of Gloomhaven, had this to say in a tweet.
Sexual assault and harassment has no place in this industry, and Cephalofair Games is committed to making it safe for everyone. We're exploring options regarding the inserts sold during the Frosthaven KS (as well as other Broken Token obligations), and we'll have more news soon.

— Isaac Childres (@Cephalofair) August 19, 2021
Similarly, Evil Hat Productions, makers of RPG systems like Fate, Monster of the Week, and my personal favorite, Thirsty Sword Lesbians, tweeted about the allegations as well.
In light of recent developments, we are terminating our business relationship with Broken Token and given notice that they are to stop selling their products designed for the Dresden Files Coop Card Game.

— Evil Hat Productions (@EvilHatOfficial) August 19, 2021
The two were joined by more companies, including Grey Fox (makers of Bushido and The World of Midgard), Greater Than Games, and others.
Grey Fox Games supports women in the board game space and takes accusations of abuse very seriously. We are ending our relationship with Broken Token and they will no longer be creating licensed products for our games.

— GreyFoxGames (@GreyFoxGames) August 19, 2021
Our team has become aware of the allegations made against Greg Spence (CEO of Broken Token) just this afternoon. We have a zero tolerance policy for harassment and are extremely disturbed by this news. We are currently looking into this to determine our next steps.

— Bezier Games (@beziergames) August 19, 2021
Greater Than Games has sent notice of termination of its license agreement with Broken Token effective as soon as legally possible.

— Greater Than Games (@GTGamesLLC) August 20, 2021
We here at Arcane Wonders have just learned of the disturbing allegations made against the CEO of Broken Token. This is not acceptable behavior within our industry or anywhere else. We have worked with BT in the past, but will not support them in light of this news.

— 🐲Arcane Wonders🎲 (@ArcaneWonders) August 19, 2021
Spence has denied the allegations in a series of tweets, starting with a letter.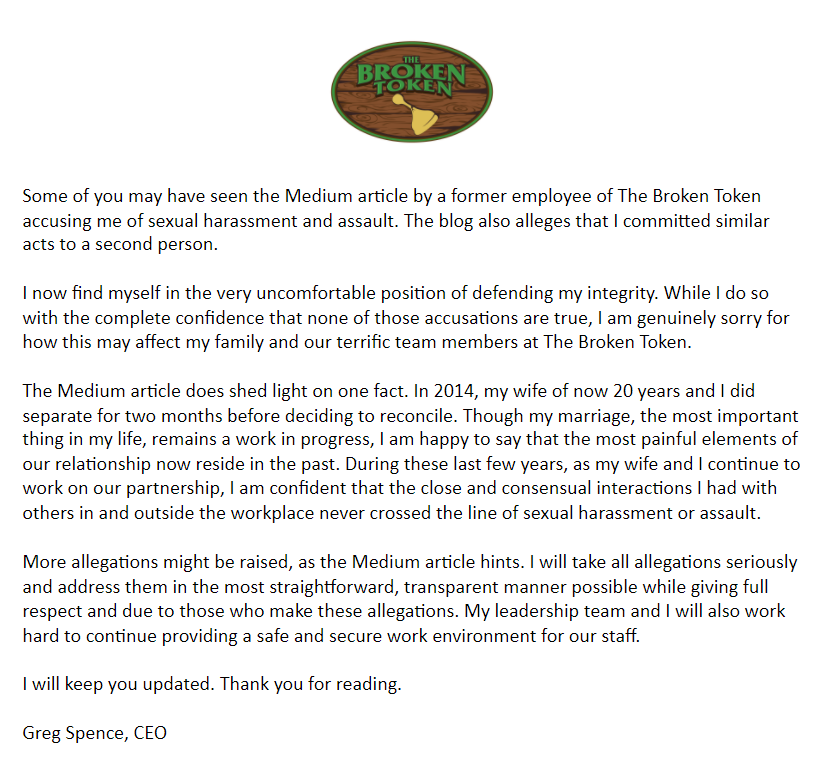 Which are reiterated in later tweets, specifically denying the allegations.
I now find myself in the very uncomfortable position of defending my integrity. While I do so with the complete confidence that none of those accusations are true, I am genuinely sorry for how this may affect my family and our terrific team members at The Broken Token.

— The Broken Token (@tbt_gaming) August 20, 2021
But goes on to remark some "close and consensual interactions" did take place "in and outside the workplace."
During these last few years, as my wife and I continue to work on our partnership, I am confident that the close and consensual interactions I had with others in and outside the workplace never crossed the line of sexual harassment or assault.

— The Broken Token (@tbt_gaming) August 20, 2021
As of press time,  the community has come out in support of Ashley Taylor on social media , and many have expressed the desire to have Spence removed so that the company can continue without him.
More as this story developments.