Kickstarter Round-Up: Rat Hordes, Bite Sized Adventures, and a Dog Called Murder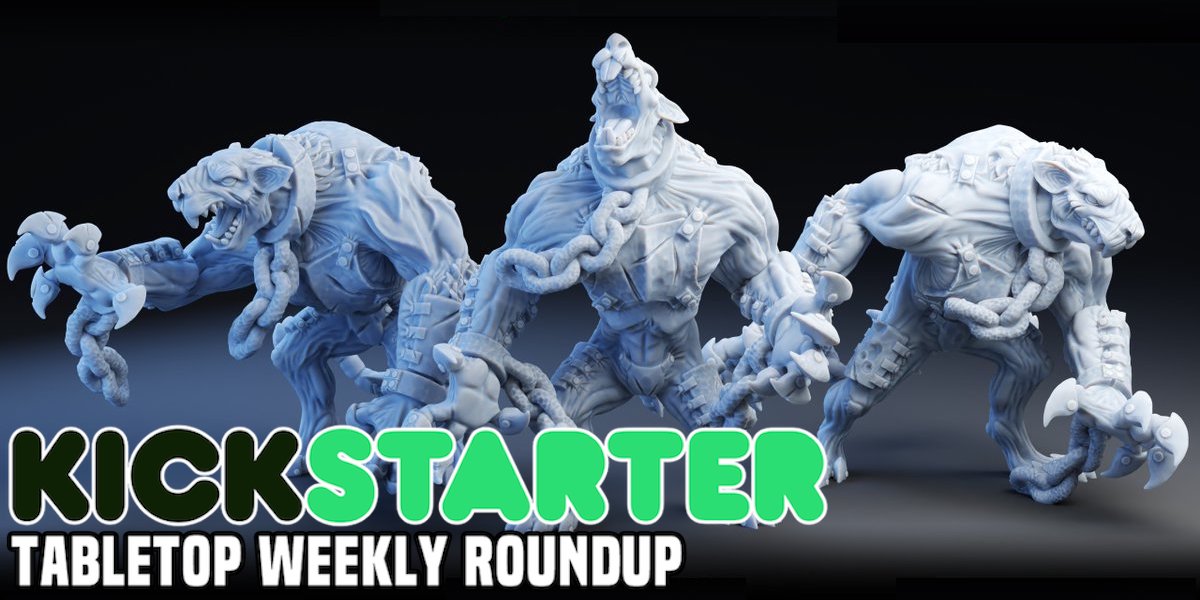 Come check out this week's batch of Kickstarter and crowdfunding highlights!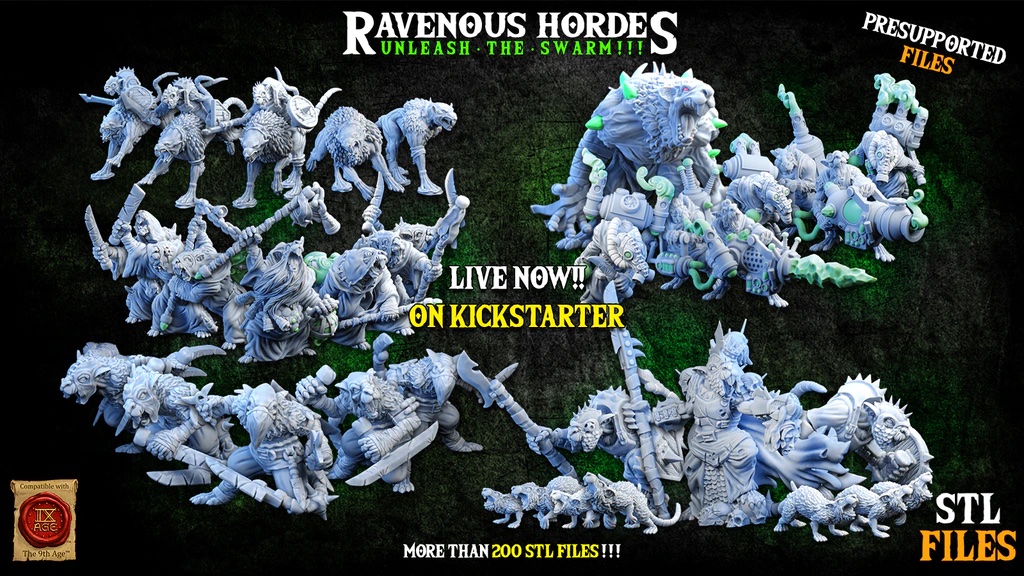 Six Factions are part of the Ravenous Hordes. Each one is a themed group of miniatures that will let you to customize your ratmen army, complete it or even make a whole army combining all of them. Factions include:
The Infinite Legions
Unchained Ones
Black Claw Clan
Technomancer's Guild
The 13 Tales
Plus spells, scenery, battle effects, props, and more
(This week's header image is from this campaign.)
Pledges start at $54 for an all in bundle.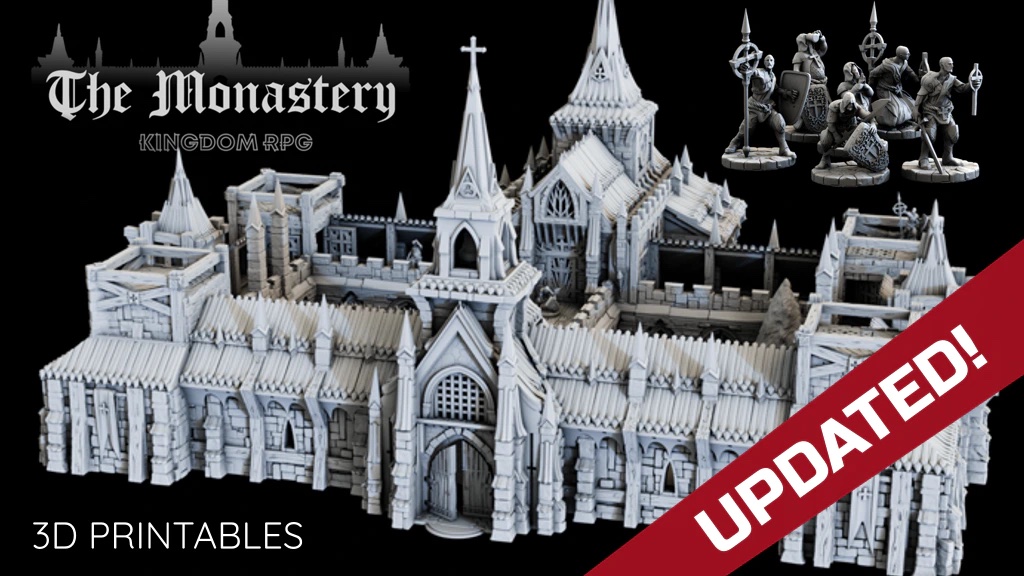 After months of hard work, we've created a 3D printable medieval monastery set with modular and customizable buildings and bonus character miniatures, compatible with 28mm tabletop RPGs. Build your own campaign, and make different combinations every time you play. Explore the cathedral kept by an old order of monks.. and the secrets within!
The project includes all the buildings… and characters, in downloadable digital STL files. Most building models are to be printed without the use of supports. We've planned a lot of awesome stretch goals, which we will hopefully achieve! Join our adventure in the depths of The Monastery!
Pledges start at $39 for the base kit.

Hello my name's Tim and I am hoping to raise funds to write and create a compendium of story frameworks to be used within fantasy based tabletop RPG games. These materials are intended to be used by DMs who have existing fantasy based campaigns ongoing. The hope is they act as a lifeline if there is a slowdown in the pace of the campaign or if the DM has hit a wall in story development and perhaps needs to bide for some time.
Subscribe to our newsletter!
Get Tabletop, RPG & Pop Culture news delivered directly to your inbox.
I provide a framework of an event and it's the responsibility of the DM to assign appropriate NPCs and locations that align with the mini adventures to integrate the stories within their world. I will format the adventures in this "ambiguous" way in order to make it easier for anyone to integrate and scale the event regardless of factors such as player level, location and even game system.
This compendium will include 10 short adventure frameworks and 10 single encounter frameworks.
Pledges start at $4 for a PDF.

Milhouette is a party game where you can freely tell fortunes using three cards. Tarot is the most famous form of fortune telling, but this is different from ordinary tarot cards. There are many silhouettes drawn on the cards, more than 60 unique cards, from angels and witches that may be related to fortune-telling, to unusual ones like shrimps and glasses. You can do funny fortune-telling with everyone, or you can discuss serious problems. Anyone can easily become a fortune teller.
Pledges start at $21 for a set of cards.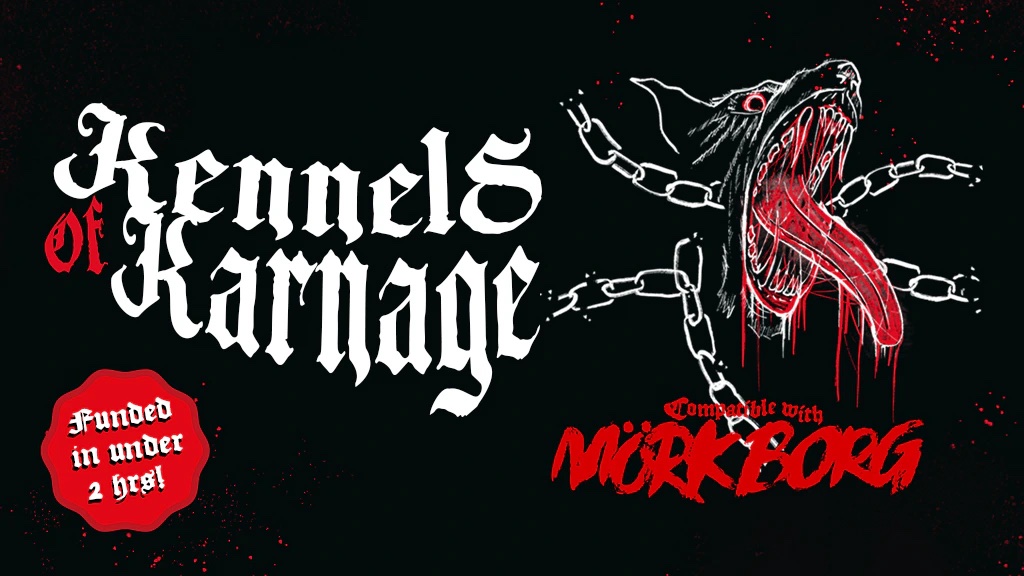 Kennels of Karnage will send the PCs to a dungeon in an abandoned Outpost Castle from a long lost war, to rescue the grand duke Death of Galgenbeck's dog, called Murder. The reward is high and the risk is even greater. 
Kennels of Karnage's 18 pages includes:
7 NEW Creatures. – to die for!
3 NEW Cursed Artifacts.
1 NEW Class –

THE HOUND MASTER

.
10 Rooms to explore in a brutal dungeon filled with traps.
Tons of random loot and random events. 
A map for the PCs and the GM.
Run it straight from the zine, limited preparation is needed.
Pledges start at $7 for a PDF.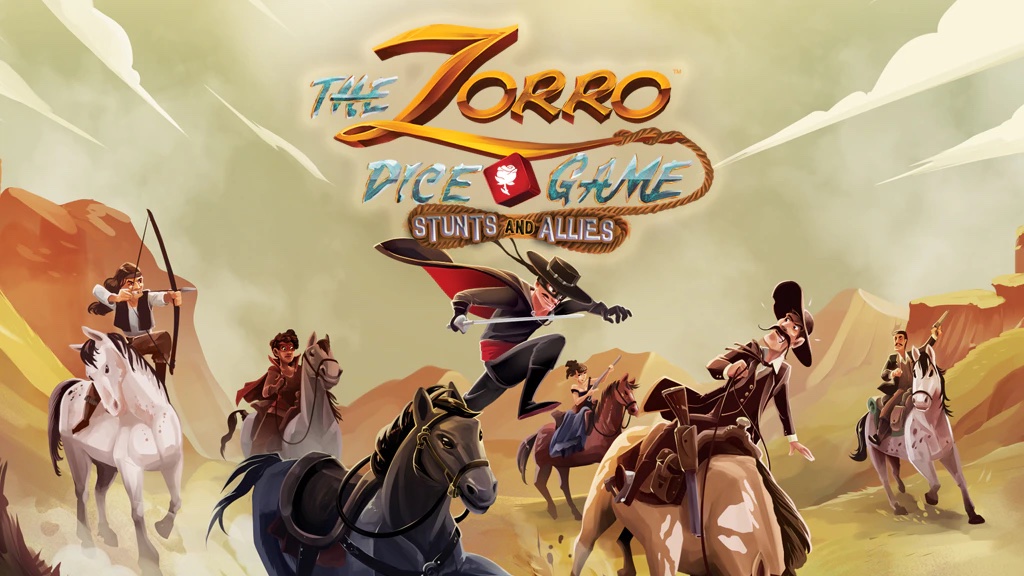 This expansion to The Zorro Dice Game gives each player an Ally, who will level up throughout the game, providing your hero with special abilities and a subtle catch-up mechanic. If your Ally reaches its max level, you will unlock your own, personal Ally Die as well. But each Ally has a weakness that you have to mitigate as you fight Scoundrels and Villains, which increases the difficulty of the game overall.
Stunt Tokens were added as well, which offer additional opportunities for mid-turn tactics, like switching Heroic Feats or re-rolling dice. Lastly, it will add more Equipment, Scoundrels, and Villains to the base game as well for additional replayability and more combos to try in your overall strategy.
Pledges start at $19 for the expansion.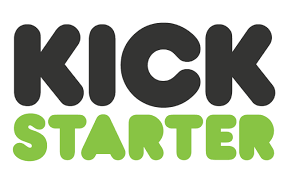 ~Which Of These Campaigns Caught Your Attention?