The latest previews from Strixhaven: Curriculum of Chaos reveal you can look forward to going to magic school, being an owl, and getting a job.
Ahead of the D&D Celebration event (happening right now on Twitch) Wizards of the Coast released a number of previews for the upcoming Magic: the Gathering crossover book, Strixhaven: Curriculum of Chaos. Strixhaven will bring players into the prestigious magical school that gives the Magic set its name, where they can join one of five magical houses, and, according to these previews, do all sorts of things that you could only dream of doing in a D&D campaign, like getting a job or making a friend.
Check it out.
The Owlin race is officially coming to Strixhaven: A Curriculum of Chaos!!!

Thank you @Wizards_DnD for giving me this preview!

If you were an Owlin, what name would you give yourself?#DnDCelebration #DnD pic.twitter.com/7lzbOYed16

— LadyLavinias (@LadyLavinias) September 22, 2021
Perhaps the biggest reveal is that the Owlin race, previously the Owlfolk race from the Feywild themed Unearthed Arcana, have found themselves a home in Strixhaven, which makes sense. You know, because it's Strix-haven. But at long last, you'll have yet another race of bird person to pick from.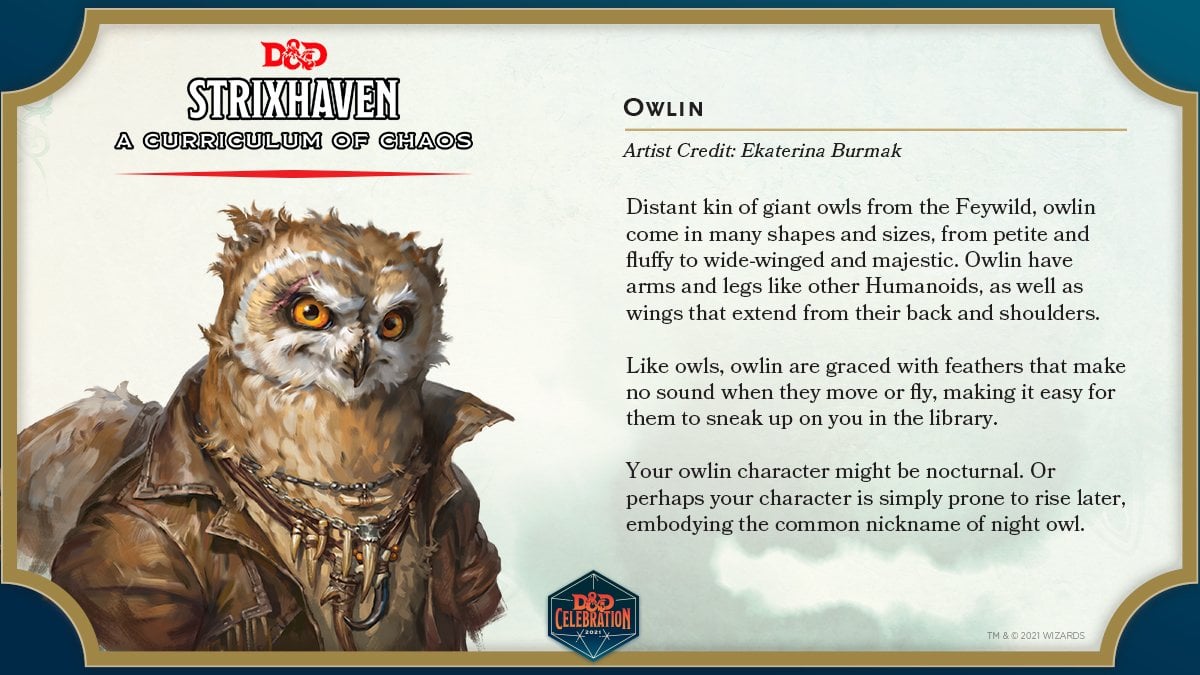 Graced with stealthy feathers and majestic wings, you can probably get a good idea of what these owlfolk bring to the table from the Unearthed Arcana. Expect either innate proficiency with Stealth (or perhaps a bonus) and a fly speed of 30 feet as well as bonuses to perception.
Owlin join Aarakocra and Kenku, but WotC official still has nothing on Humblewood.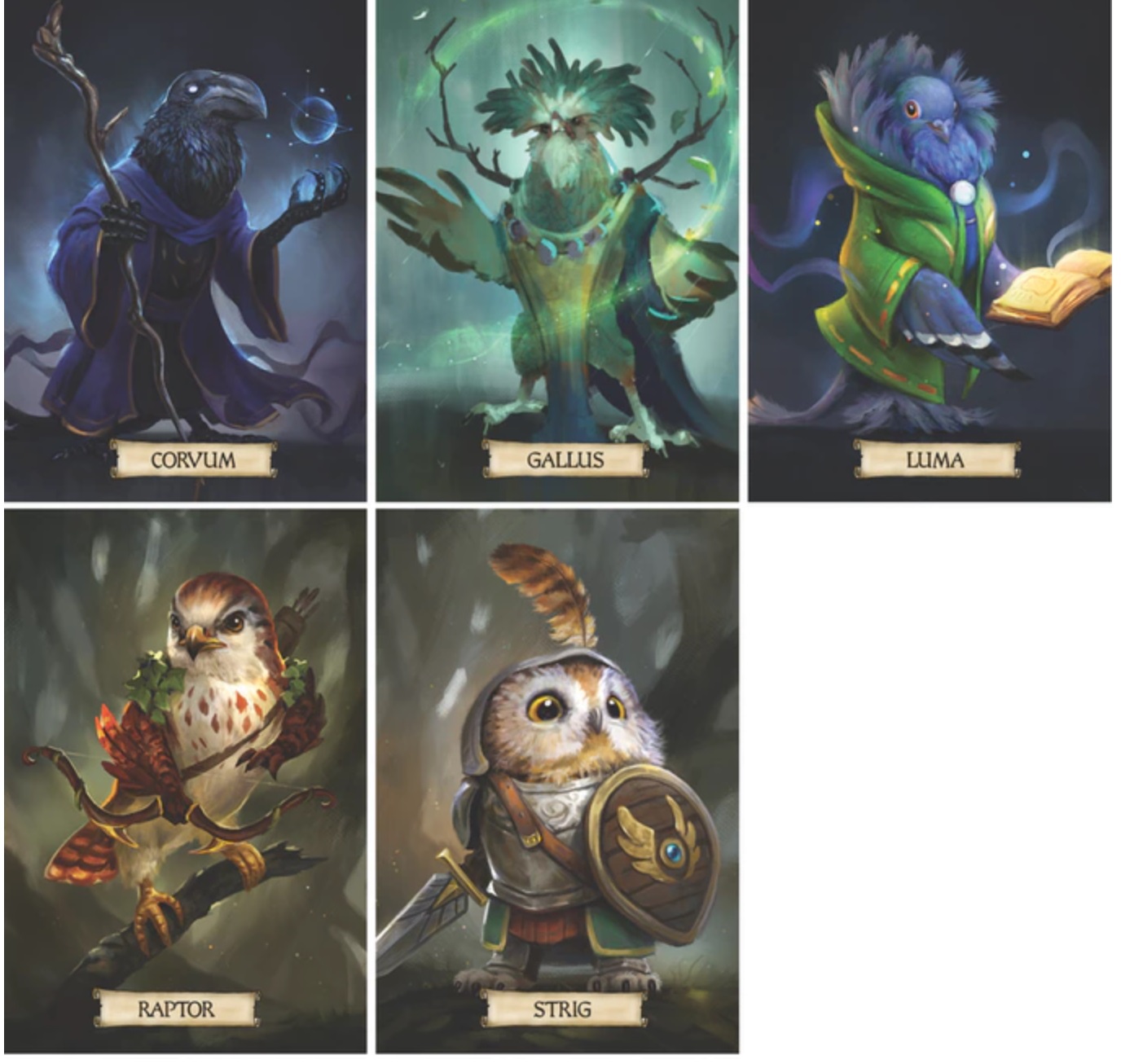 But we all know that the only way to get through school is to work hard, keep your nose to the grindstone, and work not just on your studies but as an actual job as well:
My birthday is today, #dndcelebration is tomorrow, and @Wizards_DnD sent me this super cool birthday preview of Strixhaven!

Now that everyone in school has a job, you can all get me a gift too! And why not go ahead and pre-order a copy of Strixhaven!
[https://t.co/XSC7nRYFmo] pic.twitter.com/HildrDnKOi

— unMadeGaming (@unMadeGaming) September 22, 2021
Of course if you actually want to get ahead, you've got to take advantage of the extracurricular activities so you can really spread your wings (literal or metaphorical) and meet people who will go on to run the tech startups that you can skip over the list of qualified candidates to get a job at.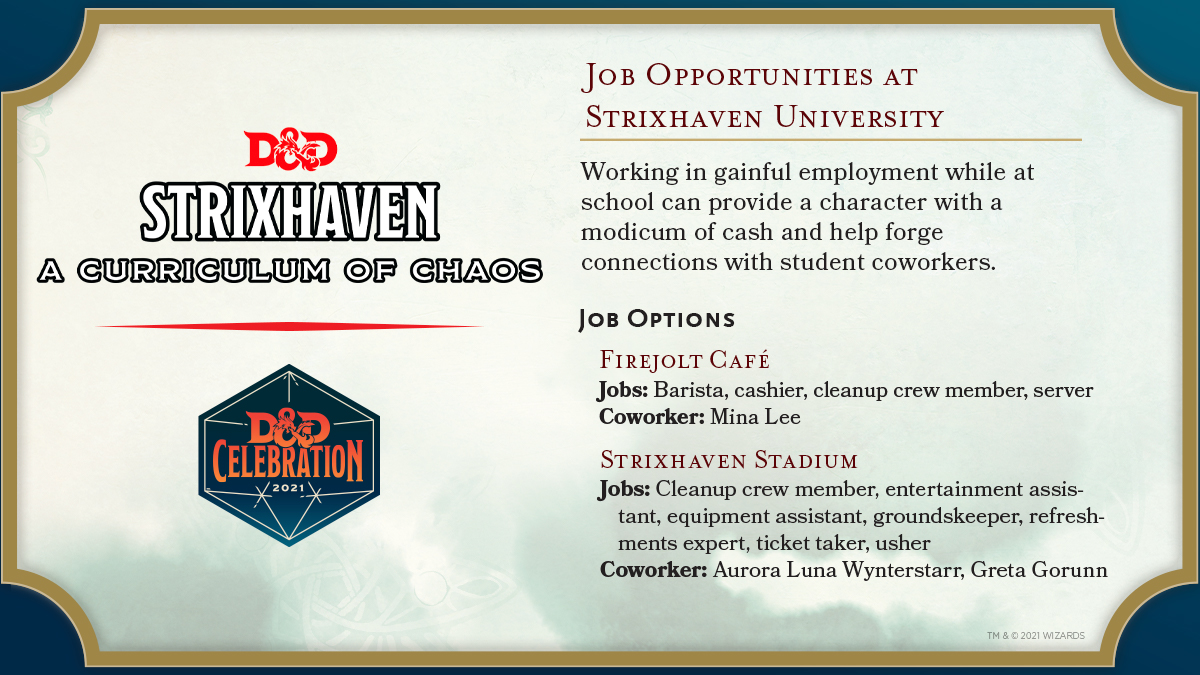 And connections is what it's all about. Check out this preview which talks about making friends with your fellow students. This part seems like a real neat mechanic. In Wild Beyond the Witchlight we got a glimpse of what a more roleplay-focused WotC book could be like. Strixhaven seems to lean into it even more, giving DMs tools for running with fleshed out NPCs to set your players loose on.
Here is my preview for Strixhaven: A Curriculum of Chaos!

Thanks so much @Wizards_DnD for letting me share this!

Which extracurricular activity would you join? 🤔 #DnDCelebration #DnD pic.twitter.com/9NxGYic4B7

— Voxy (@VoxyTwitch) September 22, 2021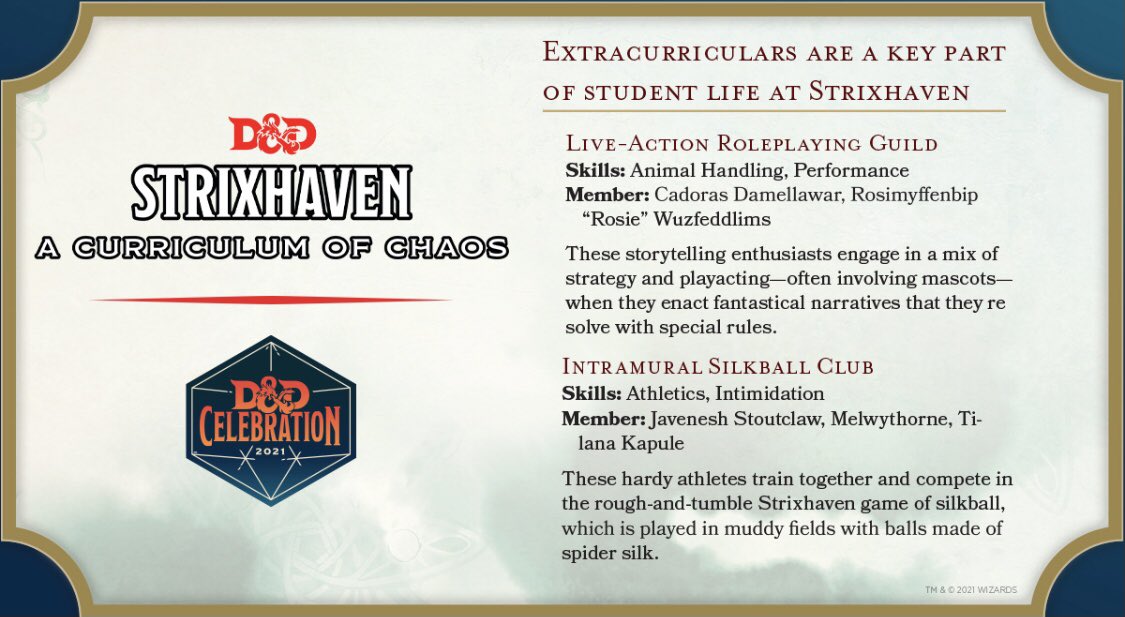 We also got a look at what every good campus needs, a helpful map to tell you where everything is.
i'm super excited to be sharing a preview of the new d&d strixhaven expansion with you all, thank you so much to wizards for sending me this!! 💚

here's the campus map for my house, witherbloom! can't wait to make adventures here ~

🌿 #dndcelebration pic.twitter.com/YtgGrw29FF

— LIVE • harley ❤️ (@breadwitchery) September 22, 2021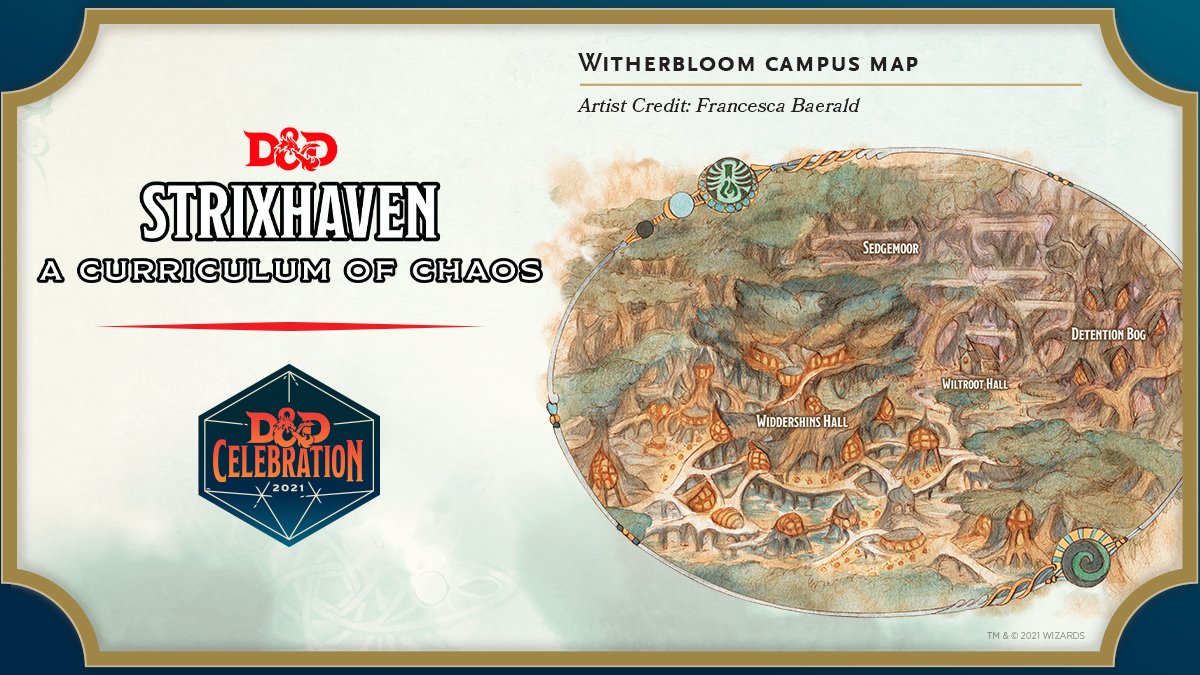 Finally each of the houses has a special Mascot, available to characters who decide to choose the Strixhaven Mascot feat (you have to be level 4). You gain the ability to cast find familiar with your familiar taking on the shape of your house's mascot.
Lorehold has a Spirit Statue. Prismari has an Art Elemental Mascot.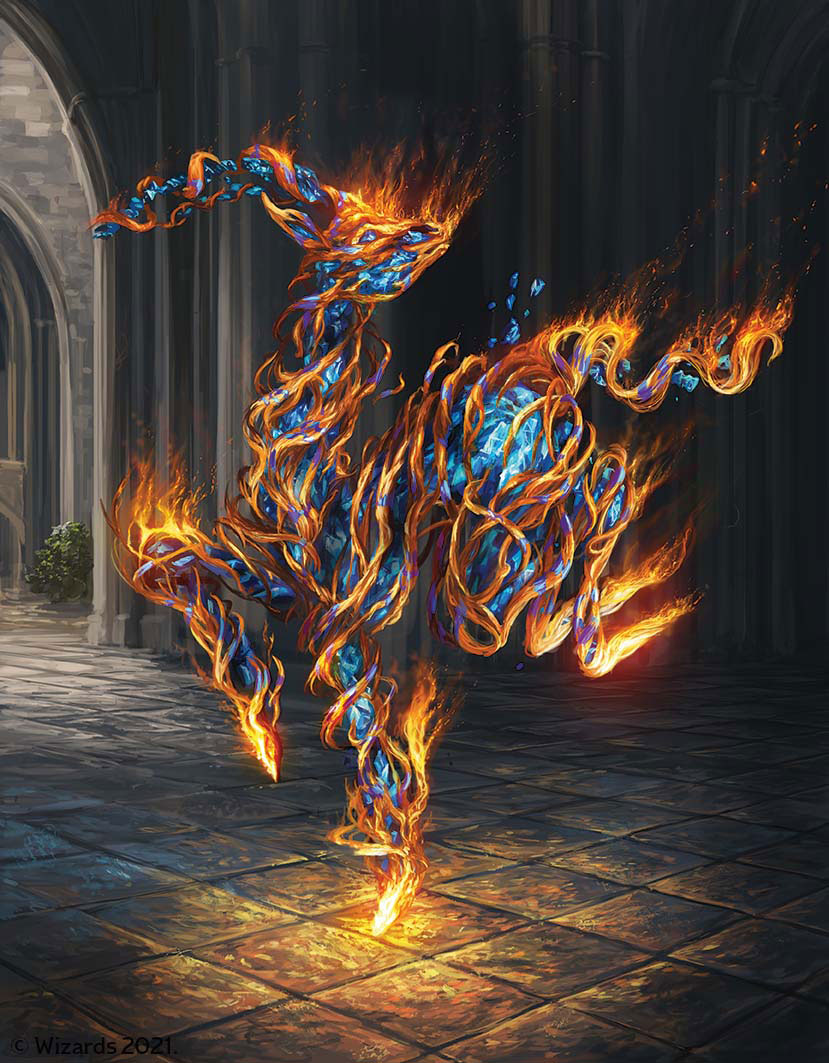 Quandrix proves that they're the ultimate nerves by having a math equation for a mascot with the Fractal Mascot. Silverquill has the Inkling mascot, meaning you have a use for those inkling tokens.
And Witherbloom has a pest.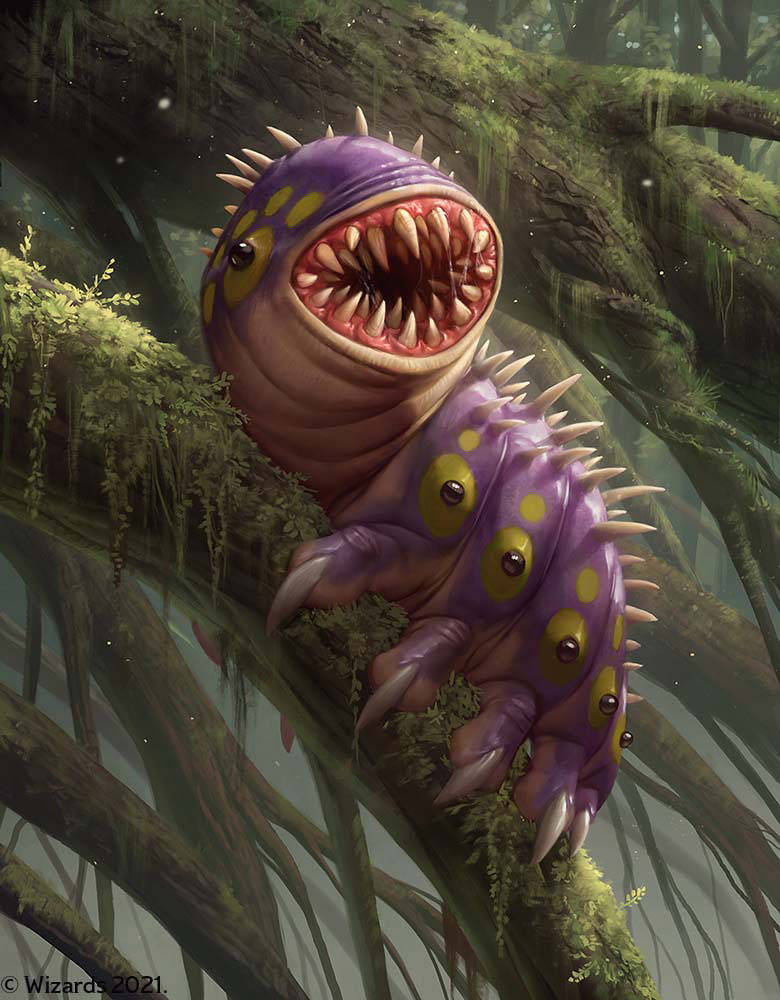 You'll have the chance to meet these mascots in the early days of adventure, which teaches you Strixhaven's version of a magical sport where you steal a mascot and take it to one side of a field. No word on what happens if you catch the Golden Snitch, though. But if you take the special feat, you gain the ability to give an Attack action to your mascot (it uses a reaction to do something) as well as swapping places with the mascot if it's within 60 ft. of you.
All of this awaits you in Strixhaven: Curriculum of Chaos due out November 16th.
Happy Adventuring!