'Star Trek' Adventures – First Trailer for 'Picard', 'Prodigy', and Meet the 'Strange New Worlds' Crew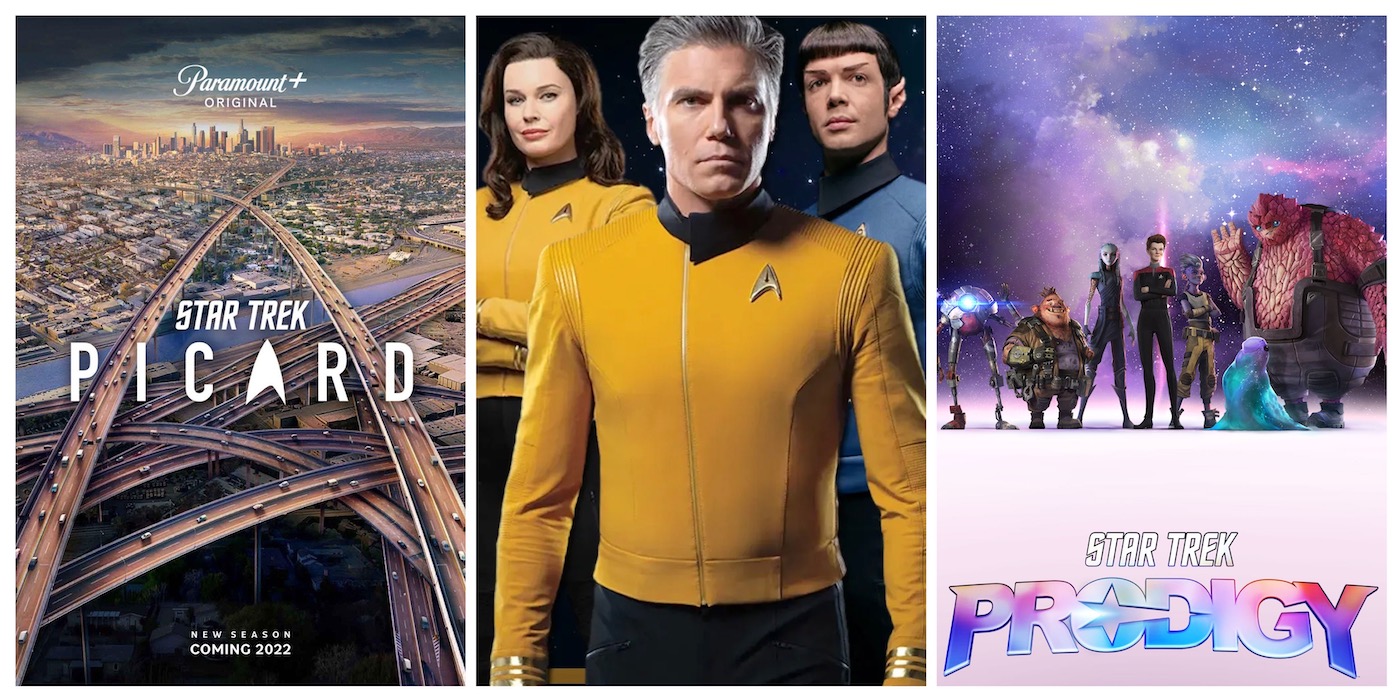 New trailers for Picard, Strange New Worlds, and Prodigy are here – the upcoming months are going to be filled with new Star Fleet adventures!
Picard Season 2 – February 2022
The first season brought back favorite characters from TNG, this new season is no different. Picard and Q last met in the final episode of TNG, which focused on three points in time – the present, the first mission of USS Enterprise-D seven years earlier, and twenty-five years into the future when Picard has retired to his vineyard in France. Picard randomly jumps through each point throughout the episode – at the whim of Q, who is testing him.
The new season presents a new time challenge from Q that will have the Starfleet Captain and his crew racing to save the future.
Strange New Worlds – Later This Year
Producer Akiva Goldman confirmed to Variety that the show will be returning to the franchise's episodic roots.
"There's a great thing that episodic television does, and 'Star Trek' did it greater than most, which is to teach while, as my late wife would have said, sugaring the pill, not letting the audience know that what we're doing is telling a story with a moral. 'Star Trek' came, not incidentally, in the late '60s, at a time where we could really have used a lens on our behavior, our society, our hopes for the future and the present we were living in. It's not particularly different today, sadly."
The show's captain (Anson Mount as Pike), first officer (Rebecca Romijn as Number One), and science officer (Ethan Peck as Spok) have been introduced. Meet the rest of the Enterprise crew – Celia Rose Gooding as Cadet Nyota Uhura, Jess Bush as Nurse Christine Chapel, and Babs Olusanmokun as Dr. M'Benga.
Prodigy – October 28th
The new animated series aims to bring Trek to a new generation of fans.
Subscribe to our newsletter!
Get Tabletop, RPG & Pop Culture news delivered directly to your inbox.
The CG-animated series STAR TREK: PRODIGY is the first "Star Trek" series aimed at younger audiences and will follow a motley crew of young aliens who must figure out how to work together while navigating a greater galaxy, in search for a better future. These six young outcasts know nothing about the ship they have commandeered – a first in the history of the Star Trek Franchise – but over the course of their adventures together, they will each be introduced to Starfleet and the ideals it represents.