The Largest Dystopian Wars Ship Yet – The Ice Maiden Takes to the Seas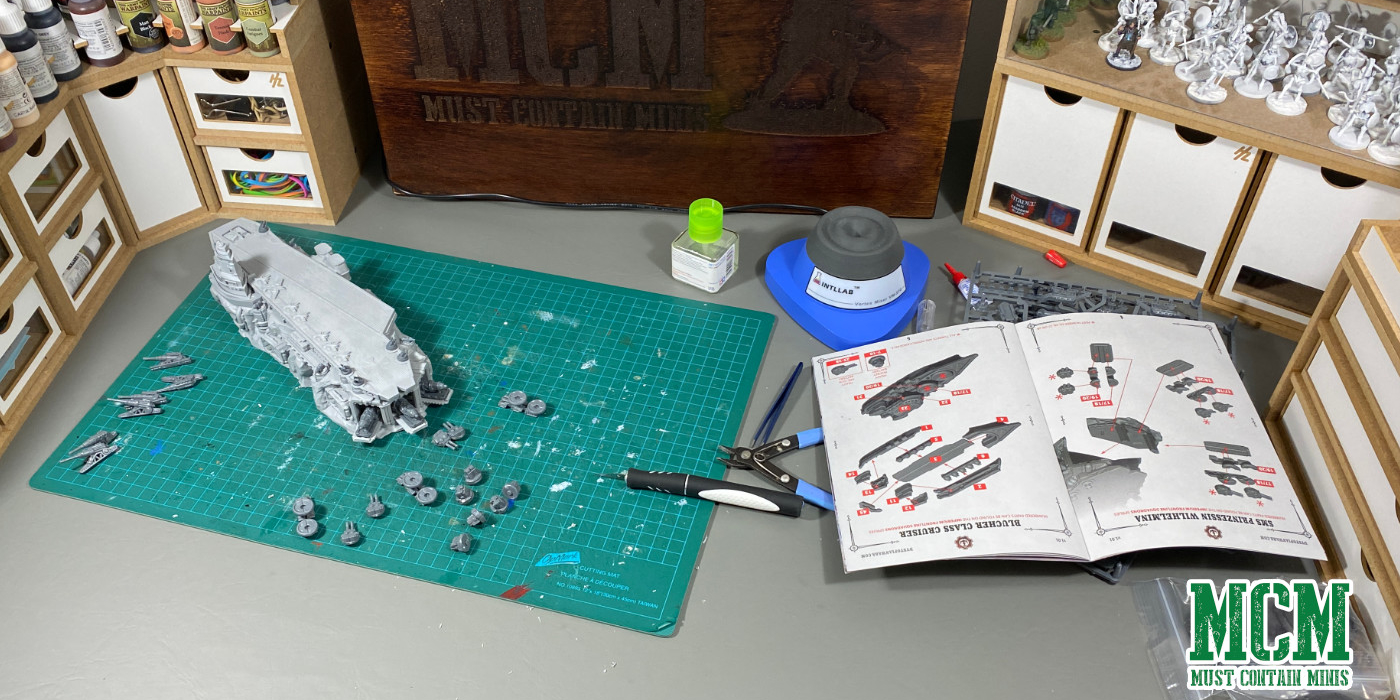 Warcradle Studios recently released their largest miniature yet for Dystopian Wars. Check out the Ice Maiden!
This ship comes with a complete battlefleet too. Not just a starter set like the other Battle Fleets to date, a full Battlefleet with maxed out options if you go that way.
Inside the box is a lot. If you want to see, there is a YouTube video further below of an unboxing and speed build of the ship. For now, let me show you the entire built fleet.
What Can I Build with this Boxed Set?
The Ice Maiden, the large ship in the back, can be built in one of three ways. To be honest, you get enough components to build the ship in two ways if you so wish. I did. On top of the large ship, you get six models to represent flying Bombers and Fighters (called Short Range Squadrons), many bases to represent extra Short Range Squadrons, six cruisers, six destroyers and six frigates.
There are plenty of options in the box, so you can arm the ships differently than I did above.
A Quick Scale Comparison
Below is a scale comparison image between some figures you may already know and love and the Ice Maiden. The Ice Maiden is ginormous!
An In Depth Video Review
The video below goes in depth to review the Ice Maiden. In it, you will see the complete contents of the box set, a speed build of the ship and a closer look at the other ships that you can build using the Ice Maiden Battlefleet Set. If the embedded video below does not work, you can also use the link here.
Wrapping it up…
Thank you for checking out the Ice Maiden with me. It really is an incredible ship.
Special thanks goes out to Warcradle Studios for sending me this miniature for review.
Until next time, Happy Gaming Everyone!!!

Subscribe to our newsletter!
Get Tabletop, RPG & Pop Culture news delivered directly to your inbox.
Read more about great Indie and Historical games on my site!
Must Contain Minis is my personal reviews, showcases, and battle reports website where I look at mostly Indie and Historical Games. If you haven't visited for a while, come on over and check the site out! You can visit it with this link right here. On top of a website, I also run my own YouTube channel!
You can also follow me on Social Media. I am very active on Facebook and share posts of a wide variety. I upload my best pictures to Instagram and am also on Twitter.