If you're looking to get in on the Total War: Warhammer Saga, now's your chance–thanks to a massive sale from Sega happening on Steam right now.
Total War: Warhammer 2 and the various Dawns of War are on sale for up to 75% off on Steam right now, thanks to a sale of all things Sega. Per a tweet from the official Total War account, you can get your hands on all the DLC you've been waiting on at a significant discount right now:
The SEGA Discovery Sale is now live and oh boy we've got a ton of discounts on Total War!

WARHAMMER I and II DLC ✅ up to 50% off
THREE KINGDOMS DLC ✅also up to 50% off
SHOGUN 2 ✅75% off
ROME II DLC ✅up to 66% off
And much more…

Don't miss it: https://t.co/CqrwzeniCP pic.twitter.com/Dv7FXoxPyA

— Total War (@totalwar) September 24, 2021
In addition to the Total War: Warhammer series DLCs, you can also get your hands on Three Kingdoms, and other titles as well. If you have been missing out on one of the legendary lords and expansion packs like The Silence & The Fury, The Twisted & The Twilight, or The Warden & The Paunch, now's your chance to grab any or all of them. And if you're looking to get into Total War: Warhammer as a whole? Total War: Warhammer 1 is on sale for 75% off, and Total War: Warhammer 2 is 66% off right now on Steam.

Total War: WARHAMMER II is a strategy game of titanic proportions. Choose from four unique, varied factions and wage war your way – mounting a campaign of conquest to save or destroy a vast and vivid fantasy world.
This is a game of two halves – one a turn-based open-world campaign, and the other intense, tactical real-time battles across the fantastical landscapes of the New World.
Play how you choose – delve into a deep engrossing campaign, experience unlimited replayability and challenge the world in multiplayer with a custom army of your favourite units. Total War: WARHAMMER II offers hundreds of hours of gameplay and no two games are the same.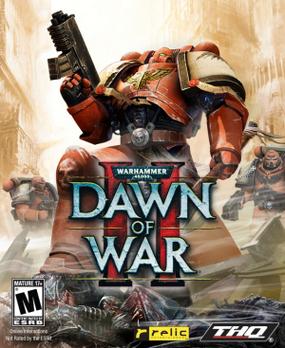 It's the 41st Millennium in the Sub-Sector Aurelia – a cluster of worlds on the edge of the galaxy – where a battle of epic proportions is about to commence. Ancient races will clash across the planets that dot this sector of space, battling for the greatest of stakes – not only for control of Sub-Sector Aurelia – but the fate of each race.
With a focus on fast-action RTS gameplay, Dawn of War II brings to life the science fiction universe of Warhammer 40,000 like never before. Experience the intimate brutality of battle as you play through your chosen race's epic campaign. Clash with the enemies on battlefield ablaze with visceral melee and ranged combat. Lead and develop your squads from raw recruits into the most battle hardened veterans in the galaxy. Also included is The Last Stand, a co-operative game mode featuring user controlled heroes fighting waves of enemies.