'Ms. Marvel' Teaser Trailer Breakdown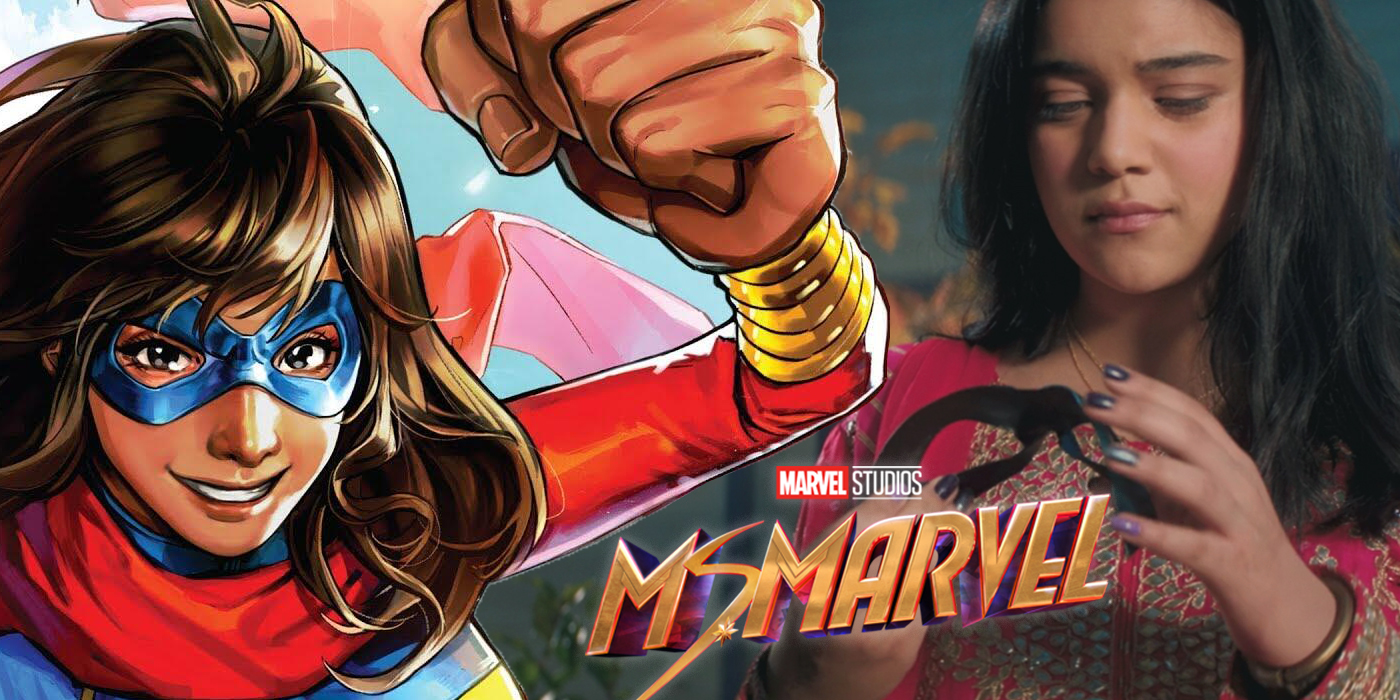 Kamala Khan joins the ranks of Carol Danvers & Monica Rambeau in the Ms. Marvel teaser. Check out the newest member of the Marvel family!
Disney+ Day brought us many Marvel goodies. A Moon Knight teaser, a look at the upcoming She-Hulk series, and more of the new Ms. Marvel. Meet Kamala Khan, the Jersey City teenager who will join forces with two of the MCU's most powerful heroines.
The new teaser for Ms. Marvel is here! 🚀 #DisneyPlusDay pic.twitter.com/vwAjz9fBua

— The Marvels News (@marvelsupdates) November 12, 2021
Who is Ms. Marvel Kamala Khan?
Kamala Kahn is a young Muslim Pakistani-American girl living in New Jersey. Growing up, she always felt like an oddball. She found her refuge in close friendships and geeking out over super heroes.
Kamala is a huge Captain Marvel stan– so when she finds herself endowed with her own powers, she models her hero identity after Carol.
In the comics, she has the ability to stretch and shape-shift. In the show, it looks like she'll project large shapes from her body instead. It's unclear from where Kamala's powers will stem in the show. But in the original book, she's an Inhuman.
What We Saw in the Ms. Marvel Teaser Trailer
True to the wholesome fangirl spirit of the the comic book, the teaser features Kamala (Iman Vellani) checking out some kind of Avengers museum display. We get a few good looks at her best friend Bruno, played by Matt Lintz (The Walking Dead) but no sign of Nakia, played by Yasmeen Fletcher.
The quick sizzle reel also gave us some great stills of Kamala testing out her super hero look.
The first look at #MsMarvel has been revealed.

Iman Vellani stars as Kamala Khan, a Muslim, Pakistani-American who idolizes Captain Marvel: "It's not really the brown girls from Jersey City who save the world." https://t.co/B5VK0PrqxR pic.twitter.com/YZgzvLMDHh

Subscribe to our newsletter!

Get Tabletop, RPG & Pop Culture news delivered directly to your inbox.

— Variety (@Variety) November 12, 2021
There's something extra heartwarming about seeing this kid suit up in her cosplay best. From her painted jacket to her Captain Marvel mohawk helmet, Kamala is serving Carol Corps energy to the max.
Kamala also looks like she'll be attending a super hero convention of some sort when she's blasted by a purple force. It's probably the moment she's imbued with her powers– and it looks pretty similar to some other Marvelous hero transformations.
How Will Ms. Marvel Set Up The Marvels?
The Marvels is slated to premiere sometime in 2023. The film will serve as a sequel to Captain Marvel, and center around Carol Danvers, Kamala Khan, and WandaVision's Monica Rambeau.
It's no surprise then that the power transformations of all three women look so similar.
THE MARVELS getting their powers. #MsMarvel #DisneyPlusDay pic.twitter.com/sYl6fc1ukq

— The Marvels News (@marvelsupdates) November 12, 2021
The MCU has only introduced the faintest whispers of X-Men and Inhuman powers, so it's unclear whether Kamala's origin will be tied to either properties.
Of course, her origin could spring from mythology that the MCU has already introduced. Could her abilities be related to the infamous Phase 3 snaps?
Fans have speculated that Monica has a similar biological trait that allows her to absorb energy. It explains why she was able to pass through Wanda's magical hex-field and come out the other side all super.
Whatever makes each or both of them susceptible to glowy energy powers, it's likely that The Marvels will dig deeper into it.
There are so many exciting turns the new series could take. The Ms. Marvel teaser trailer is just the beginning. While we wait, we'll just have to keep an eye on filming progress, and hope that nobody leaks anything.
Ms. Marvel Cast & Credits
The cast also includes Aramis Knight as Kareem aka Red Dagger and Rish Shah as an Inhuman and possible love interest named Kamran.
Kamala's brother, the superhero-skeptic Aamir, will be played by Saagar Shaikh. Zenobia Shroff and Mohan Kapur are rumored to be playing her parents Muneeba and Yusuf.
'Ms. Marvel' will be a 6-episode series premiering on Disney+ sometime in 2022.